These Strawberry Pancakes are the most fluffy, easy pancakes ever filled with juicy pieces of strawberries.
Plus, these pancakes are also dairy-free, egg-free, and perfect as a comforting breakfast.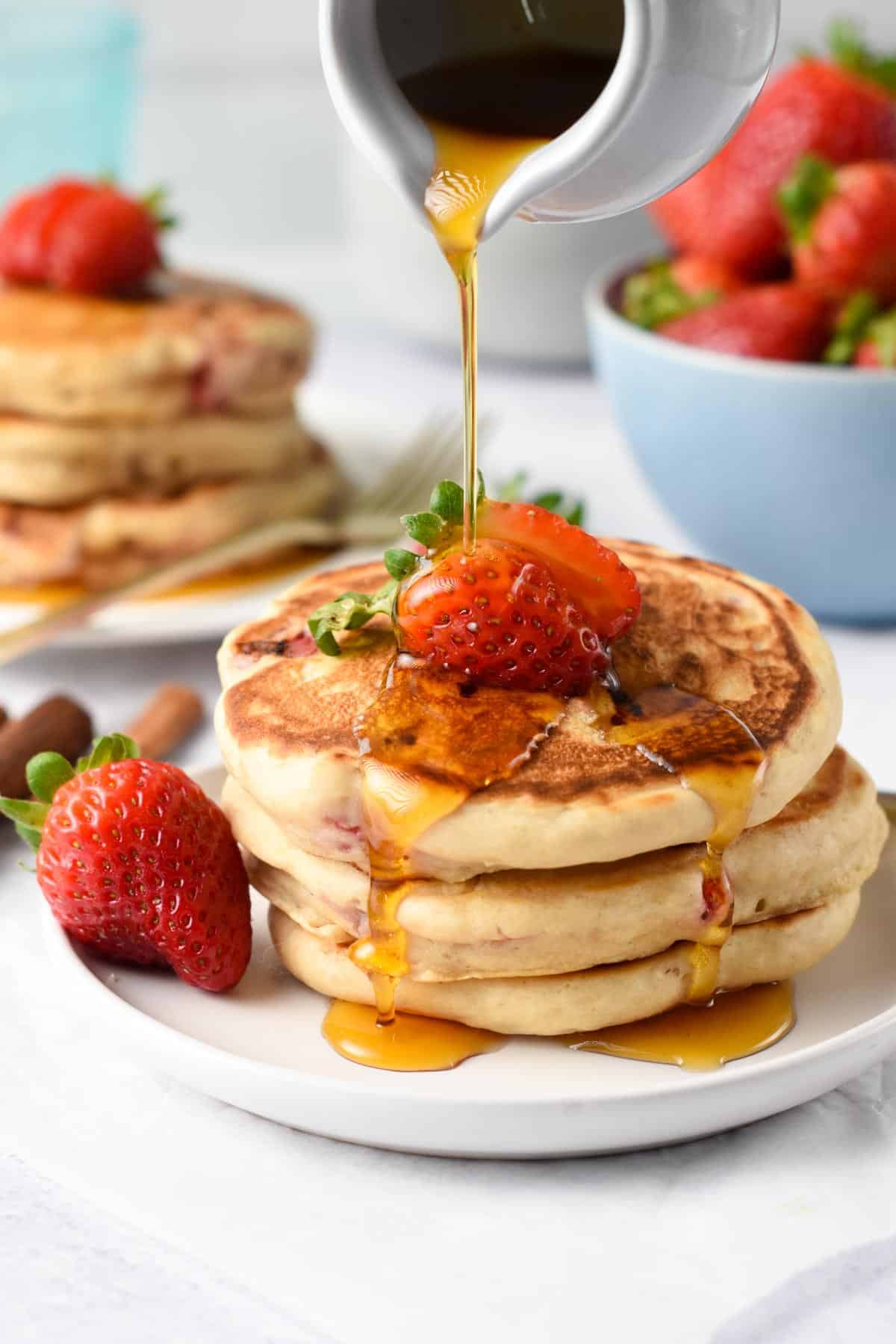 I have a passion for pancake recipes especially allergy-friendly recipes, that perfect for all the family to enjoy.
They are naturally:
Egg-free
Dairy-free
Plant-based
How To Make Strawberry Pancakes
It's super easy to whip a batch of strawberry pancakes in the morning and a great way to use your over-ripe strawberries.
Ingredients
All you need to make these pancakes are:
All-Purpose Flour – learn how to measure flour properly. You can use regular or whole wheat flour.
Baking Powder
Maple Syrup or any sweetener you love, including regular sugar or coconut sugar.
Vanilla Extract
Soy Milk or almond milk.
Lemon Juice or apple cider vinegar.
Fresh Strawberries – you can use ripe strawberries, simply core the strawberries and cut them into small pieces.
Olive Oil or any oil you have at home.
Combining Ingredients
First, whisk the wet ingredients soy milk, lemon juice, and olive oil in a mixing bowl. Set aside 2 minutes while you measure the dry ingredients.
Add in all-purpose flour, baking powder, and sweetener of choice.
Now, fold in the strawberries pieces and stir to combine.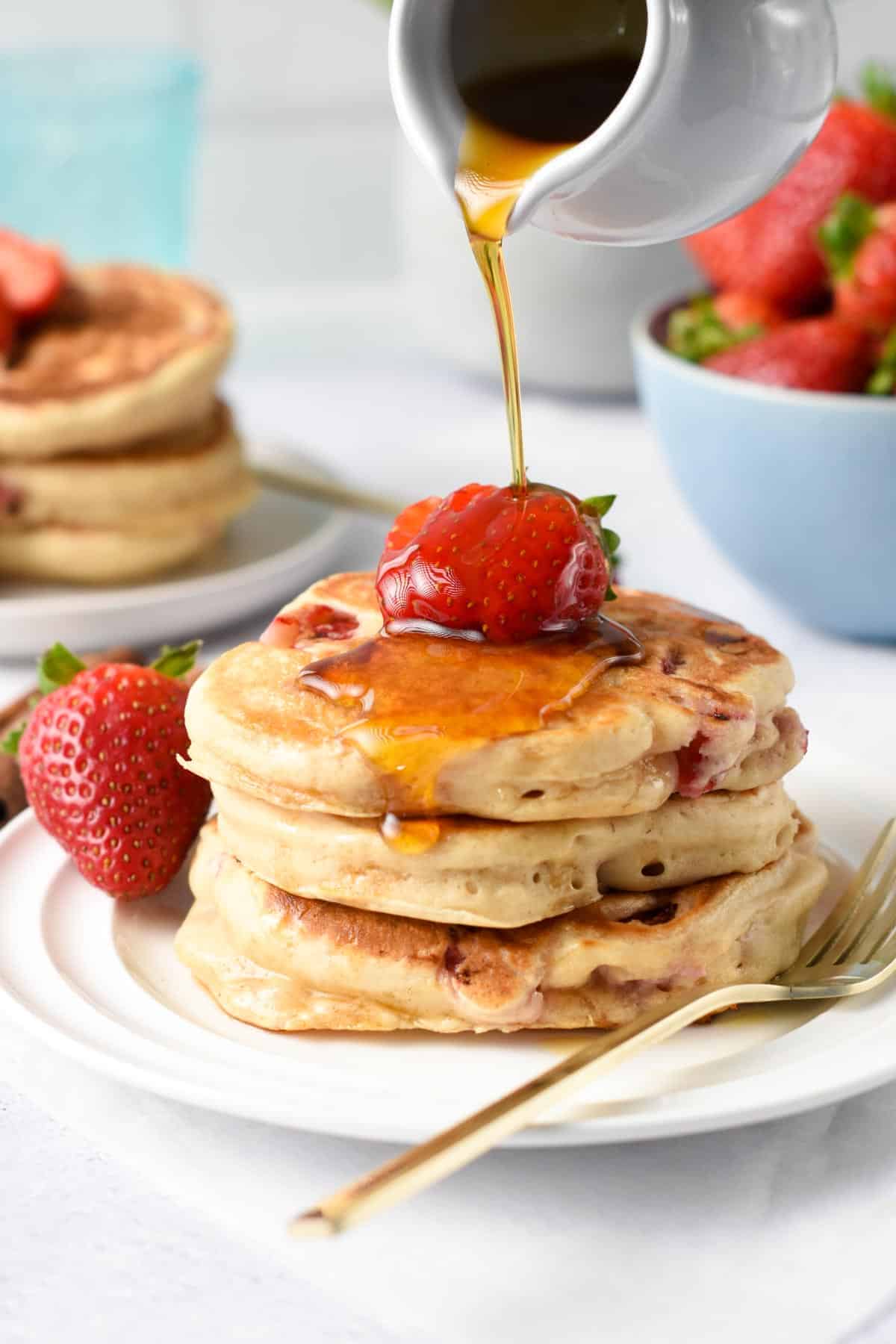 Cooking
Warm a pancake skillet or crepe pan over medium heat.
Grease the surface with coconut oil or olive oil, using a piece of kitchen paper to rub the pan's surface. If you use the latter, wait until the butter melts.
Pour 2 to 3 tablespoons of batter per pancake and cook for about 3 minutes or until the sides start to dry out and bubbles form on the top of the pancake.
Slide a flat tool under the pancake and flip it to the other side.
Keep cooking for 1 minute or until golden brown.
Cool the strawberry pancakes down on a cooling rack while cooking the remaining batter.
Grease the pan before cooking more pancakes.
Serving
These strawberry pancakes are delicious on their own or topped with simple toppings like:
Maple syrup
Coconut yogurt
Whipped coconut cream
Strawberry sauce
Melted dark chocolate
They are delicious served on a stack of 3 or 4 layers or on a single layer with plenty of toppings.
Filling
Of course, you can add some other ingredients to the pancake batter to change its flavor. The best add-ons with strawberries are:
White chocolate chips – plenty of dairy-free brands are available
Dark chocolate chips
Unsweetened shredded coconut
Chopped almonds or pecans
Storage Instructions
To prevent the pancakes from drying out, store these fruit-filled pancakes in the fridge, preferably in an airtight container or on a plate wrapped with plastic film wrap.
Rewarm the pancakes on a hot pancake griddle, in the oven for a few minutes laid on a baking sheet with parchment paper, or serve them cold.
You can store the pancakes for up to 3 days in the fridge.
The last option is to freeze leftover pancakes in zip-lock bags in the freezer. Thaw the pancakes in the fridge the day before eating.
Frequently Asked Questions
Below I listed the answers to your most common questions about these delicious strawberry pancakes.
Can I Make This Recipe With Other Fruits?
Absolutely yes, this pancake recipe is light in taste, and it will be the perfect base to make blueberry pancakes or chocolate chip pancakes.
Can I Make The Pancakes Gluten-Free?
Yes, you can replace the all-purpose flour with a 1:1 all-purpose gluten-free flour blend.
The result will be different, less fluffy, and a bit chewy.
Can I Use Oat Flour?
You can replace half of the flour with homemade oat flour as a healthy option to boost the pancake fiber and protein.
I don't recommend using only oat flour, or the pancakes are fragile and fall apart easily.
Can I Substitute The Oil?
You can make oil-free strawberry pancakes, replace oil with applesauce, or a dairy-free yogurt option like soy yogurt or coconut yogurt works well.
Can I Use Frozen Strawberries?
Frozen fruits release water in pancake batter. It's preferable if you thaw the fruits and discard the juice.
But, if you don't have time to thaw the fruits, cut the frozen strawberries into small pieces and roll the cup of frozen fruits into 1 tablespoon of cornstarch.
More Pancake Recipes
Below I listed some more easy pancake recipes that you'll love.
Have you made these pancakes with strawberries? Share a comment or review below to connect with me,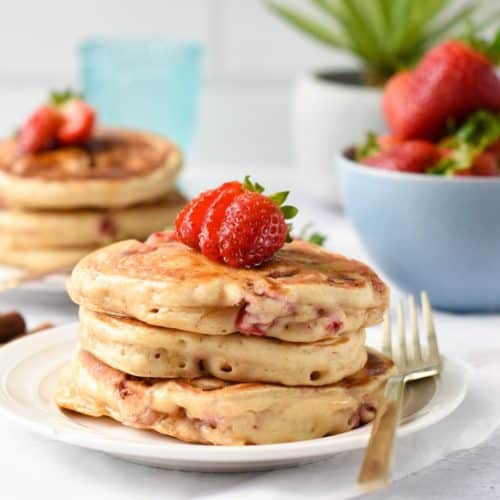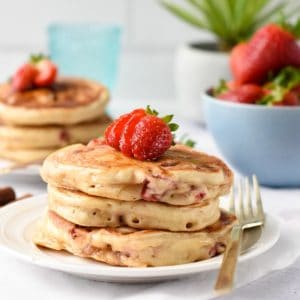 Strawberry Pancakes
These Strawberry Pancakes are easy fluffy pancakes filled with juicy pieces of strawberries for a dairy-free, egg-free, vegan breakfast.
Pin
Print
Review
Save
Saved Recipes
Instructions
In a small mixing bowl, whisk milk with lemon juice, oil, vanilla extract, and maple syrup. Set aside

5 minutes

while measuring the remaining ingredients.

In the previous bowl, add all the dry ingredients: flour, baking powder, and salt. Whisk to combine and form a smooth, slightly thick pancake batter.

Stir in the strawberry pieces.

Let the batter rest for

5 minutes

while heating the skillet.
Cooking the vegan pancakes
Heat a large pancake griddle or frying pan over medium heat. Add 1 teaspoon of oil and swirl the pan to coat.

Scoop out 2-3 tablespoons of pancake batter per pancake – don't cook more than 2 pancakes at a time to prevent them from spreading and sticking to each other. Cook on one side until bubbles form on the surface and the edges dry out and look set – it should take 2 or 3 minutes.

Flip the pancake and cook on the other side for another 2 or 3 minutes until golden brown. Transfer to a cooling rack or plate and repeat these steps until you run out of batter.
Serving Ideas
Serve with extra strawberries and a drizzle of maple syrup.
Share on Facebook
Pin Recipe
Nutrition
Serving:
1
pancake (1/3 cup)
|
Calories:
162.3
kcal
|
Carbohydrates:
28.4
g
|
Protein:
4
g
|
Fat:
3.5
g
|
Saturated Fat:
0.4
g
|
Polyunsaturated Fat:
0.9
g
|
Monounsaturated Fat:
1.9
g
|
Sodium:
427
mg
|
Potassium:
139.1
mg
|
Fiber:
1.4
g
|
Sugar:
6.4
g
|
Vitamin A:
157.6
IU
|
Vitamin B12:
0.4
µg
|
Vitamin C:
17.9
mg
|
Vitamin D:
0.5
µg
|
Calcium:
188
mg
|
Iron:
1.7
mg
|
Magnesium:
11
mg
|
Phosphorus:
77.9
mg
|
Zinc:
0.4
mg