Low-Calorie Pancakes (51kcal, Egg-Free, Dairy-Free)
These Low-Calorie Pancakes have the most fluffy texture but contain only 51 kcal per serving for a healthy guilt-free breakfast.
Plus, they are also egg-free, dairy-free, and allergy friendly.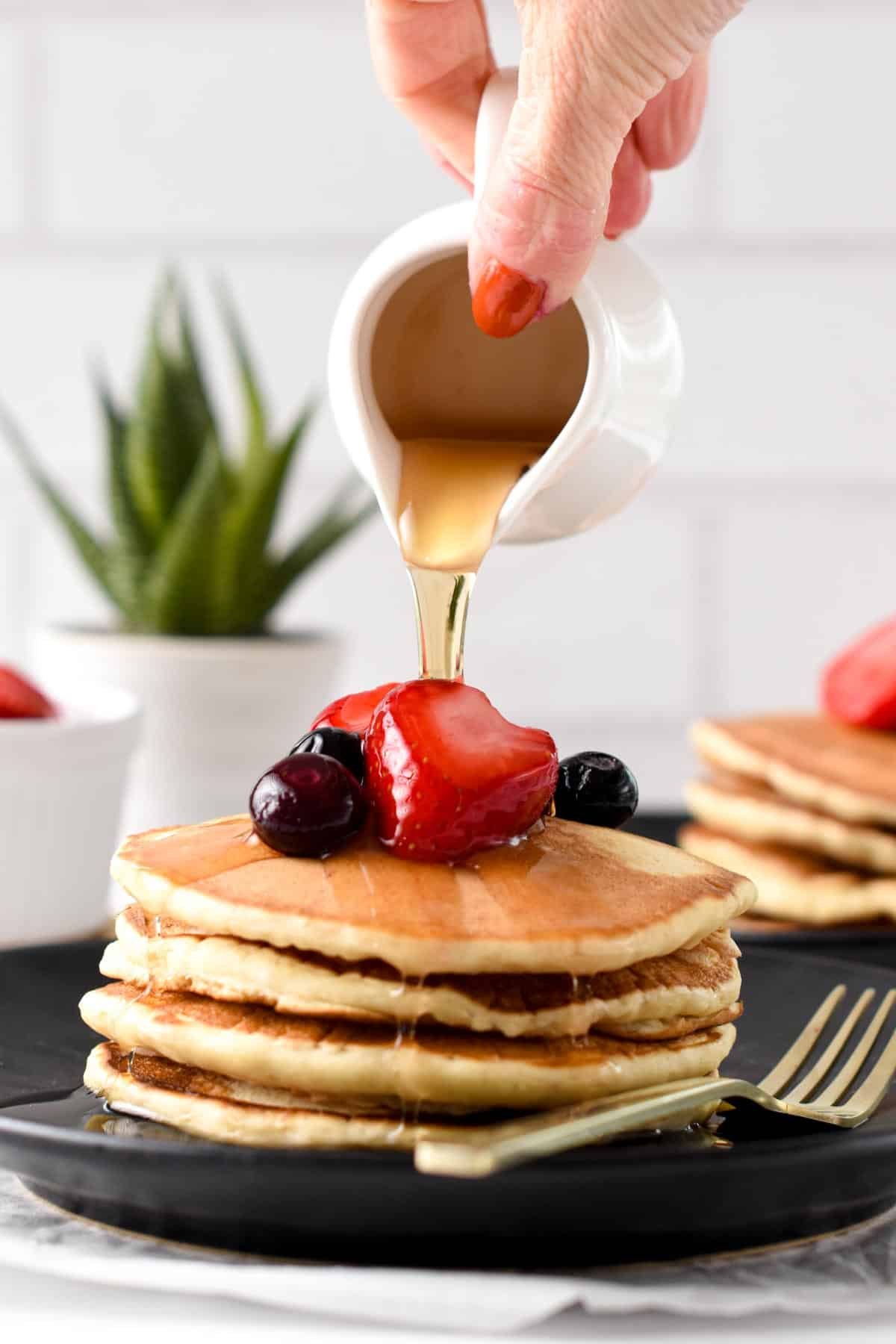 How Many Calories Are In Pancakes?
Did you know that a regular 50-gram pancake (10 cm or 4-inch wide) contains 90 kcal? Most of the calories in pancakes come from:
Buttermilk or Milk – Full-fat milk is high in calories, lactose, and saturated fat.
Eggs
Sugar used to sweeten the batter.
If you are on a weight-loss journey, cutting down on these ingredients to reduce the calories in your pancakes is the key to achieving your goals.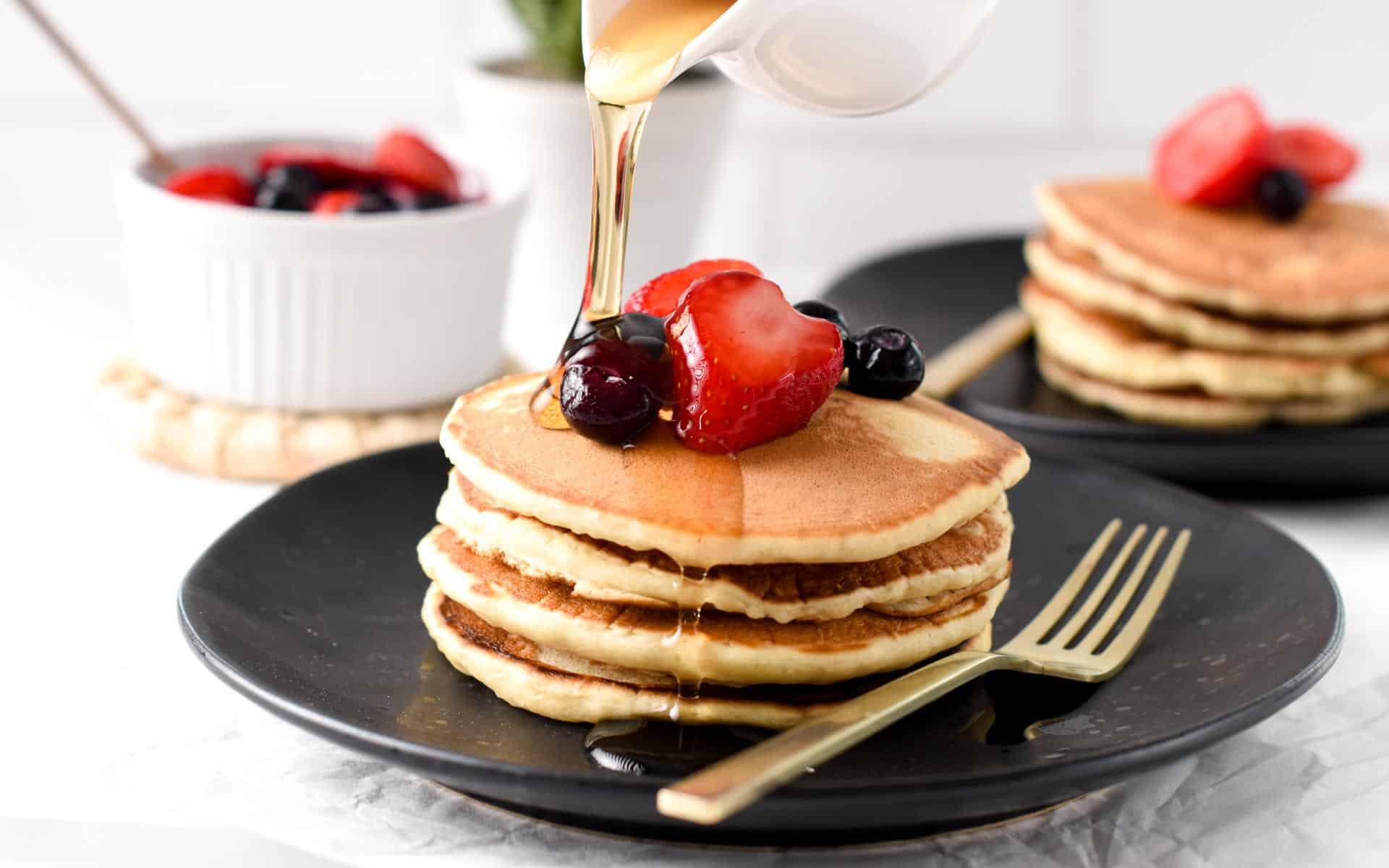 How To Make Low-Calorie Pancakes
Here we are going to show you how you can make pancakes with fewer calories but still earth-friendly, made without eggs or dairy,
Choosing Low-Calorie Flour
First, the choice of flour matters. A regular pancake batter is made with wheat flour, which is actually one of the lowest-calorie flour.
Even if all-purpose flour is not the healthiest flour because of its lower fiber and protein content compared to oat flour, or buckwheat flour, it is still the lowest calorie flour.
Common flour varieties contain the following calories per 100 grams. The exact value varies from brand to brand, but these give an idea.
Buckwheat Flour – 335 kcal – it's one of the lowest calorie flour plus it's gluten-free and contains lots of fiber. Try my buckwheat flour pancake recipe or buckwheat crepes recipe if you love the flavor of buckwheat flour.
All-Purpose Flour (including gluten-free blends) – 364 kcal
Oat Flour – 389 kcal
Almond Flour – 571 kcal
Quinoa Flour – 380 kcal
Coconut Flour – 364 kcal, while this flour contains fewer calories and has a great nutrient content – low-carb and high fiber – it's not a flour that you can use to make egg-free pancakes. Coconut flour must use eggs so we won't select it to keep the recipe plant-based.
Ingredients
The ingredients selected here aim to make a low-calorie pancake recipe that is easy to make and low cost.
It means we didn't focus on high-fiber or high-protein ingredients. For a high-protein pancake recipe, try my vegan protein pancakes, or for a high-fiber recipe, my oatmeal pancakes.
All-Purpose Flour – As mentioned above, wheat flour contains way fewer calories per 100 grams than others. You can use buckwheat flour as well to decrease the calories in the pancakes even more and make the recipe gluten-free. The pancakes are much denser with buckwheat and less fluffy.
Almond Milk – Unsweetened almond milk is the lowest calorie milk, it has no added sugar or natural sugar. Consequently, it's the best milk choice for a low-calorie diet.
Apple Cider Vinegar – or lemon juice. This creates a buttermilk texture when coming in contact with almond milk. It makes low-calorie buttermilk.
Vanilla Extract – for the taste.
Baking Powder
Salt
Erythritol – it's a natural sugar-free crystal sweetener that contains no calories.
Yogurt – This avoids oil or egg yolks in the pancakes which would lead to high saturated fat and calories. Yogurt is also packed with nutrients and proteins so a plus to these low calories pancakes. The best choice is oat yogurt or soy yogurt, avoid coconut yogurt that contains high fat and calories.
Making The Low-Calorie Pancake Batter
First, prepare the low-calorie buttermilk by mixing almond milk, yogurt, and apple cider vinegar. Set it aside.
In a large mixing bowl, whisk the flour, baking powder, salt, and erythritol.
Pour the liquid ingredients on top of the flour and whisk to combine.
Cooking The Pancakes
Heat a pancake griddle over medium heat and use an oil spray to grease the surface of the griddle without using too much oil.
Scoop out 2 1/2 tablespoons of batter per pancake. Cook the pancakes for 2 to 3 minutes on one side or until the edges dry out and bubbles form on top.
Flip the pancake and keep cooking for another minute.
Let the pancake cool down on a cooling rack to keep them fluffy rather than cooling down on a plate.
Foil the top of the pancakes to keep them warm while cooking the remaining batter.
This recipe makes 10 pancakes, and each pancake contains 51 kcal. Serve 3 pancakes per breakfast with some of the low calories toppings listed below.
Low-Calories Pancake Toppings
The best way to control calories on your toppings but still add a delicious flavor and nutrient is to focus on:
Natural Sugar-Free Maple-Flavored Syrup – Pick a brand sweetened with stevia, monk fruit, or erythritol. These are high-fiber syrups with no sugar and no artificial sweetener. Note that maple syrup contains way more calories even if it's unrefined, it's not recommended if you watch your calories.
Low-Calorie Fresh Fruits like fresh berries (or frozen), including raspberries, strawberries, or blueberries. They are also high in vitamins, antioxidants, and a healthy addition to your breakfast plate.
Yogurt – High-protein dairy-free yogurts are low in calories and high in protein to keep you full.
Allergy Swaps
Below are some food allergy swaps for you if needed.
Gluten-Free – use a gluten-free flour blend containing added gum. Be aware that gluten-free pancakes are much denser and chewier and don't have a fluffy texture. Another option is to swap 1 1/4 cups of all-purpose flour for 1 cup of buckwheat flour.
Nut-Free – beverage coconut milk is low calories or hemp milk.
More Healthy Pancake Recipes
If you like plant-based healthy pancakes, you'll love these:
Have you made these pancakes? Share a review or comment below.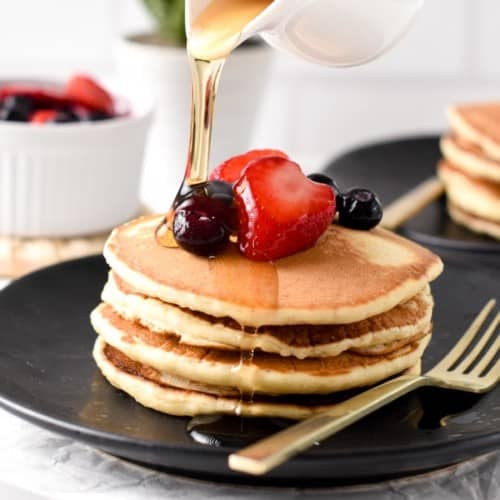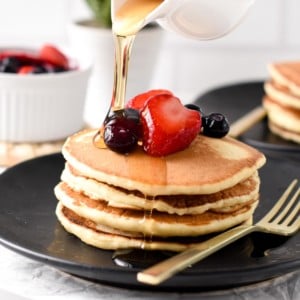 Low Calorie Pancakes
These Low-Calorie Pancakes have the most fluffy texture but contain only 51 kcal per serving for a healthy guilt-free breakfast. Plus, they are also egg-free, dairy-free, and allergy friendly.
Pin
Print
Review
Servings:
10
pancakes (2.5 tbsp each)
Ingredients
Toppings Ideas
2

tablespoons

Sugar-Free Maple Syrup

½

cup

Fresh Berries
Instructions
Prepare the low calories 'buttermilk'
In a small mixing bowl, whisk almond milk, apple cider vinegar, and dairy-free yogurt. Set it aside for 5 minutes.
Prepare the pancake batter
In a large mixing bowl, add all the dry ingredients: flour, sugar-free sweetener, baking powder, and salt.

Whisk in the low-calorie buttermilk, and vanilla.

Let the batter rest for

5 minutes

while you heat the griddle.

If your batter looks too thick, add 2-3 tablespoons of additional almond milk to thin it out.
Cooking the pancakes
Heat a large pancake griddle or frying pan over medium heat. Add 1 teaspoon of oil and swirl the pan to coat.

Scoop out 2 1/2 tablespoons of pancake batter per pancake – don't cook more than 2 pancakes at a time, they spread, and you don't want them to stick to each other. Cook on one side until bubbles form on the surface and the edges dry out and look set – it should take 2 or 3 minutes.

Flip the pancake and cook on the other side for another 2 or 3 minutes until golden brown. Transfer to a cooling rack or plate and repeat these steps until you run out of batter.
Low-calorie pancake toppings
You can serve 2 or 3 pancakes per serving depending on your appetite. Add sugar-free liquid sweeteners like monk fruit maple-flavored syrup and fresh berries on top.
Share on Facebook
Pin Recipe
Nutrition
Serving:
1
pancake
|
Calories:
51.1
kcal
|
Carbohydrates:
10.1
g
|
Protein:
1.5
g
|
Fat:
0.4
g
|
Saturated Fat:
0.02
g
|
Polyunsaturated Fat:
0.2
g
|
Monounsaturated Fat:
0.1
g
|
Cholesterol:
0.1
mg
|
Sodium:
268.8
mg
|
Potassium:
17.4
mg
|
Fiber:
0.4
g
|
Sugar:
0.2
g
|
Vitamin A:
0.1
IU
|
Vitamin B12:
0.01
µg
|
Calcium:
96.8
mg
|
Iron:
0.7
mg
|
Magnesium:
3.4
mg
|
Phosphorus:
42
mg
|
Zinc:
0.1
mg