Vegan Coconut Flour Pancakes
These thin, buttery vegan pancakes with coconut flour are the best vegan gluten-free breakfast packed with extra fibers to keep you full for hours.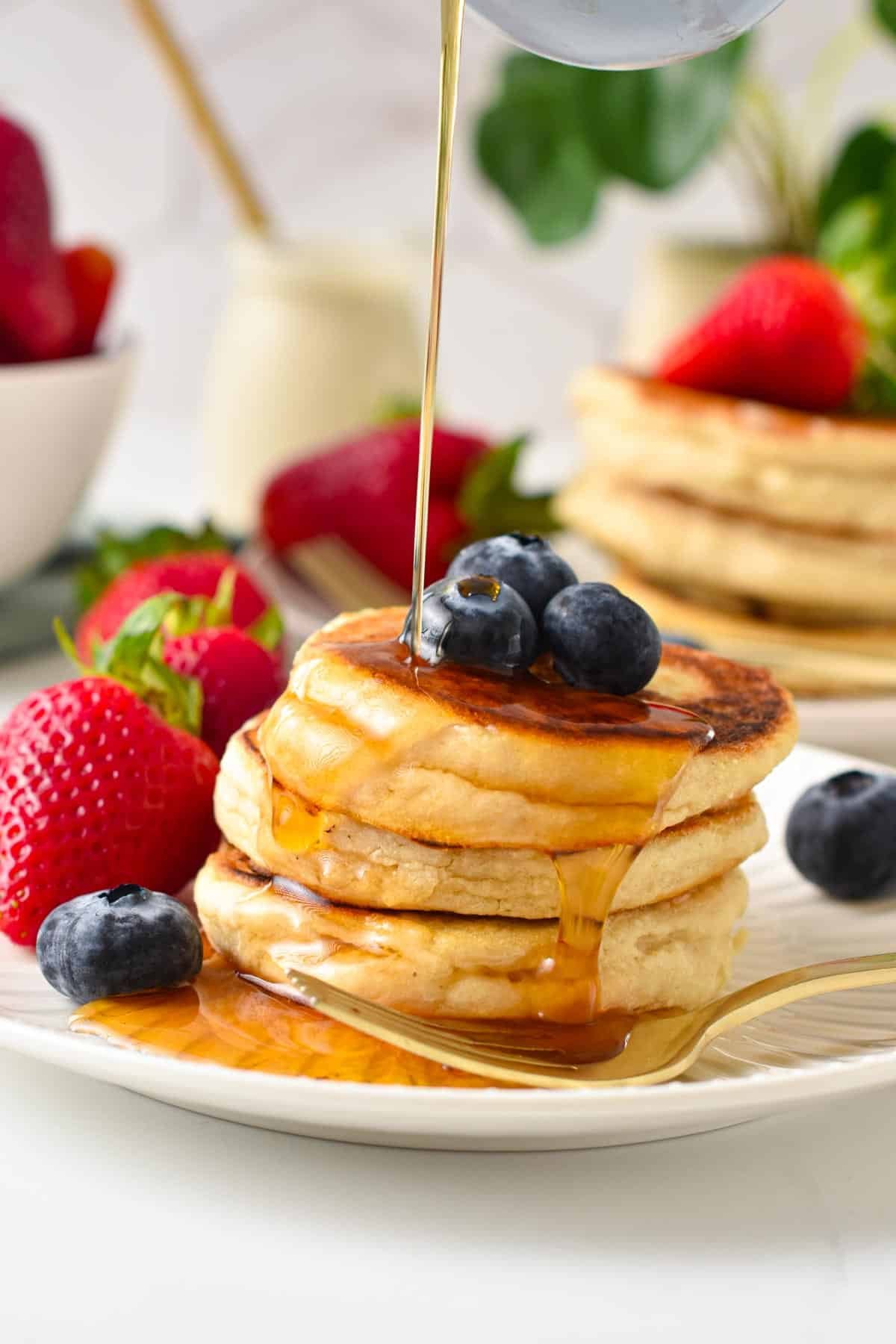 I bake my fluffy vegan pancakes monthly, but sometimes, I like to bake different flavors, like my vegan banana pancakes to use overripe bananas, my post-workout vegan protein pancakes, or a batch of my fall-flavored vegan pumpkin pancakes.
I believe there are never enough pancake recipes, and since I love coconut flavor, I am very excited to share this vegan coconut pancake recipe using healthy gluten-free coconut flour.
Why You Will Love Vegan Pancakes With Coconut Flour
These pancakes tick many boxes, and you'll love them for that! They are:
Gluten-Free
High in Fiber
Ready in 20 minutes
Tasty coconut pancakes with a just a hint of coconut flavor
Thin and buttery vegan gluten-free pancakes
Ingredients For Coconut Flour Pancakes Recipe
These coconut flour vegan pancakes are one of my new creations, combining high-fiber coconut flour, all-purpose gluten-free flour, vegan buttermilk, and applesauce. The result is light, thin, round pancakes without gluten or eggs, perfect for using your coconut flour.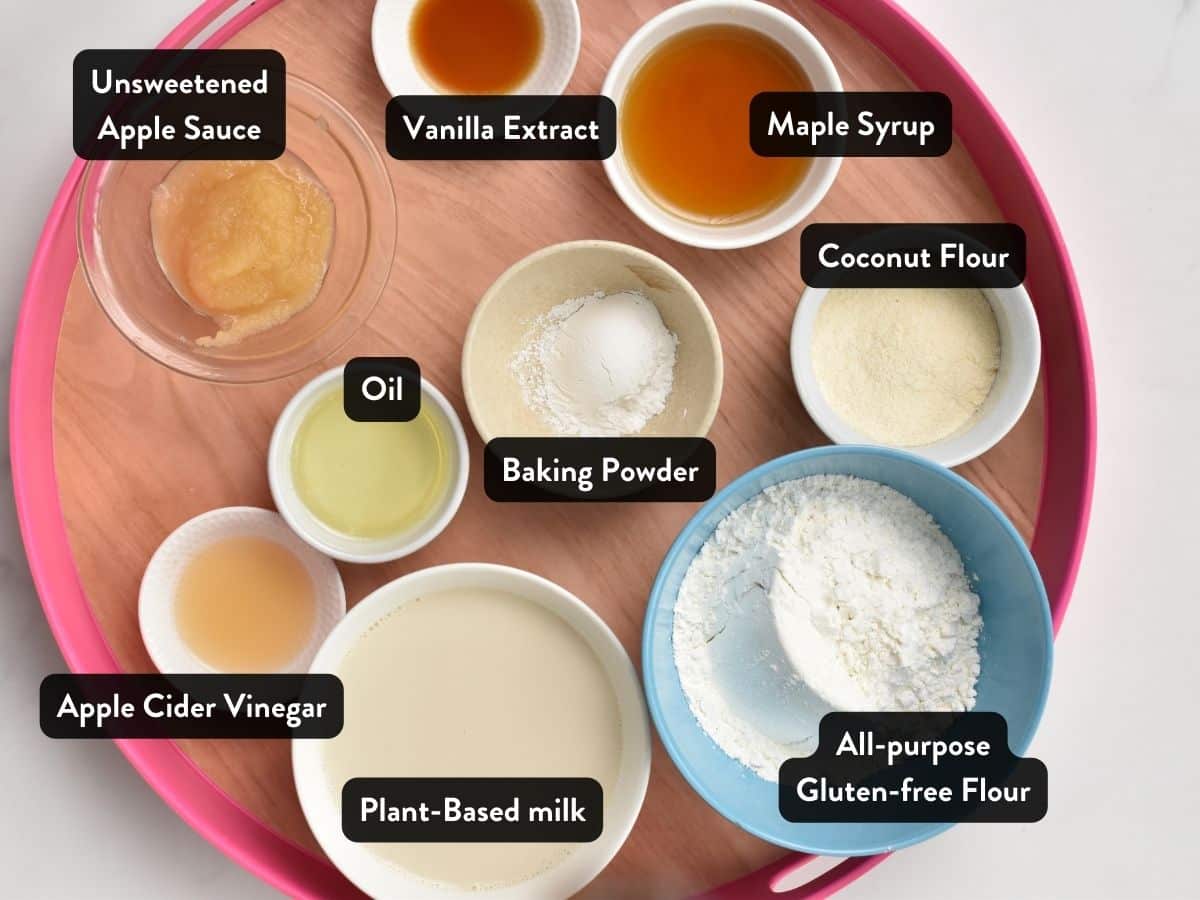 Coconut Flour – Unfortunately, there's no way you can make a 100% coconut flour low-carb vegan pancake recipe. Coconut flour is a healthy, gluten-free, low-carb flour, but in vegan baking, you can only use coconut flour to add fiber and coconut flavor. You won't be able to make a low-carb coconut flour pancake without eggs (even using flax eggs, they fall apart). Coconut flour is way too low in starch and high in fiber to bind without eggs.
All-Purpose Gluten-Free Flour – That's the key ingredient to bind with coconut flour and keep the pancakes free from gluten.
Applesauce – You can also use mashed banana or vegan yogurt. Any of these three ingredients work and create buttery, moist pancakes to balance the fiber in coconut flour.
Soy Milk – While you can use other plant-based milk, I recommend a dairy-free milk higher in fat to make a thicker vegan buttermilk. Other options are almond milk or oat milk.
Apple Cider Vinegar or lemon juice are used to curdle the plant-based milk and give buttery texture to the pancakes.
Canola Oil – Or melted vegan butter makes the pancakes chewy and moist. The key when you bake with coconut flour, like in my Coconut Flour Shortbread Cookies, is to add more fat and more liquid than regular recipes to keep the baked goods moist and not dry.
Baking Powder to make fluffy gluten-free coconut flour pancakes.
Salt – for taste
Vanilla Extract for extra flavor
Maple Syrup to sweeten the pancake batter
Tips To Make Pancakes With Coconut Flour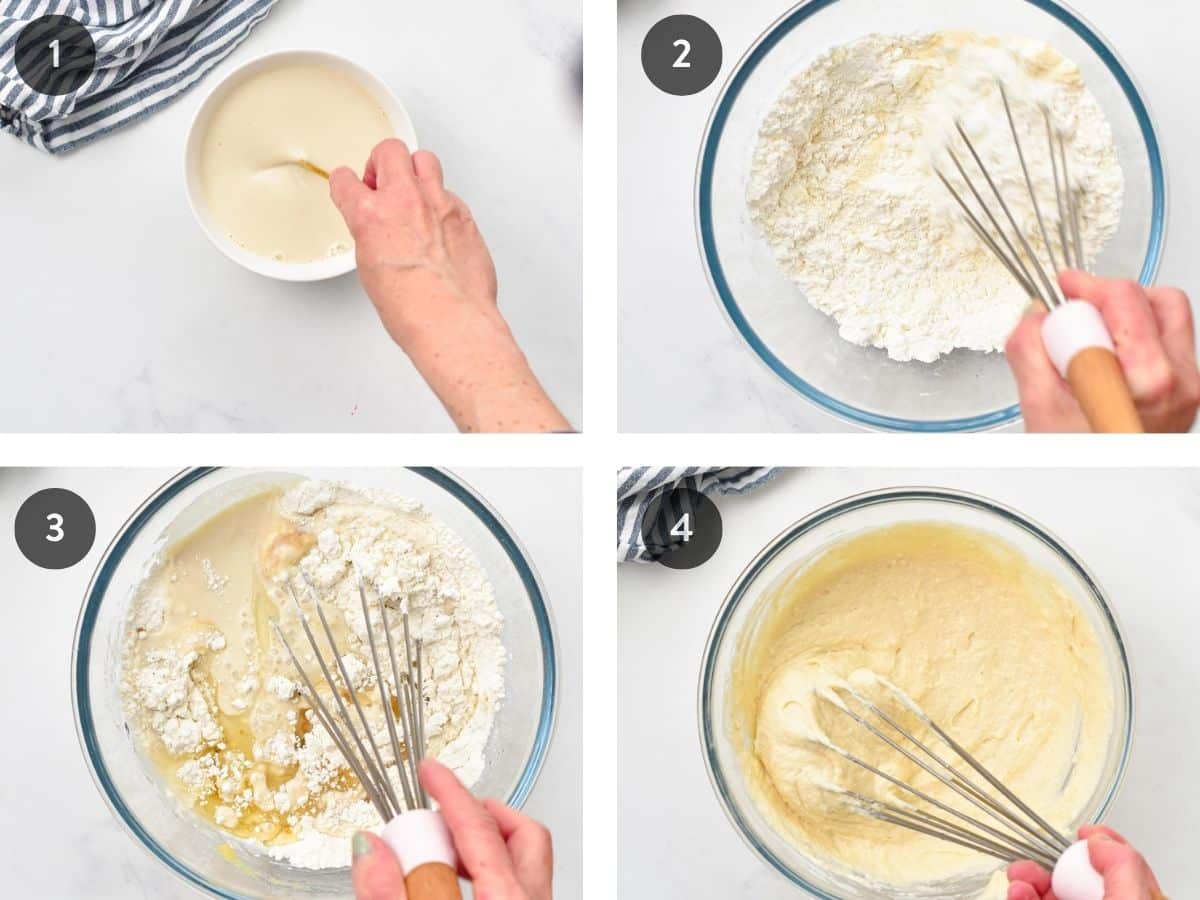 Prepare a vegan buttermilk by stirring plant-based milk and apple cider vinegar. Set it aside to let it curdle for a few minutes.
Meanwhile, whisk all the dry ingredients into a large mixing bowl with a hand whisk.
Make a well in the center of the dry ingredients and pour the wet ingredients: the vegan buttermilk made in step 1, along with the remaining ingredients: oil, applesauce, and vanilla extract.
Whisk the mixture to form a thick, smooth pancake batter.

Warm a greased pancake griddle with vegan butter or coconut oil over medium-low heat. Scoop out 1/4 cup of coconut flour pancake batter on the pan, and use the back of a spoon to spread the pancake into a round shape.
Cook for about 2 to 3 minutes or until the sides dries out and bubbles form on top of the pancakes. Then flip and cook them on the other side for about a minute.
Expert Tips For Baking With Coconut Flour
Measure the ingredients precisely – Coconut flour is very high in fiber, and it absorbs liquids quickly. Make sure you scoop and level the measuring cups precisely to avoid an unbalanced ratio of liquid-to-dry ingredients. Indeed, if you add too much coconut flour, the pancake batter ends up super thick, and the pancakes will be dry.
Use gluten-free flour with added gum – This is a must or the pancakes won't firm up.
Don't remove the fat – Coconut flour needs more fat to deliver tasty baked goods. Don't swap oil in the recipe.
Bake a small amount at once – Coconut flour pancakes take a little longer to bake, so add only 1/4 cup of pancake batter per pancake to ensure even cooking.
Don't skip coconut flour for almond flour or oat flour – All these flour have different properties and they don't act the same in the pancake mixture. Coconut flour is four times more absorbent and needs more liquid.
Serving Your Pancakes
These pancakes have a light coconut taste and they go very well with some:
Banana slices
Fresh berries like strawberries or blueberries
Shredded coconut
Maple syrup
Vegan butter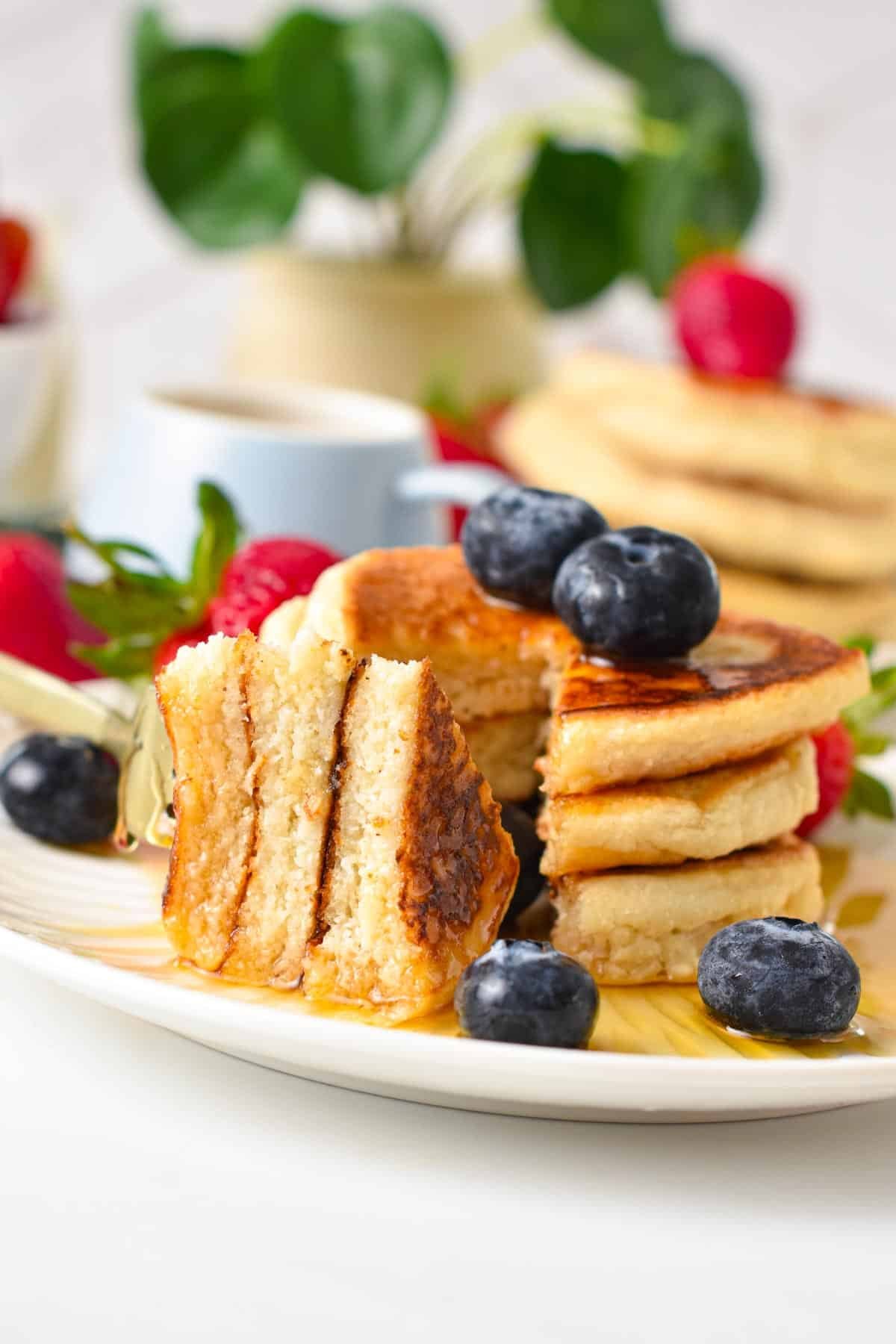 More Vegan Pancake Recipes
If you like vegan pancakes, you'll love these ones: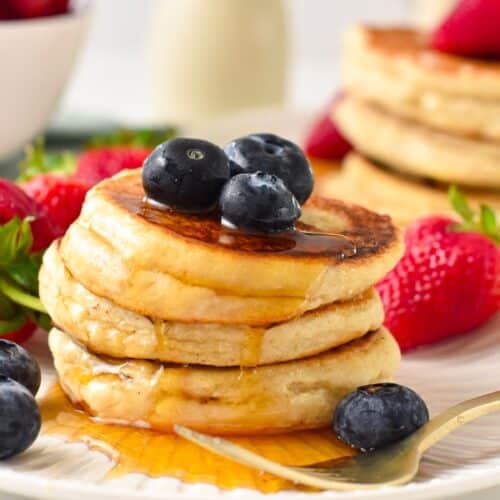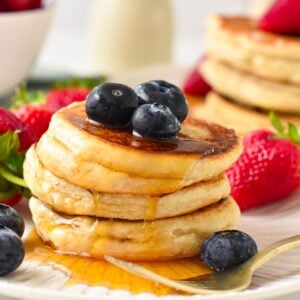 Vegan Pancakes with Coconut Flour
These thin, buttery vegan pancakes with coconut flour are the best vegan, gluten-free breakfast packed with extra fibers to keep you full for hours.
Pin
Print
Review
Servings: 8 pancakes (1/4 cup)
Calories: 159.7 kcal
Instructions
In a small bowl, whisk plant-based milk and apple cider vinegar. Set aside for a few minutes until it curdles.

In another large bowl, whisk all-purpose gluten-free flour, coconut flour, baking powder, and salt.

In the bowl with the dry ingredients, add the vegan buttermilk made in step 1, oil, applesauce, vanilla extract, and maple syrup.

Whisk to bring ingredients together into a smooth pancake batter.

Warm a pancake griddle or crepe pan over medium heat. Spray the pan with cooking oil spray.

Scoop out 1/4 cup of pancake batter and cook for 2-3 minutes until easy to flip on the other side.

Flip and cook for an extra minute.

Serve with maple syrup and fruit of choice.
Notes
Storage
Store leftover coconut flour pancakes in the fridge in an airtight container for up to 3-4 days, or freeze them for up to 1 month. Thaw in the fridge the day before.
Share on Facebook
Pin Recipe
Nutrition
Serving: 1pancake (1/4 cup) | Calories: 159.7kcal | Carbohydrates: 21.5g | Protein: 3.5g | Fat: 7.2g | Saturated Fat: 1g | Polyunsaturated Fat: 2g | Monounsaturated Fat: 3.6g | Trans Fat: 0.02g | Sodium: 186mg | Potassium: 69.4mg | Fiber: 3.4g | Sugar: 5.4g | Vitamin A: 146.5IU | Vitamin B12: 0.4µg | Vitamin C: 2.7mg | Vitamin D: 0.4µg | Calcium: 158.1mg | Iron: 1.1mg | Magnesium: 1.7mg | Phosphorus: 33.3mg | Zinc: 0.1mg