These Vegan Sheet Pan Pancakes are the easiest family breakfast for the holidays. Serve pancakes for a crowd in one go with this one-bowl pancake recipe baked in a sheet pan.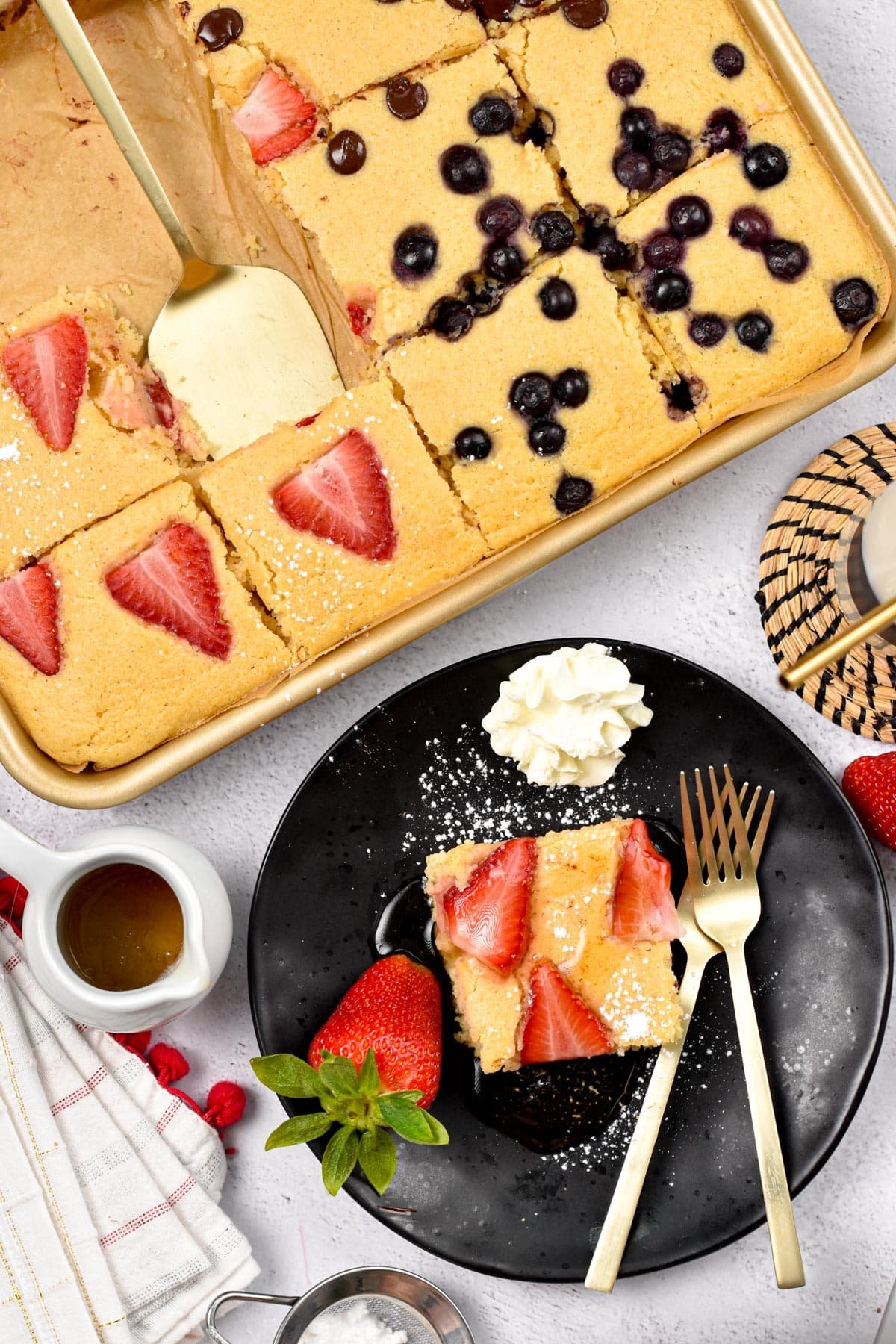 Why You Will Love This Vegan Sheet Pan Pancake recipe
I love this vegan sheet pan recipe because it's a great recipe to feed a crowd with a fancy breakfast in no time. This is without saying that you will serve perfectly square pancakes to everyone. No more stress of perfecting the scooping of the pancake batter in the griddle. Pour all the batter into a baking pan, and you will make perfect pancakes for your whole family.
If you love delicious vegan pancakes for breakfast but hate being stuck in the kitchen cooking pancakes one at a time, you will love a sheet pan pancake recipe. All your family and guests will love eating all at once, a warm, ultra-fluffy vegan pancake that is also made with the most simple, essential pantry ingredients.
How To Make Vegan Sheet Pan Pancakes
You need the same ingredients to make vegan pancakes and sheet pan pancakes. The difference is the way you cook the pancakes. Here, you need a large 9 x 13-inch rimmed baking sheet to ensure fluffy sheet pan pancakes that are not too thick not too flat.
Tips To Make The Best Vegan Sheet Pan Pancakes
The ingredients are pretty basic, but the choice matters, and as an expert at making vegan pancakes, here's what you should know.
Plant-Based Milk – While any dairy-free milk makes pancakes delicious, the more proteins and fat your milk contains, the moister the pancakes will be. As a result, the best plant-based milk is soy milk, followed by canned coconut milk and oat milk.
Apple Cider Vinegar or lemon juice. This is the acidic ingredient that turns the plant-based milk into a vegan buttermilk. It curdles the milk and add the fluffy moist texture to pancakes.
Unsweetened Applesauce or vegan yogurt. I usually don't use a binder in my vegan pancake recipes, but a vegan sheet pan pancake recipe is thicker and dries faster since it's baked and not fried. As a result, I found that using unsweetened apple sauce or vegan yogurt keeps the pancake moist and not dry. Of course, flax egg also works, but the texture is dryer and less fluffy.
Melted Vegan Butter – Butter makes pancakes rich and moist while adding a nice flavor. You can absolutely use oil as well, but some oils have a strong flavor that can alter the pancakes like avocado oil. The best choice will be a low-flavor oil like canola oil.
All-Purpose Flour or white spelt flour – This recipe needs starchy flour and it won't work with healthier flour like almond flour or coconut flour. It might work well with all-purpose gluten-free flour but I didn't attempt this option yet.
Baking Powder – Make sure you use fresh baking powder or the pancakes won't get fluffy.
Sugar or sugar-free crystal sweeteners you love like erythritol. You can also use refined sugar-free option but don't use a liquid sweetener, it will make the baked pancakes very dense.
Cinnamon and vanilla are added for flavor and can be replaced by pumpkin pie spices, almond extract or any other spices you love for flavoring pancakes.
Which Pan To Use For Sheet Pan Pancakes
The pan you choose impacts the texture of your pancakes. So make sure you follow the rules below to make the best sheet pan pancakes every time. There are two ways of making sheet pan pancakes.
Thick And Fluffy – Like the ones pictured above, use a 9 x 13-inch rimmed baking sheet. This version takes 16 to 20 minutes to bake.
Thin and Flatter – Use a larger baking sheet like a 15-inch x 20-inch pan. The pancakes will bake way faster, so they will be ready in just under 15 minutes.
Start By Preparing The Vegan Buttermilk
First, to make fluffy pancakes, prepare a buttermilk mixture by stirring almond milk and apple cider vinegar in a mixing bowl.
Set it aside for 10 minutes until it lightly curdles. Depending on the milk you choose, the curdling effect will be more or less showing.
Making the vegan pancake batter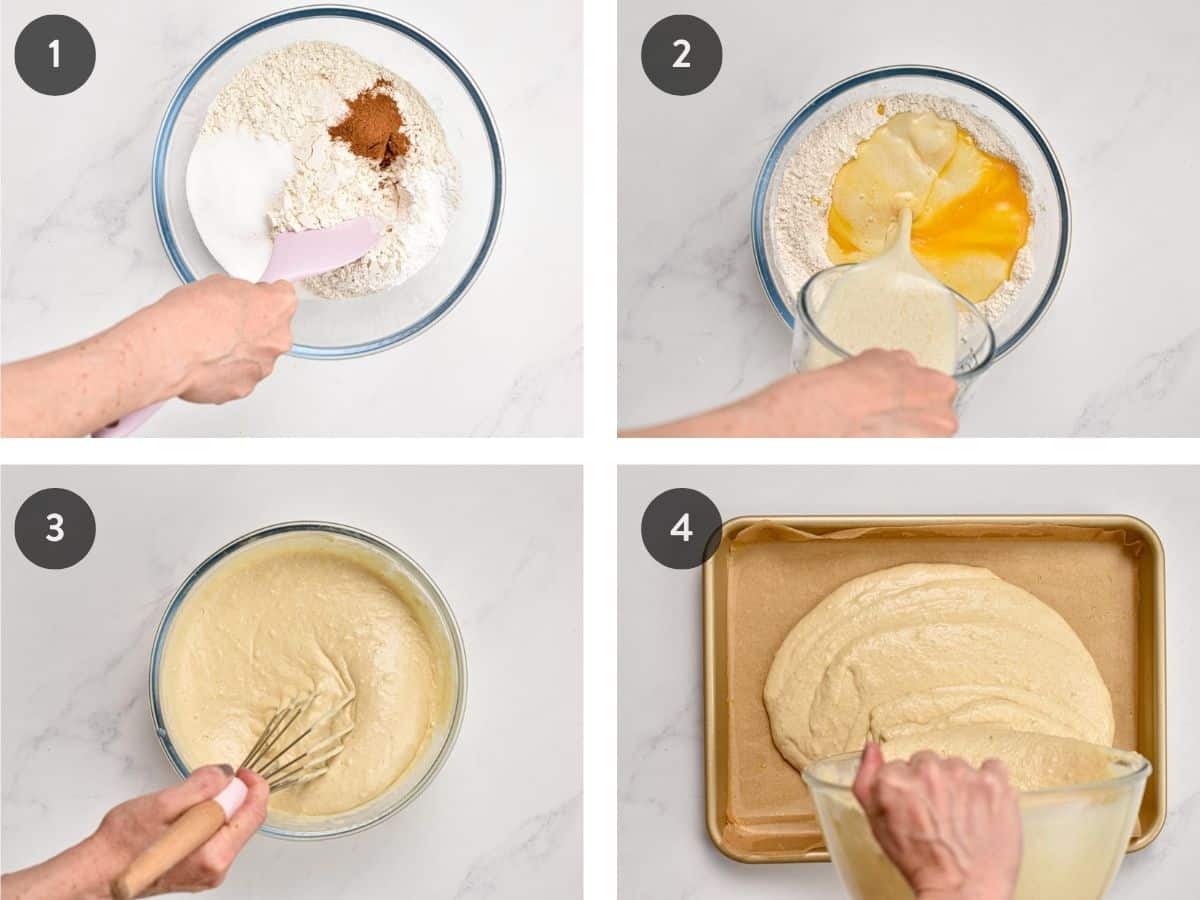 Whisk the flour, baking powder, sugar, and cinnamon in a large bowl.
Make a well in the center of the dry ingredients, then pour the prepared buttermilk, unsweetened apple sauce, vanilla extract, and cooled, melted vegan butter.
Whisk very well to form a smooth and consistent pancake batter.
Slightly oil the rimmed baking sheet with coconut oil or any oil you like and set it aside. Line the baking sheet with parchment paper and oil again. Pour the batter evenly into the pan. Slightly tap the pan a few times on the benchtop to remove any trapped air bubbles.
The best topping to sheet pan pancakes
You don't have to add toppings to sheet pan pancakes, especially if you plan to serve the sheet pan pancakes with fruits or nuts on the sides. But adding some toppings on top of the batter adds flavor and makes it easier to serve different pancake flavors in no time.
Chocolate Chips – Any flavor, dark chocolate chips add less sweetness.
Fresh Berries – like blueberries, strawberry slices, or raspberries. If you are using frozen berries, they will release moisture and make the pancakes a little undercooked on the top.
Nuts or Seeds – Slices almond, pecan, sunflower seeds, or shredded coconut roasted in the oven to add a crunchy, nutty flavor to sheet pan pancakes that everyone loves.

To add the vegan pancake toppings, make sure you spread them in a way that won't interfere with the cutting of your pancakes.
Place the toppings in the middle of the squares you will be making when cutting the pan sheet pancakes.
How To Perfectly Bake Pancakes
Preheat the oven to 395°F (200°C).
Place the filled baking sheet, on the center rack of the oven and bake on normal mode, until the top is set and golden brown. Insert a pick in the middle, and if it comes out clean, it's ready to take out of the oven.
How To Serve Sheet Pan Pancakes
These vegan sheet pan pancakes must be served warm straight out of the oven. Let them cool down for just 5 minutes at room temperature before slicing.
Cut the pancakes in the sheet pan. Press gently with your knife as you reach the bottom to avoid scratching your sheet pan but if you line the pan as recommended, it won't be an issue.
Slide a small spatula under the pancakes to release them on a plate.
Serve as a stack of 2 or 3 pancakes, with your favorite vegan pancake toppings like:
Whipped coconut cream
Dust of powdered sugar
Maple syrup
Berries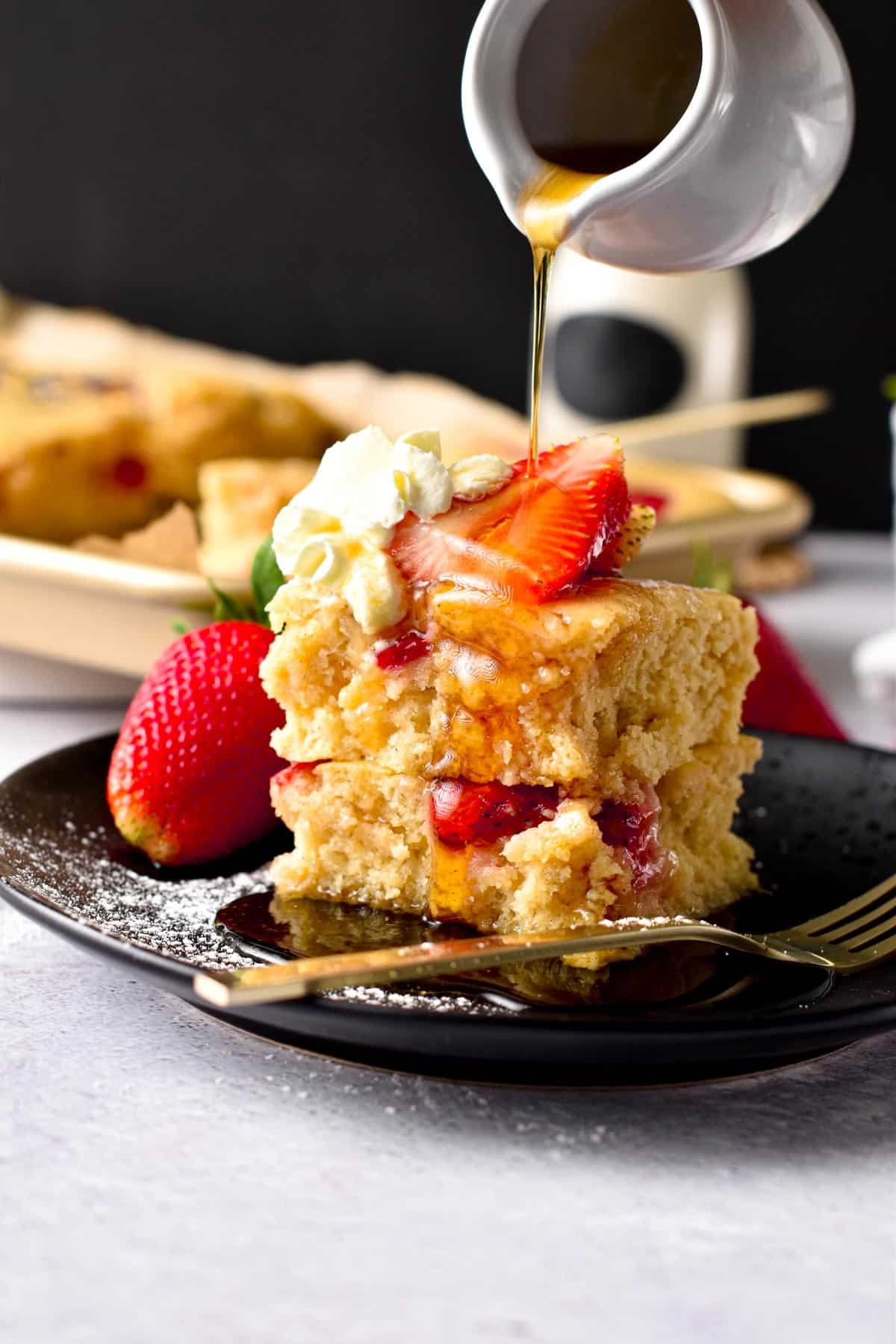 More Pancake Recipes
Below are some more pancakes recipes for you to try.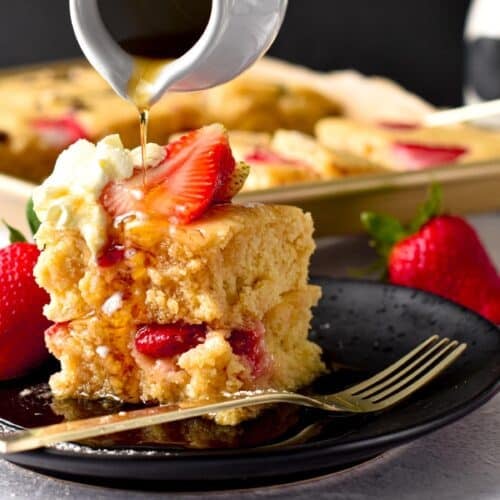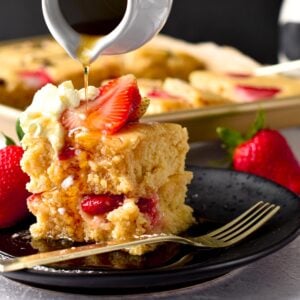 Vegan Sheet Pan Pancakes
These Vegan Sheet Pan Pancakes are easy family breakfasts for the holidays. Serve pancakes for the whole family in one go with this one-bowl pancake recipe baked in a sheet pan.
Pin
Print
Review
Servings: 16 Slices
Calories: 121.1 kcal
Instructions
Preheat the oven to 395°F (200°C). For thick, fluffy pancakes, as seen in the pictures above, use a rimmed 9 x 13-inch baking sheet. For thinner pancakes, use an 8-inch x 13-inch baking sheet. Oil it with oil spray. If the pan is not rimmed, add parchment paper and oil it. Keep in mind that this traps moisture in the pancakes, and they get moister and much more difficult to remove from the pan. Set aside.

In a mixing bowl, whisk the almond milk and apple cider vinegar and set it aside for 5 minutes until it forms a buttermilk-like texture. Depending on the milk used, it can get more or less thick, and that doesn't matter.

In another large bowl, stir flour, baking powder, sugar, salt, and cinnamon.

Make a well in the center of the flour, pour the vegan buttermilk prepared earlier, unsweetened apple sauce, cooled, melted vegan butter, and vanilla extract. Whisk the dry and wet ingredients together until a smooth vegan pancake batter forms.

Pour the batter onto the prepared pan.

Optional: sprinkle on top of the sheet pan in different areas, fresh berries, chocolate chips, or banana slices.

Bake in the center rack of the oven for 16 to 20 minutes or until golden brown on top. After 15 minutes, insert a pick in the center of the sheet pan pancakes. If it comes out clean and dry, they are cooked. If moist or gummy, keep baking.

Cool the pancakes down for 5 minutes in the pan before cutting.

Cut them into squares when warm, and serve them as a stack or on a single layer with your favorite pancake toppings like jam, maple syrup, or whipped coconut cream.
Notes
How do you store leftover sheet pan pancakes? Store leftover pancakes in the fridge in an airtight container in a single layer. They stick together when stacked. Freeze them in zip-lock bags in single layers for up to 3 months. Thaw them in the fridge the day before. Can I make sheet pan pancakes gluten-free? I didn't try all-purpose gluten-free flour, but it might work if you use a flour that substitutes flour with a 1:1 ratio. Note 1: Any non-dairy milk works, including almond milk, oat milk, or soy milk. Note 2: Or lemon juice. Note 3: or 1/3 cup vegan yogurt Note 4: Vegan butter replacements are melted coconut oil or any vegetable oil like avocado oil. Note 5: Sugar-free crystal sweeteners like erythritol work as well.
Share on Facebook
Pin Recipe
Nutrition
Serving: 1Square | Calories: 121.1kcal | Carbohydrates: 17.6g | Protein: 2.4g | Fat: 4.5g | Saturated Fat: 0.8g | Polyunsaturated Fat: 1.6g | Monounsaturated Fat: 1.9g | Trans Fat: 0.7g | Cholesterol: 0.02mg | Sodium: 145.5mg | Potassium: 55.3mg | Fiber: 0.8g | Sugar: 4.9g | Vitamin A: 78IU | Vitamin B12: 0.2µg | Vitamin C: 1.4mg | Vitamin D: 0.2µg | Calcium: 92.9mg | Iron: 1mg | Magnesium: 7.5mg | Phosphorus: 44.9mg | Zinc: 0.2mg
Frequently Asked Questions
Can I Stir Berries Or Chocolate Chips Into The Batter?
You can stir chocolate chips into the batter to make chocolate chips sheet pan pancakes.
However, berries will release juice and make the pancake batter moist and gummy in the middle.
Can I Use A Smaller 9-Inch Square Pan?
The smaller the pan, the thicker the pancake. So if your pan is too small, your pancakes will have a cake-like texture.
It also means that the recipe will take much longer to bake.