These Oat Milk Pancakes are easy fluffy pancakes perfect for a comforting, dairy-free, nut-free breakfast.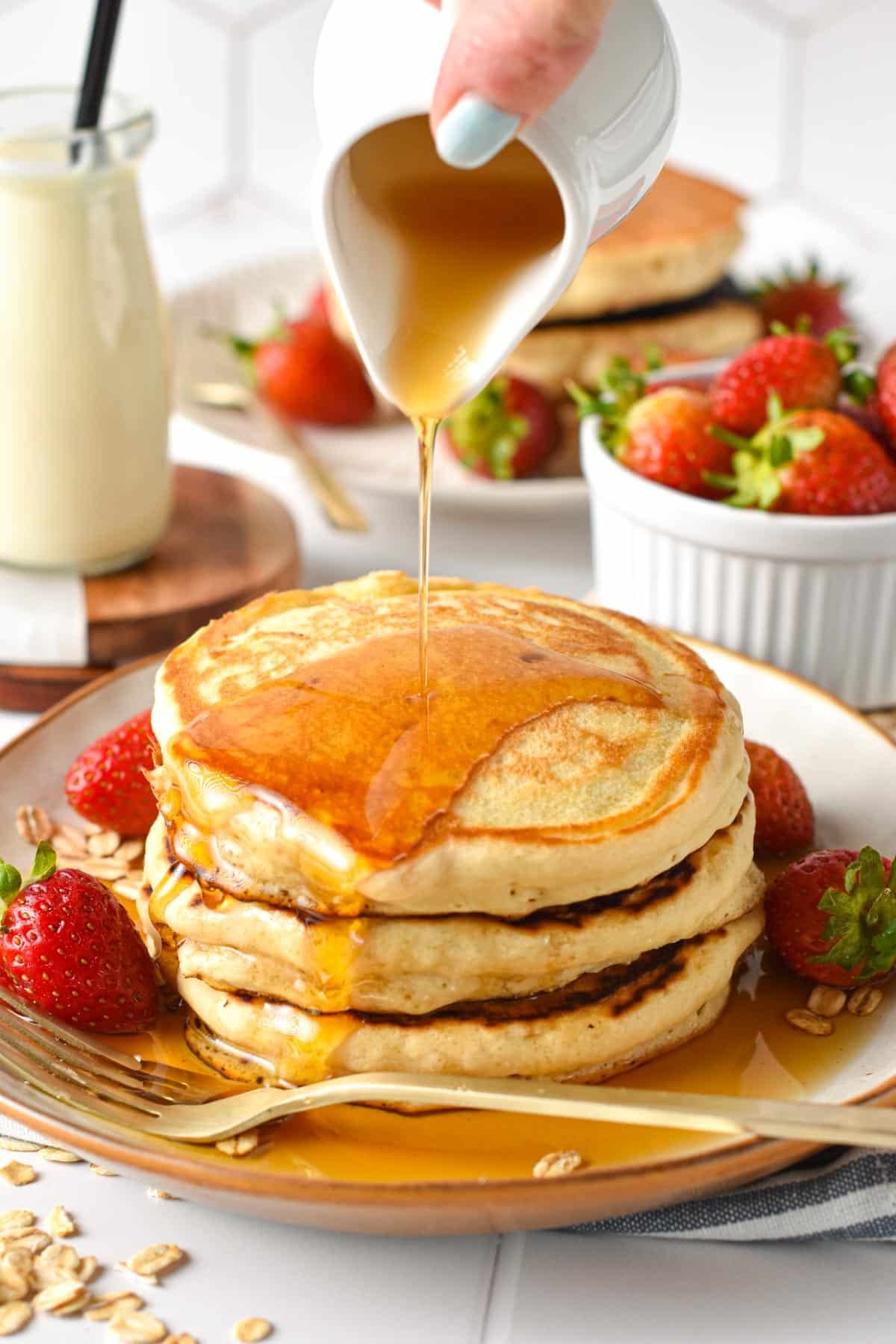 We love dairy-free pancake recipes and oat milk is one of the best plant-based milk choices for the planet.
It's sustainable, and it tastes so good in baked goods. With more proteins and fat than almond milk, it truly adds the best texture to pancakes, cakes, or waffles.
What Are Oat Milk Pancakes?
Oat milk pancakes are dairy-free pancakes made from oat milk. They are also egg-free, and easy to make without egg replacer like flax eggs.
They are light, fluffy, and perfect for a healthy dairy-free breakfast.
How To Make Oat Milk Pancakes
Making these pancakes is really easy, it only takes a few simple ingredients and about 15 minutes of your time.
Ingredients
Oat Milk – You can make your own oat milk or use store-bought oat milk from the grocery store.
All-Purpose Flour – Or white whole-wheat flour.
Baking Powder – Yes, there's a whole tablespoon of baking powder in this recipe to make extra fluffy pancakes. If you prefer thinner pancakes, decrease to 2 teaspoons.
Apple Cider Vinegar
Vanilla Extract
Salt
Avocado Oil
Sugar, coconut sugar, or any crystal sweetener you love.
Make The Oat Buttermilk
First, add oat milk and apple cider vinegar to a large bowl.
Whisk with a small fork or whisk and set aside for 10 minutes until it looks creamy and curdle like regular buttermilk.
Add the wet ingredients: vanilla extract, and avocado oil, and stir to combine.
Adding Dry Ingredients
Next, fold in the dry ingredients: all-purpose flour – make sure you don't overly pack the flour in the measuring cup to measure flour properly – salt, and baking powder.
Use a hand whisk to bring all the ingredients together into a smooth, lightly thick oat milk pancake batter.
Don't over-mix the batter or it sure activates the gluten in the flour and makes the pancakes gummy and dense.
That's also the reason why I don't recommend blending or using an electric beater for this recipe.
Cooking The Pancakes
Warm a pancake griddle or non-stick pan over medium heat. Lightly grease the surface with a piece of absorbent paper dipped in avocado oil or cooking spray.
Evenly rub or spray the pan before adding any batter and repeat this step before cooking a new batch of pancakes.
Pour 1/3 cup of batter per pancake into the pan. Keep some space between each pancake as they spread and you don't want them to touch each other.
Cook for 2 to 3 minutes or until bubbles form in the center and the edges dry out. Then, slice a flat tool under the pancake, flip, and cook an extra 1 minute.
The pancakes should be fluffy and have a nice golden brown color.
Store the cooked oat milk pancakes on a plate covered with a piece of foil to keep them warm. Meanwhile, keep cooking the remaining pancake batter.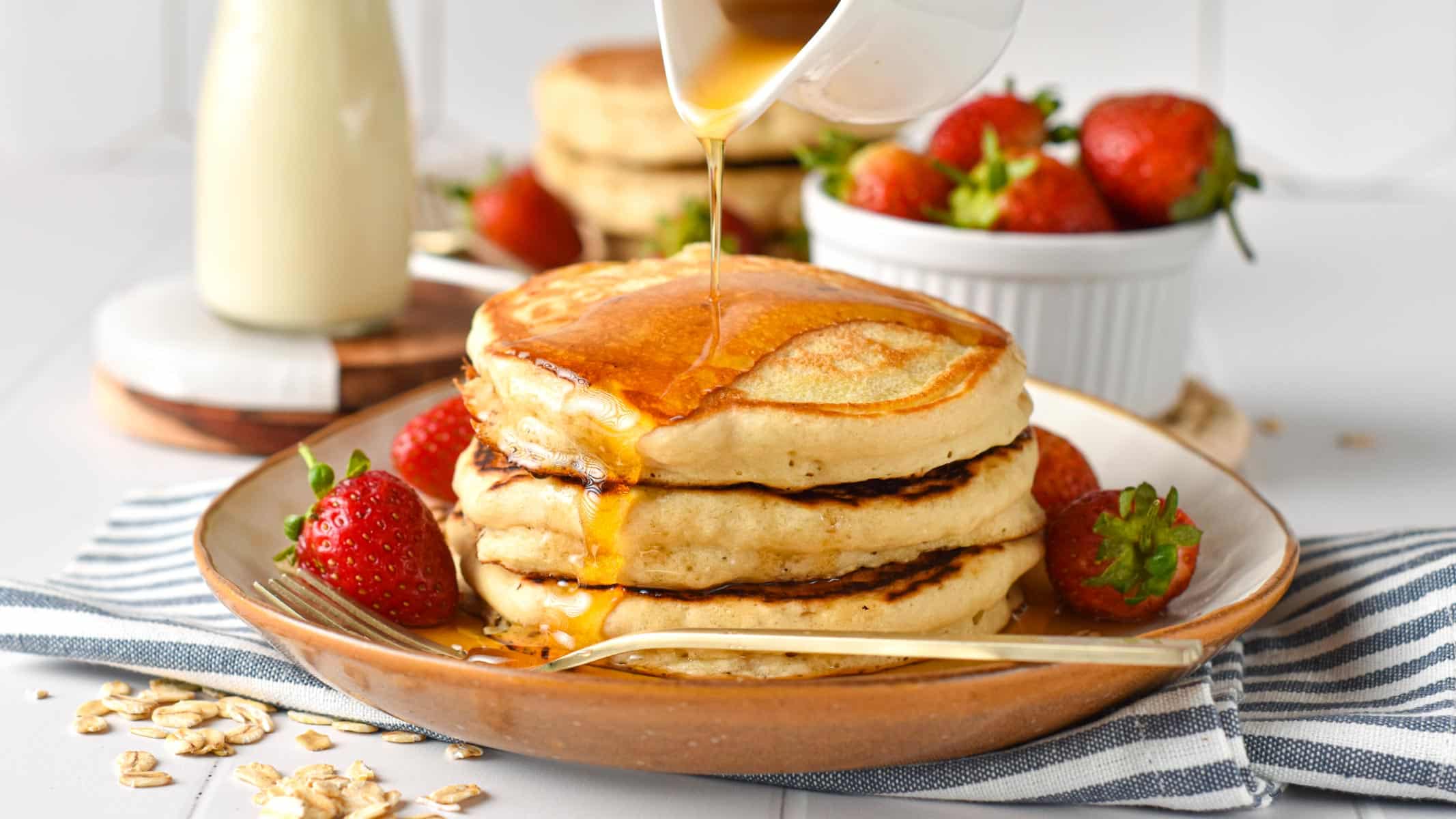 Storage Instructions
Store leftover pancakes to meal prep a few days of pancakes for breakfast.
Place the pancakes in an airtight container in the fridge. They last up to 4 days in the refrigerator or one month in the freezer.
If you freeze them, place a piece of parchment paper between each pancake. If you stack them without this piece of paper, they freeze as a stack, and it's difficult to thaw just one pancake.
Thaw in the fridge the day before serving. Rewarm your pancakes in a warm pancake griddle
Serving
This oat milk pancake recipe tastes amazing with all your classic pancakes toppings like:
Maple Syrup or any syrup like coconut nectar, date syrup, or agave syrup.
Vegan Butter
Jam – or try my chia seed jam recipe for a healthier option.
Fresh Fruits like strawberries, blueberries, banana slices, or raspberries.
Nut Butter – Peanut butter almond butter or cashew butter all taste amazing with this recipe.
Add-Ons
Feel free to stir some fruits, spices, or more in the batter.
Here are some ideas to flavor the pancake batter to your taste:
Chocolate Chips Pancakes – Add 1/3 cup of dark chocolate chips.
Blueberry Lemon Pancakes – Add 1/2 cup of blueberries and 1 teaspoon of lemon zest. Swap the apple cider vinegar for lemon juice.
Cinnamon Pancakes – Add 2 teaspoons of ground cinnamon to the batter along with the dry ingredients.
Allergy Swaps
Here are some options for you to try if you need substitutions for some of the ingredients used in this pancake recipe.
Gluten-Free – While there's an option for gluten-free certified oat milk at the store, I didn't try the recipe with gluten-free flour. I may suggest all-purpose gluten-free flour, but I am not sure the texture will be as nice and fluffy.
Oil Options – You can use any vegetable oil you have on hand. Melted coconut oil and olive oil are great options as well. I also tried dairy-free melted butter which adds a delicious flavor to the pancake batter.
Sugar-Free – Feel free to skip the sugar in the batter or use allulose for a natural sugar-free sweetener.
Oil-Free – You can replace oil with the same amount of unsweetened applesauce, mashed bananas, or pumpkin puree. However, the batter tends to stick more to the pan, and you may like to add one tablespoon of cornstarch with the dry ingredients to firm up the pancakes more.
Frequently Asked Questions
Here are my answers to your most common questions about this pancake recipe.
Is Oat Milk A Good substitute for milk in pancakes?
Yes, you can replace almond milk or any milk with oat milk in a pancake recipe. If oat milk is replacing lower-fat milk, then you don't need to adapt the other ingredients in the recipe.
But, if oat milk is used as a swap to higher fat content milk, add two extra teaspoons of oil to the batter to achieve the same texture.

Which Alternative Milk Is The Best For Pancakes?
The best plant-based milk for pancakes is low-flavor milk like almond milk or oat milk.
Then, you can use coconut milk, hemp milk, or rice milk, but they are sweeter and add flavor to the recipe.
Is Almond Or Oat Milk Better For Pancakes?
In terms of texture, both provide a similar result. But, if you are allergic to gluten, almond milk is often the safest option, as some oat milk can contain gluten unless tagged gluten-free.
More Pancakes Recipes
Below are my other healthy pancake recipes for you to try.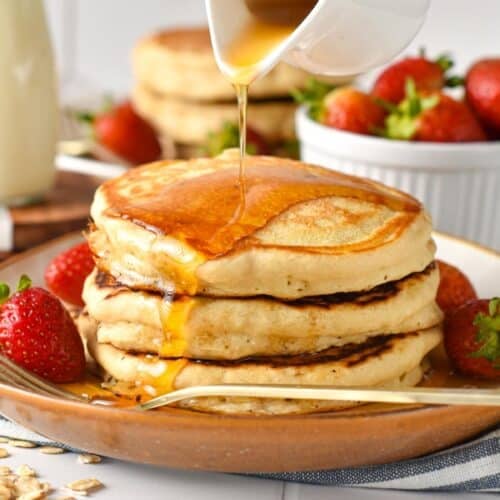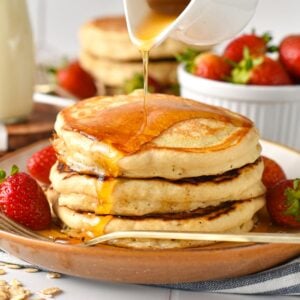 Oat Milk Pancakes
These Oat Milk Pancakes are easy fluffy pancakes perfect for a comforting dairy-free breakfast.
Pin
Print
Review
Instructions
In a large bowl, stir the oat milk with apple cider vinegar. Set aside for 10 minutes until it looks thicker, like a buttermilk texture.

Stir in the avocado oil and vanilla extract.

Next, fold in the dry ingredients: all-purpose flour, sugar, salt, and baking powder.

Whisk until the batter is lightly thick and smooth with no lumps of flour but don't overmix, or the pancakes come out dense.

Warm a pancake griddle over medium heat, rub the surface with a bit of oil, or use cooking spray.

Pour 1/3 cup of batter per pancake and cook for 2 minutes on one side or until the sides dry out and bubbles form in the center.

Flip the pancake and keep cooking for an extra minute.

Cool on a wire rack while cooking the remaining batter. Don't forget to regrease the pan before cooking more pancakes.
Serving
Serve with your favorite dairy-free pancake toppings.
Storage
Store in the fridge to up to 3-4 days in an airtight container.
Share on Facebook
Pin Recipe
Nutrition
Serving:
1
pancake
|
Calories:
162.4
kcal
|
Carbohydrates:
26.3
g
|
Protein:
4.1
g
|
Fat:
4.3
g
|
Saturated Fat:
1.4
g
|
Polyunsaturated Fat:
0.5
g
|
Monounsaturated Fat:
2.1
g
|
Cholesterol:
4.5
mg
|
Sodium:
426.9
mg
|
Potassium:
114.2
mg
|
Fiber:
0.7
g
|
Sugar:
6
g
|
Vitamin A:
80.5
IU
|
Vitamin B12:
0.03
µg
|
Vitamin C:
0.5
mg
|
Vitamin D:
0.5
µg
|
Calcium:
176.3
mg
|
Iron:
1.5
mg
|
Magnesium:
12.2
mg
|
Phosphorus:
117.3
mg
|
Zinc:
0.3
mg