These Pumpkin Oatmeal Pancakes are easy, healthy fall oatmeal pancakes filled with natural pumpkin puree and delicious pumpkin spices.
Plus, these are allergy-friendly pancakes, 100% egg-free, dairy-free, and gluten-free.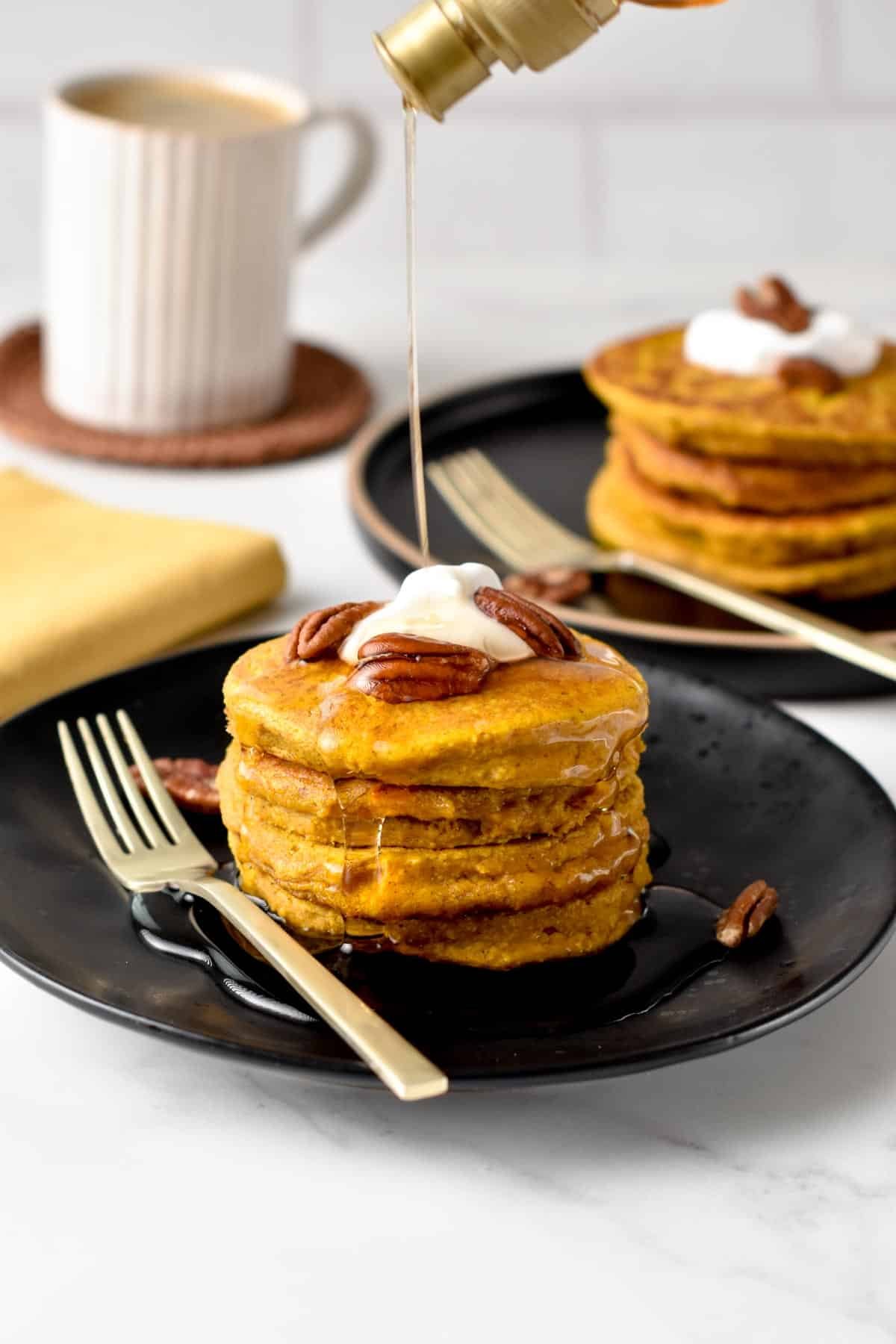 Last year I shared with you my vegan pumpkin pancakes, they are super fluffy pancakes, but they are made of all-purpose flour.
If you prefer a healthy pumpkin pancake recipe packed with fiber and nutrients, try this pumpkin oatmeal pancake instead.
Why You'll Love These Pancakes
They are naturally:
Nut-Free
Egg-Free
Dairy-Free
Vegan
Gluten-Free using gluten-free certified oats
High in fiber
How To Make Pumpkin Oatmeal Pancakes
These are blender pumpkin pancakes. They are easy to prepare in under 5 minutes in the bowl of a high-speed blender.
Ingredients
All you need to make these pancakes this fall are:
Old-Fashioned Oats or quick oats
Pumpkin Puree I used canned pumpkin puree but feel free to use homemade pumpkin puree if you lie.
Pumpkin Pie Spices – It's basically a combo of cinnamon, ginger, nutmeg and cloves.
Allspice – It's a special mix of spices that I love to add in this recipe to boost the flavor of the pancakes.
Maple Syrup – Optional, for a boost of sweetness.
Vanilla Extract
Almond Milk
Baking Powder
Salt
Melted Coconut Oil or avocado oil
Pumpkin Pancake Batter
In a high-speed blender jug, add oats, pumpkin puree, spices, vanilla extract, almond milk, baking powder, salt, and oil.
Blend on high speed until smooth and creamy. If it's too thick or too difficult to blend, add 1 or 2 extra tablespoons of almond milk and use the tamper attachment of the blender to push down the ingredients next to the blade.
The batter should be thick, but easy to pour in a mixing bowl, not too dense.
Transfer the batter to a mixing bowl and set it aside.
Cooking Pancakes
Meanwhile, warm a pancake griddle or crepe pan with avocado oil.
Scoop out three tablespoons of batter in the pan per pancake and use the back of the spoon to spread the batter in a circular motion.
Cook for 2 to 3 minutes on one side, then flip and cook an extra minute on the other.
Let the pancakes cool down on a wire rack while cooking the remaining pancake batter.
Serving
Serve the oatmeal pumpkin pancakes with some of the delicious fall toppings below.
Yogurt – coconut yogurt is a delicious addition to pumpkin flavors.
Pecans
Maple syrup
Pinch of pumpkin pie spices
Ground cinnamon
Almond butter
Peanut butter
Coconut whipped cream
Storage Instructions
This recipe makes 14 pancakes, and you can store leftovers in a sealed box in the fridge for up to 4 days.
Rewarm the pancakes in the air fryer, on a hot pancake griddle or bread toaster.
You can freeze oatmeal pancakes too in an airtight box or zip-lock bags and thaw them at room temperature the day before.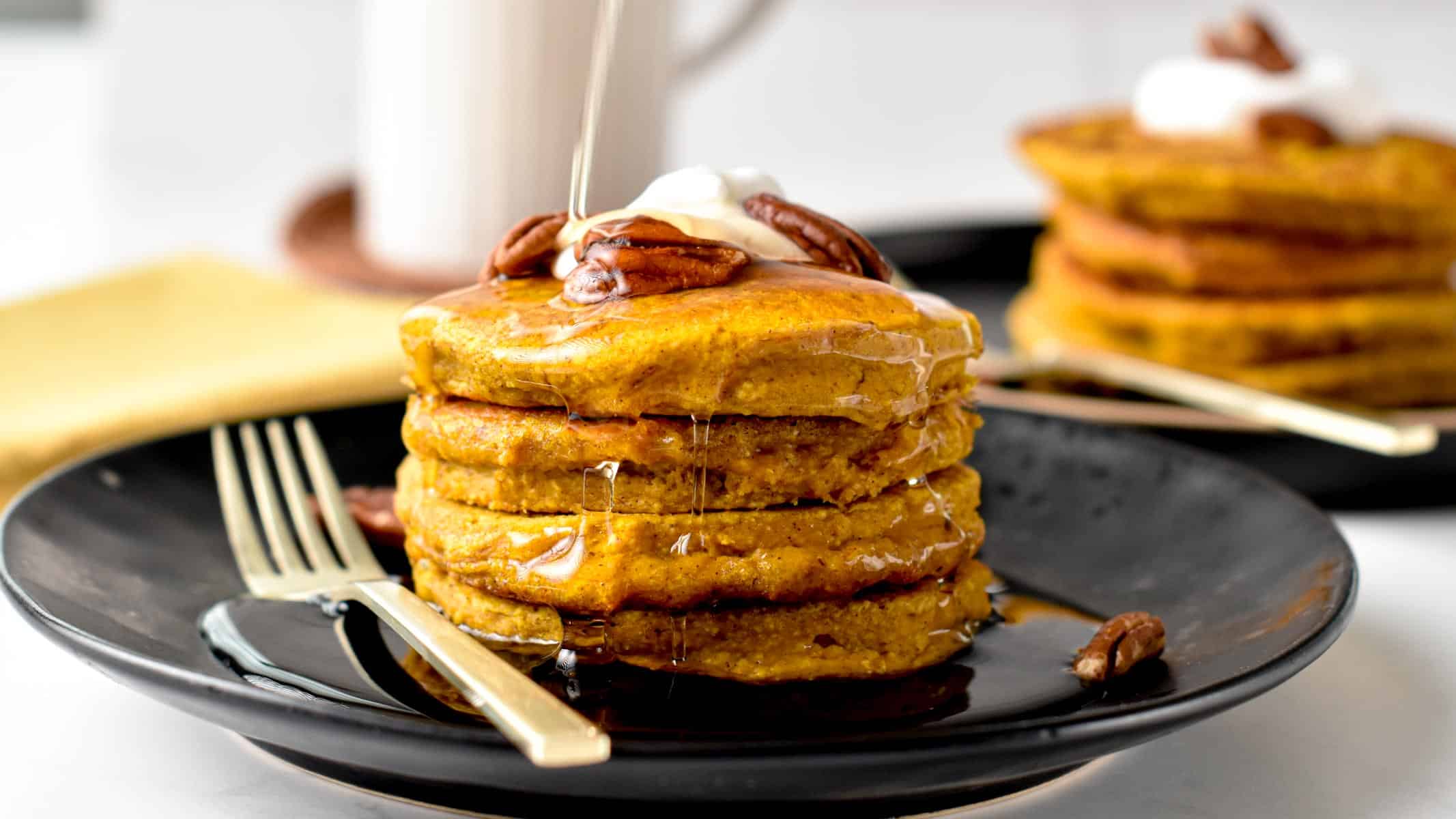 Allergy Swaps
Below are some ideas to swap some ingredients and make the pancakes suitable to food allergies you might have:
Sugar-Free – Skip the maple syrup and use a natural sugar-free sweetener like Monk Fruit liquid syrup or sugar-free crystal sweeteners like allulose or erythritol.
Gluten-Free– Use gluten-free certified oats for this recipe.
Nut-Free – Use nut-free, dairy-free milk like hemp milk, oat milk, or soy milk.
Oil-Free – I didn't try the recipe oil-free, and I don't recommend this option as it can make the pancakes very moist, packed, and long to cook. However, if you are keen to try, maybe vegan yogurt or applesauce would work.
Frequently Asked Questions
Below are your most frequent questions about this recipe.
Why Won't My Pancakes Cook In The Middle?
Pumpkin pancakes contain much more moisture than regular pancakes. Therefore, they need more time to cook than other pancakes.
If yours are too wet, add 2-4 tablespoons oat flour or all-purpose flour to the batter. It will thicken the batter and make it easier to cook through.
Can I Use A Food Processor Instead Of A Blender?
No you can't use a food processor.
In fact the bowl of a food processor is wider and the blade has less power than blender.
As a result, the pancake batter will have pieces of oats and won't come together either.
Can I Use Oat Flour?
Yes, you can stir oat flour and remaining ingredients in a mixing bowl.
Can I Use Regular Flour?
No, this recipe has different measurements as oat is higher in fiber than all-purpose flour.
Try my pumpkin pancake recipe using regular flour.
Can I Use Homemade Pumpkin Puree?
Yes, you can make your own pumpkin puree with this recipe, but the batter will be runnier. It means that the pancakes will take longer to cook and the flavor will be less strong as well.
Canned pumpkin puree is made of a blend of up to 7 varieties of pumpkin, delivering a more robust pumpkin flavor.
It's also less moist than homemade puree resulting in pancakes that cook faster.
Did you tr these vegan pumpkin oatmeal pancakes? Share a comment or review below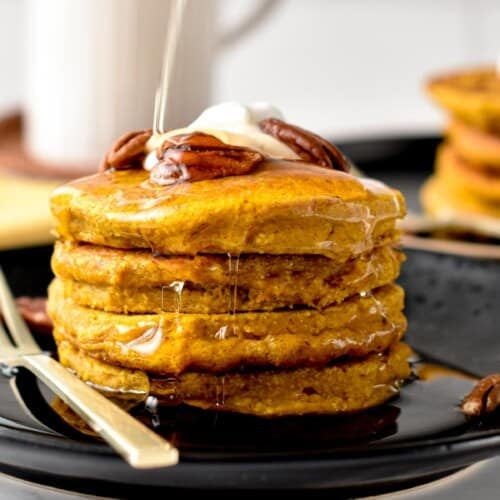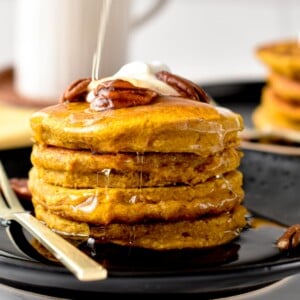 Pumpkin Oatmeal Pancakes
These Pumpkin Oatmeal Pancakes are easy, healthy Fall oatmeal pancakes filled with natural pumpkin puree and delicious pumpkin spices. Plus, these are allergy-friendly pancakes, 100% egg-free, dairy-free, and gluten-free.
Pin
Print
Review
Instructions
In a blender, add all the ingredients: old-fashioned oats, all spices, pumpkin pie spices, baking powder, salt, pumpkin puree, almond milk, melted coconut oil, vanilla, and maple syrup process on high speed until smooth – about 30 seconds.

Pour the liquid ingredients into a mixing bowl – it makes it easier to scoop into the pan or keep in the blender jug if preferred.

Heat a pancake griddle pan over medium-high heat. When hot, reduce to low heat and scoop 1/4 cup of batter per pancake.

Cook for 2 minutes on one side, until the sides dry out, then flip and cook for 1-2 minutes on the other side.

Repeat until no more batter is left. You should form about 14 pumpkin oatmeal pancakes.

Serve plain or with pecan, yogurt, or banana slices and maple syrup.
Storage
Store leftover pancakes in an airtight container in the fridge for up to 3 days or freeze for later and thaw them in the refrigerator the day before.
Share on Facebook
Pin Recipe
Nutrition
Serving:
1
pancake
|
Calories:
103.4
kcal
|
Carbohydrates:
13.1
g
|
Protein:
2.2
g
|
Fat:
5.1
g
|
Saturated Fat:
3.4
g
|
Polyunsaturated Fat:
0.5
g
|
Monounsaturated Fat:
0.7
g
|
Sodium:
347
mg
|
Potassium:
93
mg
|
Fiber:
2
g
|
Sugar:
1.7
g
|
Vitamin A:
2723.5
IU
|
Vitamin C:
0.7
mg
|
Calcium:
193.4
mg
|
Iron:
1.1
mg
|
Magnesium:
25
mg
|
Phosphorus:
121.8
mg
|
Zinc:
0.6
mg