These Pumpkin Protein Pancakes are easy, healthy fall pancakes packed with 16 grams of proteins. Plus, they are plant-based, made without eggs or dairy, and vegan-friendly.
I am passionate about healthy breakfast recipes, especially those packed with protein, to keep me full for hours.
It's time to bake some delicious high-protein pumpkin recipes with fall approaching. If you haven't tried my protein pumpkin energy balls or pumpkin protein bars, you should.
But let's go back to these easy pumpkin protein pancakes first.
What Are Pumpkin Protein Pancakes?
Pumpkin protein pancakes are made with pumpkin puree and added protein powder to boost their protein per serve.
They are packed with pumpkin flavors from pumpkin spices and are slightly moist in the center due to the pumpkin puree.
They are healthy pancakes to celebrate fall, rich in fiber from rolled oats and proteins from plant-based protein powder.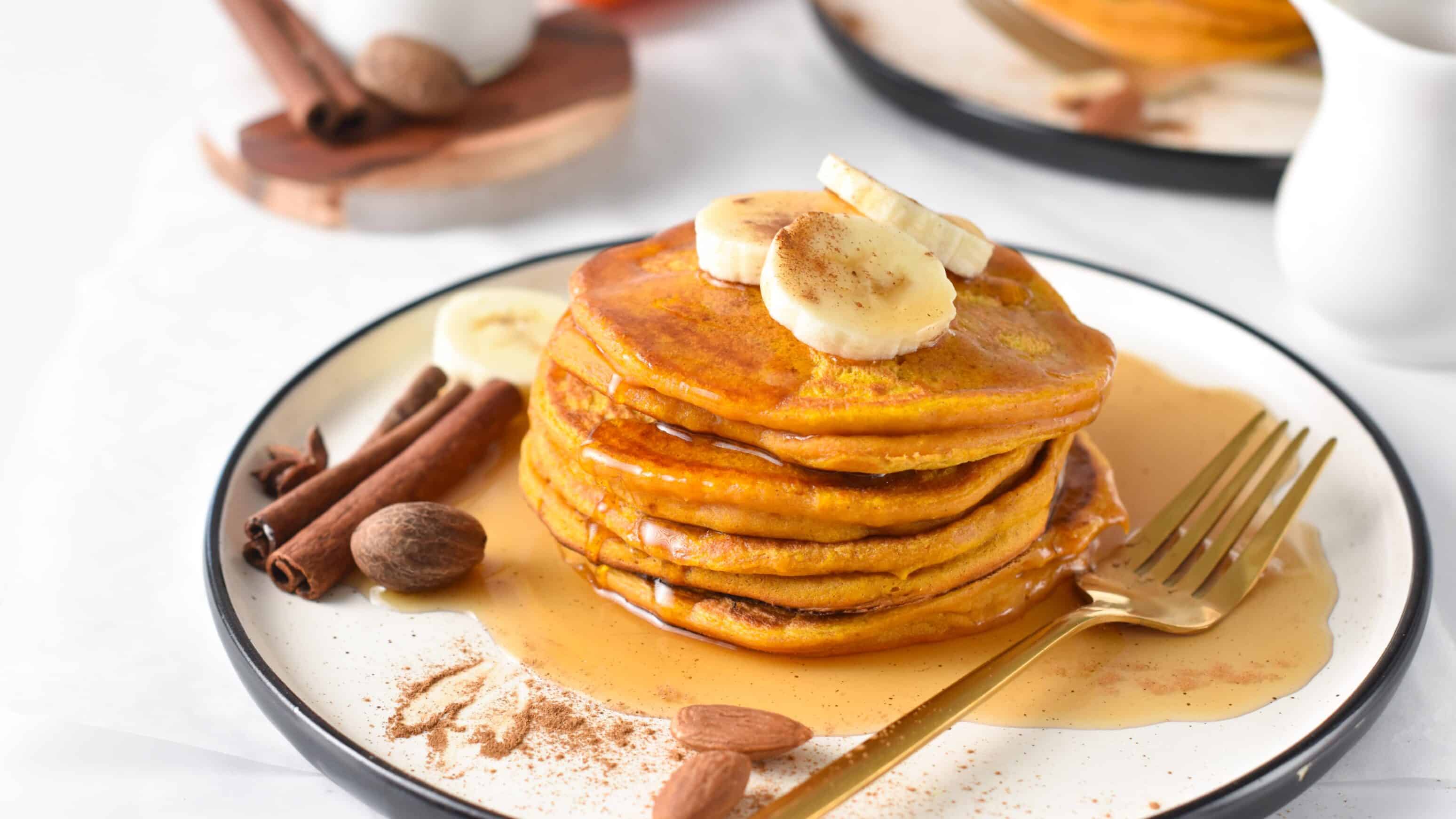 How To Make Pumpkin Protein Pancakes
You need a few simple, wholesome ingredients to make pumpkin pancakes with protein powder.
Ingredients
All you need to start this pancake recipe are:
Canned Pumpkin Puree – This is not the same as pumpkin pie filling. Canned pumpkin puree is made just from pumpkin. It contains a blend of cooked, mashed pumpkin that deliver a 100% natural vegetable puree packed with flavors. You can also use homemade pumpkin puree for this recipe.
Oil of Choice – Like avocado oil, coconut oil, or olive oil.
Apple Cider Vinegar or lemon juice.
All-Purpose Flour or white spelt flour.
Oat Flour – The combination of flour and oat flour makes the pancake texture perfect. It prevents gummy pancakes, and they cook faster, while oats add proteins and fiber.
Vanilla Extract
Baking Powder
Coconut Sugar or any crystal sweetener like unrefined cane sugar or simply sugar. Avoid liquid sweeteners that make the batter gummy and difficult to cook in the center.
Pumpkin Pie Spices or simply use cinnamon, ginger, and nutmeg.
Salt
Vanilla Protein Powder – I use pea protein powder made with just three natural ingredients, no additives.
Unsweetened Almond Milk – Or any plant-based milk you love including coconut milk or soy milk, or oat milk.
Water – Cold water from the tap.
Making The batter

In a large mixing bowl, whisk all-purpose flour, oat flour, baking powder, pumpkin spices, sugar, salt, and vanilla protein powder. Set aside.
In another large mixing bowl, whisk pumpkin puree, oil, unsweetened almond milk, vanilla extract, and water.
Finally, whisk the dry ingredients into the wet ingredients until they form a thick pancake batter.
If you like it, feel free to stir in 1/4 cup of dark chocolate chips or finally chopped pecans or walnuts in the pancake batter.
Cooking The Pumpkin Pancakes
Pumpkin pancakes contain more moisture than regular pancakes, and therefore they take a little longer to cook in the center, so be patient.
They are also a bit more chewy and moist in the center, and that's what you should expect from a protein pancake recipe with pumpkin puree. They are not as light and fluffy as my fluffy vegan pancakes.
Warm a non-stick pancake griddle with cooking oil spray.
Pour three tablespoons of pancake batter into the pan and use the back of a spoon to help spread the batter into a larger round pancake.
Cook the pancakes for 2 to 3 minutes on medium heat on one side.
Flip and cook for an extra 1 to 2 minutes on the other side.
Let the pancakes cool down on a wire rack, so they steam out their extra moisture.
Meanwhile, keep cooking the remaining batter.
Serving
Serve the pumpkin pancakes with any topping you love like:
Almond Butter or peanut butter
Plant-Based Greek Yogurt, like coconut yogurt, oat yogurt, or soy yogurt.
Banana Slices
Nuts like chopped pecans, walnuts, or almonds
Chocolate Chips
A pinch of extra cinnamon or pumpkin spices to boost the fall flavors of your stack.
Maple Syrup or coconut nectar
Storage Instructions
Store the leftover pumpkin pancakes in the refrigerator in an airtight container for up to 3 days. You can also place the pancakes in zip-lock bags in the freezer for up to one month.
Thaw in the fridge the day before and reheat them in the microwave or toaster oven.
Allergy Swaps
If you have some food allergies here are some options for you.
Gluten-Free – I didn't try replacing the all-purpose wheat flour with all-purpose gluten-free flour. However, I usually end up with gummy and dense pancakes, and I don't recommend this option. Instead, try using extra gluten-free oat flour.
Sugar-Free – You can skip the sweetener in the batter if desired.
Oil-Free – I didn't try the recipe oil-free, but in my experience, pumpkin pancakes stick to the pan without oil, and I do recommend using oil. However, try oil-free swaps like non-dairy yogurt or unsweetened apple sauce.
Nut-Free – Replace the almond milk with any nut-free plant-based milk, like oat milk, coconut milk, or soy milk for a boost of proteins.
Frequently Asked Questions
Below are my answers to your most common questions about this protein pumpkin pancake recipe.
What are the healthiest protein pancakes?
Homemade protein pancakes made from simple ingredients like oats, fruit puree, and unprocessed plant-based protein powder are the best. They are made with clean ingredients to keep you energize and full for longer.
Why are pumpkin pancakes too moist?
If you add too much pumpkin puree or wet ingredients to the batter, the pancakes are too moist and won't cook well in the center. Make sure you measure ingredients precisely to make your pancake's texture right.
More Pancakes Recipes
Below are my other healthy pancake recipes for you to try.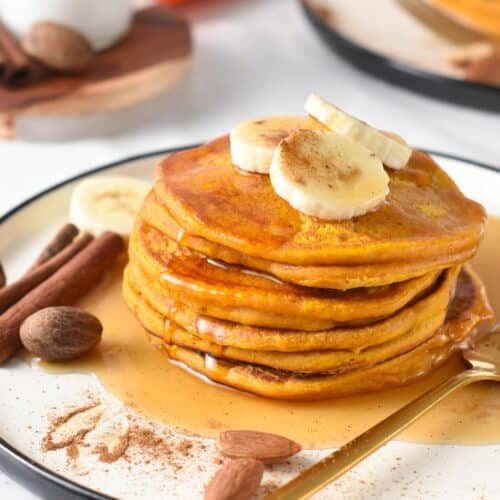 Pumpkin Protein Pancakes
These Pumpkin Protein Pancakes are easy, healthy fall pancakes packed with 16 grams of proteins. Plus, they are plant-based, made without eggs or dairy, and vegan-friendly.
Pin
Print
Review
Servings:
3
serve (3 pancakes, 1/4 cup each)
Instructions
In a large mixing bowl, whisk all the wet ingredients: pumpkin puree, oil, almond milk, water, apple cider vinegar, and vanilla extract. Whisk until smooth.

In another bowl, whisk the dry ingredients: flour, oat flour, protein powder, coconut sugar, pumpkin spices, and baking powder.

Stir the dry ingredients into the wet until the batter is thick and consistent.

Warm a non-stick pancake griddle over medium heat and grease generously with oil. Pumpkin pancakes tend to stick more to the pan, so oil is a must.

Scoop out three tablespoons of batter per pancake, use the back of a spoon to spread the batter, and make the pancake thinner. Cook for 2-3 minutes on one side or until the sides are dry and set so you can easily slide a spatula under the pancake to flip it over.

Flip and cook for an extra 1-2 minutes on the other side.

Serve with maple syrup, banana slices, or almond butter for a boost of proteins.
Storage
Store in an airtight container in the fridge for up to 3 days or freeze for up to one month in zip-lock bags for later.

Rewarm in the microwave or toaster oven.
Notes
Note 1: Homemade pumpkin puree works if made from steamed or roasted pumpkin, not boiled, or you would need more flour to balance the extra moisture.
Note 2: Any crystal sweetener works, such as white sugar or sugar-free erythritol. Avoid liquid sweeteners like maple syrup that make the batter gummy.
Note 3: Only oat flour works in this recipe, but the pancakes won't be as fluffy and grittier. Also, you need to set the batter aside 10 minutes before cooking the pancake to let the fiber from the oat bind with the ingredients.
All-purpose gluten-free flour works if you use a 1:1 gluten-free flour blend containing gum like Bob Red Mill's All-purpose Gluten-free flour.
Almond flour or coconut flour won't work in this recipe.
Share on Facebook
Pin Recipe
Nutrition
Serving:
4
pancakes
|
Calories:
382.6
kcal
|
Carbohydrates:
61.1
g
|
Protein:
15.9
g
|
Fat:
8.6
g
|
Saturated Fat:
1.3
g
|
Polyunsaturated Fat:
1.9
g
|
Monounsaturated Fat:
4.3
g
|
Cholesterol:
24.6
mg
|
Sodium:
562.1
mg
|
Potassium:
297
mg
|
Fiber:
4.4
g
|
Sugar:
8.6
g
|
Vitamin A:
9532.3
IU
|
Vitamin C:
2.6
mg
|
Calcium:
406.1
mg
|
Iron:
4
mg
|
Magnesium:
58.6
mg
|
Phosphorus:
275.3
mg
|
Zinc:
1
mg