These Fluffy Vegan Banana Pancakes are the most nourishing delicious pancakes for breakfast high in protein, fiber, and low in sugar.
Plus, this vegan breakfast recipe is also perfect to use the extra ripe bananas from your week.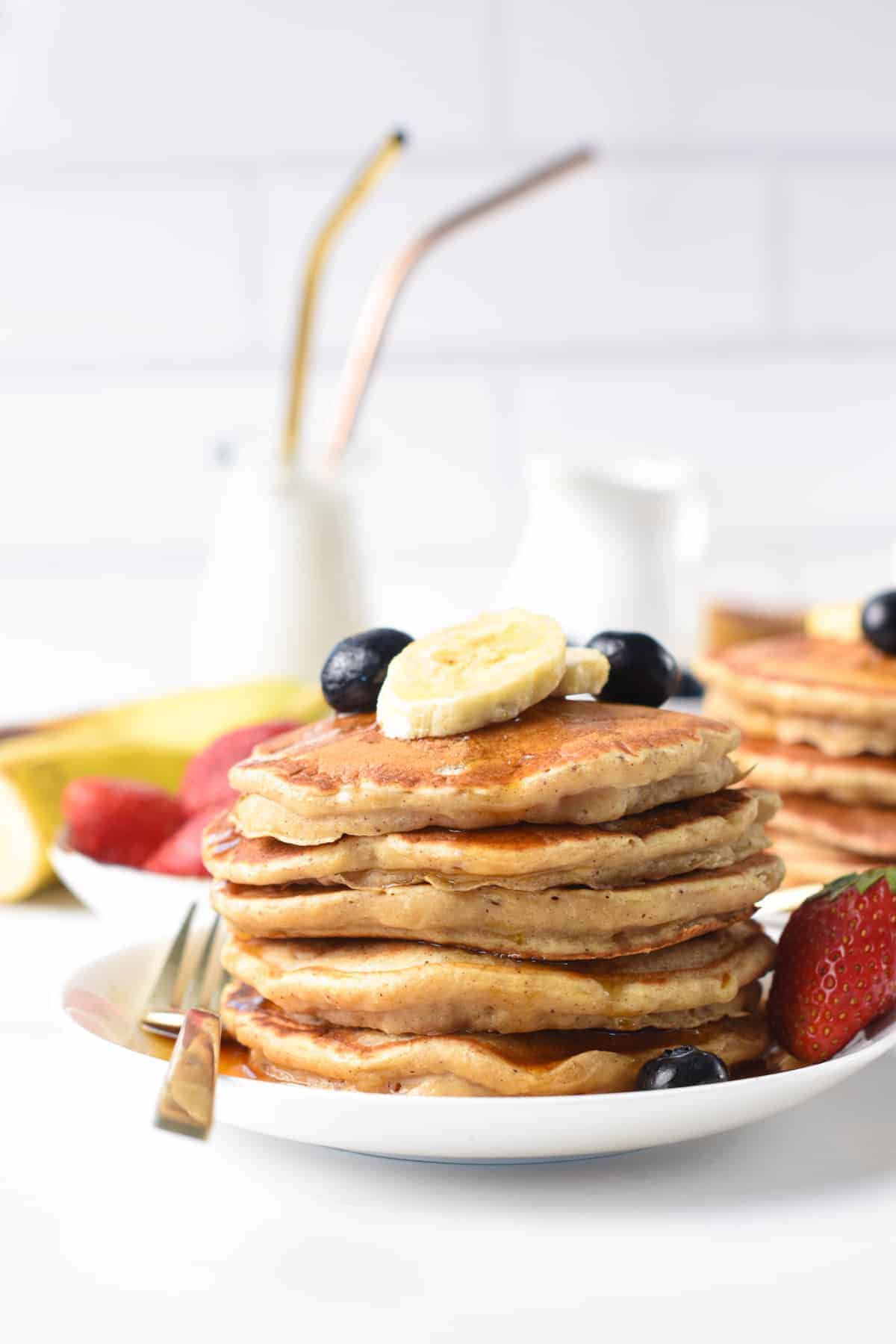 You know my passion for ripe banana recipes, right? I've already shared more than 20 vegan banana recipes on the blog, and it's won't stop.
So, after sharing my 3-ingredient banana oat pancakes, here's a new version using white wheat flour.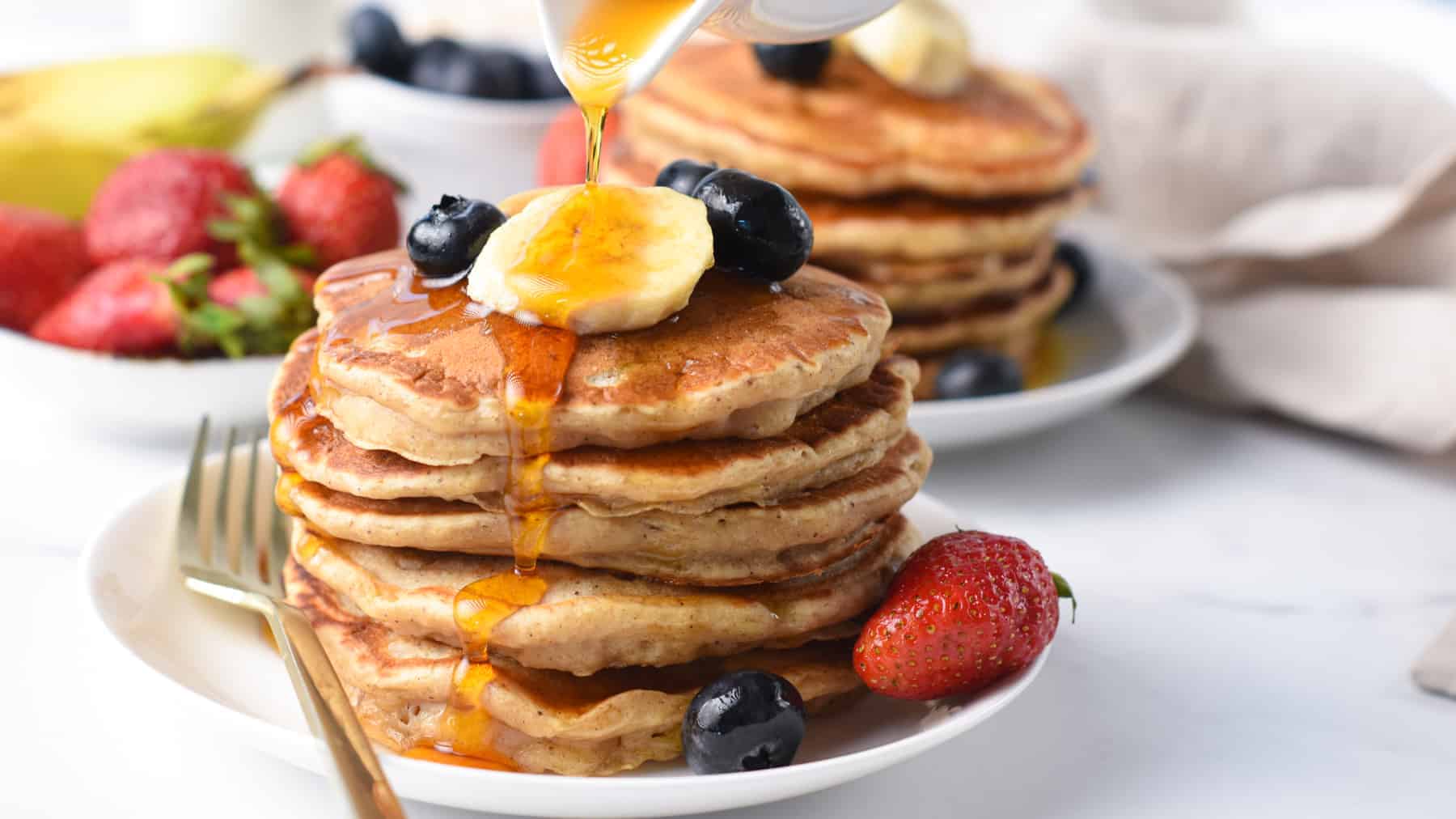 How To Make Vegan Banana Pancakes
It takes just 20 minutes to whip and cook a batch of these fluffy banana vegan pancakes.
Ingredients
All you need to make them are:
All-purpose flour – or you can use 1 cup of all-purpose flour and 1/2 cup of wholewheat flour or homemade oat flour to boost the fiber and protein of the pancakes. However, these two options make the pancakes less fluffy.
Baking powder
Baking soda
Cinnamon
Mashed bananas – I used 2 medium ripe bananas for this recipe with black spots on their skin to avoid adding too much sweetness. In fact, very ripe bananas are much sweeter, and it's a great way to boost the sweetness of your pancakes without adding tons of added sugar to the recipe.
Vanilla extract
Melted coconut oil or vegan yogurt for an oil-free option.
Unsweetened almond milk or any plant-based milk you have on hand.
Maple syrup – this is optional, but if your bananas are not ripe enough, or you love sweeter pancakes, it's great to add some.
Mashing Bananas
First, peel and mash bananas on a chopping board using a fork or potato masher.
Measure the quantity of mashed bananas in a measuring cup – you aim for 1/2 cup. It's very important to measure bananas before adding them to the recipe.
Too much banana puree makes the pancakes dense and thick, and too little won't taste like banana at all.
Combining Liquid Ingredient
In a mixing bowl, whisk mashed ripe bananas, almond milk, melted coconut oil, vanilla extract, and maple syrup (if used).
Stirring In The Dry Ingredients
Now, fold in the flour, baking powder, baking soda, and cinnamon and whisk to combine. The batter should be quite thick, and that's normal.
Cooking
Warm a pancake griddle or crepe pan over medium heat. Lightly oil the pan with coconut oil. Use a piece of absorbent paper to rub off any extra oil on the pan.
Cook 2-3 tablespoons of batter at a time for medium size pancakes or 1/4 cup for larger pancakes.
Cook for 2-3 minutes until bubbles form on the top of the pancakes and the sides have dried out.
Slide a spatula under the pancake and flip them over.
Cook for an extra minute on the other side until cooked through and fluffy.
Cool down on a cooling rack to keep the pancakes fluffy.
Repeat the steps above to cook the remaining pancakes batter.
Serving Ideas
These banana pancakes are even better with some toppings. Below I listed my favorite vegan pancake toppings for you to try:
Fresh fruits – like blueberries, strawberries, raspberries.
Almond butter or peanut butter.
Vegan yogurt
Maple syrup or agave syrup, or brown rice syrup.
Sliced almonds
Pinch of cinnamon
Storage Instructions
This banana pancake vegan recipe can be stored for up to 3 days in the fridge in an airtight container. Rewarm them in a toaster or hot pan.
Allergy Swaps
Gluten-free – you can replace the all-purpose flour with an all-purpose gluten-free flour blend containing gums like Bob Red Mill's 1:1 Gluten-free Flour.
Nut-free – you can replace the almond milk with any plant-based milk like oat milk, soy milk, or coconut milk.
Coconut-free – you can replace the coconut oil with any vegetable oil or plain vegan yogurt.
Frequently Asked Questions
Can I Make The Batter Ahead?
Yes, you can make this vegan pancake batter the day before and store it in the fridge in an airtight container.
However, I recommend adding 1 teaspoon of lemon juice to the batter to prevent the mashed bananas from darkening the pancake batter overnight.
Can I Freeze The Pancakes?
Absolutely! Like any other vegan pancake recipe, you can freeze the vegan banana pancakes in zip lock bags or an airtight container and thaw them at room temperature the day before.
Can I Use Almond Flour Or Coconut Flour?
You can't use almond flour instead of all-purpose flour in this vegan pancakes recipe. The recipe has no eggs, and low-carb flour like almond flour or coconut flour wouldn't bind together to form pancakes.
More Vegan Pancake Recipes
Below I listed more vegan pancakes recipes for you to try: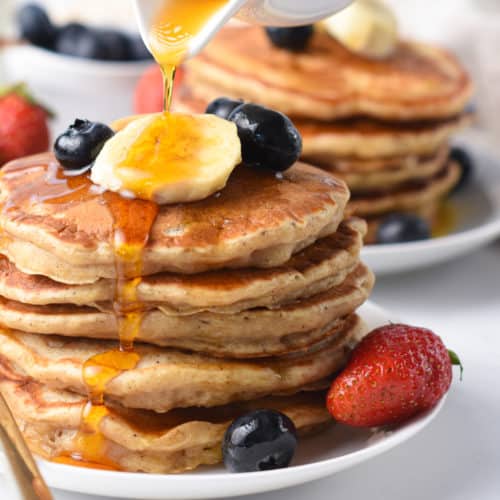 Vegan Banana Pancakes
These easy, fluffy vegan banana pancakes are the most delicious egg-free banana pancakes for breakfast and perfect to use all your ripe bananas sitting on the kitchen counter.
Pin
Print
Review
Servings: 12 pancakes
Calories: 99.2 kcal
Instructions
Peel, mash the bananas, and measure 1/2 cup, sweeping the top of the cup to remove the excess. Place the mashed bananas in a large mixing bowl.

Whisk the mashed bananas with almond milk, vanilla extract, coconut oil, and maple syrup until well combined.

Stir in the remaining ingredients: flour, cinnamon, baking powder, baking soda, sugar. Stir until the batter is fluffy and smooth.

Warm a non-stick pancake griddle or non-stick crepe pan over medium heat, rub a bit of coconut oil on the surface of the pan and scoop 2 tablespoons of pancake batter per pancake.

Cook for 2-3 minutes on one side, or until the edges set and it's easy to slide a spatula under the pancake to flip it.

Flip and cook the pancakes for an extra 1 minute on the other side.
Storage
Store pancakes in the fridge in an airtight container for up to 3 days or freeze in zip lock bags and thaw in the fridge the day before.

Rewarm the pancakes in a bread toaster, sandwich press, or hot pancake griddle.

Serve with maple syrup, banana slices, yogurt of choice, or plain.
Share on Facebook
Pin Recipe
Nutrition
Serving: 1pancake | Calories: 99.2kcal | Carbohydrates: 16.8g | Protein: 1.8g | Fat: 2.8g | Saturated Fat: 2.1g | Polyunsaturated Fat: 0.2g | Monounsaturated Fat: 0.3g | Sodium: 179.4mg | Potassium: 59.2mg | Fiber: 0.8g | Sugar: 3.3g | Vitamin A: 6.5IU | Vitamin C: 0.8mg | Calcium: 91.9mg | Iron: 0.9mg | Magnesium: 7.1mg | Phosphorus: 41mg | Zinc: 0.2mg