Healthy Banana Oatmeal Muffins (No Added Sugar!)
These Healthy Banana Oatmeal Muffins are quick and easy breakfast muffins filled with healthy wholegrains with the most delicious fluffy texture.
Plus, these oatmeal muffins are also vegan and made with no added sugar. Therefore they only contain 3 grams of sugar per serving to keep your blood sugar levels steady all morning while enjoying a lovely banana bread muffin.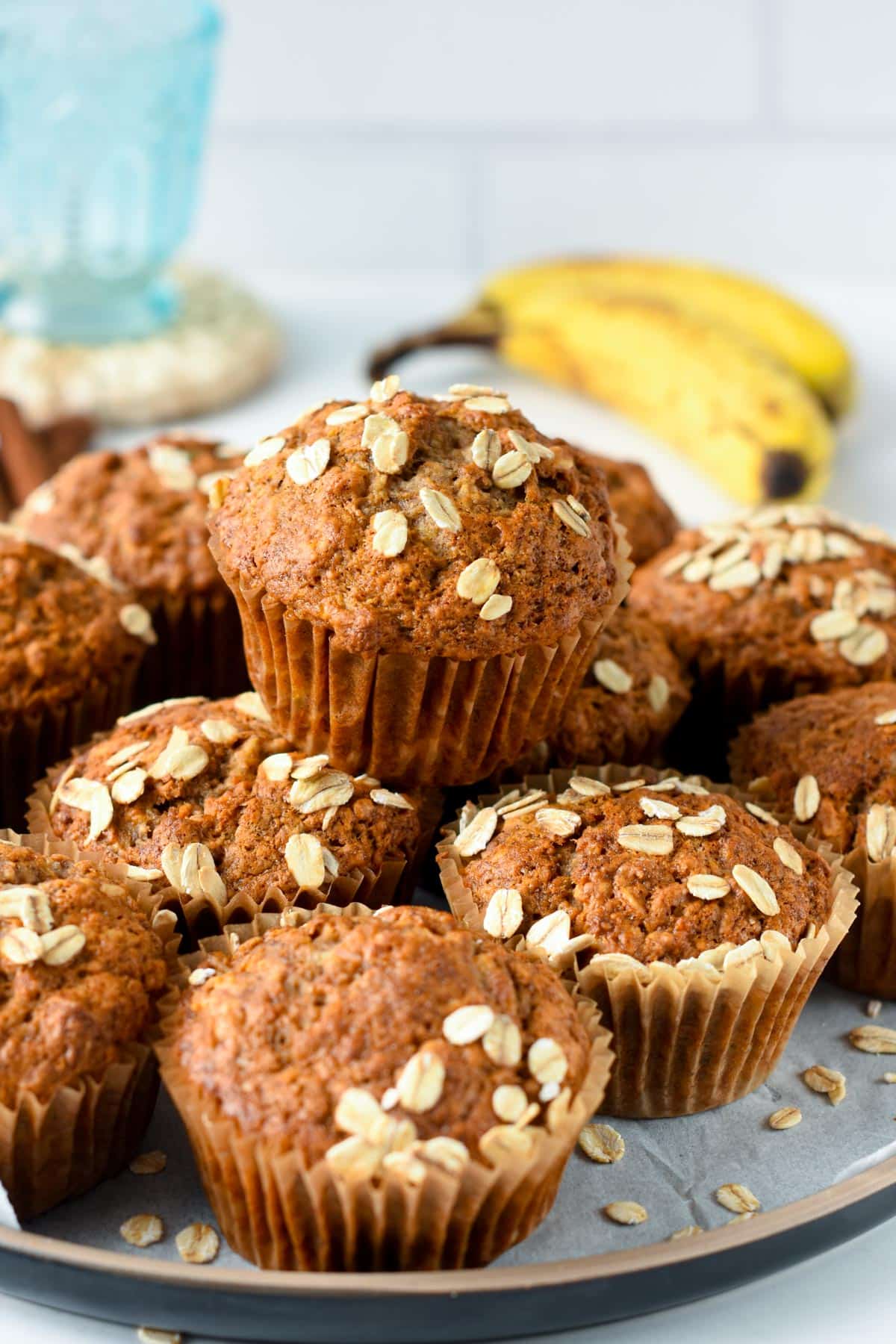 I love to bake with ripe bananas because they are a powerful source of vitamins and potassium while being cheap and tasty.
Why You'll Love These Muffins
These banana oatmeal muffins are a healthier twist to the regular oatmeal muffins recipe because it's naturally:
Egg-free – you don't need flax eggs or egg replacers in this easy vegan banana muffin recipe.
Dairy-free
No sugar added
Vegan
High fiber from wholegrain oats and white whole wheat flour.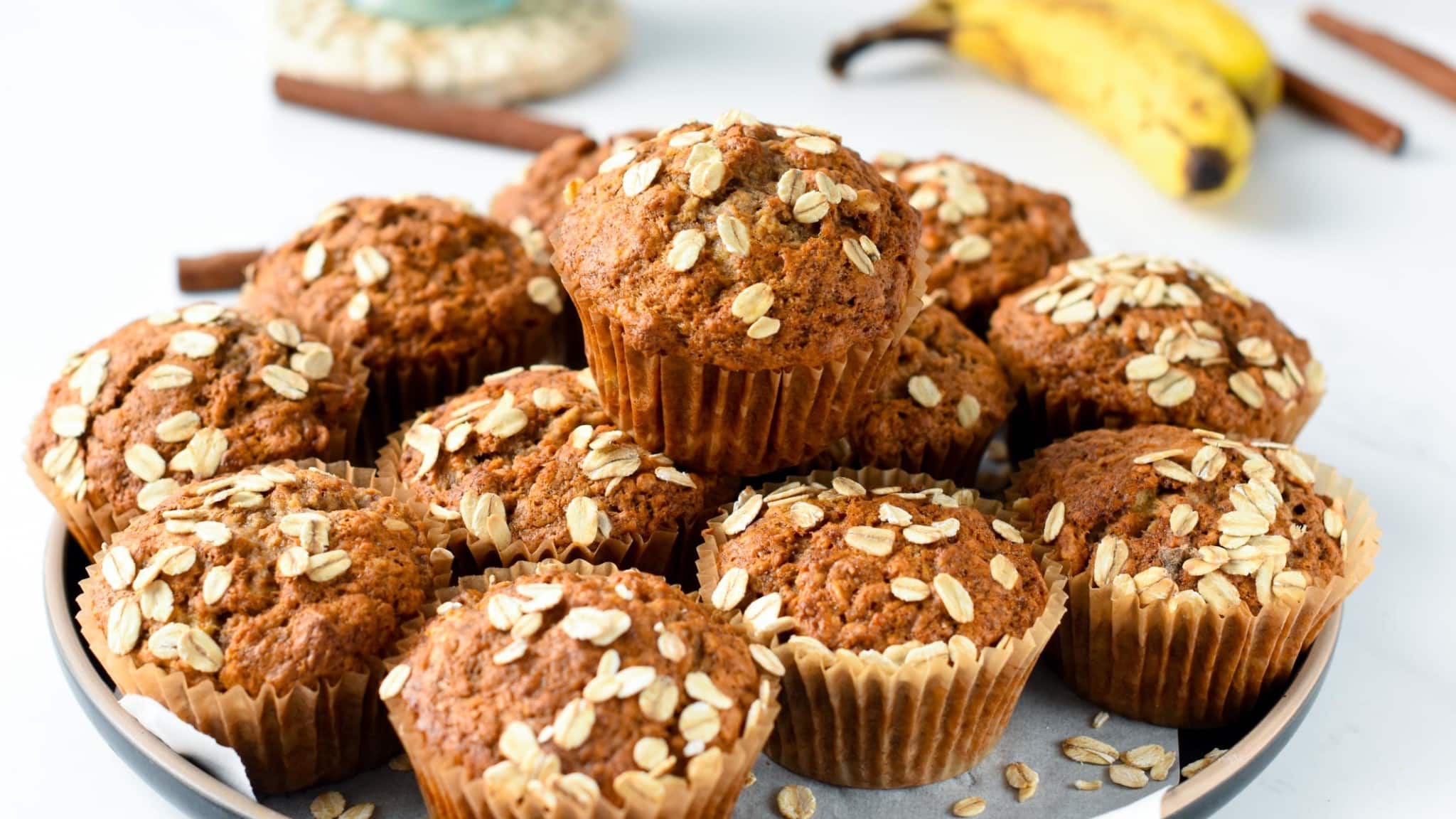 How To Make Healthy Banana Oatmeal Muffins
All you need to make these banana oatmeal muffins are a few pantry staple ingredients.
Ingredients
Ripe Bananas – Using dark bananas with ultra-black skin is the key to making sugar-free banana oatmeal muffins. In fact, ultra-ripe bananas are very sweet and therefore add sweetness to the muffins without having to add sugar to the recipe.
White Wholewheat Flour or all-purpose flour. Feel free to use a gluten-free all-purpose flour blend if desired.
Old-Fashioned Oats – Prefer old-fashioned rolled oats, they are the kind that gives the best taste and texture to these muffins.
Baking Soda
Baking Powder
Cinnamon
Walnuts – Optional but it adds healthy omega fatty acids and a delicious crunchy texture to the muffins.
Salt
Apple Cider Vinegar or lemon juice.
Almond Milk or any non-dairy milk you love including coconut milk or oat milk.
Canola Oil – Canola oil has the highest levels of omega-3, but you can also use light olive oil or melted coconut oil.
Vanilla Extract
Making The Muffin Batter
First, peel and mash the ripe bananas into a puree using two forks or a potato masher.
Measure the amount of mashed bananas to ensure the perfect oatmeal muffin texture – not too dry not too dense.
Place the mashed banana in a large mixing bowl with almond milk, canola oil, apple cider vinegar, and vanilla extract. Whisk to combine.
Add rolled oats, cinnamon, baking soda, and baking powder, and sift the flour on top of the bowl.
Stir with a spatula until the batter is fluffy and smooth.
If you want to add chopped nuts, add them halfway through and stir to fully incorporate them.
Baking The Muffins
The trick to making these vegan oatmeal banana muffins rise quickly is to bake the muffins at a high temperature first before decreasing it later.
The shock of temperature at the beginning makes the muffins rise to perfection. Then, they gently bake in the center creating the perfect airy, fluffy moist banana muffin crumb.
Preheat the oven to 390°F (200°C). Line a 12-hole muffin pan with muffin cases and using oil spray, oil each paper case.
Fill each muffin cup with about 1/3 cup of batter or up to 3/4 of their level.
Sprinkle some extra old-fashioned rolled oats on top of each muffin before baking if you like.
Baking The Muffins
Bake the muffins in the center rack of the oven for 5 minutes at 390°F (200°C).
Then, reduce the heat to 350°F (180°C) and keep baking for about 20 to 25 minutes or until a toothpick inserted in the center of the muffins comes out clean.
Let them cool down for 10 minutes in the baking tray then transfer the muffins to a cooling rack.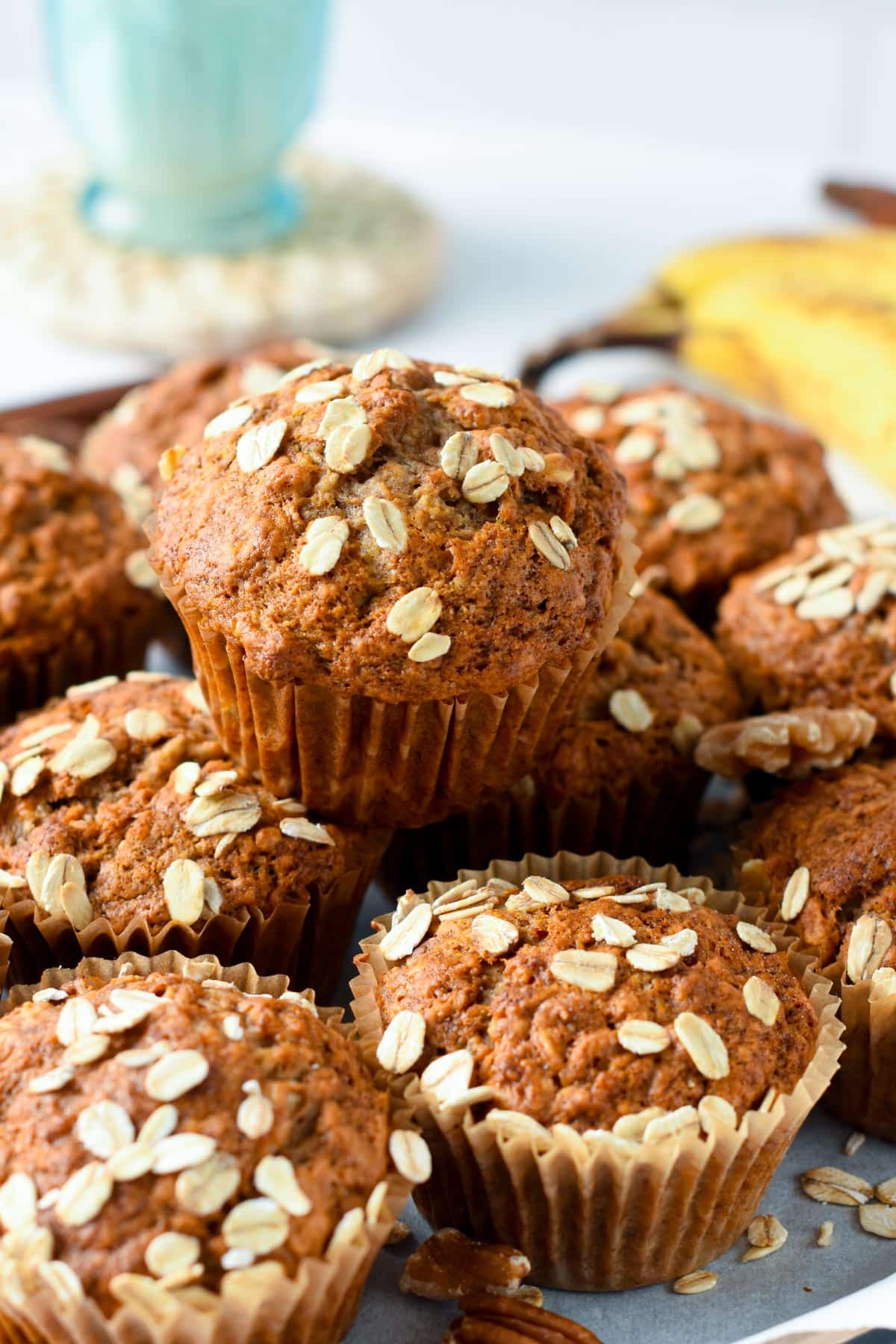 Add-Ons
Like for any muffin recipe you can play with flavor and texture by stirring 1/2 cup of some of the below ingredients into the batter:
Dark Chocolate Chips
Pecans or walnuts – finely chopped
Shredded Coconut
Shredded Carrots
Dried Raisins or cranberries
Serving The Muffins
These healthy banana oatmeal muffins are the best breakfast for busy mornings or to fill a kid's lunchbox.
They are delicious on their own, but you can also top up the muffins with a drizzle of peanut butter, or almond butter to add protein to the muffins.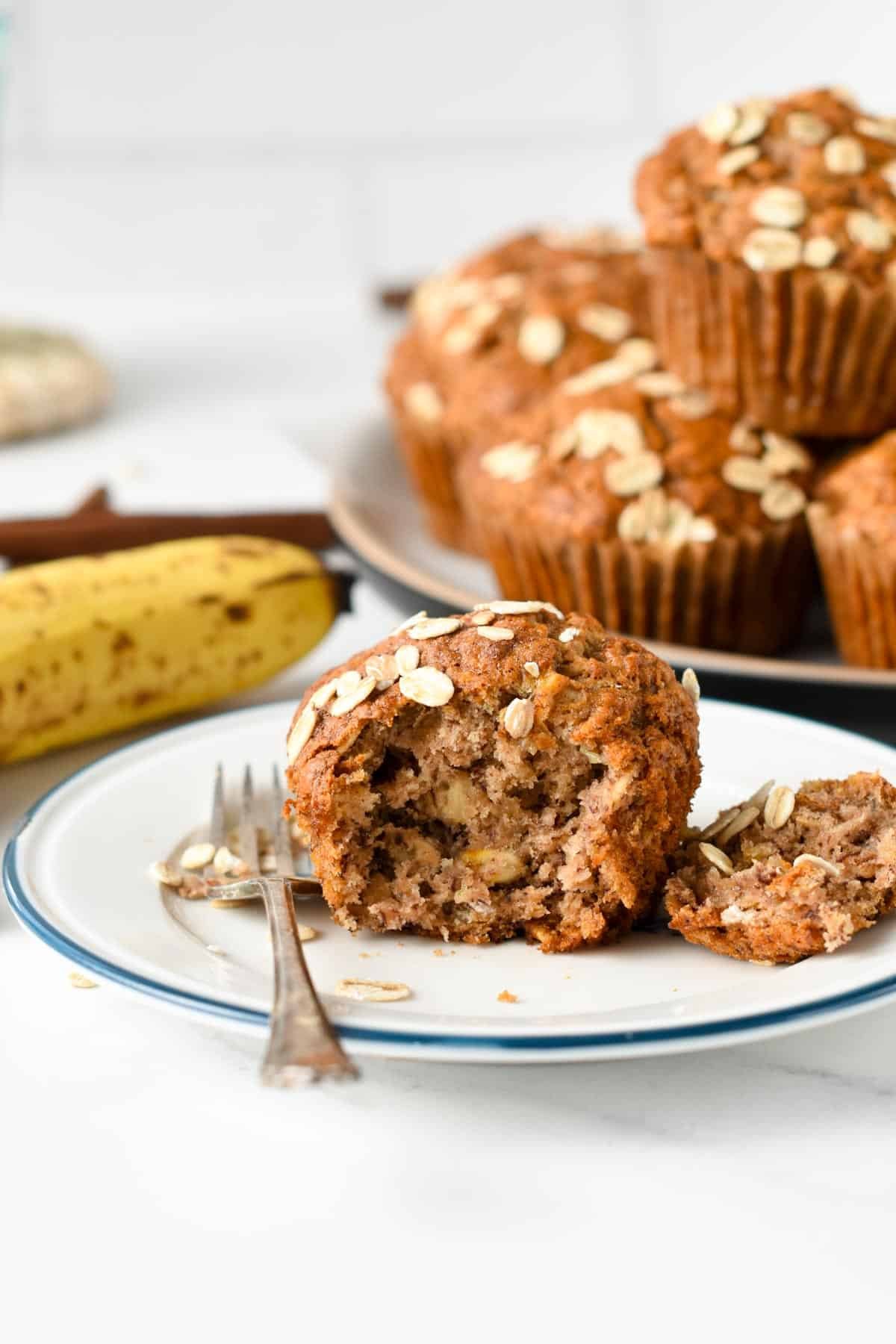 Allergy Swaps
If you have some food allergies but still want to try this banana oatmeal recipe, I have listed some options for you below:
Gluten-Free – Pick a gluten-free certified oats brand and use your favorite gluten-free all-purpose flour blend – the best contains added xanthan gum. Also, make sure the baking powder is wheat free.
Oil-Free – I didn't try the recipe with an oil replacement, but usually, you can replace oil with the same amount of almond butter or dairy-free Greek yogurt, or unsweetened apple sauce.
Storage Instagram
You can store the banana oat muffins for up to 4 days in the fridge, in a sealed cake box.
These muffins freeze very well and can be kept fresh for up to 3months in a zip-lock bag or sealed container in the freezer. Thaw on a wire rack at room temperature the day before.
Rewarm the muffin in a toaster oven or serve at room temperature
Frequently Asked Questions
I listed below the answers to your most common questions about these banana oatmeal muffins.
Can I Add Sugar To The Recipe?
Absolutely, you can add 1/2 cup of granulated sweetener you love along with the dry ingredients.
the best are unrefined cane sugar, coconut sugar, or brown erythritol for a sugar-free option.
Would The Recipe Work With Yellow Bananas?
Yes, you can use any banana for this recipe, but since it has no sugar added, I recommend adding 1/2 cup of sugar with the dry ingredients if your bananas are not ripe.
If not, the muffins won't be sweet at all.
Can I Swap Flour For Oat Flour?
I didn't try this option, but you should be able to replace all-purpose flour with oat flour with no problem.
However, the muffins will probably raise less and be more fragile.
Can I Bake Mini Muffins With This Recipe?
Yes, this recipe makes 24 mini muffins.
Grease two 12-hole mini muffin tins and fill each up to half their level.
Bake the mini muffins on the center and lower rack, both at the same time for about 15 to 20 minutes.
Swap the pan from levels halfway to ensure they bake at the same speed.
More Healthy Muffin Recipes
If you like healthy muffins, you'll love these:
Did you try these healthy banana oatmeal muffins? Share a comment or review below.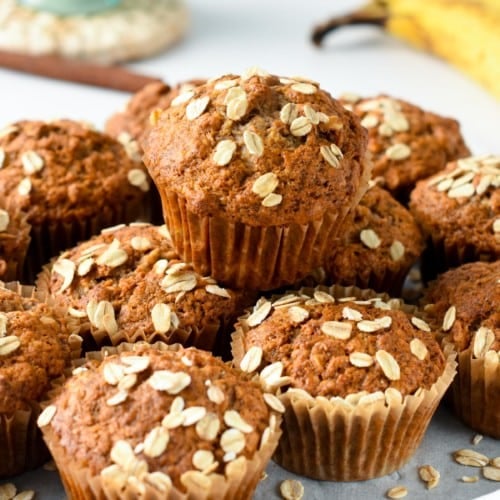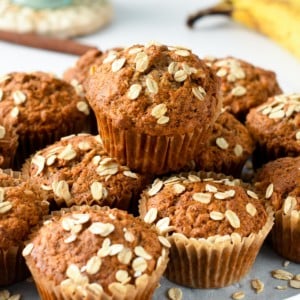 Healthy Banana Oatmeal Muffins
These Healthy Banana Oatmeal Muffins are the most delicious banana breakfast muffins made without eggs or dairy.
Pin
Print
Review
Servings: 12 muffins
Calories: 156.7 kcal
Instructions
Preheat the oven to 390°F (200°C). Line a 12-hole muffin pan with paper cases and lightly spray oil spray n the cases. Set aside.

Peel and mash bananas and measure the exact amount of mashed bananas needed in the recipe. Then, place them in a large mixing bowl.

Combine mashed banana, apple cider vinegar, almond milk, canola oil, vanilla extract, and the optional coconut sugar. Stir until everything is well combined. Set it aside.

In another mixing bowl, whisk together flour, rolled oats, cinnamon, baking soda, baking powder, salt, and sugar if used.

Stir the dry ingredients into the wet and fold in the finely chopped nuts, if used.

Fill the muffin cases up to 3/4 their level and sprinkle extra rolled oats on top of each muffin, if desired.

Place the muffin pan in the center rack of the preheated oven and bake for 5 minutes at this temperature then reduce the temperature to 350°F (180°C) and keep baking for 25-30 minutes or until a toothpick inserted in the center of the muffins comes out clean or with a little crumb on it meaning the muffins are ready but still moist.

Cool in the pan for 10 minutes, then release and cool down on a wire rack.
Storage
Store in a cake box in the fridge for up to 4-5 days or freeze and thaw the day before eating.
Notes
Note 1: You can replace thall-purpose flour with white wholewheat flour, spelt flour, or all-purpose gluten-free flour. However, this recipe won't work with almond flour or coconut flour.
Share on Facebook
Pin Recipe
Nutrition
Serving: 1muffin (no sugar or nuts) | Calories: 156.7kcal | Carbohydrates: 19.9g | Protein: 2.9g | Fat: 7.2g | Saturated Fat: 0.6g | Polyunsaturated Fat: 2g | Monounsaturated Fat: 4.1g | Trans Fat: 0.02g | Sodium: 269mg | Potassium: 116.4mg | Fiber: 3.1g | Sugar: 3.2g | Vitamin A: 16.5IU | Vitamin C: 2.2mg | Calcium: 54.1mg | Iron: 1mg | Magnesium: 16.5mg | Phosphorus: 48mg | Zinc: 0.3mg