These Oat Flour Banana Muffins are healthy banana muffins made from oat flour. They are refined sugar-free, made with no eggs, no dairy, and the perfect healthy breakfast muffins.
I love baking with oat flour. It's much healthier than white flour as it contains more fiber and proteins and is more filling for breakfast or snacks. Plus, oat flour and banana are the perfect combination.
How To Make Oat Flour Banana Muffins
It's very easy to make a batch of these healthy banana muffins with your homemade oat flour. To make oat flour at home, follow my how to make oat flour tutorial.
Ingredients
All you need to make these fluffy banana oat muffins are simple, wholesome ingredients.
Mashed Banana – I recommend you mash the banana and then measure the amount by packing the mashed bananas in a measuring cup. This ensures that the amount of banana used for the recipe is exact. Bananas differ in size, and too much banana will make the muffins too moist and fragile.
Plant-Based Milk of choice – I like to bake with soy milk for breakfast muffins because it adds proteins and vitamins in fortified soy milk. But you can use any plant-based milk like almond milk, coconut milk, or oat milk.
Apple Cider Vinegar – or lemon juice. The goal is to use acidic ingredients that turns plant-based milk into a creamy vegan buttermilk texture.
Maple Syrup or any liquid sweetener you love.
Coconut Sugar or brown sugar – This is optional since the recipe already uses maple syrup and ripe bananas. However, this adds a lovely crispy texture on the outside of the muffin and also adds sweetness if you like your banana muffins sweeter.
Vanilla Extract
Olive Oil, avocado oil, or melted coconut oil.
Homemade Oat Flour – or store-bought oat flour if you don't have time to make oat flour.
Cinnamon
Baking Powder
Baking Soda
Salt
Preparation
Before you start, I recommend using ultra-ripe bananas with lots of brown spots on their skins. This ensures ultra-moist and naturally sweetened muffins.
Even if the recipe uses some added sugar, the amount is very low, and it's necessary to bind the oat flour.
If you don't add sweetener, the muffins are very fragile, and I recommend adding a flax egg as a binder if you decide to go for a no added sugar oat flour banana muffin recipe.
To make a flax egg, stir one tablespoon of flax meal with three tablespoons of lukewarm water. Set aside. Add in the batter along with the wet ingredients.
Next, preheat the oven to 350°F (180°C). Grease a 12-hole muffin pan with cooking oil spray.
You can also line the pan with muffin paper liners, then spray with cooking spray. Set aside.
Mashing Bananas
As mentioned above, I recommend you always peel, mash the bananas on a plate and then measure the amount in a measuring cup.
Set aside the amount of mashed banana in a mixing bowl.
Milk Mixture
Next, prepare the plant-based buttermilk.
In a small bowl, add the non-dairy milk of choice along with apple cider vinegar. Stir and set aside a few minutes until it thickens.
Combining Ingredients
In a large mixing bowl, add the mashed banana, milk mixture made above, vanilla extract, oil, coconut sugar if used, and maple syrup. Whisk to combine together.
Next, add the oat flour, baking powder, baking soda, salt, and cinnamon.
Stir until the ingredients are well combined and a smooth, lightly thick muffin batter forms.
Food Processor Method
If preferred, you can add all the ingredients in one go in a food processor. Process until the batter is smooth and combined.
Add-Ins
If you like, you can stir in some of the below ingredients into the oat flour muffin batter to add texture and flavor.
Fold in up to 1/2 cup of:
Dark Chocolate Chips
Shredded Coconut
Chopped Nuts like walnuts or pecans
Baking The Muffins
Fill the muffin tins with the oat banana muffin batter. You need to fill each muffin liner to about 3/4 their level so the banana oatmeal muffins rise nicely.
Bake in the center rack of the oven for 35 to 40 minutes or until a toothpick inserted in the center of the muffins comes out clean.
This banana muffin recipe can also be baked in a loaf pan to make oat-flour banana bread. To do so, line a 9-inch x 5-inch loaf pan with parchment paper.
Lightly oil the paper with coconut oil. Set aside. Fill with the banana muffin recipe batter and top the bread with chocolate chips or a few banana slices.
Also, cooking time increases slightly if you bake the batter in a loaf pan. It should take about 45 minutes to be cooked through.
Serving
Remove the muffins from the oven and cool completely at room temperature on a cooling rack.
Then, serve as a healthy breakfast or snack plain or with some toppings including.
A drizzle of peanut butter or almond butter
Jam
Plant-based butter
Storage Instructions
Store leftover muffins in the fridge in an airtight container for up to 3 days.
They tend to harden and dry out in the refrigerator, so if it's not too hot where you live, you can safely keep them at room temperature in a cake box for three days.
Or, place in the freezer in zip-lock bags and thaw the day before at room temperature. They freeze well for up to one month.
Allergy Swaps
This banana oat flour muffin recipe is naturally egg-free and dairy-free.
However, if you have some other food allergies, here are some swaps to make this recipe slightly differently but still delicious.
Gluten-Free – You can use certified gluten-free rolled oats. Place the oats in a high-speed blender and blend until fine, like flour. It takes about 30 seconds on high-speed to make gluten-free oat flour.
Oil-Free – I haven't tried this recipe without oil, but I am certain that you can use the same amount of unsweetened applesauce or nut butter as almond butter or peanut butter. The texture will obviously be different. In fact, oil-free muffin recipes always come out more dense.
Sugar-Free – You can make the recipe with sugar-free monk fruit syrup and allulose as a sugar-free granulated sweetener. You can't entirely skip the sweetener in this recipe because they bond the batter and hold the muffin together.
Frequently Asked Questions
Here are my answers to your common questions about this muffin recipe.
Why are my oatmeal muffins dry?
Oatmeal muffins contain lots of fiber and they come out dry if you didn't add enough liquid particularly not enough plant-based milk, fruit puree, or fat.
How do you use oat flour?
Oat flour can be used as a swap to all-purpose flour in most recipes with a ratio of 1:1. It's a great flour to bake healthy oat cookies, oat muffins, or oat bread.
More Muffin Recipes
If you like easy, healthy muffin recipes, you'll love these: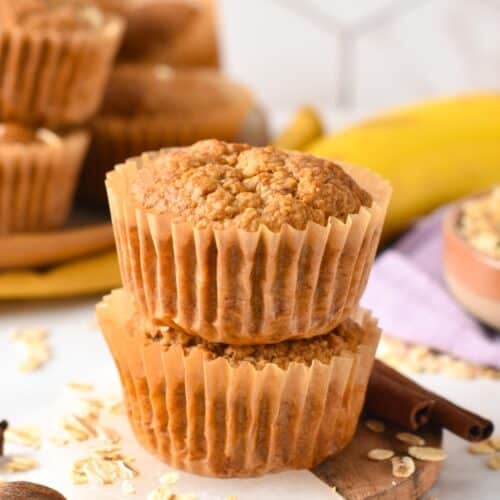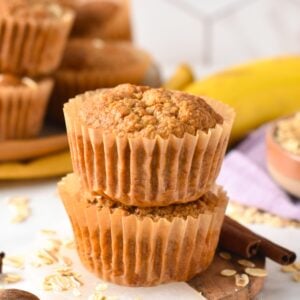 Oat Flour Banana Muffins
These Oat Flour Banana Muffins are healthy banana muffins made from oat flour. They are refined sugar-free, made with no eggs, no dairy, and the perfect healthy breakfast muffins.
Pin
Print
Review
Instructions
Preheat oven to 350°F (180°C). Line a 12-hole muffin pan with paper liner. Lightly oil with cooking oil spray. Set aside.

In a small bowl, whisk plant-based milk and apple cider vinegar. Set aside until it curdles – about 3-4 minutes.

Mash ripe bananas with a fork, pack them in measuring cups and measure the exact amount required by the recipe. Set aside in a large bowl.

Add the prepared milk mixture in the same bowl, coconut sugar (if used), maple syrup, vanilla extract, and oil. Whisk well.

Add oat flour, baking powder, baking soda, salt, and cinnamon.

Whisk again until the batter is consistent and lightly thick.

Fill each muffin cup up to the top.

Bake for 35-40 minutes or until the top is dry, golden brown, and a toothpick inserted in the center of the muffins comes out with only a little crumb on it – not wet.

Cool down on a wire rack at room temperature for 1 hour, then store in the fridge for 1 hour to firm up nicely. Refrigeration also helps the paper liner unstick easily from the muffins.
Storage
Store in the fridge in an airtight container for up to 3-4 days or in a cake box at room temperature for 2-3 days.

Freeze for up to 1 month in zip-lock bags.
Share on Facebook
Pin Recipe
Nutrition
Serving:
1
Muffin
|
Calories:
190.1
kcal
|
Carbohydrates:
26.6
g
|
Protein:
3.5
g
|
Fat:
8.1
g
|
Saturated Fat:
1.2
g
|
Polyunsaturated Fat:
1.4
g
|
Monounsaturated Fat:
5
g
|
Sodium:
158.2
mg
|
Potassium:
189.4
mg
|
Fiber:
2
g
|
Sugar:
9.5
g
|
Vitamin A:
54.1
IU
|
Vitamin B12:
0.1
µg
|
Vitamin C:
2.8
mg
|
Vitamin D:
0.1
µg
|
Calcium:
74.3
mg
|
Iron:
1
mg
|
Magnesium:
36.9
mg
|
Phosphorus:
110.4
mg
|
Zinc:
0.7
mg