These Oat Flour Waffles are easy healthy breakfast waffles packed with proteins and fibers from oats.
They are also refined sugar-free, gluten-free, and much better for you than regular waffles.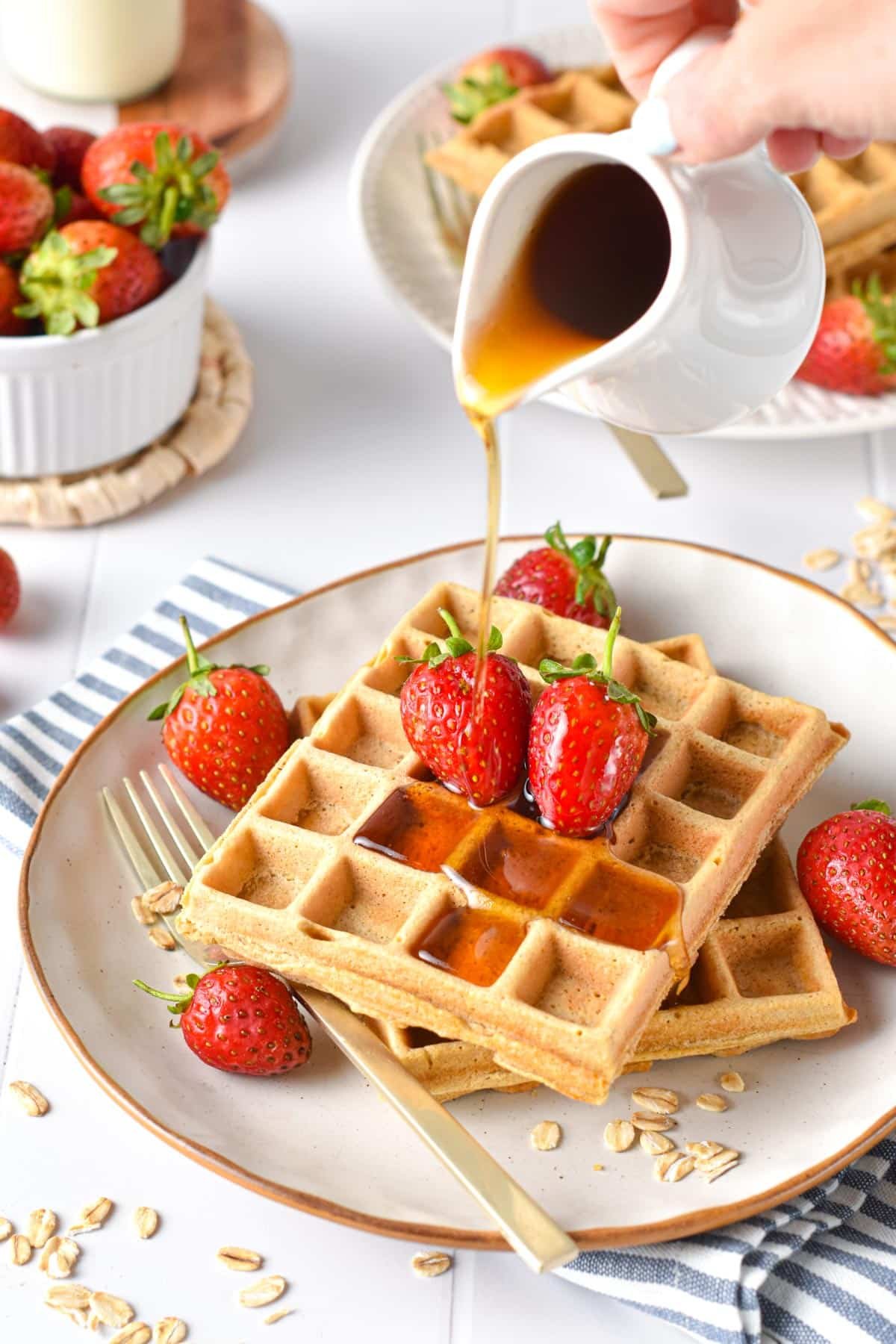 We love a crispy waffle for breakfast, even better if they are healthy waffles!
This oat waffle recipe is the healthiest, packed with fiber and proteins from oats and flaxseeds. Plus, the addition of healthy fats from olive oil and proteins from yogurt are sure to bring you all you need to start the day right.
What Are Oat Flour Waffles?
Oat flour waffles are healthy gluten-free vegan waffles made entirely with oat ground into flour.
The oat flour adds crispness to the waffles, fiber, and proteins perfect for a healthy breakfast.
How To Make Oat Flour Waffles
It's very easy to make a batch of waffles with oat flour, but first, you need to make your own oat flour. Feel free to use certified gluten-free oats if needed.
Ingredients
All you need to make these easy healthy gluten free waffles for breakfast are:
Oat Flour – I make homemade oat flour all the time. It's easy, cheap, and healthy. You can make yours by blending rolled oats in a food processor or high-speed blender for 30 seconds until it looks like fine flour. Or, use store-bought oat flour if preferred.
Baking Powder
Coconut Sugar
Salt
Oat Milk or any non-dairy milk you love like almond milk, soy milk, or coconut milk.
Vanilla Extract
Flax Egg – This replaces an egg, and it's made from one tablespoon of flax meal that you stir with three tablespoons of lukewarm water. After 10 minutes aside, it thickens and binds the waffle batter very well.
Olive Oil or avocado oil
Vanilla Extract
Yogurt of Choice – The thicker and higher in protein, the better. We had great results with Greek-style soy yogurt or coconut yogurt because it's higher in fat and it makes the waffles less dry.
Preparation
First, make the flax egg by stirring the flax meal and lukewarm water together. Set aside for 10 minutes until it looks thick and glued texture forms.
In a large mixing bowl, add the wet ingredients: oat milk, olive oil, yogurt, vanilla extract, and the flax egg made in step 1. Use a whisk to combine.
Next, fold in the dry ingredients: oat flour, baking powder, coconut sugar, and salt.
Whisk again until the batter is thick. It will be a bit thicker than normal waffles, or normal pancake batter. That's totally normal and that's what you need.
Let the waffle batter rest for 10 minutes so the fiber in the oat flour binds with the liquid ingredients.
Cooking The Waffles
Meanwhile, heat the waffle iron on high heat and generously oil the waffle iron plate with cooking spray or avocado oil and a pastry brush.
You must grease the plate very well, as oat flour waffles stick more to the iron than traditional waffles.
Next, pour 1/4 cup to 1/2 cup of waffle batter per waffle. The amount really depends on the size of your waffle maker.
For an authentic Belgian waffle maker like mine, you need 1/2 cup waffle batter and you will make 4 oat waffles with this recipe.
Close the lid of the waffle maker, and cook them for at least 3 minutes without opening, or they might not be set yet, and you will break them.
Keep cooking for an extra minute if needed. The goal is to have crispy edges and golden brown color.
Cool down on a wire rack to steam out. Then, serve on a plate with your favorite waffle toppings.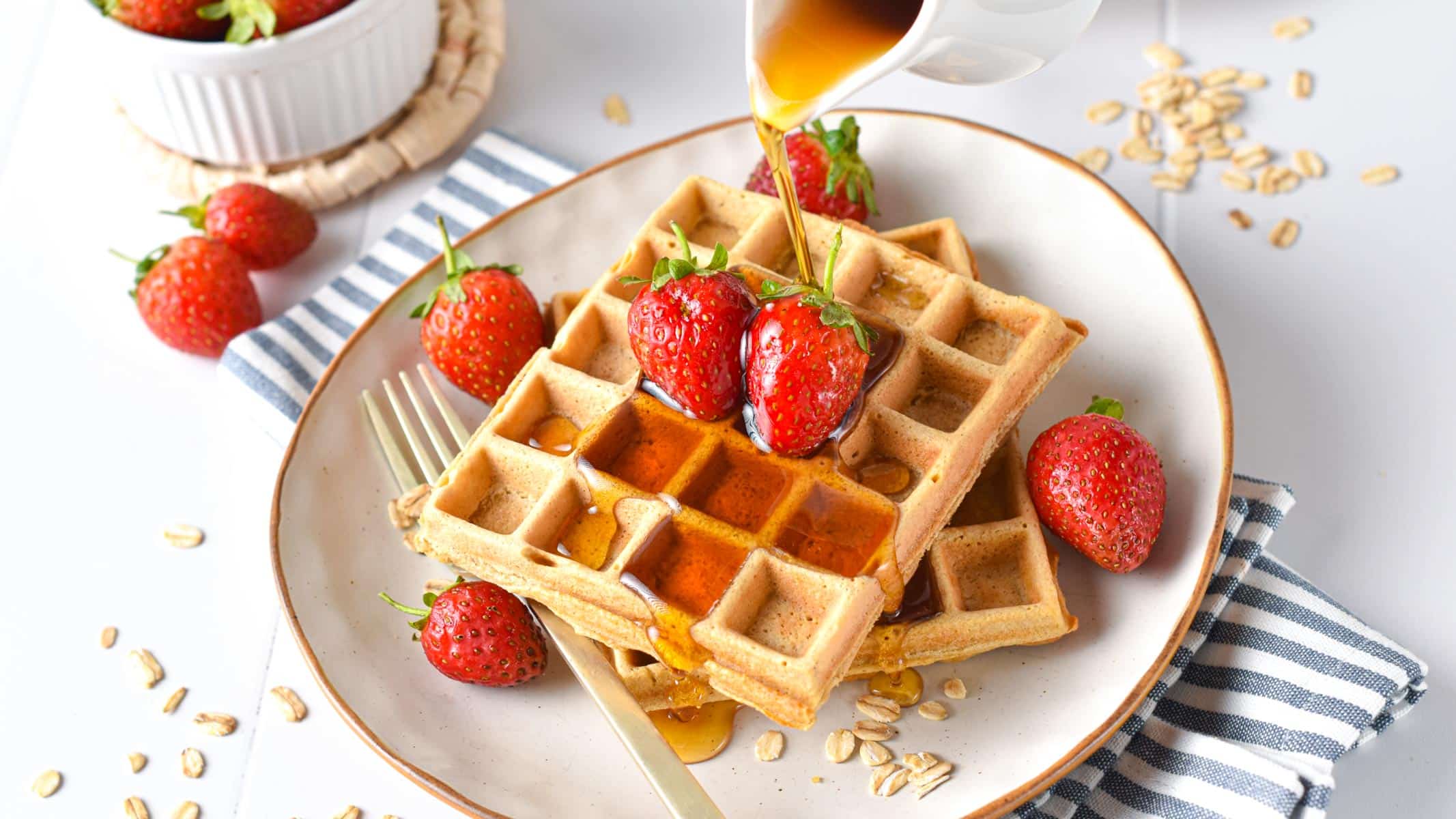 Waffle Toppings
The best healthy waffle toppings to pair this gluten-free oat flour waffle recipe are:
Fresh Fruits like banana slices, berries like strawberries, blueberries, or raspberries.
Pure Maple Syrup or any refined sugar-free sweetener like agave syrup or coconut syrup.
Yogurt of Choice – A dollop of soy yogurt or plain coconut yogurt adds a lovely creamy fresh texture.
Slices Almonds
Shredded Coconut
Chocolate Chips
Flavoring Options
You can have fun adding some flavors to the waffle batter like:
One teaspoon of cinnamon
One teaspoon of pumpkin pie spices
Three tablespoons of mashed banana or applesauce to add flavor and make the waffle softer.
Storage Instructions
You can store the waffles in the fridge for up to 4 days, wrapped in foil or in an airtight container.
The waffles can also be frozen individually in freezer bags and thawed at room temperature the day before.
Rewarm the waffles in a bread toaster or oven toaster the next day to make them crispy again.
Allergy Swaps
If you need some ingredients substitutions ideas, here are some ideas below.
Gluten-Free – Use a certified gluten-free oat brand and wheat-free baking powder.
Nut-Free – Pick nut-free non-dairy milk like soy milk or oat milk.
Flaxseed-Free – Swap ground flaxseeds for a tablespoon of cornstarch or chia seed meal.
Oil-Free – I don't recommend skipping oil because the waffles stick to the waffle iron if made oil-free or with oil swaps.
Oil Choices – Feel free to use any vegetable oil if you don't have olive oil. We prefer avocado oil, melted coconut oil, or olive oil in this recipe.
Coconut Sugar Swap – You can also use any other granulated sugar like white sugar or sugar-free allulose.
Frequently Asked Questions
Below I answered your most common questions about this gluten-free waffle recipe.
Why Are Waffles Not Crispy?
There are many reasons why waffles come out soft and not crispy. It can be that your waffle iron is not warm enough when you add the batter or you didn't cook it long enough.
Another reason is often that you add too much waffle batter, and the waffles are too thick and moist.
Next, don't be tempted to remove or decrease oil or melted butter in the waffle recipe.
It does crisp the waffle as they cool down. Finally, cool the waffles on a wire rack few minutes, and don't stack them, or they get soggy.
Is It Better To Let The Waffle Batter Sit?
Not obviously, it depends on the flour you used for the recipe. For high fiber flours like oat flour it's better to rest the batter 10 minutes.
More Breakfast Recipes With Oats
Here are some more oat recipes for a healthy breakfast.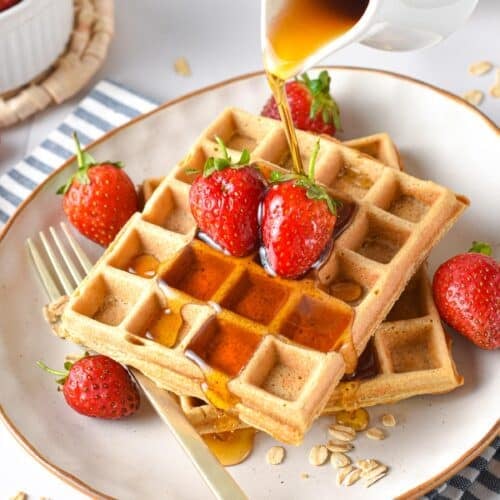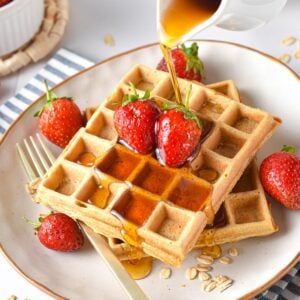 Oat Flour Waffles
These Oat Flour Waffles are easy healthy breakfast waffles packed with proteins and fibers from oats. They are also refined sugar-free, gluten-free, and much better for you than regular waffles.
Pin
Print
Review
Servings: 4 waffles
Calories: 250.1 kcal
Instructions
In a large bowl, add oat milk, yogurt, olive oil, flax egg, and vanilla extract. Whisk to combine.

Fold in homemade oat flour, coconut sugar, baking powder, and salt. Whisk to combine all ingredients and form a thick oat waffle batter.

Warm a waffle iron on high heat. Generously oil the waffle plates with cooking spray. Oat flour sticks more to the iron than regular waffles, so it's a must!

Scoop 1/2 cup of waffle batter per waffle for a large Belgian waffle iron like mine.

Close the lid and cook for 3 minutes before opening the lid again, then check and keep cooking if not crispy or golden brown.

Cool down on a wire rack for a few minutes before serving. Cook the remaining waffle water, and regrease the iron before adding more batter.
Storage
Store leftover waffles in an airtight container in the fridge for up to 3 days.

Rewarm the waffles in a toaster oven, bread toaster, or warm waffle iron.
Share on Facebook
Pin Recipe
Nutrition
Serving: 1waffle | Calories: 250.1kcal | Carbohydrates: 34.7g | Protein: 8g | Fat: 8.9g | Saturated Fat: 2.1g | Polyunsaturated Fat: 2.6g | Monounsaturated Fat: 3.3g | Cholesterol: 4.5mg | Sodium: 439.5mg | Potassium: 253.9mg | Fiber: 3.5g | Sugar: 7.1g | Vitamin A: 80.5IU | Vitamin B12: 0.03µg | Vitamin C: 2.4mg | Vitamin D: 0.7µg | Calcium: 162.3mg | Iron: 1.9mg | Magnesium: 74.6mg | Phosphorus: 260.3mg | Zinc: 1.5mg