Vegan Oatmeal Chocolate Chip Cookies
These Vegan Oatmeal Chocolate Chip Cookies are soft and chewy with crispy edges and packed with healthy proteins and fiber from oats.
They are super-easy healthy cookies that can make a delicious on-the-go breakfast.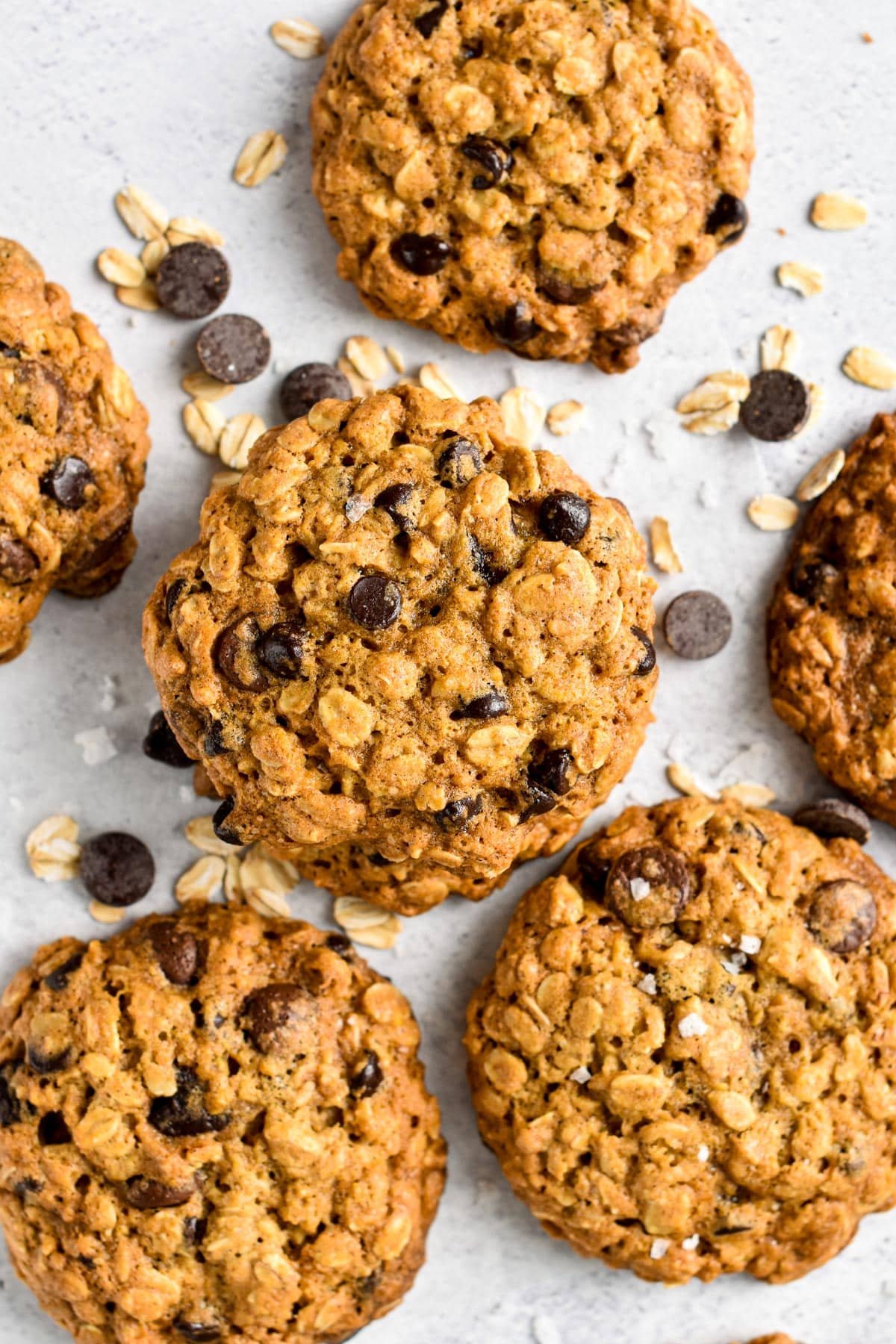 You will love these vegan oatmeal cookies. They are perfect for a kid's lunchbox, busy mornings, or a simple fulfilling snack in the afternoon.
What Is The Secret Of Vegan Oatmeal Cookies?
These vegan oatmeal cookies taste like classic oatmeal cookies but vegan. They have the same chewy texture and crispy edges. It's hard to believe they are dairy-free and egg-free.
The secret is the combination of white sugar and brown sugar. Brown sugar keeps the cookies moist and chewy, while white sugar adds a crispy texture to the edges.
Adding flax eggs to my vegan cookies not only works as a fantastic egg replacer and binder, but it also gives cookies the best chewy texture.
So, let me share how to quickly whip up a batch of these easy chocolate chip oatmeal cookies.
How To Make Vegan Oatmeal Chocolate Chip Cookies
These oatmeal cookies are very simple to put together, and you don't have to be an expert baker to succeed with this recipe.
Ingredients
All you need to make these chewy breakfast cookies are:
Ground Flaxseeds – Feel free to use ground brown flaxseeds or golden flax meal, both work.
Water
Old-Fashioned Rolled Oats or quick oats. Both options work well, but quick oats have a finer texture and won't provide as much texture.
All-Purpose Flour or white spelt flour. We didn't try all-purpose gluten-free flour, but I am confident it will work well.
Cinnamon
Baking Soda
Vegan Butter
Soft Brown Sugar
White Sugar
Vanilla Extract
Vegan Chocolate Chips
Combining Dry Ingredients
Combine the dry ingredients in a large mixing bowl.
Prepare the flax egg by whisking the ground flaxseeds and lukewarm water in another small bowl and setting it aside for 10 minutes until a gooey texture forms.
Beating Butter Mixture
Next, in a large mixing bowl, beat the softened, unsalted vegan butter with the brown and white sugar.
Adding Wet Ingredients
Beat until light and fluffy. You can use an electric hand beater or a stand mixer with a paddle attachment.
Then, add the remaining wet ingredients: flax egg and vanilla extract, and beat for a few seconds to incorporate.
Adding Dry Ingredients
Next, stir in the remaining dry ingredients: all-purpose flour, baking soda, cinnamon, and salt. Beat to incorporate and form a sticky, buttery cookie dough.
Adding Dry Ingredients
Fold chocolate chips and beat in to incorporate.
Refrigerating
This is not optional. You must refrigerate this cookie dough, or the cookies will overly spread on the baking sheet.
Film the top of the bowl with foil or plastic wrap and place the bowl in the fridge for at least 30 minutes and up to 1 hour.
Meanwhile, line two large baking sheets with parchment paper. Spray cooking oil on the paper and set it aside.
Shaping Cookies
Preheat the oven to 350°F (180°C). Remove the cookie dough from the fridge and use a small ice cream scoop to scoop out some dough, about 2 tablespoons per cookie.
Roll the dough into a ball between your oiled hands, then place them on the prepared baking sheet.
Don't make the cookies too big as they spread on the baking sheet, and you don't want them too wide.
As a general rule, two tablespoons, or about 45g of dough, is ideal for one oatmeal cookie.
Leave a thumb of space between each cookie. They expand while baking. Slightly flatten the top of each cookie with the palm of your hand before baking.
Baking The Cookies
Bake one baking sheet on the center rack of the oven and the other one just under.
You must bake both at the same time, or, if it doesn't fit your oven, refrigerate the second baking sheet while baking the first one.
If you keep the second baking sheet with the uncooked cookie dough, the dough temperature increases, resulting in overspread cookies in the oven.
You must bake the cookie dough straight after taking it out of the fridge.
Bake for about 15 minutes or until golden brown on top and the cookies have spread nicely.
Let them cool down at room temperature on the baking sheet before transferring them to a cooling rack.
Cool down completely before storing them in a cookie box.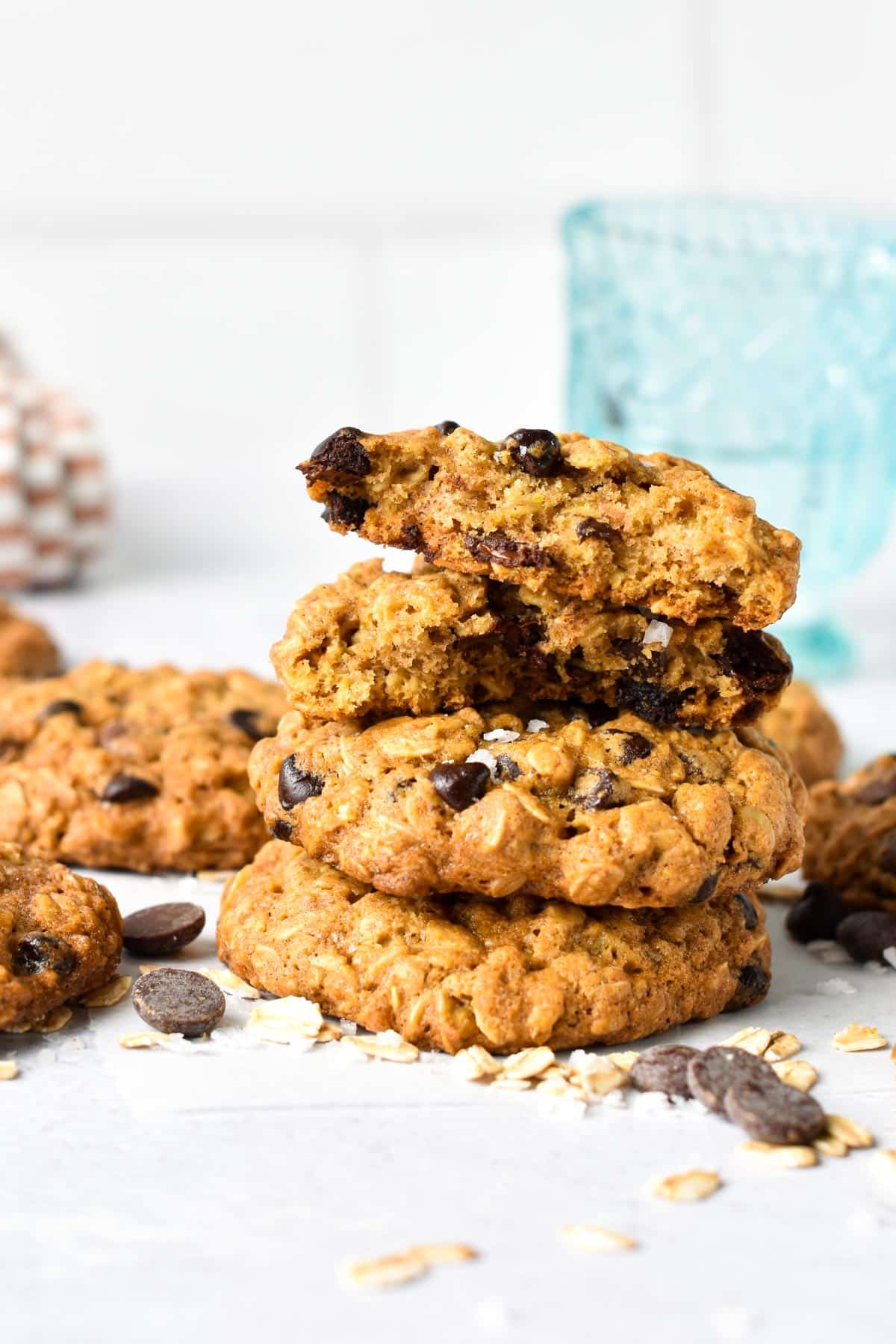 Storage Instructions
Store your vegan oatmeal cookies in a sealed cookie box, metallic, or glass container at room temperature.
They soften a bit with time, but they are good to eat for up to 6 days.
You can also freeze these vegan chocolate chip oatmeal cookies for later. Place them in a ziplock bag and freeze them for up to 1 month.
Thaw the cookies at room temperature the day before serving.
Cookie Flavors
You can use this recipe to create different oatmeal cookie flavors. Replace the chocolate chips with one or a combination of the suggested ingredients below:
Chopped pecans
Chopped walnuts
Unsweetened shredded coconut
Dried cranberries or dried raisins
Pumpkin seeds
Vegan milk chocolate chips or vegan white chocolate chips – brands like enjoy life has a great range.
Allergy Swaps
If you have food allergies, I listed below some substitution suggestions:
Ground Flaxseed can be replaced with ground chia seed or swap the whole flax egg for a store-bought egg replacer.
Gluten-Free – Pick a gluten-free certified oat brand and try all-purpose gluten-free flour with added xanthan gum.
Sugar-Free – Try sugar-free crystal sweeteners, like allulose and sugar-free chocolate chips.
Frequently Asked Questions
Below are my answers to the most frequently asked questions about this recipe.
Can I Use Coconut Oil Instead Of Vegan Butter?
You must use vegan butter for this recipe, or the cookies will be very oil and spread too much.
Can I Decrease The Sugar?
You can reduce sugar, but you can't remove all of it.
Sugar is what gives a soft and chewy texture to these cookies. Try using 1/3 cup of each – brown and white – but no less, or the cookies won't crunch as much.
More Vegan Oatmeal Cookie Recipes
If you like this recipe, you'll love these other vegan breakfast cookie recipes.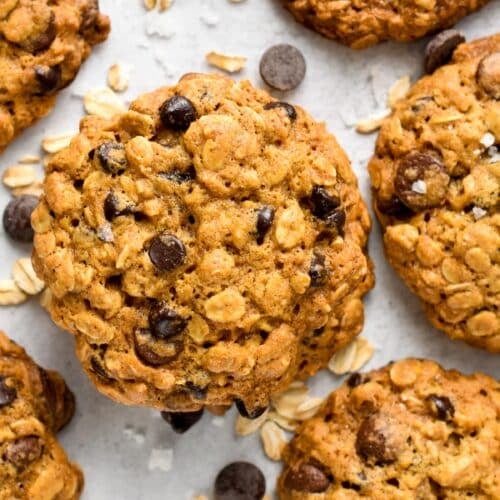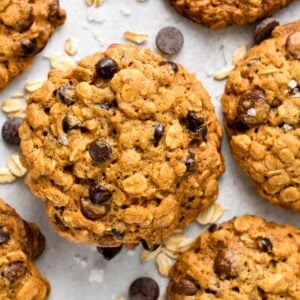 Vegan Oatmeal Chocolate Chip Cookies
These Vegan Oatmeal Chocolate Chip Cookies are soft and chewy with crispy edges and packed with healthy proteins and fiber from oats.
Pin
Print
Review
Servings: 12 cookies
Calories: 273.6 kcal
Ingredients
Vegan Oatmeal Cookie Dough
Flax egg
1 tablespoon Flaxmeal
2 ½ tablespoons Water - lukewarm
Instructions
Prepare the flax egg in a small bowl. Whisk ground flaxseeds and water. Set aside for 10 minutes or until a gel-like texture forms.

In a large mixing bowl, stir together flour, oats, cinnamon, baking soda, and salt.

In another bowl, add the softened vegan butter, brown sugar, and sugar. Beat with an electric beater or the paddle attachment of a stand mixer until creamy and smooth – about 90 seconds.

Pour the flax egg and vanilla extract and stir for a few seconds until incorporated.

Stir the dry ingredients into the bowl until a creamy cookie batter forms. Stir in the chocolate chips.

Cover the bowl and store the cookie dough for 30 to 60 minutes in the fridge.

Preheat the oven to 350°F (180°C). Line one or two cookie sheets with parchment paper and lightly grease them with coconut oil or vegan butter. Set aside.

Scoop out 2 tablespoons of batter, roll it between lightly greased hands into a ball, and place it onto the prepared cookie sheet. Press them slightly with your hand to flatten the ball.

Repeat with the remaining cookie dough, leaving some space between each ball as the cookies expand in the oven.

Bake in the center rack of the oven for 15-18 minutes or until golden brown and crispy on the edges.

Cool down on the cookie sheet for 10 minutes, they are still soft and hot, and that's normal. They firm up as they cool down. When easy to handle, slide a spatula under each cookie and transfer them to a wire rack before eating.
Storage
Store for up to 3 days at room temperature or 4-6 days in the fridge in a sealed cookie jar. Freeze in zip-lock bags and thaw at room temperature the day before.
Share on Facebook
Pin Recipe
Nutrition
Serving: 1cookie | Calories: 273.6kcal | Carbohydrates: 34.9g | Protein: 3.7g | Fat: 13.3g | Saturated Fat: 5.3g | Polyunsaturated Fat: 2.3g | Monounsaturated Fat: 4.6g | Trans Fat: 0.04g | Cholesterol: 0.4mg | Sodium: 161.6mg | Potassium: 172.6mg | Fiber: 3.1g | Sugar: 16.7g | Vitamin A: 365.6IU | Vitamin B12: 0.04µg | Vitamin C: 0.01mg | Calcium: 27.6mg | Iron: 2.8mg | Magnesium: 52.7mg | Phosphorus: 102.2mg | Zinc: 1mg