4-Ingredient Banana Oatmeal Cookies
These 4-Ingredient Banana Oatmeal Cookies are delicious easy oatmeal cookies.
Plus, the recipe takes just 20 minutes to make, and it's refined-sugar-free and vegan.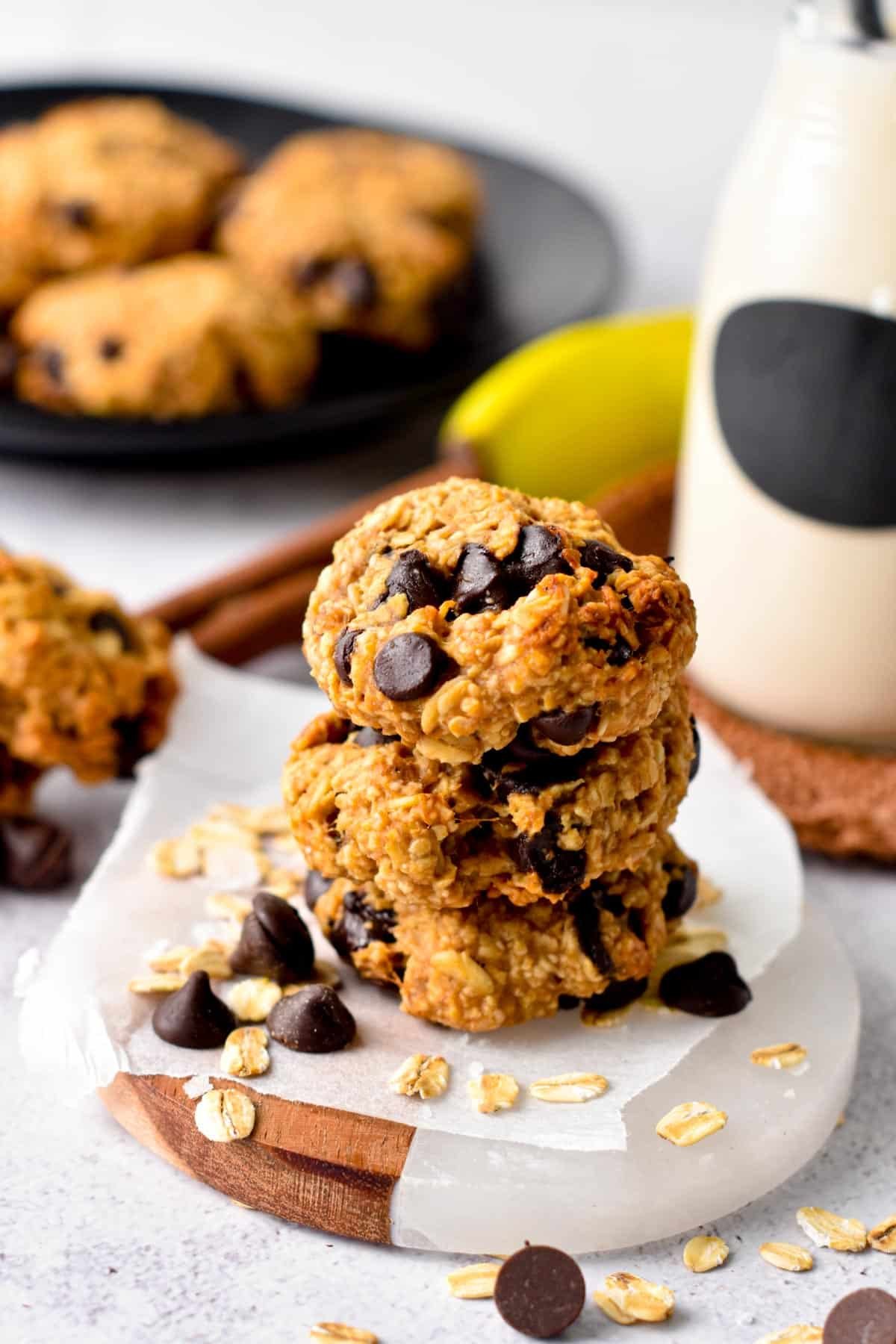 If you like oatmeal cookie recipes I have many options for your, from my Sweet Potato Oatmeal Cookies, my Blueberry Oatmeal Cookies, or my Vegan Peanut Butter Oatmeal Cookies.
This is a simple 4-ingredient oatmeal cookie dessert that is perfect for using all the ripe bananas on your kitchen counter.
How To Make 4-Ingredient Banana Oatmeal Cookies
Stop throwing ripe bananas. Keep them to make delicious and healthy banana oatmeal cookies!
Ingredients
Here's what you need to make them:
Ripe Banana – The darker the skin, the better the cookies will be. Don't hesitate to use black bananas for this recipe. They give the best sweet flavors without adding sugar to the recipe.
Rolled Oats or old-fashioned oats. You can use either. Quick oats have a finer texture that kids prefer, but old-fashioned oats are also delicious.
Nut Butter like peanut butter, almond butter, or even sunflower seed butter for a nut-free option.
Dark Chocolate Chips or dried fruits like dried raisins or dried cranberries.
Preparation
The recipe is easy and straightforward. First, mash the bananas and place them in a large mixing bowl along with the peanut butter and oats.
You don't have to measure the mashed bananas, as long as you take one medium-sized one.
Stir with a spoon or silicone spatula until it comes together into a sticky batter.
Then, stir the chocolate chips, dried fruits, or chopped nuts into the batter.
Stir until they are all evenly incorporated.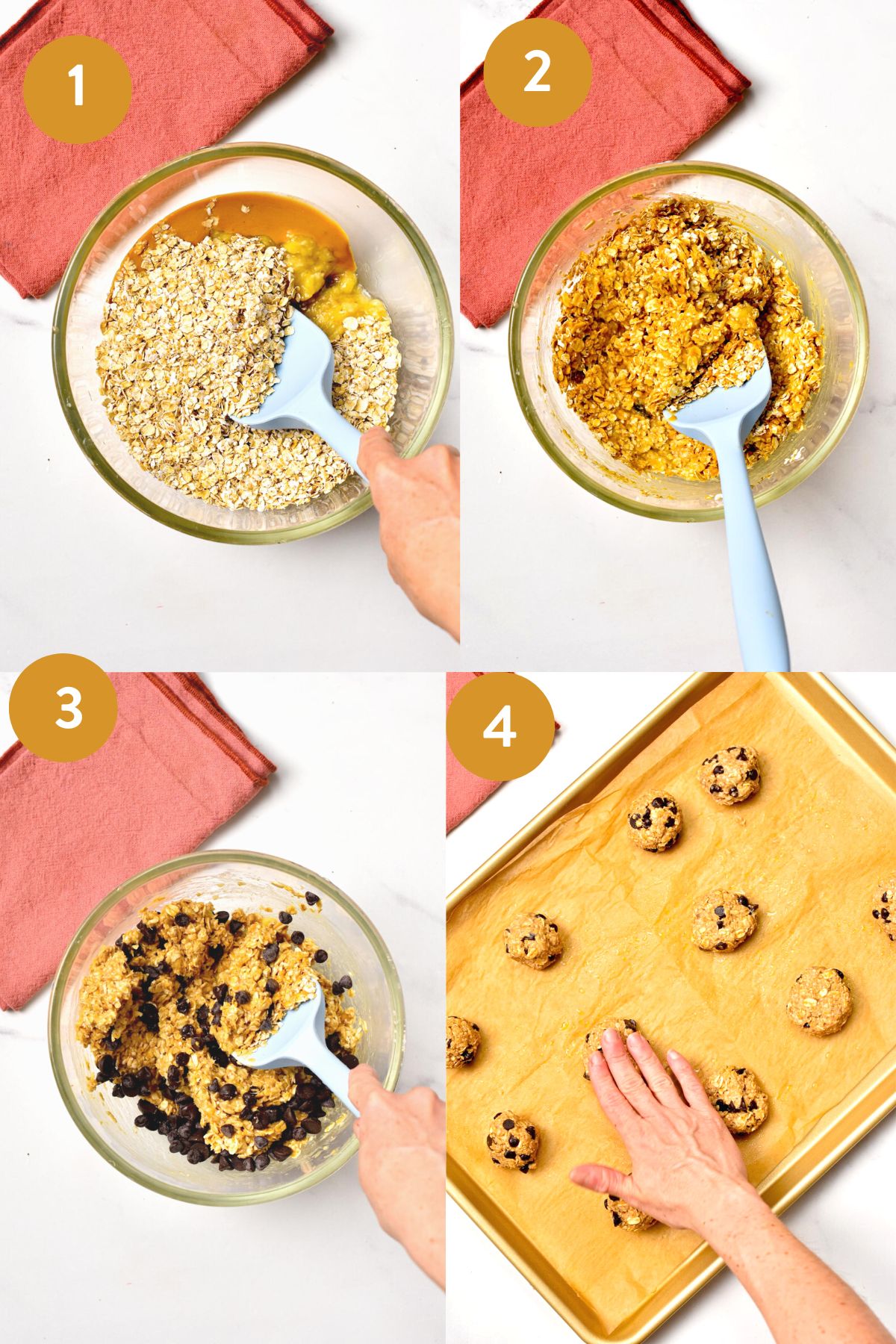 Baking The Cookies
Preheat the oven to 350°F (180°C). Line a cookie sheet with parchment paper. Slightly oil the paper with coconut oil or oil spray. Set it aside.
Use a small cookie dough scoop to scoop out some cookie dough. Roll the dough between your oiled hands.
Place each ball on the prepared cookie sheet, leaving half a thumb of space between each.
The cookies won't expand in the oven, but the extra space between them makes it easier to remove them from the sheet once cookes.
Flatten each cookie with your fingertips or the back of a spoon.
Bake the oatmeal cookies for 12 to 15 minutes or until crispy and golden brown on the edges.
Let them cool down on the baking sheet for 10 minutes, then transfer them to a wire rack.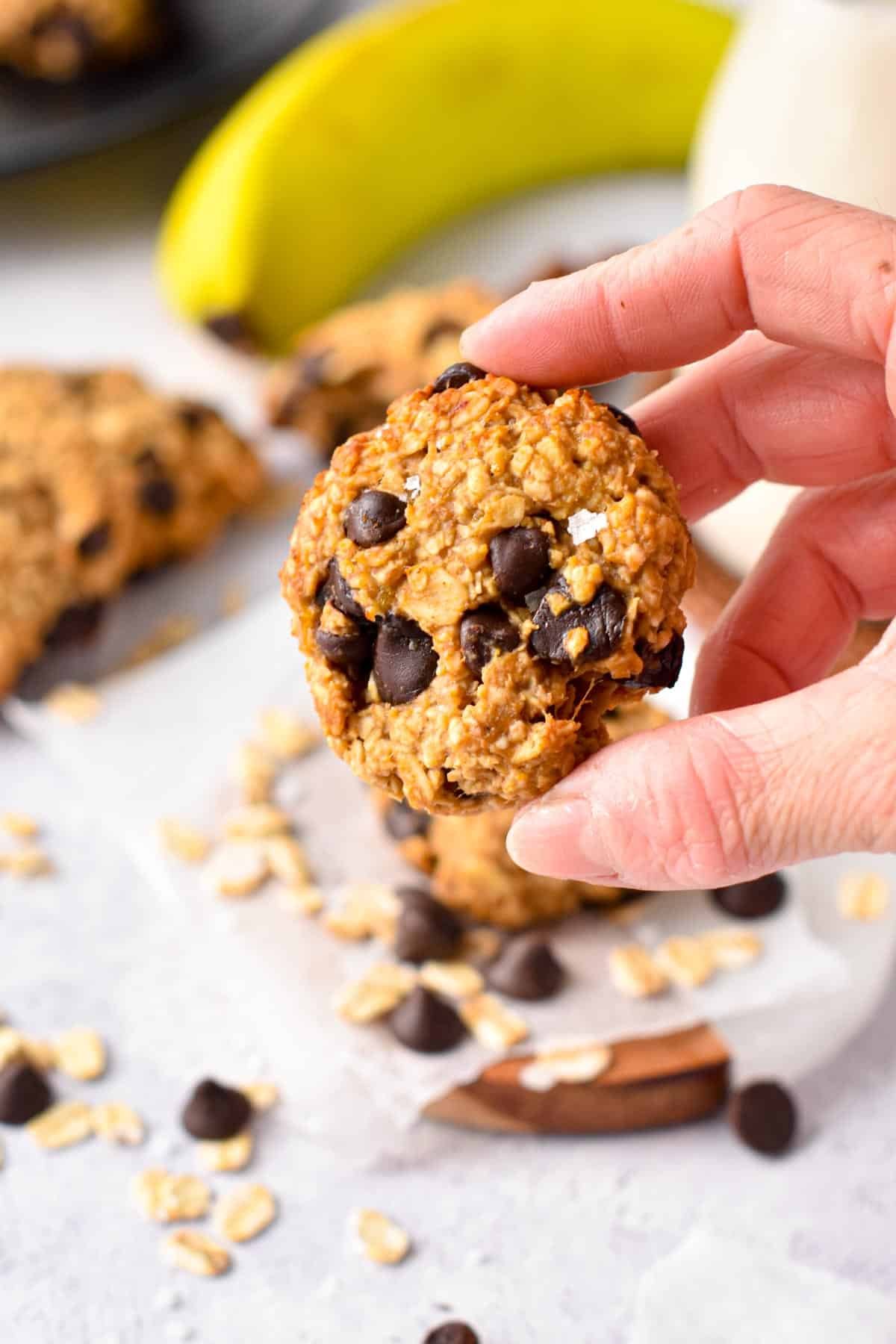 Flavors Ideas
This recipe is very versatile and can be used to create a range of banana oatmeal cookie flavors.
Below are some of my favorite taste changers to make many delicious healthy cookies.
Raisin Oatmeal Cookies – Stir one teaspoon of ground cinnamon in the batter and replace the chocolate chips with dried raisins.
Coconut Cranberries – Replace the chocolate chips with half unsweetened shredded coconut and half dried cranberries.
Super-Seeds Oatmeal Cookies – Replace the chocolate chips with a blend of hemp seeds, sunflower seeds, and pumpkin seeds.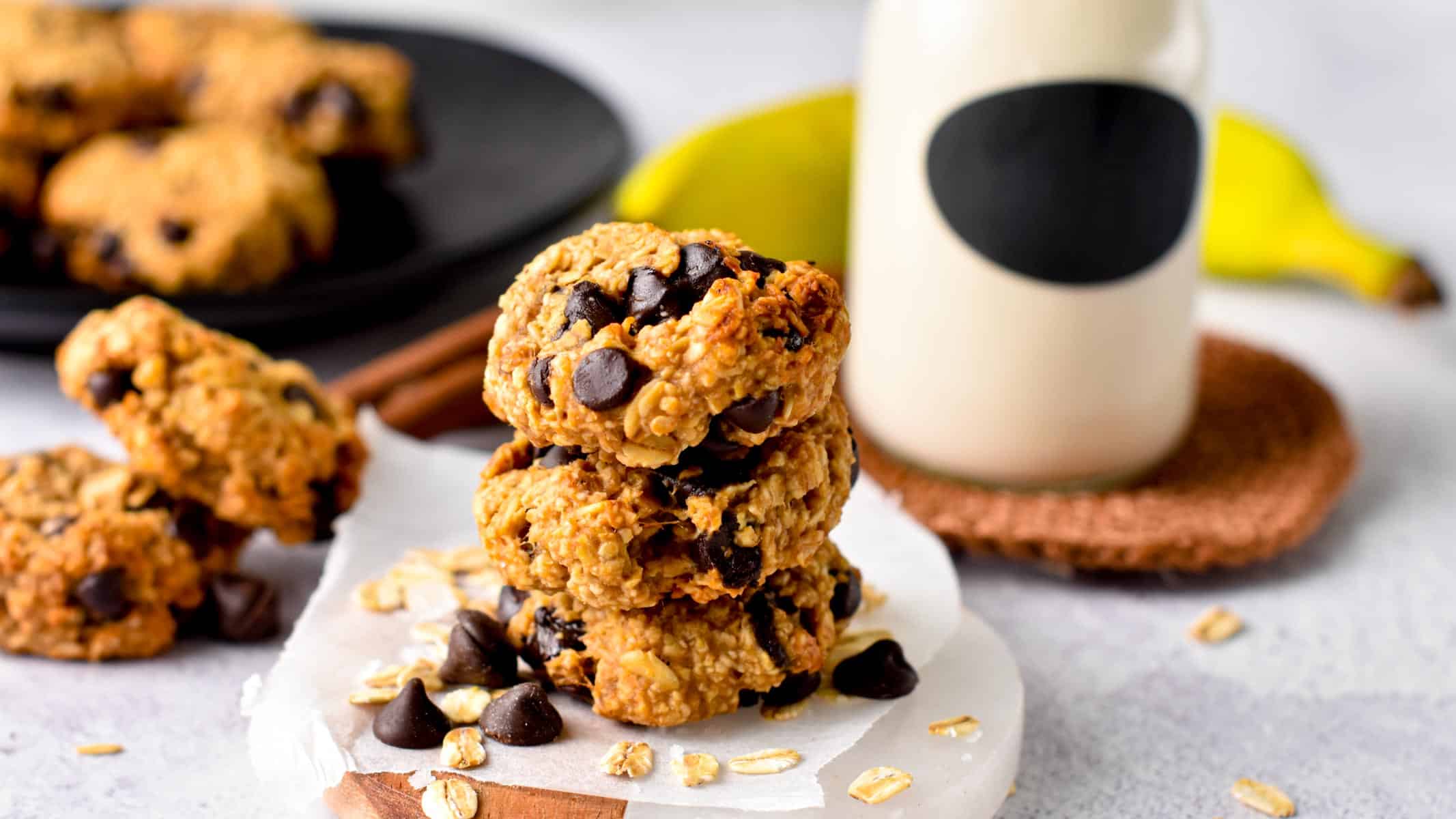 Storage Instructions
Store the cookie in the fridge in a sealed container for up to 4 days.
You can make these banana oatmeal cookies ahead and freeze them in zip-lock bags or airtight containers for up to 1 month.
They are very convenient to add to a kid's lunch box. Pop them frozen in the lunchbox the day before, and they are good to eat in the morning.
Allergy Swaps
If you are allergic to some of the ingredients, try the following food substitutions:
Gluten-Free – Pick gluten-free certified oats.
Nut-Free – Use a nut-free spread like sunflower seed butter or unhulled tahini.
Sugar-Free – Use sugar-free chocolate chips, chopped almonds, or unsweetened shredded coconut.
Frequently Asked Questions
Find below my answers to your most common questions about this recipe.
Are Peanut Butter Banana Oatmeal Cookies Healthy?
Yes, they are very good cookies for you! As an on-the-go breakfast or snack, these oat and peanut butter cookies are high in protein, fiber, and healthy fats.
Plus, banana is a natural sweetener to avoid refined sugar. It makes these cookies a perfect pre-workout food.
Are These Cookies Kid-Friendly?
Absolutely! They are refined sugar-free, naturally sweetened with banana, and a healthy snack for a kid's lunchbox.
You can make oatmeal chocolate chip cookies using healthier chocolate chips, like dark chocolate chips or sugar-free chocolate chips naturally sweetened with stevia.
More Oatmeal Cookie Recipes
If you like this recipe, you'll love these other oatmeal cookie recipes.
Have you tried these easy 4-Ingredient Banana Oatmeal Cookies? Share a comment or review below to connect with me!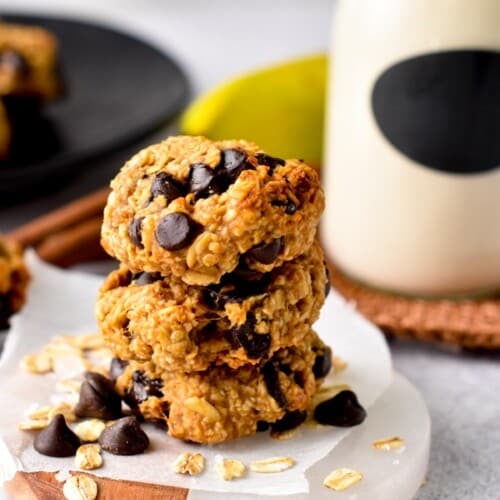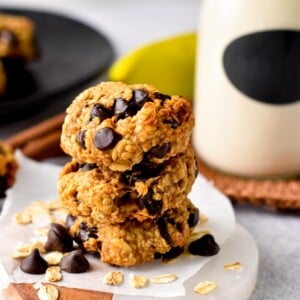 4-Ingredient Banana Oatmeal Cookies
These 4-Ingredient Banana Oatmeal Cookies are delicious, easy oatmeal cookies with a vegan, egg-free, and refined sugar-free recipe.
Pin
Print
Review
Servings: 8 cookies
Calories: 108 kcal
Instructions
Preheat oven to 350°F (180°C). Line a cookie sheet with parchment paper. Lightly oil the paper if needed to prevent the cookies from sticking to the paper. Set aside.

Mash the ripe banana in a mixing bowl.

Stir in peanut butter, rolled oats and any of the optional ingredients if used. Stir until it forms a sticky cookie dough.

Stir in chocolate chips or dried raisins if desired.

Scoop the batter using a cookie dough scoop and make 8 cookie dough balls.

Place each cookie dough ball onto the prepared cookie sheet leaving a one-thumb space between the cookies. They won't expand during baking but it makes it easier to remove them from the tray later.

Flatten the cookies with your hand palm – slightly oil fingers, so it doesn't stick.

Bake for 10-15 minutes or until golden brown on the sides.

Cool on a cookie rack for 20 minutes or until it reaches room temperature. The sweetness and flavor increase when the cookies are cool. If not sweet enough, after baking, drizzle some melted vegan dark chocolate on top!
Storage
Store at room temperature for 3 days in a cookie jar or zip-lock bags.

They can also be frozen and defrosted the day before.
Share on Facebook
Pin Recipe
Nutrition
Serving: 1cookie | Calories: 108kcal | Carbohydrates: 13.6g | Protein: 3.5g | Fat: 4.2g | Saturated Fat: 1g | Sodium: 38mg | Potassium: 151mg | Fiber: 2g | Sugar: 3g | Vitamin A: 9IU | Vitamin C: 1mg | Calcium: 11mg | Iron: 1mg