Vegan Peanut Butter Oatmeal Cookies
Vegan peanut butter oatmeal cookies are an easy healthy chocolate chips breakfast cookie recipe with almond flour.
Plus, they have the most delicious chewy texture, and they're made refined-sugar-free, dairy-free, and gluten-free!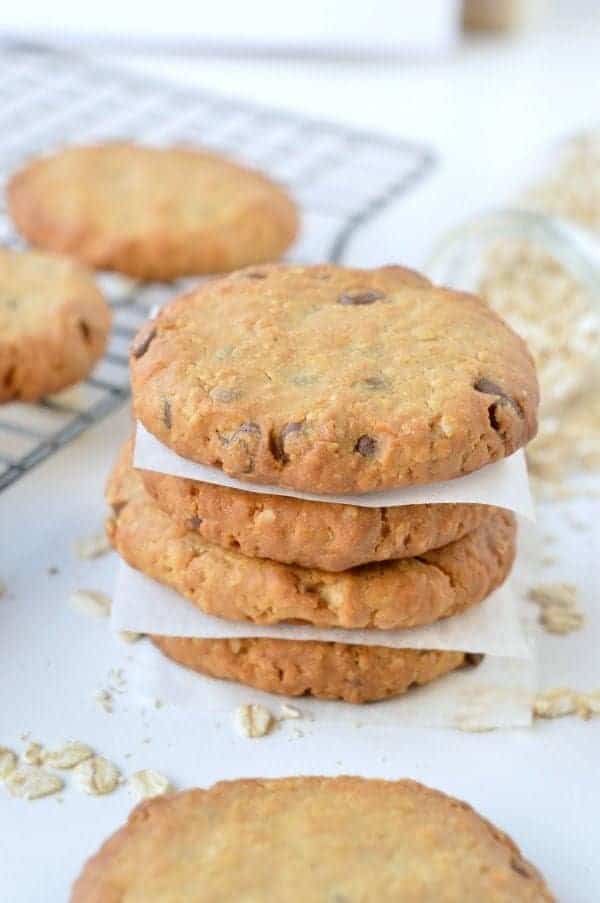 This blog is for peanut butter and vegan cookie lovers. I recently shared with you a delicious no-bake peanut butter cookie recipe, so it's time to check out its little sister.
These vegan peanut butter oatmeal cookies are the most delicious breakfast cookies for your busy morning and they are the oatmeal version of my Vegan Peanut Butter Cookies.
Are Oatmeal Cookies Healthy?
Oatmeal cookies are one of the healthiest cookie choices ever.
Oats are among the most nutrient-dense foods, with 13 grams of protein and 8 grams of fiber per 100 gram.
Therefore, these vegan oatmeal cookies are great fulfilling cookies to start the day or refuel after a workout.
How To Make Vegan Peanut Butter Oatmeal Cookies
These are the easiest vegan peanut butter oatmeal cookies ever. In fact, it's basically a one-bowl recipe made with only 8 ingredients.
Ingredients
Let's see what you need.
Peanut butter – or any nut butter you like. Always make sure you are using fresh nut butter, not dry, with no added sugar or oil.
Maple syrup – you can replace it with agave, coconut nectar or brown rice syrup, or sugar-free Monk fruit syrup.
Almond flour – or almond meal.
Rolled oats – I used gluten-free certified rolled oats.
Extra virgin coconut oil – or any vegetable oil you like.
Vanilla extract – cookies are always better with a hint of vanilla.
Baking powder or use half baking soda if preferred.
Vegan dark chocolate chips – I used low-sugar vegan paleo chocolate chips.
Serving Healthy Peanut Butter Oatmeal Cookies
Plus, these cookies are vegan oatmeal cookies meaning they don't contain inflammatory food like eggs or butter.
They are easy to digest and provide wonderful omega-3 fatty acids essential for a vegan diet.
Frequently Asked Questions
Is Oat Gluten-Free?
The answer is no. Oats are generally not gluten-free.
However, research shows that most people with celiac disease can tolerate oats. The research shows that the main reason why people react to oats is a contamination issue.
In fact, most oat facilities also process wheat, barley, and rye.
That is why gluten-free oats, also known as non-contaminated or pure oats, are safe for most people with gluten intolerance and often tolerated by people with celiac disease.
More Vegan Peanut Butter Cookie Recipes
If you love easy vegan peanut butter cookie recipes, I highly recommend you try my other recipes:
I hope you enjoy these easy healthy peanut butter oatmeal cookies. If so, save it on Pinterest for later!
Your friend, Carine
Vegan Peanut Butter Oatmeal Cookies
Vegan peanut butter oatmeal cookies an easy healthy chocolate chips breakfast cookie with almond flour. Plus, it has the most delicious chewy texture, and it is refined sugar-free, dairy-free, and gluten-free.
Pin
Print
Review
Servings: 8 cookies
Calories: 342 kcal
Instructions
Preheat the oven to 350°F (180°C). Line a cookie sheet with parchment paper, lightly oil the paper if your paper tends to stick to food. Set aside.

In a medium-size mixing bowl, add all the liquid ingredients: peanut butter, maple syrup, melted coconut oil, and vanilla.

Microwave 30 seconds to soften peanut butter, then combine with a spatula until it forms a consistent shiny batter. It shouldn't take you more than 1 minute.

Stir in rolled oats, almond flour, and baking powder.

Combine until it forms a cookie dough. It gets drier as you go. Stir in chocolate chips if used and keep stirring to incorporate.

Shape a cookie dough ball. If too dry or crumbly, add a splash of water (think 1 tablespoon max.) to gather ingredients together. This could happen if you used almond meal instead of almond flour. It contains more fiber and can dry out cookie dough.

Cut the dough into 8 even parts. Roll each part into a ball between your hands.

Place each cookie dough ball onto the cookie sheet you prepared before. Leave a thumb space between each cookie. They won't expand while baking, but you need some space to flatten the cookies and ensure they don't touch each other for consistent baking.

Press each cookie dough ball with your fingers to flatten.

If the sides crumble slightly, use your fingers to soften the edges – see video for tips and tricks.

Bake at 350°F (180°C) for 12-14 minutes or until the sides are golden.

Cool 10 minutes on the cookie sheet, then transfer onto a cooling rack. Slide a spatula under each cookie to carefully carry them from the tray to the cooling rack.

Wait until fully cool down to enjoy. They get crispier with time.
Storage
Store up to 3 weeks in a cookie jar in the pantry, at room temperature. Don't store them in the fridge, or they will soften. They can be frozen in an airtight ziplock bag and defrosted the day before.
Notes
Oat
Make sure you are using rolled oats and not jumbo oats. Rolled oats, also known as porridge oats, are crushed jumbo oats.
Flour options
You can replace almond flour with almond meal or sunflower seed flour.
Chocolate chips
It is optional to add some. You can also use sugar-free dark chocolate chips or add dried raisins if preferred.
Peanut butter
You can make this recipe using almond butter or sunflower seed butter.
Share on Facebook
Pin Recipe
Nutrition
Serving: 1cookie | Calories: 342kcal | Carbohydrates: 28g | Protein: 7.5g | Fat: 18.5g | Fiber: 3g | Sugar: 15.5g