Easy 4-ingredient peanut butter cookies
Learn how to make healthy 4-ingredient vegan peanut butter cookies with no eggs or dairy! A crunchy, easy peanut butter cookie recipe 100% gluten-free and grain-free.
How to make healthy

cookies

?
These healthy peanut butter cookies are made with only 4 ingredients, including nourishing low-carb flours and unrefined sugar.
Namely almond flour and coconut flour, both are high-fiber and high-protein flour. As a result, these cookies are very fulfilling and make the best vegan snacks.
Easy

cookies
They are not only healthy but also straightforward to make! You don't even need a flax egg or coconut oil, or vegan butter to make these healthy cookies! All you need to make them are 4 simple ingredients.
– make sure you are . I always recommend using fresh, smooth with no added oil or . Of course, you can use like or cashew in this . Make sure it's fresh from the jar, runny and smooth.
Liquid sweetener – is delicious but if you want a low-fructose, low-glycemic index sweetener, try brown rice syrup. Don't use crystal sweeteners like

vegan cookies

will be too dry, and the batter won't come together. or white . The

– fresh, no lumps.

use fine –

blanched

for best results. meal is coarser and makes the cookies a bit dry. You can also replace with .
Are all 4 or 3-ingredient peanut butter cookies vegan?
Not all 3 ingredient vegan cookies have no egg. So to make a vegan peanut butter cookie, use ingredients that are all vegan!
Keep on reading to find out how to make a super easy peanut butter cookie recipe!
How to make a ?
This 4-ingredient healthy peanut butter cookie recipe is the easiest recipe on earth.
Step 1: Combining the
In a small bowl, combine the maple syrup and natural peanut butter. You can add vanilla extract at this point if desired.
Step 2: Stirring in
Stir in coconut flour and almond flour. If you want to add some vegan chocolate chips, chia seeds, or flaxseed, add them with the flour mixture. Combine with a spoon until it forms the peanut butter cookie dough.
How to eat your ?
The best way to serve cookies, vegan, or not is with a glass of creamy beverage. It can be a vegan smoothie or a glass of soy milk or almond milk. Vanilla almond milk makes the most delicious combo with these peanut butter cookies.
Is

good for you?
Peanut butter can be seen as high in calories and fat. However, if eaten in moderate amounts, it's a great addition to a vegan diet or low-carb diet. In fact, peanut butter provides many health benefits. Let's see what you get in 1 cup of peanut butter:
58 grams of plant-based protein, making it perfect for refueling after a workout or creating fulfilling snacks.

12g fiber – good for your gut health and fulfilling.

Healthy fats and low-carb – yes, contains saturated fat, the one we all want to avoid. Also, 50% of comes from healthy, monounsaturated fat, the same good fat found in olive oil.
However, if you still think peanut butter is too high in saturated fat, you can swap for almond butter.
Crunchy healthy cookies
These cookies are crunchy, not soft! They are delicious as a healthy snack or post-workout protein treat. Plus, they store very well in a cookie jar as they are egg-free peanut butter cookies!
Finally, you can also freeze them in an airtight container to meal-prep your weekly snacks.

What can I add to ?
There is always a way to make peanut butter cookies better. To boost the flavors of this vegan cookie recipe, add some of the addition below:
. Add up to 1/3 cup of chips into the batter.
is optional. But if you like your or a bit more fluffy, you can add 1/4 teaspoon of or 1/2 teaspoon of to the .
– a pinch of enhances this flavor of cookies. Of course, don't add if you used salted or your will be very salty.
– you can add 1 teaspoon of into

the

If you are new to grain-free , xanthan gum helps flours bind together and adds a little chew to cookies. For a add 1/4 teaspoon of xanthan gum to the . Be aware that to make a I don't recommend using . It can cause bloating.
1 tablespoon of seed can be added to the of flax seeds. to boost protein and healthy omega-3.
More vegan cookies with peanut butter
If you love vegan peanut butter cookies, I recommend you try the following recipes: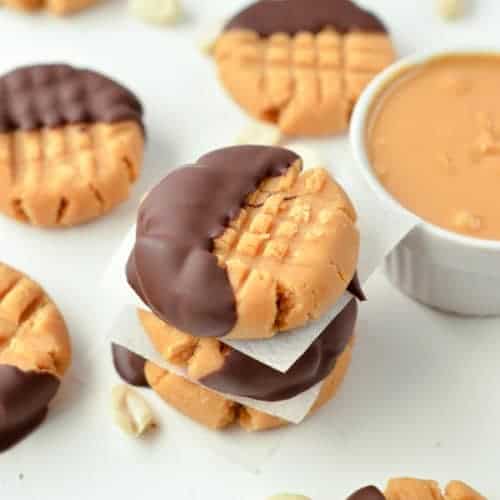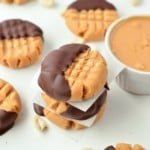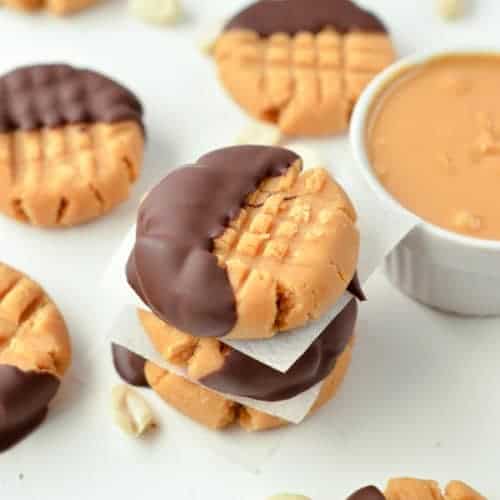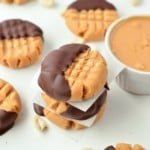 No-bake Peanut Butter Cookies
These 3-ingredient no-bake peanut butter cookies are easy healthy no-bake keto cookies without milk or butter. These vegan peanut butter cookies are made with only plant-based low-carb ingredients.
Check out this recipe
Vegan peanut butter oatmeal cookies
Vegan peanut butter oatmeal cookies an easy healthy chocolate chips breakfast cookie with almond flour. Plus, it has the most delicious chewy texture and it is refined sugar free, dairy free and gluten free.
Check out this recipe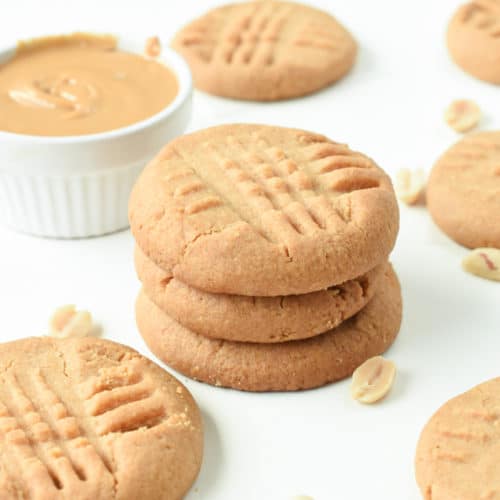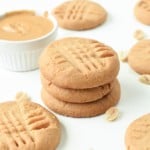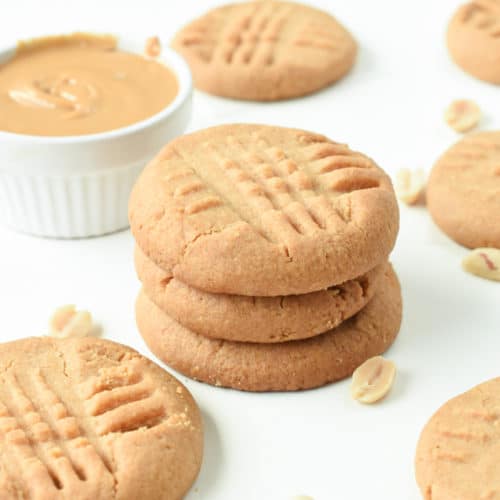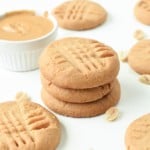 Vegan gluten-free peanut butter cookies
An EASY 7-ingredient healthy peanut butter cookie recipe made with gluten-free flours
Check out this recipe
Anzac biscuit recipe
A healthier Anzac biscuit recipe, egg-free, dairy-free, and refined-sugar-free.
Check out this recipe
Made these lovely 4 ingredient cookies yet? Share a picture of your creation with me on Instagram.
Your friend, Carine
Healthy Peanut Butter Cookies
Healthy Peanut Butter Cookies are easy 4-ingredient vegan peanut butter cookies with almond flour
Ingredients
1/2

cup

Peanut butter -

smooth, fresh, no added sugar, no added oil

1/4

cup

Maple syrup -

or brown rice syrup for low fructose, low sugar or monk fruit syrup for keto

1/2

cup

Almond flour -

or oat flour or all-purpose flour

1/4

cup

Coconut flour

-

or all-purpose flour
Instructions
In a medium mixing bowl, stir in fresh peanut butter with maple syrup until creamy and consistent.

Stir in almond flour and coconut flour. Use a spoon at first, then knead the dough with your hands to form a cookie dough ball.

Divide the ball into 12 small cookie balls and place each ball onto the prepared cookie sheet, leaving 1 thumb space between each ball. The cookies don't expand while baking.

Preheat oven to 180°C (350°F). Line a cookie sheet with parchment paper. Set aside.

Use a fork to gently press each cookie ball into a thick disk. I recommend pressing two times, forming a cross on top of each cookie. Don't press too hard, or the cookies crumble on the sides. If so, use your hands to smoothen the sides.

Bake for

12-15 minutes

or until the cookies' top and sides are golden-brown.

Slide a spatula under each cookie to transfer them onto a cooling rack.

Cool for 1 hour before eating. The cookies are slightly soft when out of the oven and get hard and crunchy after they cool down.
Notes
Sweetener: you can use any liquid sweetener you love, like agave syrup, brown rice syrup, date syrup, sugar-free monk fruit syrup.
Share on Facebook
Pin Recipe
Nutrition
Serving:
1
cookie
|
Calories:
118
kcal
|
Carbohydrates:
9.1
g
|
Protein:
3.6
g
|
Fat:
6.6
g
|
Fiber:
1.5
g
|
Sugar:
5.8
g