These Vegan Breakfast Cookies are crunchy, healthy oatmeal cookies made in one bowl, using only natural, wholesome plants.
They are packed with proteins and fiber and make a delicious on-the-go breakfast or snack in the morning.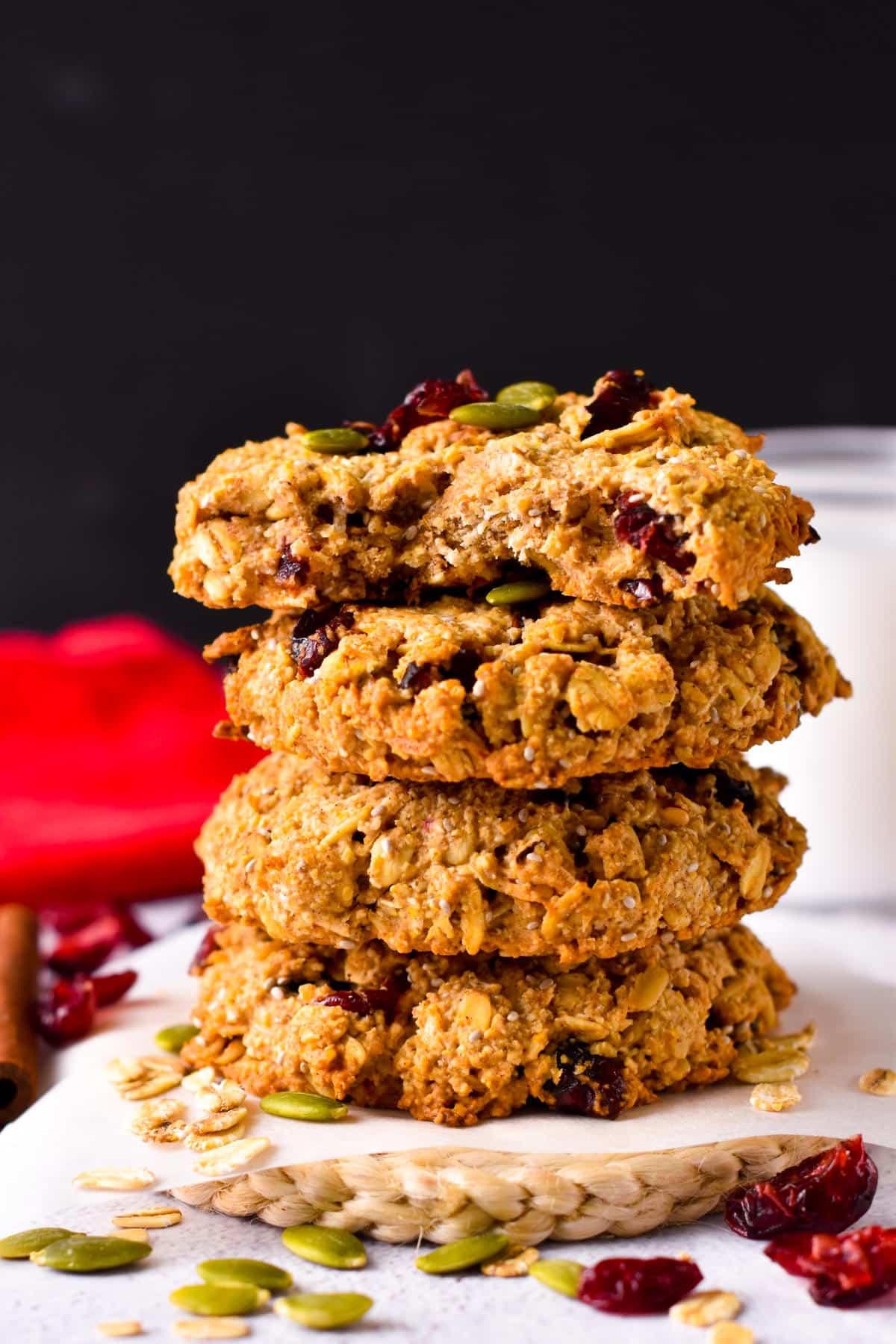 I have plenty of vegan oatmeal cookie recipes and my favorite ones are my vegan oatmeal raisins cookies.
However, if you are after a healthier alternative, refined sugar-free, and using healthier fat like avocado oil, this new cookie recipe is for you.
Why You'll Love These Cookies
These vegan breakfast cookies are packed with all the nutrients and vitamins you need to start your day.
Plus they are naturally:
Nut-free
Gluten-free option provided
Refined sugar free
And obviously, like all vegan cookies, they are:
How To Make Vegan Breakfast Cookies
There are many ways of making delicious breakfast cookies without eggs and dairy. Below are many more ideas using applesauce or mashed banana if you need them.
But here's a simple classic healthy vegan oatmeal cookie recipe ready in less than 30 minutes.
Ingredients
All you need to make crispy oat cookies are:
Oat Flour – Check how I make homemade oat flour if needed. It's a method that consists of blending oats into an ultra-fine powder that looks like flour.
Old-Fashioned Oats or quick oats. Depending on the option you choose here, you will need more or less milk in the next steps. In fact, quick oats stick together very well with minimal liquids, while old-fashioned oats require more moisture.
Flaxseed Meal – Brown or golden ground flaxseed work, but I prefer golden flax meal. It has a less bitter flavor.
Chia Seeds
Vanilla Extract
Maple Syrup
Avocado Oil or light olive oil or melted coconut oil.
Sea Salt
Cranberries – or other dried fruit
Shredded Coconut
Pumpkins Seeds or finely chopped roasted nuts like almonds or walnuts if you don't mind cookies with nuts. You can also use sunflower seeds.
Milk of Choice – like soy milk, oat milk, or almond milk.
Making Cookie Dough
In a large mixing bowl, add all these ingredients: oat flour, old-fashioned rolled oats, chia seeds, salt, and cinnamon, and stir with a spoon to evenly distribute them.
Next, make a well in the center, add the maple syrup, vanilla extract, and minimal milk amount, and stir halfway.
When it starts to come together, fold in the shredded coconut, pumpkin seeds, and dried cranberries.
Stir again pressing well to coat all the ingredients with the liquid.
Set it aside for 5 minutes.
Grab some cookie dough and squeeze it between your lightly oiled hands. If it falls apart, add extra milk, and stir well to combine.
The dough should hold together when pressed. It won't be ultra-sticky but rather a bit loose, and it should be able to be shaped with an ice cream scoop maker.
Baking The Cookies
Preheat the oven to 350°F (180°C). Line a large baking sheet with parchment paper. Using cooking oil spray, spray the paper to oil evenly.
Use an ice cream scoop maker to grab one portion of dough. Make sure you pack it well into the scoop.
Then, release the dough on the baking sheet and use your palm to press down the cookie into a round shape. Don't over-press, or they get fragile on the edges.
Repeat these steps until all the dough has been shaped into cookies.
Bake the cookies for 15 to 20 minutes or until golden brown and crispy on the edges.
Let them cool down for 10 minutes on the cookie sheet, then use a flat tool or spatula to slide under each cookie and transfer them to a wire rack.
You can store the cookies or serve them once they've fully cooled down.
Storage Instructions
These vegan breakfast cookies can be stored for up to 5 days in a sealed cookie jar at room temperature or in the fridge.
Freezing
You can store them in an airtight freezer-friendly box. These oatmeal breakfast cookies to meal prep a week of healthy breakfast.
Thaw the breakfast cookie at room temperature the day before serving them.
Breakfast Cookie Flavors
You can play with flavors and create a range of vegan breakfast cookies using this recipe.
For example, you can swap some dried fruits, nuts or seeds with the same amount of the ingredients below:
Roasted Nuts – Finely chopped pecans, almonds, or peanuts.
Chocolate Chips – Dark or dairy-free milk chocolate chips taste amazing.
Dried Dates or apricots finely chopped.
Hemp Seeds for a boost of protein.
Allergy Swaps
If you are allergic to any of this recipe's ingredients, you can try some of the substitutions suggested below.
Gluten-Free – Pick a certified gluten-free oat brand.
Oil-Free – I didn't try oil replacements for this recipe. I suppose that mashed banana or unsweetened applesauce could bind the ingredient together, but the cookies will be pretty soft and not crispy or crunchy.
Nut-Free – The recipe is naturally nut-free using coconut milk or soy milk.
Sweetener Options – You can use a sugar-free maple-flavored syrup in this recipe, but you will need more milk. The sugar-free syrup is very high in fiber and dries out cookie dough quickly.
Frequently Asked Questions
Find below my answers to your most common questions about this recipe.
Can I Use All-Purpose Flour Instead Of Oat Flour?
Yes, you can, but the dough might be dryer.
Adjust the wet ingredients, adding more oil or milk until you can squeeze the cookie dough nicely into a ball.
Can I Add Raisins Or Chocolate Chips?
Absolutely, you can swap one of the add-ons with raisins or chocolate chips.
Always swap and don't add as an extra ingredient, or the cookie dough will be too saturated with add-ons and won't hold together.
Can I Add Nut Butter?
You can add 1 or 2 tablespoons of peanut butter, almond butter, or sunflower seed butter for a nut-free option.
How Can I Boost The Protein In The Cookies ?
You can boost the proteins by replacing the shredded coconut with high-protein seeds like hemp hearts.
I wouldn't add protein powder, or the cookie dough will dry.
Adding high-protein dry ingredients means you need more liquid, and the cookie recipe will be very different. Use my vegan protein cookie recipe for a high-protein cookie recipe.
More Breakfast Cookie Recipes
Here's some more vegan oatmeal cookie recipe for you to try on your next breakfast.
Have you baked these easy vegan breakfast cookies? Share a comment or review below to connect with me.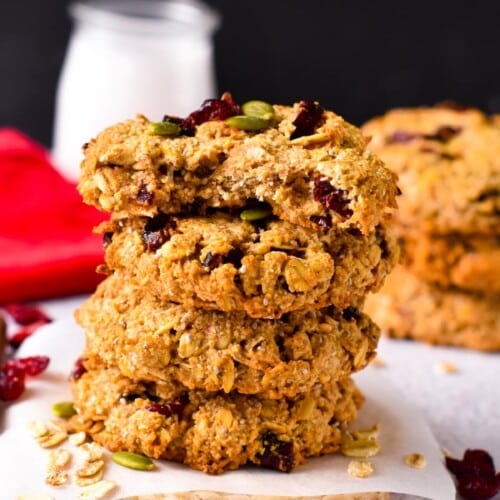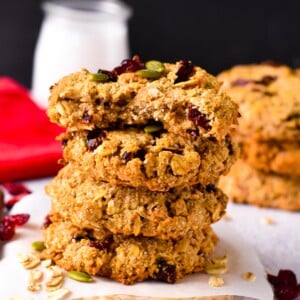 Vegan Breakfast Cookies
These Vegan Breakfast Cookies are crunchy, healthy oatmeal cookies made in 1 bowl, using only natural, wholesome plants. They are packed with proteins and fiber and make a delicious on-the-go breakfast in the morning.
Pin
Print
Review
Instructions
Preheat oven to 350°F (180°C). Line a large cookie sheet with parchment paper. Slightly oil paper with cooking oil spray or avocado oil. Set aside.

In a large bowl, add oat flour, oats, flaxmeal, cinnamon, salt, and chia seeds and stir to combine evenly.

Make a well in the center of the dry ingredients, then add all the liquid ingredients : maple syrup, avocado oil, vanilla extract, and one tablespoon of milk.

Stir to combine, and halfway, fold in dried cranberries and pumpkin seeds.

Stir a bit longer until all ingredients are covered with the wet mixture. If too dry, stir in the extra tablespoon of milk or a bit more if needed. The cookie dough should hold together if pressed firmly in your hand. Set aside 5 minutes – the fiber will absorb moisture, and the batter will stick together better after that time.

Use an ice cream scoop to scoop out some batter, pack it firmly in the scoop, then release it on the cookie sheet.

Press the top of the cookie dough with your palm to flatten it.

Repeat with the remaining dough, leaving a thumb space between each cookie. They won't expand in the oven.

Bake the cookies for 15-18 minutes or until golden brown and crispy on the edges.

Cool down on a cooling rack for 1 hour.
Storage
Store in an airtight container for up to 4 days at room temperature or freeze for up to 1 month.
Share on Facebook
Pin Recipe
Nutrition
Serving:
1
cookie
|
Calories:
223
kcal
|
Carbohydrates:
28.4
g
|
Protein:
5
g
|
Fat:
10.1
g
|
Saturated Fat:
1.4
g
|
Polyunsaturated Fat:
2.5
g
|
Monounsaturated Fat:
5.4
g
|
Trans Fat:
0.001
g
|
Cholesterol:
0.2
mg
|
Sodium:
71.3
mg
|
Potassium:
166.5
mg
|
Fiber:
2.9
g
|
Sugar:
7.7
g
|
Vitamin A:
4.7
IU
|
Vitamin B12:
0.01
µg
|
Vitamin C:
0.4
mg
|
Vitamin D:
0.02
µg
|
Calcium:
36.5
mg
|
Iron:
1.5
mg
|
Magnesium:
61.1
mg
|
Phosphorus:
162.2
mg
|
Zinc:
1.3
mg