Gluten-Free Chocolate Peanut Butter Cookies (4 Ingredients)
These gluten-free chocolate peanut butter cookies are crunchy, easy, healthy chocolate cookies with almond flour and only 4 ingredients.
They are egg-free, dairy-free, refined sugar-free, and naturally sweetened with a small amount of maple syrup.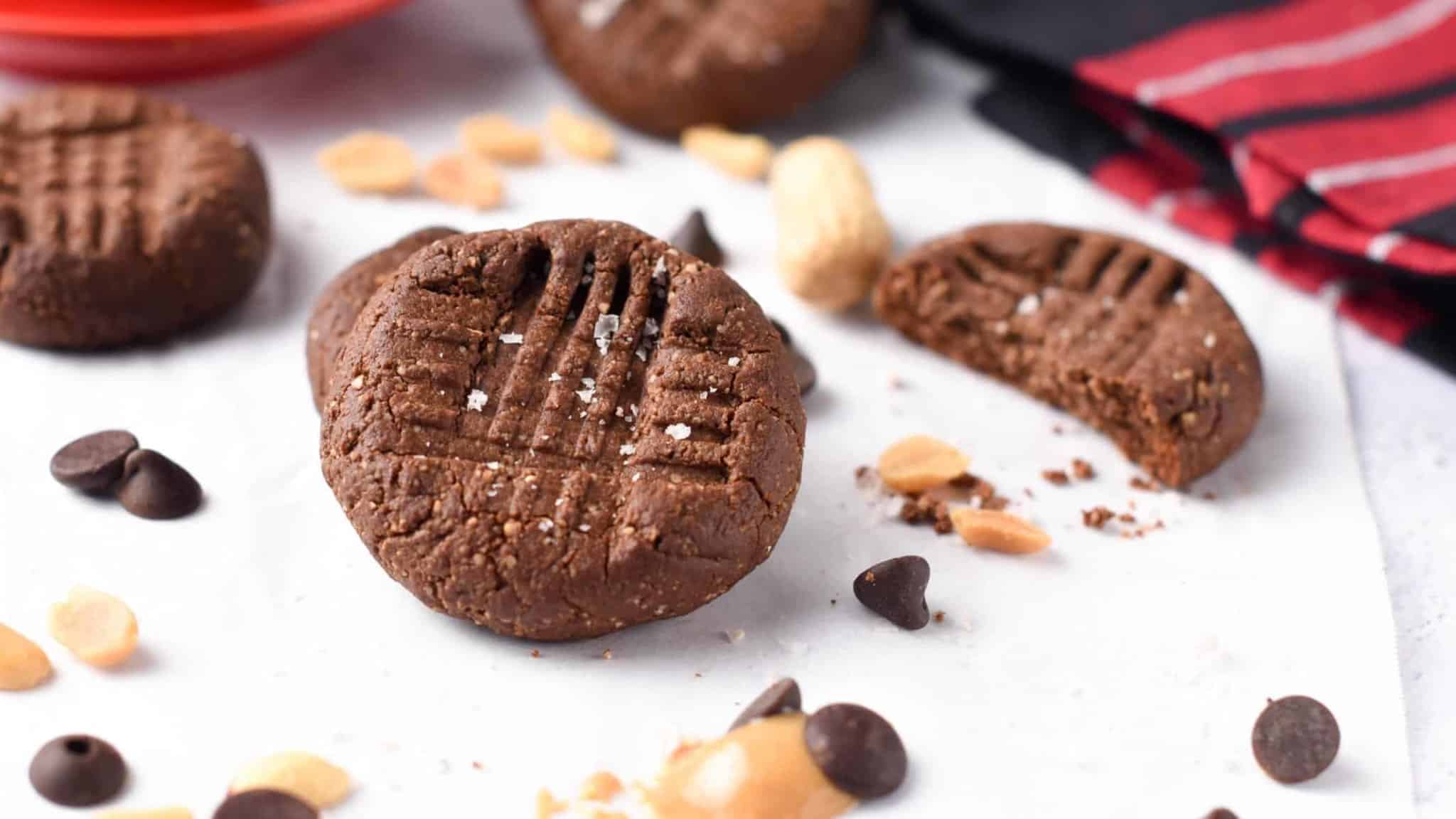 How To Make Vegan Chocolate Peanut Butter Cookies
These healthy chocolate peanut butter cookies are made without eggs and dairy. As a result, they are vegan cookies.
Plus, they use healthy low-carb flour and unrefined sugar to make them a little bit healthier than regular chocolate cookies.
Ingredients
All you need to make these 4-ingredient chocolate peanut butter cookies are:
Natural Peanut Butter – it means peanut butter with no added oil, no added sugar, and a drippy texture. A fresh jar of natural peanut butter works the best since peanut butter from an old jar can have hardened. It would be more difficult to work with it in the recipe.
Maple Syrup – this is my favorite unrefined sweetener because it adds a delicious maple flavor to cookies. Other vegan, gluten-free options are agave syrup or date syrup.
Unsweetened Cocoa Powder – make sure you measure this precisely. It contains a lot of fiber, and adding a little too much can significantly dry out the batter. Fill the tablespoon and sweep extra on top.
Almond Flour – or oat flour.
Optional ingredients in this recipe are:
Vanilla extract – optional but delicious
Salt– use only if your peanut butter is unsalted.
Chocolate Chips – feel free to add 1/4 cup of mini chocolate chips into the batter to add an extra chocolate flavor. There are plenty of healthy vegan chocolate chips available. Some are also flavored, like mint chocolate chips, and go well in these cookie recipes for Christmas.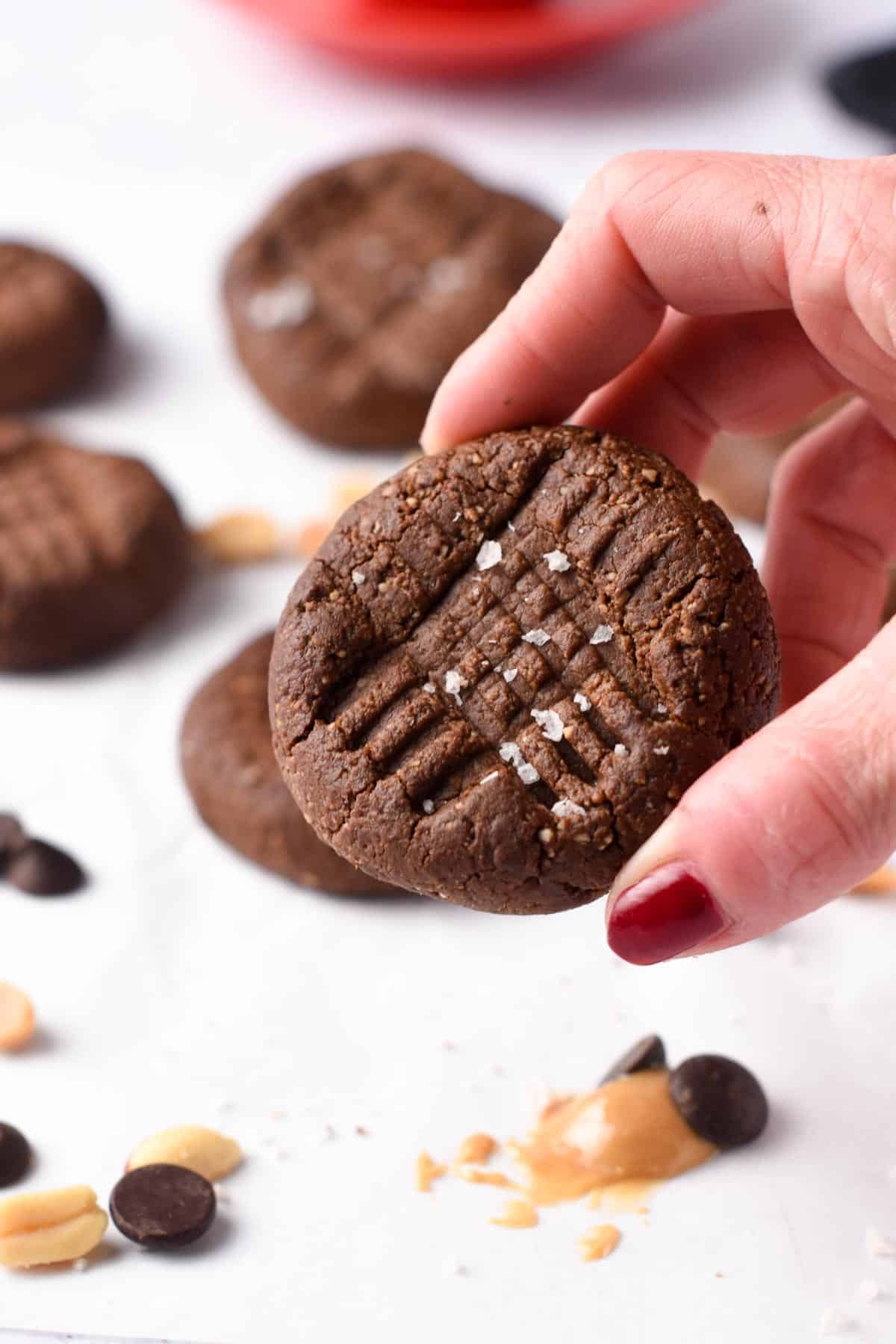 Making The Batter
These easy chocolate peanut butter cookies require minimal steps, minimal ingredients, and simple tools.
All you need is a mixing bowl, 4 ingredients, and only 10 minutes to make the dough, from measuring the ingredients to mixing.
Before starting, preheat the oven to 350°F (180°C) and line a baking sheet with parchment paper.
First, combine the natural peanut butter with maple syrup in a large bowl until creamy and smooth.
Then, stir in cocoa powder and almond flour, using the spatula first, then your hands to bring the ingredients together.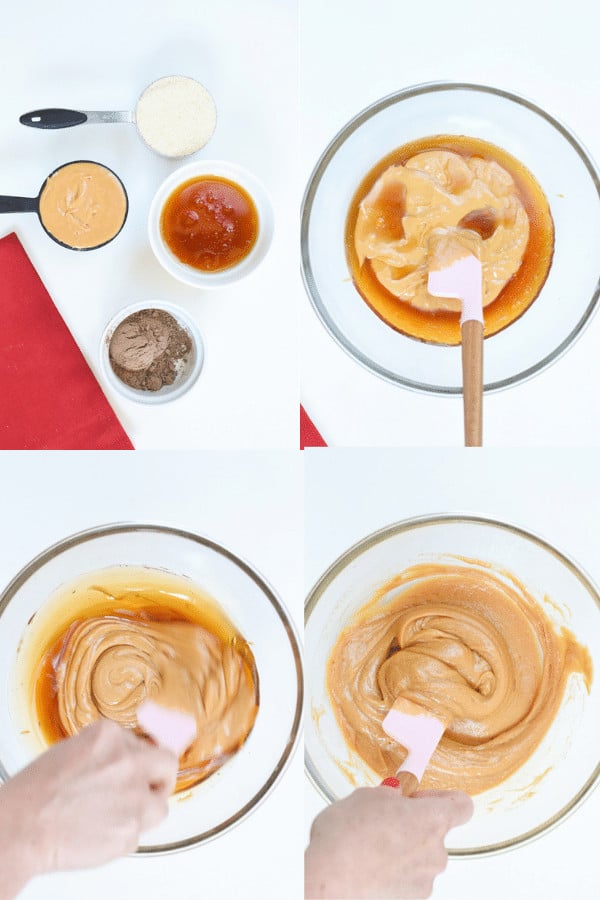 Forming Cookies
Next, scoop out dough to form and roll dough balls between your hands.
This recipe makes 8 cookies. Place each cookie dough ball on the prepared baking sheet leaving one thumb of space between each ball.
Press each ball with the back of a fork to flatten slightly and form a cross on top of the cookies.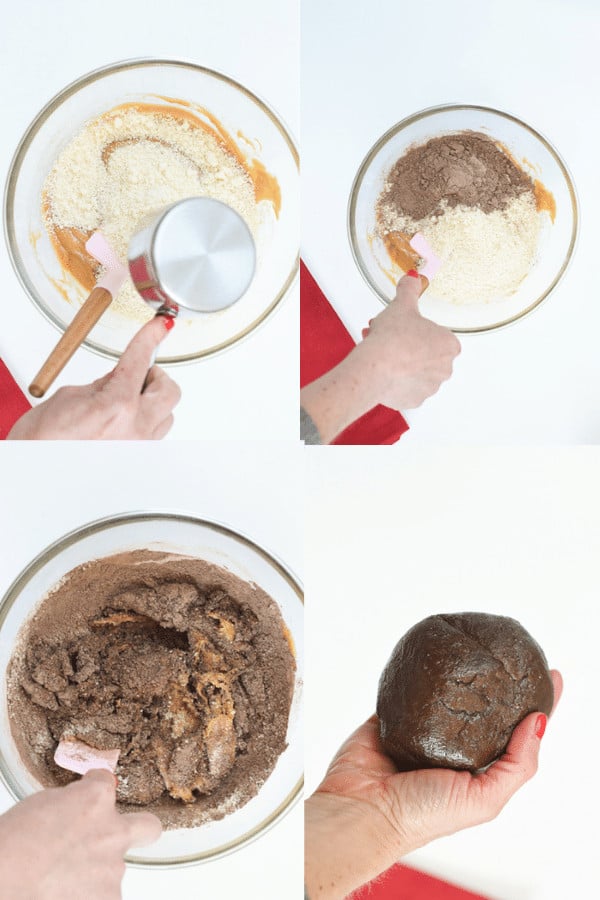 Baking Chocolate Peanut Butter Cookies
Finally, bake in a preheated oven until set on top, about 8-12 minutes.
Let them cool down at room temperature and wait about 30 minutes to appreciate their full texture.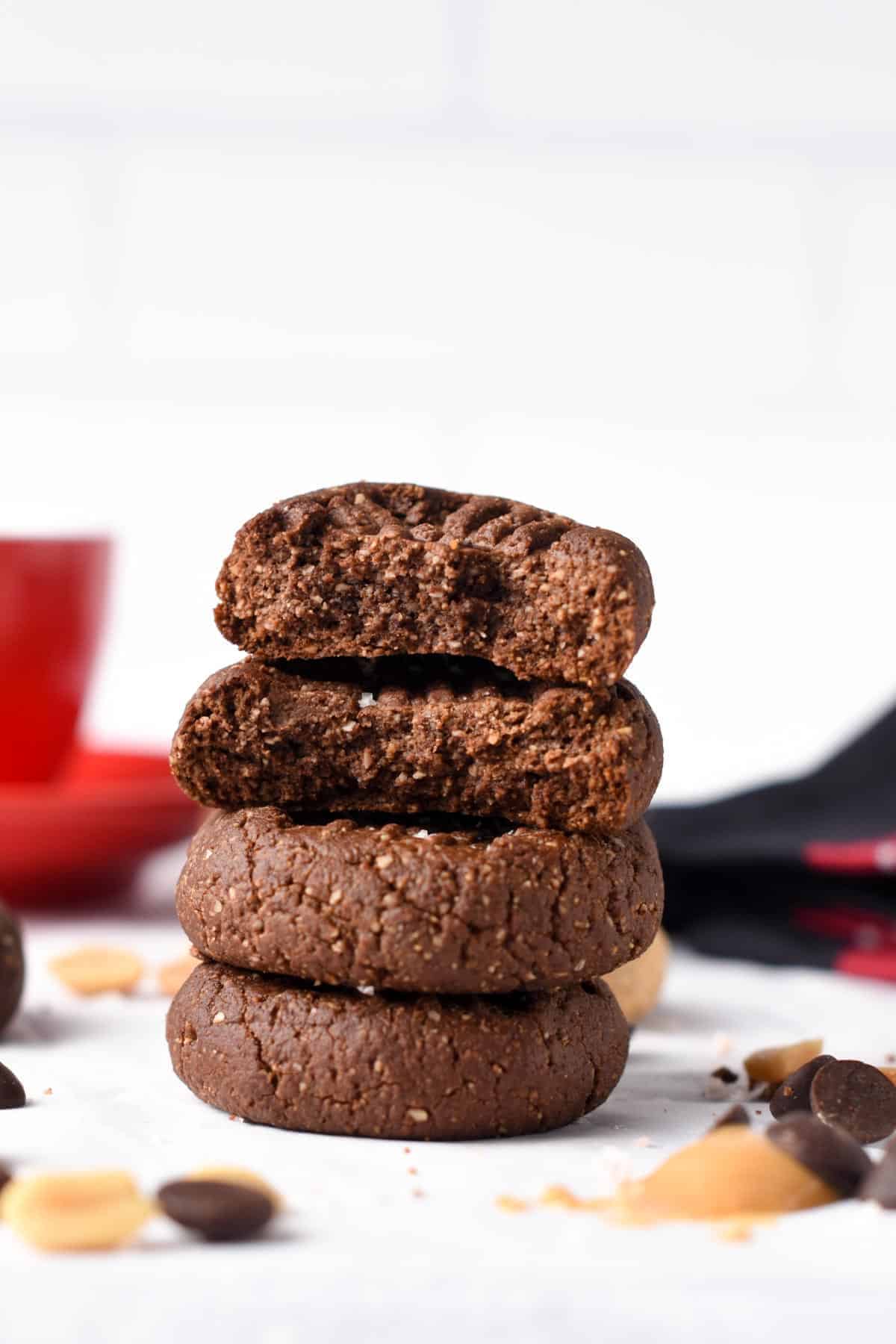 How Do Almond Flour Chocolate Cookies Taste?
These cookies taste like a regular peanut butter cookie recipe with a lovely chocolate flavor. They are crunchy chocolate cookies with a slightly crumbly texture when you give a bite.
They won't raise or expand in the oven because they are gluten-free, and even if you add a raising agent like baking soda, it won't change their texture.
They are not overly sweet as they contain a minimal amount of maple syrup. You can adjust their sweetness by adding a few mini chocolate chips to the batter when adding the almond flour.
Jump to the recipe below for all my tips to customize these 4-ingredient chocolate cookies and make them even better!
How To Store Cookies
These cookies are egg-free and don't contain butter, so they store very well at room temperature in a cookie jar.
Almond flour is sensitive to moisture, so it's better to use a perfectly sealed jar to prevent air from going into the box.
This keeps the cookies crunchy for up to 5 days.
You can also freeze these cookies in a ziplock silicone bag and thaw them at room temperature 3 hours before eating.
Allergy Swaps
There are many options to customize this recipe based on your allergies or dietary preferences.
Below I listed the options I tested, and they work well.
Peanut butter swaps – sunflower seed butter works really well in this recipe. The flavor is great, but some people may find sunflower butter a bit bitter, so make sure you love the taste of plain sunflower butter before trying. Almond butter and tahini are other options. Make sure the jar is fresh and the spread is drippy, not dry.
Maple syrup swaps – any liquid sweetener, except sugar-free maple syrup, works well here. This includes date syrup, agave syrup, and rice syrup for the healthy unrefined options.
Almond flour swaps – if you have an allergy to almonds, ultra-fine oat flour is an option, but the cookies come out a bit dryer. I didn't try all-purpose wheat flour in this recipe, and I am not sure how it would work.
Cocoa powder – you can use cacao powder or cocoa powder. Both work with the same amount. The chocolate flavor is always stronger with cacao powder. I recommend unsweetened to keep the recipe low in sugar and healthy.

More Almond Flour Cookies
I absolutely adore baking with almond flour, especially cookies, because it adds the most beautiful nutty flavor, and it's a healthy twist to regular flour.
In fact, almond flour contains fewer carbs and healthy fats, and it's gluten-free, so a great option if you are sensitive to grains.
Plus, almond flour is great for making egg-free vegan cookies as it creates a sticky cookie dough very quickly without adding eggs or butter.
Made these vegan chocolate peanut butter cookies? Share a picture with me on Instagram, or share your review by commenting below. I love to hear your feedback on my recipes.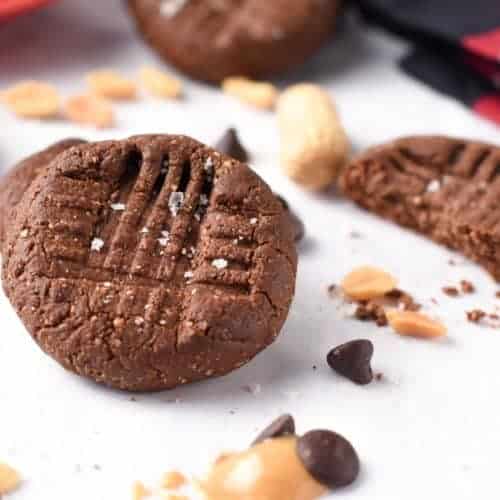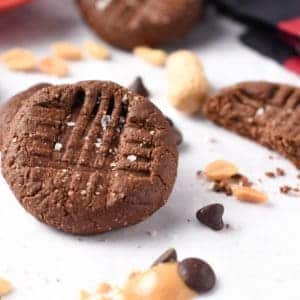 Gluten-Free Chocolate Peanut Butter Cookies
These easy 4-ingredient crunchy Vegan Chocolate Peanut Butter Cookies are gluten-free, egg-free, and dairy-free treats made in less than 20 minutes.
Pin
Print
Review
Servings: 12 cookies
Calories: 126.1 kcal
Instructions
Preheat the oven to 350°F (180°C). Line a cookie sheet with parchment paper. Set aside.

In a large mixing bowl, combine natural peanut butter and maple syrup until creamy and smooth. Add vanilla and salt now if used.

Add unsweetened cocoa powder and almond flour into the bowl and stir until combined. When it starts to be difficult to stir, use your hands to squeeze and knead the dough and form a cookie dough ball.

Divide the cookie dough into 8 balls of the same size and place each cookie dough ball onto the prepared cookie sheet leaving 1 thumb space between each ball.

Press down the cookie dough ball with the back of the fork to form a cross on top of the cookies.

If you like, decorate with sprinkles and press them in using the fork again.

Bake cookies for 8-12 minutes or until set on top.

Cool on a cooling rack. They firm up and get very crunchy when completely cooled down.

Store in a cookie jar for up to 5 days at room temperature.
Share on Facebook
Pin Recipe
Nutrition
Serving: 1cookie | Calories: 126.1kcal | Carbohydrates: 9.4g | Protein: 4.2g | Fat: 9.2g | Saturated Fat: 1.5g | Polyunsaturated Fat: 1.3g | Monounsaturated Fat: 2.8g | Sodium: 95.5mg | Potassium: 101.3mg | Fiber: 1.9g | Sugar: 5.4g | Calcium: 29.5mg | Iron: 0.7mg | Magnesium: 27.9mg | Phosphorus: 48.7mg | Zinc: 0.4mg