Chickpea Peanut Butter Cookies (Vegan)
These Chickpea Peanut Butter Cookies are soft, fudgy peanut butter cookies made with cooked chickpeas and no flour
A tasty, healthy peanut butter cookie recipe for peanut butter lovers, 100% gluten-free, dairy-free and refined sugar-free!
I love baking with cooked chickpeas, also known as canned chickpeas.
It is so convenient to open a can of chickpeas, drain, dry, and pulse them into a chickpea cookie dough! Chickpeas also create the fudgiest blondies or creamy vegan cookie dough dip.
But first, let us see how you can make healthy peanut butter cookies with canned chickpeas.
What Are Chickpea Cookies?
These Chickpea Peanut Butter Cookies are a version of my Vegan Peanut Butter Cookies that use chickpeas as the main cookie dough ingredient.
It gives the cookies a great texture without bringing a chickpea taste.
How To Make Chickpea Cookies
These healthy peanut butter cookies taste like vegan blondies, and you will not taste the chickpea at all.
Cookie Ingredients
Chickpeas only make the cookies a little healthier, boosting the plant-based protein of the recipe along with the other ingredients, including:
Chickpea – the recipe use 1 can of drained, pat-dried chickpeas. One can of chickpeas, also called garbanzo beans, weighs 400g/15oz, including the chickpea liquid. However, this chickpea cookie recipe does not use chickpea water, so you need 1 cup + 1/2 cup of canned chickpeas, about 250g.
Oat Flour – make your own oat flour following my tutorial. Or almond flour would work too, but almond chickpea cookie dough makes cookies softer and more fragile. Another option is spelt flour, or even all-purpose flour would work, though a little less healthy.
Regular peanut butter – no added sugar, no added oil. You can also use natural almond butter to decrease saturated fat or any nut butter you love, like cashew butter.
Maple syrup or any refined sugar-free liquid sweetener you like. My favorite options are agave syrup or coconut nectar.
Salt
Baking powder – some baking powders are not gluten-free, so you can swap baking powder with half the amount of baking soda.
Vanilla extract
Chocolate chips – peanut butter chocolate chip cookies are even tastier, so add 1/2 cup of your favorite dark (or dairy-free) milk vegan chocolate chips in the cookie dough!
Patting Dry The Chickpeas
In order to make chickpea cookies, you first need to prepare the cookie dough.
Start by opening a can of chickpeas. A regular can is usually 15 oz (400g).
Then, drain the chickpeas into a sieve, rinse and place on a clean towel.
It is better if you roughly dry the chickpeas by rubbing the towel onto them. This prevents overly moist cookies.
Finally, place the chickpeas into a food processor mounted with the S blade attachment along with the rest of the ingredients.
Blending In A Food Processor
You must use a food processor, not a blender, to make this chickpea cookie dough. In fact, blender jugs are too narrow, and the cookie batter would not blend very well.
So use a food processor and blend in 30-second bursts, stopping the food processor every 30 seconds to scrape down the sides of the bowl.
Repeat this blending/scrapping process a few times until it forms a sticky thick chickpea cookie dough batter.
Stirring In Chocolate Chips
Since this is a vegan chickpea peanut butter cookie recipe, I recommend using dark chocolate chips.
However, vegan milk chocolate chips taste great if you can find some at the store.
Shaping The Cookies
This peanut butter chickpea cookie batter is very sticky, so you must wet your hands before rolling the dough into cookie balls.
Then, use a cookie rack covered with a piece of greased parchment paper.
It is recommended to grease the paper with coconut oil to ensure the cookies will not stick to the paper.
Next, place each chickpea peanut butter cookie dough ball onto the tray, leaving 1 cm space between each.
Finally, press the cookie dough ball with your hands to flatten it into a cookie shape. Do not forget to wet your hands often if the batter becomes too sticky.
Baking Chickpea Peanut Butter Cookies
These chickpea cookies are soft and fudgy. They won't get crunchy or harden in the oven.
As a result, they bake really fast, usually between 12 to 15 minutes maximum at 350°F (180°C) in regular mode.
If you are using the convection mode of your oven, they bake even faster, between 10 minutes and 12 minutes.
Remove the chickpea peanut butter cookies from the oven when they are golden on top.
They will be very soft, but a crust will have formed on the top.
Then, cool them down for another 10 minutes on the cookie rack before transferring them onto a cooling rack.
Storage Instructions
You can store chickpea cookies in the fridge or in the pantry for up to 4 days.
Otherwise, freeze them in a box and defrost them on a plate at room temperature for 3 hours before eating.
Frequently Asked Questions
Are canned chickpeas cooked?
Yes, canned chickpeas are always pre-cooked. In fact, almost all of the legumes and vegetables that are sold canned are cooked to kill germs and bacteria.
Can chickpea flour be used for baking?
Yes, chickpea flour is excellent for making many healthy recipes. It's a healthy flour, rich in nutrients that behaves very similarly to regular flour.
However, some recipes like this one call for canned chickpeas. When it's the case, it's better not to swap the canned chickpeas for the flour. They are not necessarily interchangeable.
Can I Reuse The Chickpea Water?
Yes, don't discard the water from the can! Chickpea water, also called aquafaba can be used as an egg replacer for making many.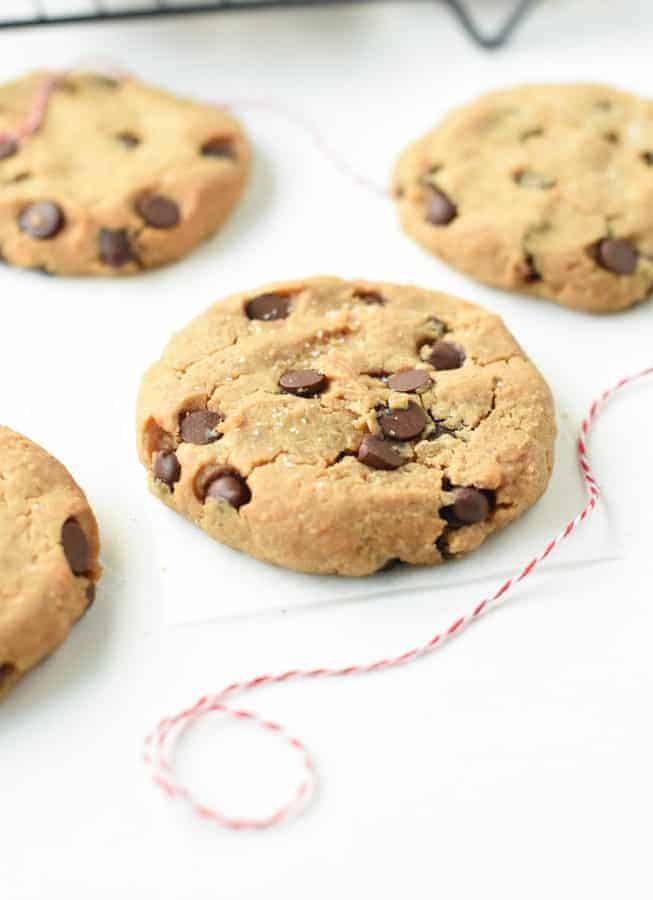 More Vegan Chickpea Dessert Recipes
I love using canned chickpeas or chickpea flour in my vegan recipes.
It adds protein to your vegan baking recipes and tastes amazing. Below you can find some other delicious recipes using chickpeas:
If you made these fudgy vegan peanut butter cookies, share a picture with me on Instagram or comment and review below!
Chickpea Peanut Butter Cookies
A soft, pillowy vegan peanut butter cookie made of chickpea!
Pin
Print
Review
Instructions
Preheat the oven to 350°F (180°C). Line a cookie tray with parchment paper. Slightly oil the paper with coconut oil. Set aside.

Open the can of chickpea. Mine is 400g/15oz. Wash and drain chickpeas under tap water in a sieve.

Transfer the chickpeas onto a towel and roughly dry them by rubbing the towel onto the chickpeas. If some chickpea 'skin' comes off, remove it, but you don't have to remove the whole skin for the recipe to work fine as long as the chickpeas are roughly drained.

Place the chickpeas into the food processor with the rest of the ingredients except the chocolate chips!

Blend on high speed for 30 seconds, stop, scrape down the bowl of the food processor and repeat these actions a few times until the batter is smooth and there are almost no lumps of chickpeas. It should not take more than 2 minutes in total.

Remove the blade, and stir in the dark chocolate chips with a spatula.

The batter is sticky and thick, so wet your hands, then grab some batter from the bowl (1 cookie is about 2 tablespoons) and roll the cookie dough into a cookie ball between your hands.

Place the chickpea cookie dough ball on the prepared tray, leaving 1 cm space between each cookie. These cookies will not expand in the oven.

Slightly wet your hands again and flatten each cookie with your hands into a round cookie shape.

Bake for 12-14 minutes or until the top is golden brown and crusty on top. The cookies stay very soft, and that is normal. It is a fudgy cookie.

Cool on the rack for 10 minutes, then slide a spatula under each cookie to transfer them on a cooling rack.

Cool for 1 hour or until they reach room temperature before eating.
Storage
Store in the fridge or in the pantry for up to 4 days. Otherwise, freeze in a box and defrost on a plate at room temperature for 3 hours before eating.
Share on Facebook
Pin Recipe
Nutrition
Serving:
1
cookie
|
Calories:
190
kcal
|
Carbohydrates:
18
g
|
Protein:
6
g
|
Fat:
11
g
|
Saturated Fat:
4
g
|
Cholesterol:
1
mg
|
Sodium:
224
mg
|
Potassium:
211
mg
|
Fiber:
2
g
|
Sugar:
10
g
|
Calcium:
68
mg
|
Iron:
1
mg