Chocolate Chickpea Brownies
This healthy chickpea brownie recipe is the fudgiest healthy brownie recipe ever!
Loaded with proteins and made without flour, oil, or eggs, these chocolate chickpea brownies are great guilt-free clean treats.
What Are Chickpea Brownies?
Chickpea brownies are fudgy chocolate brownies made with canned chickpeas. It is similar to my vegan brownie recipe, but with a richer, higher in protein batter.
They are healthy baked goods, high in protein, and fiber, and also vegan gluten-free.
How To Make Chickpea Chocolate Brownies
Chickpea brownies are easy healthy 1-bowl brownies made in a food processor using only plant-based, wholesome ingredients.
Ingredients
To make your own vegan chickpea brownies, you need:
Canned chickpeas – make sure you are using canned chickpeas! Don't use raw garbanzo beans for this recipe. Even soaked overnight, they wouldn't work in this recipe. They would remain hard, and it wouldn't be possible to blend them into a brownie batter.
Natural peanut butter – natural peanut butter fresh from the jar works the best. In fact, an old jar of nut butter can be dry, and therefore, it would make any baking recipe drier than it should be. Other options are almond butter, tahini, or cashew butter. Find out how to pick vegan peanut butter.
Maple syrup – or any unrefined liquid sweetener you love like rice syrup, date syrup, or agave syrup.
Almond flour – ultra-fine almond flour taste better than almond meal. It avoids a gritty texture in your brownies. Another option is homemade oat flour.
Unsweetened cocoa powder – make sure you scoop, pack, and level each tablespoon. Cocoa powder is high in fiber. If you add too much of it, your chickpea brownies won't be as fudgy.
Sea salt
Vanilla extract
Baking powder
Baking soda
Draining Chickpeas
First, open a can of chickpeas, drain them in a sieve, and rinse and shake the sieve to drain out any water.
Then, place the chickpeas into the food processor bowl with the S-blade attachment. Don't worry too much about the chickpea peel around the beans.
It will blend very well in the batter, so you don't have to remove them.
Processing The Ingredients
Add natural peanut butter, maple syrup, baking powder, baking soda, and sea salt. Process at high speed for about 1 minute until it forms a consistent batter.
You can see some small grainy bites of chickpea, but that's normal.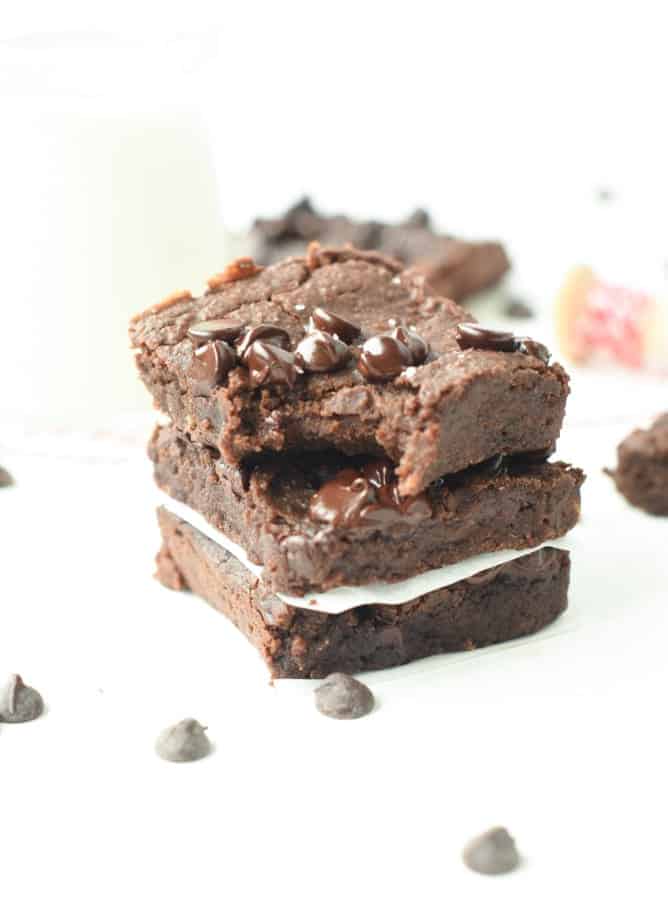 Adding The Dry Ingredients
Now add the almond flour and unsweetened cocoa powder into the food processor bowl.
Next, close the lid process again to form a smooth chocolate batter.
You may have to stop the food processor a few times, scrape the bowl's sides, and repeat until all the ingredients come together.
Stirring In Chocolate Chips
Remove the blade from the bowl of the food processor, and using a silicone spatula, stir the chocolate chips evenly into the brownie batter.
Baking
Preheat the oven to 350°F (180°C). Then, line an 8-inch x 8-inch or 9-inch x 5-inch brownie square pan with parchment paper.
Make sure you grease the baking dish and paper with coconut oil to prevent the brownie from sticking to the pan.
Pour the batter into the pan and spread evenly. Finally, sprinkle extra chocolate chips on top of the brownies.
Bake the brownies for 20 to 30 minutes. Note that the baking time varies a lot depending on your baking pan's size and the flour you used.
Grain-free flours, like almond flour originally recommended in this recipe, bake slowly. It usually takes 30 minutes to bake these chickpea brownies with almond flour.
On the other contrary, oat flour dries up the batter faster, and it will bake for 20 to 25 minutes.
How Do I Know When Chickpea Brownies Are Baked?
Chickpea brownies are fudgy, soft brownies, and they are not cakey brownies.
Therefore, a great indicator to check if your brownies are baked is to look at their top and sides.
If the brownies are baking for at least 20 minutes and the top form a crust that crackles and the sides are dry and set, it means the brownies are ready.
Cooling down
The trick to making the fudgiest brownies with beans like my chickpea blondie recipe or black bean brownies is to cool down the baked good in the pan for at least 10 minutes.
Then, release them on a cooling rack by pulling out the brownies using the hanging pieces of parchment paper on the sides.
Cool down for 60 minutes at room temperature before slicing.
Feel free to pop up the brownies in the fridge to set them faster and increase their fudgy texture.
Storing Chickpea Brownies
These brownies must be stored in an airtight container in the fridge.
They last up to 5 days if you can wait that time to eat them all.
Another option is to freeze them in a sealed bag or box and thaw them at room temperature the day before serving.
Allergy Swaps
Yes, you can make nut-free chickpea brownies by replacing the ingredients below:
Peanut butter – replace with the same amount of sunflower seed butter or tahini, also known as sesame butter. Both can deliver a light, bitter aftertaste in your brownies, but they are nut-free.
Almond flour – replace with the same amount of oat flour or sesame flour, or sunflower seed flour. You can also use all-purpose flour but the brownies won't be as fudgy.
Frequently Asked Questions
Are Chickpea Brownies Healthy?
This is definitely a healthy treat high in plant-based proteins, fiber, gluten-free and refined sugar-free.
As a result, these brownies are very fulfilling compared to other brownies recipes due to their high amount of proteins and fibers.
You won't overeat them, but if you did, you wouldn't feel guilty about it!
Plus, if you choose brown rice syrup as a sweetener, the glycemic index of these chickpea brownies is even lower, and it means they won't raise your blood sugar quickly as wheat-based brownies.
You can also choose a sugar-free syrup to totally remove the sugar from the recipe and make these diabetes-friendly.
Do They Taste Like Chickpeas?
No, you don't taste the chickpeas in these vegan chickpea brownies.
Actually, you will be pleasantly surprised by how fudgy, sweet and chocolaty these brownies are!
Nobody can guess they are hiding such a healthy plant-based protein.
Can I Use Garbanzo Beans?
No, you can't use raw garbanzo beans to make chickpea brownies or chickpea blondies.
Even if you soak your raw beans overnight and cook them in a crockpot, they won't turn into a smooth brownie batter as canned chickpeas.
More Vegan Chickpea Recipes
I love to bake with canned chickpeas because they are nutritious, tasty, easy, and fulfilling.
Below I listed more recipes you can try using your canned chickpeas to make healthy protein snacks or desserts:
Have you made these vegan, gluten-free chickpea brownies? Share a comment or feedback below. I love to hear what you think about my recipes.
Chocolate Chickpea Brownies
A healthy chickpea brownie recipe made with no oil, no dairy, and no eggs. A high-protein vegan brownie recipe very fulfilling and incredibly moist and fudgy.
Pin
Print
Review
Servings: 12 squares
Calories: 141 kcal
Instructions
Preheat oven to 180°C (350°F). Line a 9-inch x 5-inch or 8-inch x 8-inch brownie pan with parchment paper. Set aside.

Open the can of chickpea, rinse, drain and dry/rub the chickpeas in a clean towel to remove all the water or moisture. This is very important, or the brownies would be fragile and too moist.

Place the chickpea in the bowl of a food processor, add peanut butter, maple syrup, vanilla, baking soda, baking powder, and salt.

Blend on high speed for 1 minute or until smooth, and no big lumps are left – it's normal if it looks gritty.

Add in almond flour and unsweetened cocoa powder and process again at high speed for 15-30 seconds to blend evenly.

Remove the food processor blade, stir in dark chocolate chips.

Spread the brownie batter evenly onto the prepared baking dish and sprinkle the extra 3 tablespoons of chocolate chips on top.

Bake 20 – 30 minutes or until the top is set, crusty, and crackles. Note that depending on the size of your pan, it can take less or more time to bake – it will cook faster in a wider pan.

Cool 10 minutes in the pan to firm up the brownies. Don't skip this step. The brownies are super soft and fudgy, so they would break if removed too early from the pan. Then gently loosen the sides with a knife and lift the pieces of parchment paper hanging on the sides of the pan to easily release the brownie from the pan and transfer it onto a cooling rack.

These brownies are soft and fragile at first. They get all their texture after cooling down. If you feel they are too soft or moist to be removed from the pan, wait for 10 more minutes before transferring them onto the cooling rack.

Cool for at least 1 hour before slicing into 12 squares, or they can be fragile. After 1 hour, you can pop the brownies in the fridge for 1 hour. It will add an extra fudgy texture and make it easier to slice.
Storage
Store up to 5 days in the fridge in an airtight container or freeze and thaw at room temperature the day before.
Notes
Nut-free option: replace peanut butter with sunflower seed butter and almond flour with oat flour. Almond flour swap: use the same amount of oat flour or all-purpose flour. Note that the blondies are fudgier with almond flour. Maple syrup swap: use the same amount of agave syrup, rice syrup, or date syrup.
Share on Facebook
Pin Recipe
Nutrition
Serving: 1square | Calories: 141kcal | Carbohydrates: 17g | Protein: 4g | Fat: 7g | Saturated Fat: 2g | Cholesterol: 1mg | Sodium: 225mg | Potassium: 158mg | Fiber: 2g | Sugar: 11g | Vitamin A: 4IU | Vitamin C: 1mg | Calcium: 52mg | Iron: 1mg