This Easy Oat Slice recipe is one of the kids' favorites for lunchbox and snacks.
It's a classic Australian recipe that we make all the time for a quick snack packed with fibers.
What's An Oat Slice Recipe?
An oat slice recipe is one of these Australian classic recipes that kids love to eat in New Zealand for snacks.
It's not as soft as my peanut butter banana oatmeal bars. It's crunchier with a slightly crumbly texture, similar to cookies.
Like oatmeal cookies, it's made with rolled oats and flour.
How To Make Oat Slice Recipe
It's pretty easy to make oat slices, and you can play with flavor by adding some delicious seeds, dried fruits, or chocolate chips to the batter.
Let me share with you how I make them
Ingredients
Old-Fashioned Rolled Oats – this is the coarse version of oats, also called jumbo oats in New Zealand. Don't use quick oats, or the texture won't be as good.
All-Purpose Flour – You can also use half oat bran or oat flour and half all-purpose flour.
Baking Powder – To give them a nice airy texture.
Cinnamon – For added flavors.
Soft Brown Sugar – Or coconut sugar.
Margarine – We use dairy-free butter. Brands like Naturli Vegan Block or Nuttelex work well.
Vanilla Extract – For the perfect taste and flavor.
Maple Syrup or any liquid sweetener you like, such as coconut nectar or agave syrup. This adds a chewy texture to the bars. Honey is not vegan, so we don't use this in our recipe, but it works if you prefer this option.
Desiccated Coconut
Dark Chocolate Chips – Learn how to find accidentally vegan dark chocolate.
Sultanas – or any dry raisins.
Combining Dry Ingredients
First, in a large bowl, whisk rolled oats, flour, brown sugar, baking powder, cinnamon, and unsweetened desiccated coconut.
Then, in a non-stick saucepan, melt margarine and maple syrup. Pour the liquid ingredients onto the dry ingredients, along with vanilla extra.
Stir until it forms a consistent batter, then stir in sultanas or chocolate chips.
Watch out! If the batter is slightly hot because of the melted butter, your chocolate chips might melt in the mix.
Baking The Slices
Spread the oat slice batter into an 8-inch x 8-inch (20 cm x 20 cm) pan lined with parchment paper.
Bake at 350°F (180°C) for 30 minutes or until golden brown on top.
Cool down on a wire rack before cutting into squares.
Storage Instructions
You can store the oat slices in a sealed cookie jar or metallic box at room temperature for up to 3 to 4 days.
You can also freeze leftovers in zip-lock bags and thaw them at room temperature the day before.
Allergy Swaps
Below I listed some allergy swaps that you can choose if you have any food allergies:
Low-Sugar – You can use sugar-free brown erythritol in this recipe from brands like Mother Earth. You can also replace the dried fruits with chopped nuts or seeds.
Gluten-Free – Use an all-purpose gluten-free flour blend and pick a gluten-free certified oats brand. In New Zealand, the label gluten-free certified doesn't exist on oats brands. Check for wheat-free instead.
Frequently Asked Questions
Is The Recipe Using Australian Cups?
Yes, this recipe uses Australian cups (250ml), but New Zealand tablespoons which means 1 tablespoon contains 15ml (3 teaspoons).
An Australian tablespoon contains 20 ml or 4 teaspoons.
Can I Use Coconut Oil Instead Of Margarine?
Yes, you can, but the oat slices are harder and crunchier.
Can I Add Seeds?
You can replace the chocolate chips or sultanas with sunflower seeds, pumpkin seeds, or chopped nuts for a low-sugar alternative.
You can also use others dried fruits to replace sultanas, like finely chopped diced apricots or dates.
Should I Add An Egg To The Oat Slice?
No, eggs aren't needed in this recipe.
More Australian Recipes
Below I listed some more classic Aussie recipes that you may love to try next:
Did you bake these oat slices? Share a comment or review below.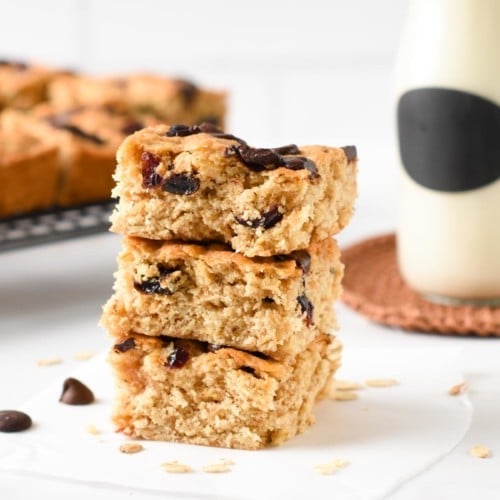 Oat Slice Recipe
This Easy Oat Slice recipe is one of the kids' favorites for lunchbox and snacks. A classic Australian that we make all the time for a quick snack packed with fibers.
Pin
Print
Review
Servings: 16 slices
Calories: 180.2 kcal
Instructions
Preheat the oven to 350°F (180°C). Line an 8-inch x 8-inch slice pan (20cm x 20cm) or pan with parchment paper. Slightly oil the paper with coconut oil. Set it aside.

In a large bowl, whisk dry ingredients: flour, rolled oats, baking powder, desiccated coconut, and soft brown sugar.

Stir in almond milk, melted margarine, maple syrup, and vanilla extract.

Stir the liquid ingredients into the dry ingredients and fold in sultanas just before the end.

Transfer the batter to the prepared pan and sprinkle chocolate chips on top.

Bake in the center rack of the oven for 25 to 30 minutes, until golden brown, and a pick inserted in the center comes out with just a few crumbs on it. Don't over bake or they get very dry and crumbly.

Cool down on a wire rack then slice into 16 squares.
Storage
Store in the fridge in an airtight container for up to 3 days or freeze and thaw the day before in the fridge.
Notes
Note 1: You can also use 1/2 cup oat bran + 1/2 cup all-purpose flour or 1/2 cup homemade oat flour + 1/2 cup all-purpose flour. Note 2: I used classic tablespoons (15ml), not Australian tablespoons (20ml). 3 classic tablespoons (45ml) equal to 9 teaspoons.
Share on Facebook
Pin Recipe
Nutrition
Serving: 1slice | Calories: 180.2kcal | Carbohydrates: 21.7g | Protein: 2.3g | Fat: 9.7g | Saturated Fat: 3.6g | Polyunsaturated Fat: 1.9g | Monounsaturated Fat: 3.6g | Trans Fat: 0.001g | Cholesterol: 0.1mg | Sodium: 132.4mg | Potassium: 101.2mg | Fiber: 1.7g | Sugar: 9.6g | Vitamin A: 291.8IU | Vitamin B12: 0.05µg | Vitamin C: 0.3mg | Vitamin D: 0.03µg | Calcium: 51.3mg | Iron: 1.2mg | Magnesium: 21.1mg | Phosphorus: 64mg | Zinc: 0.5mg