This easy Chocolate Weetbix slice is a delicious crunchy chocolate coconut Weetbix slice topped with chocolate ganache.
A New Zealand Classic dessert perfect to make with the kids in less than 30 minutes and share with friends as a fun afternoon tea.
This is another local New Zealand and Australian recipe using our local plant-based ingredients.
Recently, my kids challenged me to make some of their favorite slice recipes, so here's my version of the classic Weetbix slice reviewed with my French touch of a French expat in New Zealand.
It's a great recipe to use leftover Weetbix too, or the flakes that end up at the bottom of the box.
What Are Weetbix Slices?
A Weet-bix slice is a New Zealand and Australia favourite dessert, similar to my Weetbix Smoothie.
It's a dessert made in one bowl with self raising flour, Weetbix cereal crushed into pieces, cocoa, sugar, and butter.
It has delicious coconut chocolate flavour with crunchy pieces of weetbix cereal in the center.
It's a crunchy chocolate coconut slice with pieces of Weetbix cereal in the center and topped with chocolate ganache.
Why You'll Love Vegan Weetbix Slices
My Weetabix slice version is naturally:
Vegan
Dairy-free
Egg-free
Contain less desiccated coconut that the kids found overpowering in the classic recipe they used to have at their friend's house.
Contain melted chocolate to improve texture and chocolate flavor.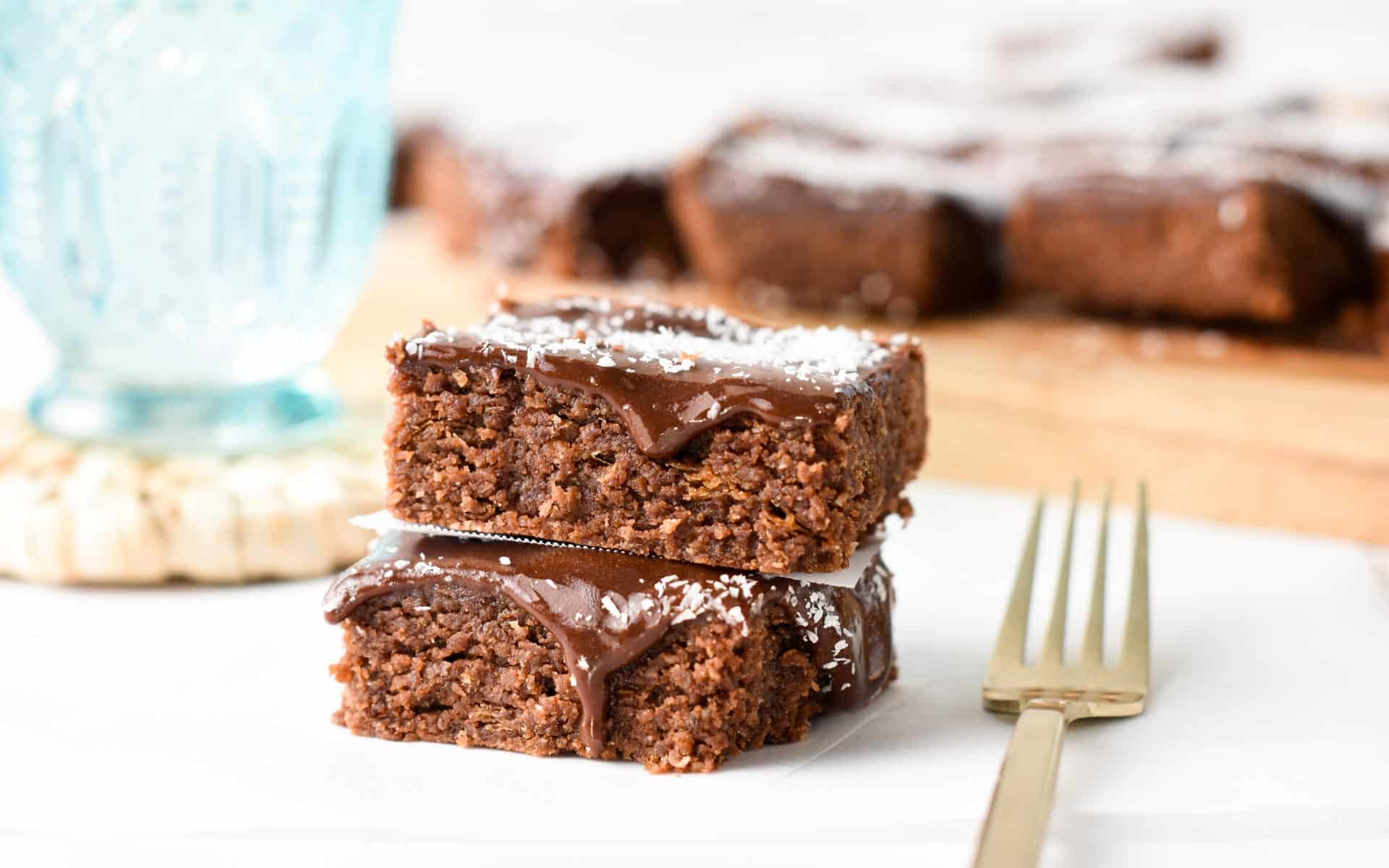 How To Make A Weetbix Slice
It's super easy to make Weetbix slices and a great way to use leftover Weetbix cereal while preparing a quick snack for kids.
Ingredients
All-Purpose Flour – You can also use gluten-free all-purpose flour for a gluten-free option.
Weetbix – I used the kids' Weetbix. They are fortified in calcium and iron, so they add some nutrients to this treat. In Europe, Weetabix is a very similar product that delivers the same result.
Baking Powder
Sugar – I used white sugar, but you can also use brown sugar or sugar-free erythritol – brands like Mother's earth are 1:1 swap to sugar – and turn this into a low sugar dessert.
Dark Chocolate – or chocolate chips. I know that the authentic recipe doesn't use melted chocolate, but I found the texture of the bar better with it and the chocolate flavor stronger.
Unsweetened Cocoa Powder
Margarine – We used Vegan butter, as seen in the pictures below.
Boiling Water – If the batter is too dry, you can use some water.
Preheat the oven to 350°F (180°C). Line a slice tin with parchment paper.
I used a 20-cm x 20-cm square pan. Use some vegan butter or coconut oil to lightly oil the parchment paper to make it easier to unmold the slices. Set it aside.
Crush Weetbix
You can crust the weetbix biscuits by hands, or in a food processor by pulsing the biscuit a few times.
Combining Ingredients
Combine all the dry ingredients into a large bowl: flour, crushed Weetbix, baking powder, desiccated coconut, sugar, and unsweetened cocoa powder.
Stir the ingredients to combine them.
In a non-stick saucepan, add the margarine and dark chocolate and melt over medium heat, often stirring, until shiny.
Pour the liquid ingredients on top of the dry ingredients along with the vanilla extract. Stir well to incorporate.
Adding Wet Ingredients
The batter should be dense and a bit dry, but if you squeeze it in your hands, it should stick and hold.
Adjusting Batter
If the batter is not sticky and is too crumbly add some boiling water, about 1 or 2 tablespoons.
Pour the batter onto the prepared pan and, using the back of a measuring cup, press hard to spread evenly and tightly onto the slice pan.
Bake the Weetbix Slices for 10 minutes, not more, or the slice can be dry.
Making The Chocolate Icing
During this time prepare the ganache.
For the ganache you need:
Icing sugar
Unsweetened cocoa powder
Almond milk or melted margarine
Vanilla extract or vanilla essence
In a bowl, stir icing sugar, cocoa powder, vanilla extract, and almond milk.
Pour on top of the hot bar and spread evenly.
Sprinkle some extra desiccated coconut on the top to decorate.
Cooling Down
I like to cool down the slice on a wire rack for 3 hours then pop 2 extra hours in the fridge or overnight to set the ganache.
But sometimes, I also cut it a bit earlier – that's why the ganache is melting in the pictures – and the balance of crunchy slice and soft chocolate ganache is amazing.
Variation
Feel free to add some extra taste by stirring few spoon of these delicious ingredients into the batter:
Dried raisins
Nuts – crush some almonds, pecans or walnuts to add crunch to the bars
Storage Instructions
Store in the fridge in an airtight container for up to 3 to 4 days or freeze for later.
Freeze in a sealed bag or box and thaw in the fridge the day before.
Allergy swaps
Feel free to use some of the option below if you have some food allergies
Gluten-free – use gluten-free Weet-bix biscuit and all-purpose gluten-free flour with added xanthan gum
Sugar-free – use sugar-free blend like monk fruit erythritol
Frequently Asked Questions
What's Weetbix?
Weetbix is a wheat-based crunchy cereal sold in New Zealand and Australia under the brand name Weetbix or Weetabix in the UK and Europe.
What is a replacement for Weetbix?
If you live in the US, Weetbix is probably not available, though Weetabix can be found online. Alternatively, the closer you can use is shredded wheat, the amount to match 4 Weetbix will be 1 cup of crushed shredded wheat.
Is Weetbix dairy free?
Yes, Weetbix cereals are made without dairy.
Are Weetbix slice healthy?
Weetbix Slices contains a lot of added sugar that you can replace with healthier alternatives like unrefined cane sugar, coconut sugar, or monk fruit erythritol blend for a sugar-free option. However, Weetbix biscuits are also full of added iron, calcium, and vitamins. Therefore, Weetbix Slice recipes are great for busy mums looking for an easy homemade recipe to add to a kid's lunchboxes.
Is Weetbix a snack?
Weetbix is usually eaten as a breakfast, but you can also serve it as a post work out snack or kid snack after school.
More New Zealand Australian Inspired Recipes
Below I listed some more dessert recipes from Downunder for you to try including more Weetbix recipes.
More Healthy Kid Snacks
Below are healthy kid snacks you should try for their lunchboxes:
Did you try this vegan Weetbix slice recipe? Share a comment or review below!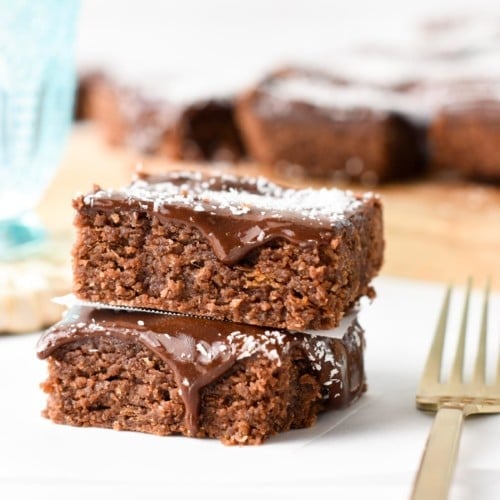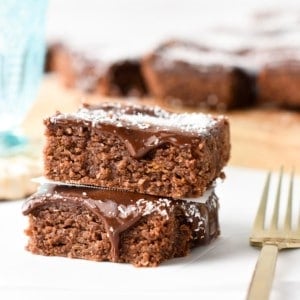 Weetbix Slice
This easy Chocolate Weetbix Slice is a delicious New Zealand Classic dessert perfect to make with the kids in 10 minutes and share with friends as a fun afternoon tea.
Pin
Print
Review
Servings: 16 slice
Calories: 200.5 kcal
Instructions
Preheat the oven to 350°F (180°C). Line a 20-cm x 20-cm (8-inch x 8-inch) square pan with parchment paper. You can also use a slice pan, but the slices are thinner and dryer after baking. Slightly oil paper with oil spray. Set aside.

In a large mixing bowl, stir flour, crushed Weetbix, unsweetened cocoa powder, sugar, coconut, and baking powder. Set aside.

In a non-stick saucepan, melt the margarine and dark chocolate under medium heat.

Pour melted chocolate mixture, vanilla extract, and 3 teaspoons of boiling water onto the dry ingredients.

Stir with a silicone spatula until consistent and easy to squeeze by hand. If it's too dry – doesn't stick together when squeezed stir in more boiling water one tablespoon at a time.

Pour the batter onto the prepared pan and press firmly, evenly.

Bake in the center rack of the oven for 10-15 minutes, until set on top but still soft. Don't overbake are the slice gets dry.

Cool down in the pan then spread the ganache.
Ganache
In a small bowl, stir icing sugar, cocoa powder, vanilla, and melted margarine. If too thin add more icing sugar, if too thick you can add more melted butter to thin it out. Spread on top of the bar and sprinkle coconut all over.

Cool down 3 hours at room temperature on a wire rack before cutting into 16 Weetbix slices.
Storage
Store in the fridge in a sealed box for up to 4 days or freeze for later.
Notes
We used Metric Tablespoons for this recipe. One metric Tablespoon measures 15ml. Australian tablespoons are different (20ml), so you might need to use 3 teaspoons instead.
Share on Facebook
Pin Recipe
Nutrition
Serving: 1slice | Calories: 200.5kcal | Carbohydrates: 19.6g | Protein: 1.6g | Fat: 13.3g | Saturated Fat: 3.9g | Polyunsaturated Fat: 3g | Monounsaturated Fat: 5.6g | Sodium: 187.1mg | Potassium: 43.4mg | Fiber: 1g | Sugar: 9.7g | Vitamin A: 503IU | Vitamin B12: 0.01µg | Vitamin C: 0.1mg | Calcium: 37mg | Iron: 0.8mg | Magnesium: 8.7mg | Phosphorus: 36.9mg | Zinc: 0.2mg