Peanut Butter Granola Bars
These Homemade Peanut Butter Granola Bars are easy, soft protein breakfast bars loaded with 9 grams of protein and refined sugar-free.
Plus, these homemade granola bars are also vegan, egg-free, and gluten-free.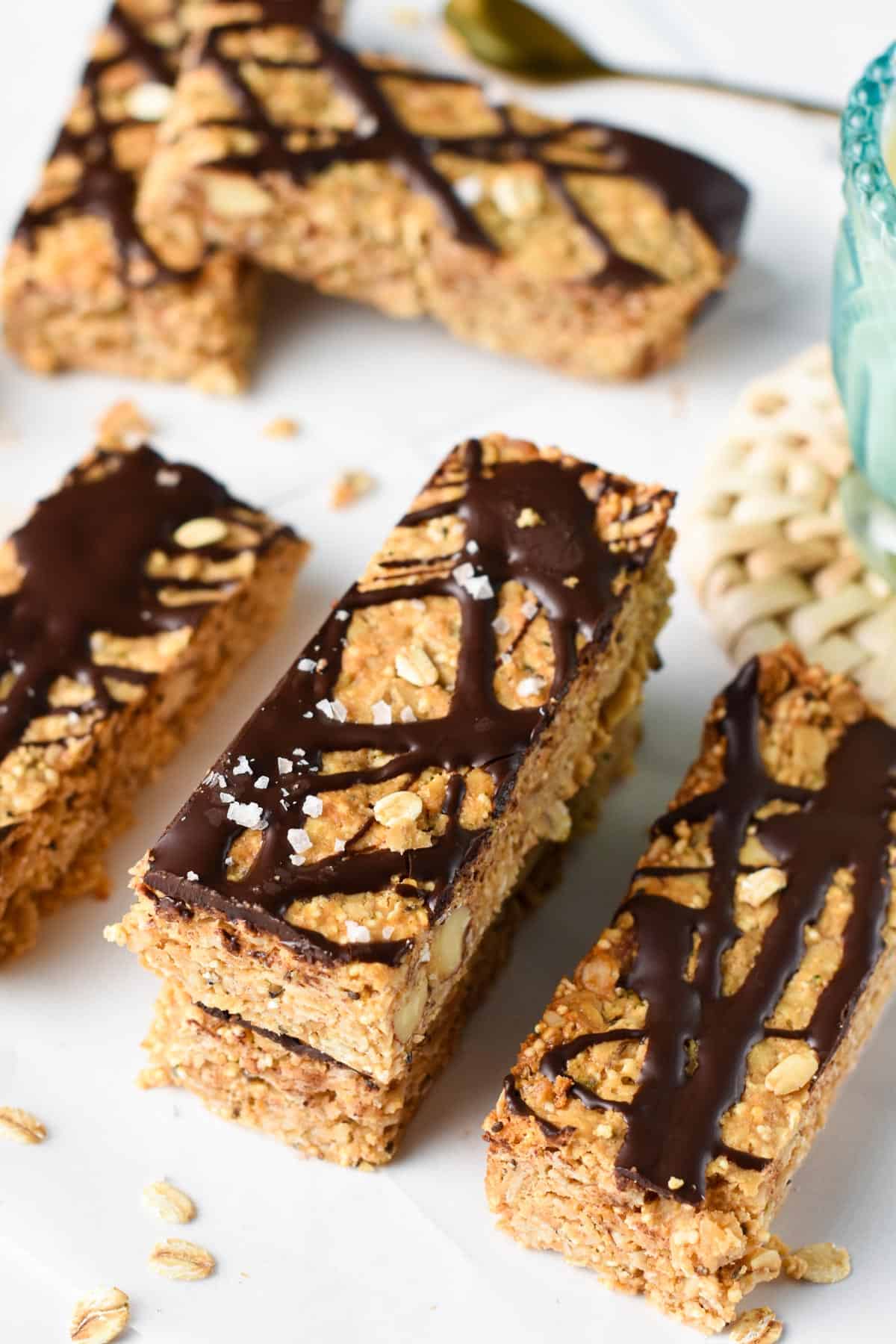 If you love peanut butter and you are looking for a healthy on-the-go breakfast bar, then try these peanut butter granola bars.
What Are Peanut Butter Granola Bars?
These are baked granola bars packed with a good amount of plant-based proteins from peanut butter and seeds and lightly sweetened with refined sugar-free sweeteners.
They are soft, slightly crunchy on the border, but moist, not chewy.
Are Granola Bars Vegan?
No, not all store-bought granola bars are vegan. Some contain honey – read my article on is honey vegan for details – or milk because of the added chocolate chips.
Why You'll Love This Recipe
They are naturally:
Egg-Free – Many homemade baked granola bars contain an egg or two. Not this one.
Refined Sugar-Free and honey free.
Vegan
Gluten-Free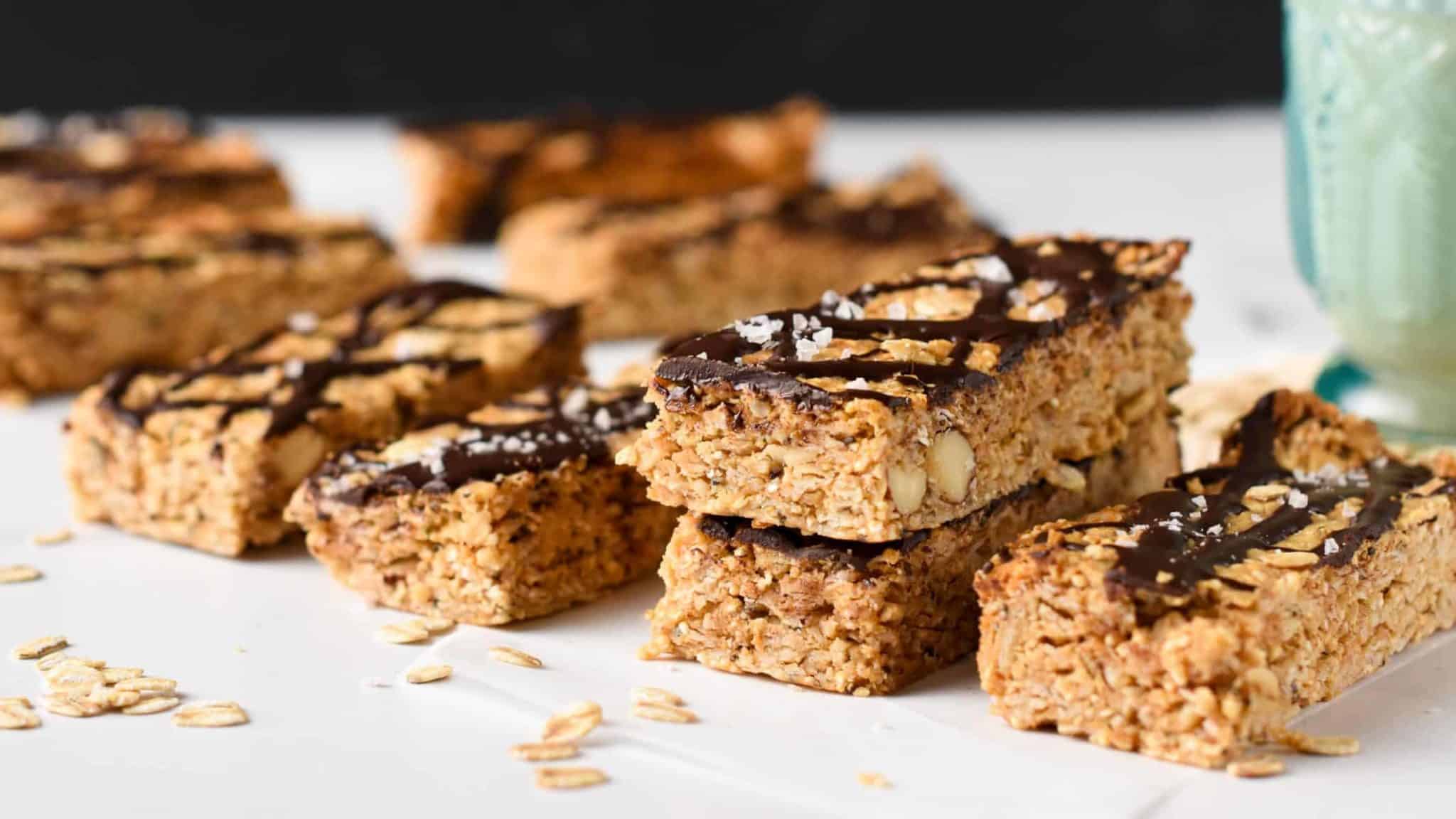 How To Make Peanut Butter Granola Bars
I usually love to make no-bake granola bars, but sometimes, the baked granola bars are great for a change of flavor.
They are crunchier, and the toasted oats and nuts are delicious.
Ingredients
The ingredients you need to make them are:
Natural Peanut Butter – I highly recommend using peanut butter with no added sugar and no added oil or sugar.
Coconut Oil – don't use another type of oil, or the bars won't firm up as well. To avoid coconut flavor from the oil, pick refined coconut oil.
Liquid Sweetener Of Choice – maple syrup tastes amazing but for a low-GI bar, try rice syrup. Other options are date syrup, coconut nectar, or agave.
Vanilla Extract
Old-Fashioned Rolled Oats – avoid quick oats or steal-cut oats.
Puffed Cereal – Choose thin grains like puffed amaranth or puffed quinoa, their texture pack better than puffed rice. Or replace with quick oats -the thinner version of oats.
Hemp Seeds or any seeds like pumpkin seeds, or sunflower seeds. I like hemp heart because it's a naturally high vegan protein source.
Chia Seeds or a flaxseed meal.
Chopped Nuts like chopped almonds or walnuts or hazelnuts.
Preparation
The process of making granola bars is super simple.
First, bring all the dry ingredients into a large mixing bowl: oats, puffed cereal, hemp seeds, chia seeds, chopped nuts, and stir to combine.
Next, in another bowl or in a non-stick saucepan, warm the peanut butter, coconut oil, and maple syrup.
Stir and remove from the heat as soon as the ingredients are runny and well combined.
Pour the liquid ingredients over the dry ingredients and add in vanilla extract.
Stir well until all the cereals are covered with the liquid ingredients.
Packing The Mixture
Fold the granola mixture into a 9-inch x 9-inch square pan and spread evenly over the pan.
Then, place a piece of parchment paper on top of the mixture and use the back of a measuring cup to press and pack the mixture tightly into a single even layer.
This step is crucial to prevent the bars from crumbling apart into small pieces.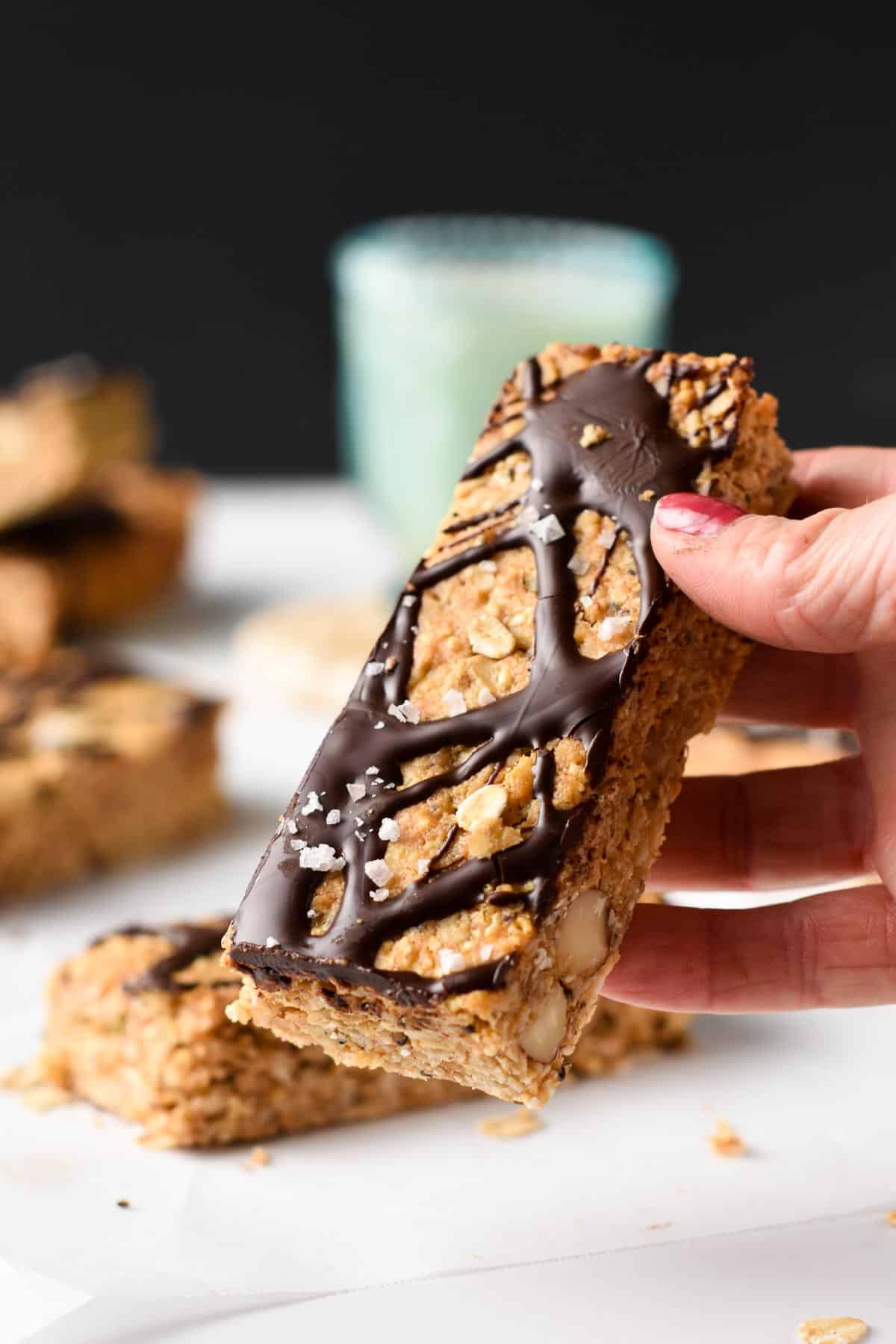 Baking
Bake the bar in the center rack of the oven for 15 to 18 minutes.
The bars start to become golden at 15 minutes but don't remove them too soon as they would be soft.
They are ready when the sides are crispy and dark brown and golden all over the top.
Cooling Down
Remove the pan from the oven and cool the bars in the pan for at least 2 or 3 hours.
The bars must be completely cool before cutting into granola bars, or they crumble and fall apart easily.
Decoration
You can drizzle some melted chocolate over the bars, as seen in the pictures.
To do so, place chocolate chips and coconut oil in a microwave-safe bowl. Microwave for 30 seconds, stir and repeat until fully melted.
Drizzle the melted chocolate over the peanut butter granola bars.
Freezing
Pop the entire bar block in the freezer for 8 minutes. The cold hardens the chocolate faster and also makes the bar easier to cut.
Cutting
Finally, it's time to cut the bar into 12 rectangles.
Place the bar on a chopping board and use a long sharp knife to cut into small granola bars. It always crumbles a little bit if you didn't use sugar.
Add-Ons
You can, of course, add some delicious ingredients up to 1/3 cup of the following to the granola bar mixture:
Dried cranberries
Mini dark chocolate chips
Dried apricot
Coconut flakes
Storage Instructions
Store the bars in the fridge for up to 1 week in a sealed container.
You can freeze granola bars for up to 3 months and thaw them at room temperature.
Allergy Swaps
You can swap some ingredients to make the bars fit your allergy:
Peanut-Free – swap peanut butter for almond butter or sun butter.
Nut-Free – Use sun butter instead of peanut butter and replace almonds with seeds or dried fruits like cranberries.
Coconut-Free – Cocoa butter is a great option to replace coconut oil.
Frequently Asked Questions
Below I listed the most common answers to your questions about granola bar making.
Do I Have To Warm The Liquid Ingredients Before Pouring Them?
You must melt the coconut oil before adding it to the dry ingredients.
As you may have seen on my Instagram videos, you can also just add the peanut butter and syrup to the bowl if they are runny and fresh.
However, if your peanut butter is not as runny, it's better to melt the 3 ingredients together before adding to ensure the bar mixture is not dry.
Why Is My Granola Bar Mixture Dry And Not Sticking Together?
If the batter is loose and doesn't stick well together when pressed in your pan, stir in the mixture of extra tablespoons of sweetener up to 3 tablespoons.
Can I Make Chewy Granola Bars?
You need to add a crystal sweetener to the liquid sweetener to make the granola bar chewy.
I don't add any because it adds sugar to the recipe, but if you really love the chewy texture of granola bars, then add 1/4 cup of sugar – coconut sugar, white sugar, or unrefined cane sugar – into the saucepan with the liquid ingredient.
Warm until the sugar has melted.
More Vegan Granola Recipes
If you like granola recipes and vegan bars, you'll love these: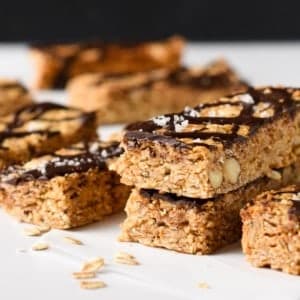 Peanut Butter Granola Bars
These Homemade Peanut Butter Granola Bars are easy, soft protein breakfast bars loaded with 9 grams of protein and refined sugar-free.
Pin
Print
Review
Servings: 12 bars
Calories: 276.9 kcal
Ingredients
Optional – for chewy bars – increase sugar content
Instructions
Preheat oven to 350°F (180°C).

Line a 9-inch x 9-inch pan with parchment paper. Spray oil over the paper. Set aside.

Note that these bars are only sweetened with maple syrup, no added sugar and they can be crumbly. For a chewy texture add 1/4 cup unrefined sugar.

In a large mixing bowl, add all the dry ingredients: old-fashioned oats, puffed cereal, chopped almonds, chia seeds, and hemp seeds. Stir to combine.

In a non-stick saucepan, add peanut butter, maple syrup, and coconut sugar if you want a chewy bar.

Cook over low heat, stirring with a spoon until ingredients are warm and well combined.

Pour the liquid ingredients onto the dry and add vanilla extract.

Stir very well until the dry ingredients are well combined and covered with the liquid ingredients.

Pour the granola batter into the pan and press to evenly spread over the pan in a single layer. Add a piece of parchment paper on top and using the back of a measuring cup, press hard to stick the ingredients together and make the bars firm.

Bake at 350°F (180°C) for 15-18 minutes or until golden brown on top and sides.

Cool completely in the pan – about 3 hours before cutting.

After that time, pull out the bar from the pan using the hanging parts of parchment paper and place it on a chopping board.
Decoration
In a microwave-safe bowl, melt chocolate and coconut oil. Drizzle on top of the bars.

Pop the bars for 8 minutes in the freezer to set before cutting.
Cutting and storage
Cut the bar into 12 rectangle bars and store them in an airtight container in the fridge for a week. You can freeze them for up to 3 months and thaw them at room temperature.
Share on Facebook
Pin Recipe
Nutrition
Serving: 1bar | Calories: 276.9kcal | Carbohydrates: 27.8g | Protein: 8.6g | Fat: 15.5g | Saturated Fat: 4g | Polyunsaturated Fat: 4.6g | Monounsaturated Fat: 5.9g | Trans Fat: 0.003g | Sodium: 71.8mg | Potassium: 221.3mg | Fiber: 3.7g | Sugar: 10.1g | Vitamin A: 22.2IU | Vitamin C: 0.02mg | Calcium: 53.3mg | Iron: 1.9mg | Magnesium: 69.5mg | Phosphorus: 207.5mg | Zinc: 1.4mg