Samoa Bars (No-Bake, Vegan, Gluten-Free)
These Samoa bars are easy, no-bake vegan desserts made of a shortbread crust and topped with a caramel coconut layer.
They are gluten-free, dairy-free, and paleo-friendly.
What Are Samoa Bars?
These no-bake Samoas bars or girl-scout cookie bars are healthier raw versions of your favorite Samoa bars. They are derived from the Samoas cookies that girl scouts sell.
It's a no-bake vegan dessert, 100% refined-sugar-free and gluten-free.
A crumbly coconut shortbread cookie bar topped with a chewy caramel coconut layer.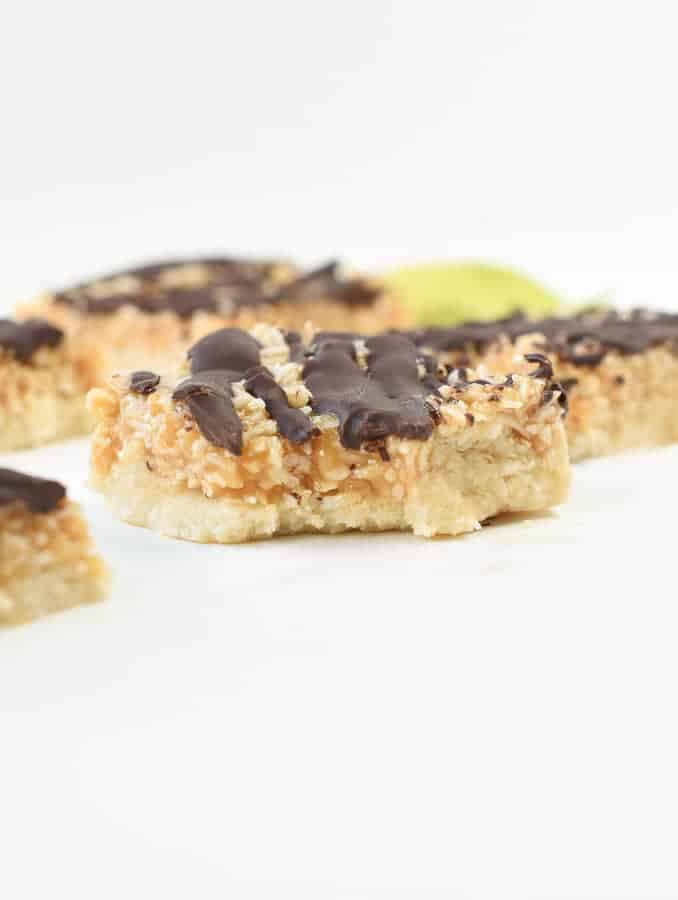 How To Make Samoa Bars
All you need to bake no bake Samoa bars are a few basic pantry ingredients.
Ingredients
Let's look at them below and at the easy swap ideas if you are missing some ingredients to make this recipe.
Unsweetened Desiccated Coconut – Desiccated coconut is the base ingredient for Samoa bars and gives them a delicious texture and flavor.
Almond Flour – Almond flour is a great healthy flour, but you can also use oat flour or sesame flour for a nut-free option. If you are concerned about eating raw flour, read my article about the raw flours that are safe to eat.
Maple Syrup – You can use any liquid sweetener such as maple syrup, rice malt syrup, or coconut nectar.
Coconut Oil – Coconut oil is essential for no-bake desserts as it remains solid in the fridge but melts in your mouth.
Unsweetened Shredded Coconut or coconut chips – toasted is the best!
Dark Chocolate Chips – Or a dark chocolate bar. Learn how to find accidentally-vegan dark chocolate.
Peanut Butter – You can use any natural butter such as peanut butter, almond butter, tahini, or sunflower seed butter for a nut-free option.
Toasting Coconut
If you love coconut and caramel, this vegan Samoa bar recipe is for you! You will love the moist shortbread bottom layer with sweet chewy caramel.
My tip is to toast the shredded coconut before you add it to the middle layer! This will enhance the coconut flavor of these bars.
To toast shredded coconut, lay a baking tray with parchment paper and spread the unsweetened coconut evenly all over the tray.
Make sure the coconut doesn't overlay to ensure it toasts evenly.
Bake the coconut at 320°F (160°C) for 5 to 8 minutes, stirring every 2 minutes until the coconut is golden and fragrant.
You can also toast coconut in a frying pan, under medium heat, with no oil added.
Stir the coconut and stop cooking when the color is lightly golden brown.
Storage Instructions
You can store the Vegan Samoa Bars in an airtight box in the fridge for up to 2 weeks.
They can also be frozen for up to 3 months. Defrost each square individually at room temperature for 1 hour before eating.
They can also be eaten half frozen.
More Healthy Bar Recipes
If you love healthy vegan bars, I have other delicious vegan bar recipes to try.
Made this Samoa bar recipe yet? Share a picture of your creation with me on Instagram!
Samoa Bars
These Samoa Bars have a shortbread base topped with delicious caramel and shredded coconut.
Pin
Print
Review
Servings: 16 bars
Calories: 288.7 kcal
Instructions
Cover a 9-inch x 5-inch rectangle baking with parchment paper and let enough paper hanging out on the side of the pan so you can easily pull out the bar from the pan later. Set aside.

In a medium-size bowl, add the shortbread crust ingredients in this order: desiccated coconut, almond flour, maple syrup, and melted coconut oil.

Stir with a spatula first, then squeeze with your hand to make sure all the ingredients come together and stick together. It can be slightly crumbly, but that's ok. If it's very dry, add an extra tablespoon of coconut oil.

Press the shortbread crumble tightly onto the prepared baking dish.

Freeze 10 minutes while you are making the caramel layer.

In a small bowl, add fresh runny peanut butter, melted coconut oil, maple syrup, and vanilla. Then, combine with a spatula until it forms thick, smooth caramel.

Stir in the shredded coconut.

Remove the baking dish from the freezer and spread the coconut caramel layer evenly on top.

Press the coconut layer firmly with the back of a spoon or spatula.

Return to the freezer for 10 minutes while you melt the chocolate.

Melt the dark chocolate with coconut oil, under 'bain-marie' or in the microwave, by 30 seconds burst, stirring between to prevent the chocolate from burning.

Drizzle the melted chocolate all over the bar and return to the freezer for 2 minutes to set the chocolate.

Remove the baking tray from the freezer, pull out the bar from the tray using the piece of parchment paper to lift out the bar.

Cut into 16 squares and enjoy!
Storage
Store the bars in an airtight box, in the fridge for up to 2 weeks, or freeze for up to 3 months. Defrost each square individually at room temperature for 1 hour before eating. It can be eaten half frozen.
Share on Facebook
Pin Recipe
Nutrition
Serving: 1bar | Calories: 288.7kcal | Carbohydrates: 15.7g | Protein: 4.5g | Fat: 24.9g | Saturated Fat: 15.3g | Polyunsaturated Fat: 1.3g | Monounsaturated Fat: 3.5g | Trans Fat: 0.002g | Cholesterol: 0.2mg | Sodium: 41mg | Potassium: 172.1mg | Fiber: 3.7g | Sugar: 9.5g | Vitamin A: 2.1IU | Vitamin B12: 0.01µg | Vitamin C: 0.2mg | Calcium: 37.1mg | Iron: 1.4mg | Magnesium: 38.7mg | Phosphorus: 68.3mg | Zinc: 0.7mg