No-Bake Healthy Flapjack Recipe a Vegan Gluten-Free Breakfast Bar
This no-bake Healthy Flapjack recipe is a delicious healthy breakfast oatmeal peanut butter bar made with 5 simple wholesome ingredients.
Plus, these no-bake oatmeal squares are also vegan, dairy-free, and gluten-free!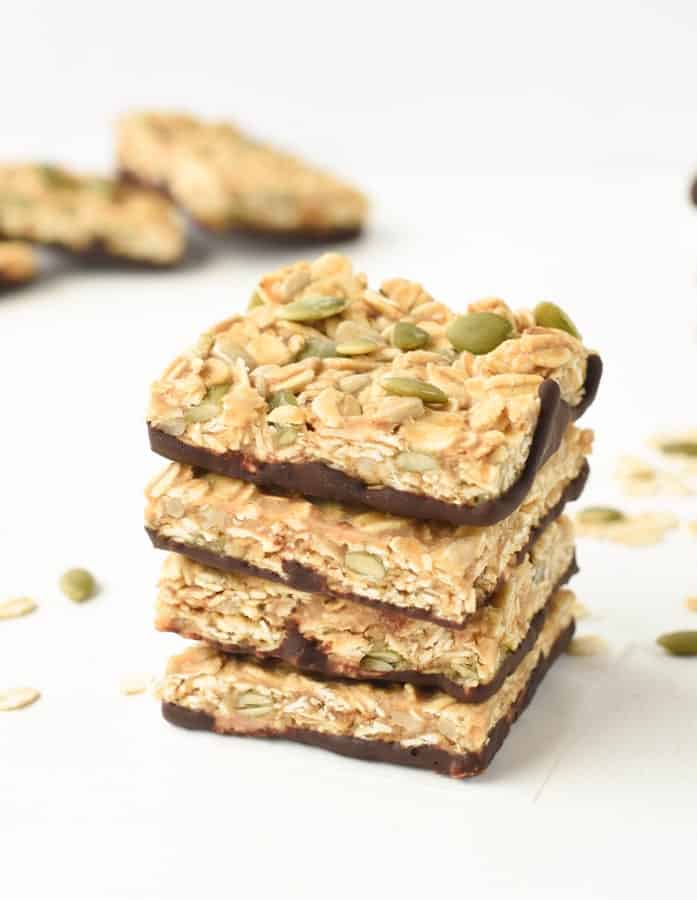 What Is A Healthy Flapjack?
A healthy flapjack is a baked oatmeal bar usually served in a square shape and made of 5 simple ingredients: rolled oats or porridge oats, golden syrup, brown sugar, and butter.
Some recipes add dried fruits, chocolate chips, or coconut to the mix.
It's a traditional English recipe served for an on-the-go breakfast.
Is The Classic Flapjack Vegan?
No, the classic flapjack recipe is not vegan because it contains butter.
However, this healthy flapjack recipe is made with only plant-based ingredients, it's therefore, vegan-friendly.
How To Make No-Bake Healthy Flapjacks
A no-bake flapjack bar is a healthy version of the classic flapjack recipe, more nutrient-dense as it's a raw vegan bar made with raw ingredients.
Ingredients
All you need to make these no-bake vegan flapjacks are:
Old-Fashioned Rolled Oats – you can also use porridge oats or instant oats, but the texture is less crunchy and crumbly.
Maple Syrup – or any unrefined liquid sweetener you love, like agave syrup or rice syrup.
Coconut Oil – you can't use another oil in this recipe. These no-bake flapjack bars hold their shape because of the coconut oil that turns solids under 73°F (23°C). If you don't like the flavor of coconut, use refined coconut oil, it's less healthy, but it doesn't have a coconut flavor compared to cold-pressed unrefined coconut oil.
Peanut Butter – this peanut butter flapjack no-bake recipe works better with drippy, natural peanut butter. It means a fresh jar of peanut butter is recommended because it combines much easier into the dry ingredients, not leaving any lumps in the mixture. You can also use cashew butter, almond butter, or tahini in this recipe.
Optional Ingredients
This recipe works with these basics 5 wholesome ingredients.
However, adding a combo of nuts and seeds or a touch of chocolate make these bars even better!
I listed below my favorite add-ons to bring out the best flavor to these simple raw flapjack bars:
Cinnamon
Vanilla extract
Sea salt
Pumpkin seeds – or a combo of seeds and chopped nuts like hemp seeds, sunflower seeds, chopped walnuts, or almonds.
Chocolate chips – or melted chocolate to dip half of the bar and create a crunchy chocolate layer.
Preparing The Pan
First, line a baking pan with lightly oiled parchment paper.
A square 8-inch x 8-inch brownie pan works the best for this recipe.
Combining Ingredients
Now, combine rolled oats, salt, and cinnamon into a large bowl. Set aside.
Into another medium-size mixing bowl, stir peanut butter, maple syrup, and melted coconut oil. You can add vanilla extract too at this stage. Stir until the liquids are consistent.
Pour the liquid ingredients onto the dry and stir with a spatula until the peanut butter oat mixture is evenly combined.
Packing Tightly
Pour the no-bake peanut butter oat mixture into the prepared pan.
Press very well the mixture to pack into the pan and smooth the top using the back of a spoon or silicone spatula.
It's very important that you pack the mixture to avoid any holes. In fact, holes in the batter make these no-bake bars fragile and difficult to cut.
Freezing
Place the pan in the freezer for 15 to 20 minutes to set the bar.
The coconut oil firms up in the freezer and the bars become hard which makes it easier to slice later.
Cutting Into Squares
Lift the bar from the pan using the hanging pieces of parchment paper from the pan.
Transfer the no-bake flapjack bars onto a chopping board and using a large knife, cut it into 16 squares.
Storing No-Bake Flapjacks
You can store the no-bake flapjack squares in a sealed container in the fridge or freezer. They are delicious cold even frozen!
I recommend adding a piece of parchment paper between each square to prevent them from sticking to each other.
The raw bars store for up to one week in the fridge and 3 months in the freezer.
More Raw Vegan Baking Recipes
I love raw vegan baking recipes for breakfast or dessert. They are packed with nutrients, easy to make and so convenient as a snack or quick on-the-go breakfast.
Below I listed my favorite no-bake breakfast bars for you to try:
Made these vegan flapjacks? Share a comment or review below, I love to connect with you,
Your friend, Carine
No-bake Healthy Flapjack Recipe
An easy no-bake flapjack recipe made of oat, peanut butter, maple syrup, and coconut oil.
Pin
Print
Review
Servings: 16 squares
Calories: 166 kcal
Ingredients
Optional ingredients – recommended for flavor!
Chocolate coating – optional
Instructions
Line an 8-inch x 8-inch baking pan (or 9-inch x 5-inch rectangle baking pan) with parchment paper. Slightly oil the paper with coconut oil. Set aside.

In a large mixing bowl, combine all the dry ingredients: old-fashioned rolled oats, pumpkin seeds, salt, and cinnamon, if used. Set aside.

In another small mixing bowl, stir drippy peanut butter, melted coconut, and maple syrup. If your peanut butter is not drippy or slightly hard, microwave the bowl for 20 seconds to soften, it makes it easier to combine.

Stir the liquid ingredients into the dry ingredients until evenly combined.

Pour the mixture into the lined pan and press it firmly into the pan with the back of a silicone spatula or a spoon. You must pack the mixture tightly and smoothen the top of the bar to avoid holes in the bar – these holes would make the bars fall apart when you cut them later on.

Freeze the pan for 15-20 minutes, or until the bar is hard and set.

Remove the pan from the freezer, pull out the hanging pieces of the parchment paper to release the flapjack bar and transfer on a chopping board.

Using a sharp long knife, cut the bar into 16 squares and place the squares in a sealed container, placing a piece of parchment between each square to avoid them sticking to each other.
Optional – chocolate coating
Place the container with the bar in the freezer again while you melt the chocolate.

In a small mixing bowl, add vegan dark chocolate chips and coconut oil. Microwave 30 seconds, stir and repeat until fully melted.

Remove the container from the freezer and dip the bottom of the frozen flapjack bars into the melted chocolate. Place upside down on a plate until the chocolate layer set. You can also pop the plate in the freezer to seal the chocolate faster.
Notes
Nutrition panel includes all the optional ingredients and the chocolate coating.
Share on Facebook
Pin Recipe
Nutrition
Serving: 1square | Calories: 166kcal | Carbohydrates: 15g | Protein: 3g | Fat: 11g | Saturated Fat: 7g | Trans Fat: 1g | Cholesterol: 1mg | Sodium: 71mg | Potassium: 136mg | Fiber: 2g | Sugar: 6g | Vitamin A: 1IU | Vitamin C: 1mg | Calcium: 38mg | Iron: 1mg