This Vegan Rocky Road recipe is the most delicious vegan version of your favorite rocky road candy bars.
They are filled with vegan marshmallows, vegan jelly candies, and biscuits into a crunchy oat milk chocolate.
While my healthy rocky road is the best for healthy foodies, if you have been vegan for years and miss a real rocky road, you need this recipe.
This vegan rocky road has all the crunch, chew, and flavors of the classic Australian rocky road, except it's also cruelty-free.
What's A Rocky Road?
Rocky road is a popular Australian and New Zealand candy bar made of chocolate filled with marshmallows, nuts, coconut, soft candies, and sometimes coconut.
Is Rocky Road Vegan?
No, classic rocky road bars use classic marshmallows and soft candies containing gelatin made from animal bones.
Plus the chocolate used in rocky road bars contains milk most of the time.
So here are our tips for picking the perfect vegan ingredients and making vegan rocky road at home in less than 20 minutes
How To Make Vegan Rocky Road
So let's see how you can make a plant-based version of the classic rocky road at home.
Ingredients
All you need are:
Oat Milk Chocolate – That's the best type of chocolate we found for rocky road bars. You can also use dark chocolate if you like, most commercial dark chocolate bars are accidentally vegan, check for brands that don't list milk in their ingredients list, but most chocolate bars with over 85% of cocoa are vegan. The ones with 70% of cocoa are sometimes vegan.
Coconut Oil – Extra-virgin or classic coconut oil.
Vegan Marshmallows – There are many options online, Dandies Marshmallows taste amazing, or you can pick Sugar-Free Vegan Marshmallows from Know Brainer if you want to keep the recipe lower in carbs.
Roasted Unsalted Peanut
Unsweetened Shredded Coconut
Almonds
Vegan Jelly Candies – We used brands made of fruit juice and free from beef gelatin and beeswax.
Biscuit – You can make my Vegan Shortbread Recipe or Almond Flour Shortbread or buy some vegan shortbread at the store.
Melting The Chocolate
First, break the chocolate tabs in a large mixing bowl.
Add coconut oil and melt over a saucepan filled with boiled water. Stir until melted.
You can also microwave the bowl if it is microwave safe.
Adding Ingredients
In the melted chocolate, add peanuts, almonds, shredded coconut, pieces of vegan shortbread biscuits, pieces of vegan marshmallow, and jelly candies.
If your marshmallows are very large, you can cut them into smaller pieces with a scissor.
Stir until all the ingredients are covered with the melted chocolate then pour into the prepared pan.
Letting The Bar Set
Freeze the bars for 15 minutes to set them quickly or pop them in the fridge until the chocolate is hard and set which takes about 3 hours.
Cut the vegan rocky road into 4 long logs, then cut each log into 6 small squares to make 24 rocky road pieces.
Storage Instructions
Store the vegan rocky road for up to one month in an airtight container in the fridge.
You can freeze rocky road chunks for up to 3 months in zip-lock bags or sealed containers and thaw them the day before in the fridge.
Allergy Swaps
Below are some food allergy swaps if needed:
Peanuts-Free – Swap the peanuts for more almonds or seeds like pumpkin seeds or sunflower seeds if you have nut allergies.
Gluten-Free – Oat chocolate is not always tolerated by people with gluten intolerance. That's why I recommend dark chocolate or vegan milk chocolate made from coconut milk.
Sugar-Free – You can absolutely make sugar-free rocky road that is also vegan. Use vegan sugar-free marshmallows – see link in the recipe card below and sugar-free jelly candies sweetened with natural sweeteners like erythritol. For the chocolate, pick a vegan sugar-free chocolate chip.
Frequently Asked Questions
Below are the answers to your most frequent questions about this vegan treat recipe.
Can I Use Dark Chocolate?
Yes. Dark chocolate is vegan as long as it doesn't contain added milk in the form of milk solids. Most brands like Lindt's 85% Dark Chocolate or Whittaker's Dark Ghana 70% are vegan-friendly.
Can I Skip The Candies Or Biscuits?
Yes, rocky road is a fun recipe, you can skip and replace any ingredient with more of the others, based on what you have at home or prefer.
More Vegan Snack Recipes
If you love vegan treats, you came to the right place, and I have so many more easy vegan recipes for you to try below.
Have you tried this plant-based rocky road recipe? Share a comment or review below to connect with me!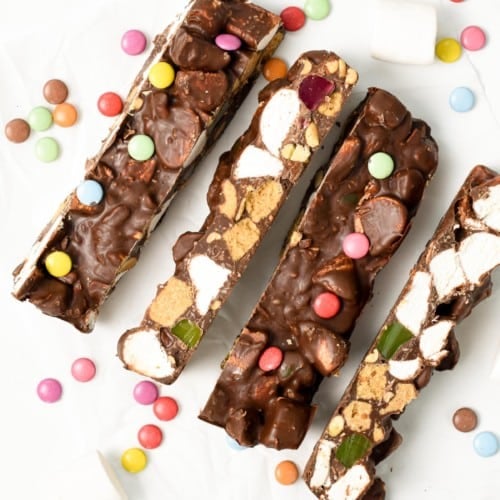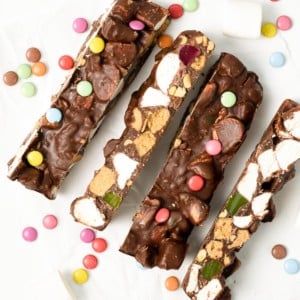 Vegan Rocky Road
This Vegan Rocky Road recipe is the most delicious vegan version of your favorite rocky road candy bars. They are filled with vegan marshmallows, vegan jelly candies, and biscuits into a crunchy oat milk chocolate.
Pin
Print
Review
Servings: 24 squares
Calories: 200.2 kcal
Instructions
Line an 8-inch x 8-inch (20 cm x 20 cm) square brownie pan with parchment paper. Slightly oil paper with coconut oil. Set aside.

In a large glass bowl, add the pieces of chocolate and coconut oil.

Bring water to a boil in a saucepan, remove from the heat and place the previous bowl with chocolate on top of the hot saucepan. Stir with a wooden spoon or silicone spatula to gently melt chocolate.

You can also place the glass bowl in the microwave to melt the chocolate faster if preferred. Microwave in 30-second bursts, stir between each burst, and stop when fully melted.

When the chocolate is perfectly melted, wait 5 minutes before adding the remaining ingredients – especially if you microwave the chocolate as the melted chocolate mixture will be warmer. This waiting time prevents the gummies or marshmallows from melting.

Fold in the peanuts, shredded coconut, almonds, gummy candies, and big chunks of vegan marshmallow and vegan shortbread.

Stir to incorporate and fully cover the ingredients with melted chocolate.

Pour the batter into the prepared pan.

Place the pan in the freezer for 15 minutes to quickly harden the rocky road or for a few hours in the fridge.

Cut into 4 horizontal bars, then cut each bar into 6 squares to create 24 rocky road pieces.

Store in the fridge for up to 2 weeks in an airtight container or freeze for up to 3 months.
Share on Facebook
Pin Recipe
Nutrition
Serving: 1serving | Calories: 200.2kcal | Carbohydrates: 26.3g | Protein: 2.5g | Fat: 11.2g | Saturated Fat: 5.5g | Polyunsaturated Fat: 1.2g | Monounsaturated Fat: 3.8g | Sodium: 29.3mg | Potassium: 98.4mg | Fiber: 1.7g | Sugar: 18.7g | Vitamin A: 3.6IU | Vitamin C: 0.01mg | Calcium: 13.8mg | Iron: 0.9mg | Magnesium: 34.3mg | Phosphorus: 53.1mg | Zinc: 0.5mg