Vegan Blueberry Scones Better than the Bakery's!
These easy vegan blueberry scones are crispy, buttery scones with a moist, soft crumb filled with juicy blueberries and flaky edges.
Learn how to make easy vegan scones that are even better than from the bakery!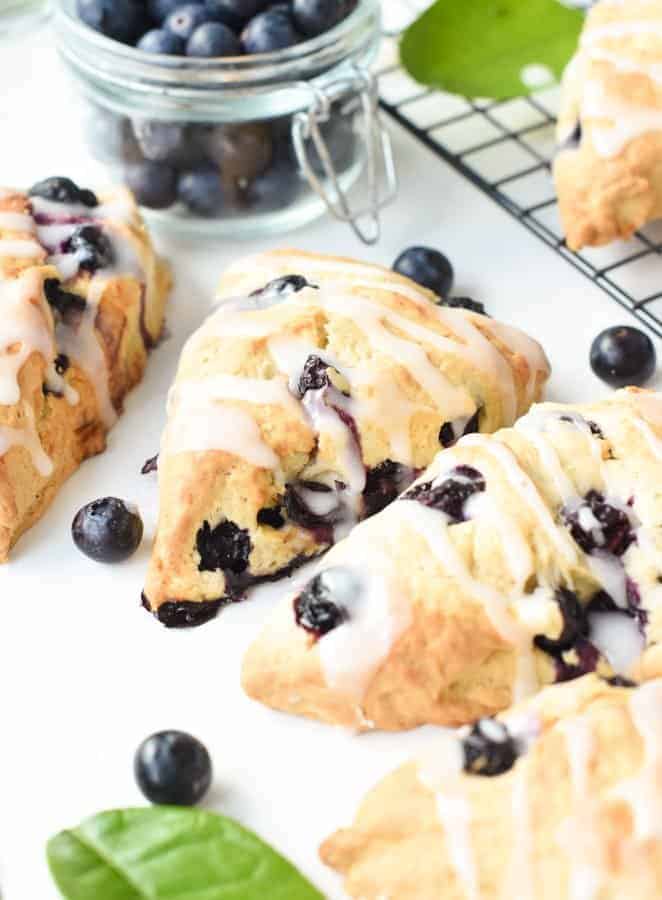 Are Scones Vegan?
No, a classic scone recipe is not vegan as it contains butter, milk, and eggs.
All these ingredients come from animals and are not compatible with a vegan diet.
However, you can easily make vegan scones at home following my recipe below.
What Should Scones Taste Like?
A scone is slightly dryer than a biscuit. It's slightly sweet with a soft buttery crumb and dry flakey edges.
Scones shouldn't be crumbly or soft on the outer edges.
If so, it can be that the scones are overbaked or baked too close to each other.
How To Make Vegan Blueberry Scones
Scones require only a few ingredients, and even if it is an easy vegan baking recipe, there are some important things to follow to make the best vegan scones.
For a different perspective, have a look at my Web Story: Making Vegan Blueberry Scones.
Ingredients
You only need a few ingredients to make easy vegan scones.
You don't need any fancy ingredients, not even a flax egg. Keep reading to learn more and see how to choose them.
Cold vegan butter – the best scones are made from cold vegan butter. It's not the same as vegan shortening or vegan spread. Vegan butter is hard in the fridge, it looks like a block of regular butter.
All-purpose flour – you can't use this recipe with gluten-free all-purpose flour, or the scones won't rise and be very heavy and dense. The best flours for this recipe are pastry flour or regular white wheat flour. You can't use almond flour or coconut flour in this recipe.
Cornstarch – since it's a vegan recipe, it means these are egg-free scones, so you need that little addition of starch to prevent the scones from crumbling apart too easily.
Caster sugar or white sugar – caster sugar is finer and blends better in scones but feel free to use white sugar or erythritol for a sugar-free option.
Vanilla extract
Baking powder
Soy milk – I highly recommend soy milk rather than almond milk for soft scones. Almond milk, oat milk, or coconut milk are great options, but the dough would be slightly dryer with these non-dairy milk options.
Ground cinnamon – optional but delicious.
Frozen blueberries – you can also use fresh blueberries but I found them more difficult to knead into the batter. They burst easily as the dough is rough.
Cutting the butter into the flour
That's probably the most important step of a scone recipe.
You must bring the cold butter in contact with the flours, using a pastry cutter or your fingers until it forms a crumble of flour.
That's the key to making flakey, buttery scones.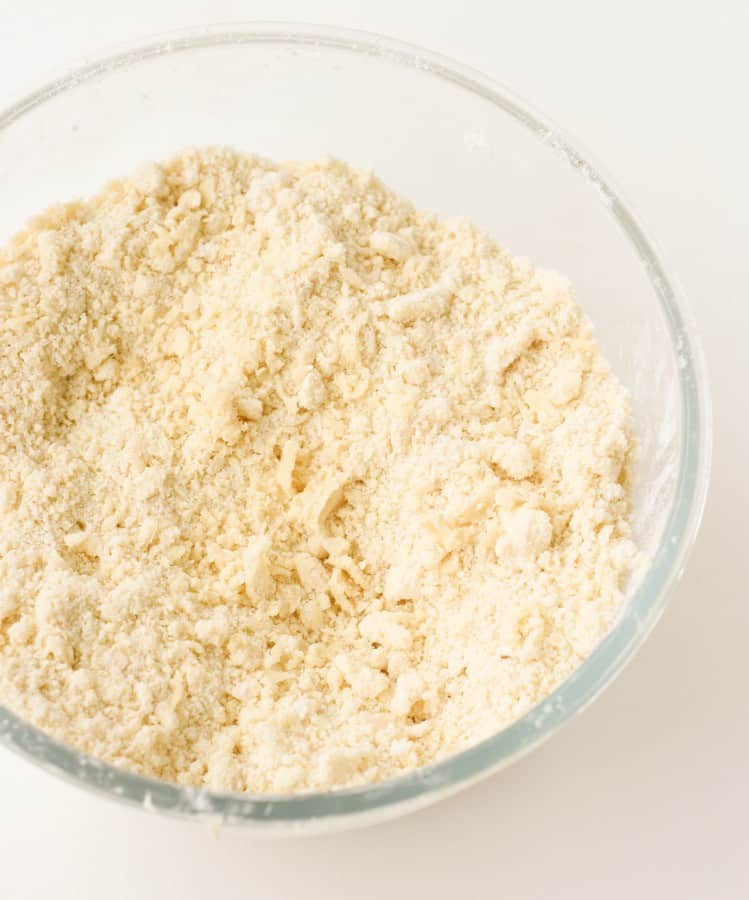 Making The Scone Dough
Then, drizzle the wet ingredients onto the dry ingredients and stir to form a rough dough.
When the dough is almost formed, throw in the blueberries and keep stirring or kneading to gently incorporate.
The dough will be sticky and rough. That's what you want. Don't overdo the dough. Just bring it together.
Forming A Disc
The dough is sticky so place a piece of parchment paper onto the benchtop and generously flour the surface.
Then, place the dough onto the paper, sprinkle more flour on top of the dough, and press to flatten into a large disc.
Cut the disc into 8 triangles and transfer the parchment paper with the scones on it onto a plate.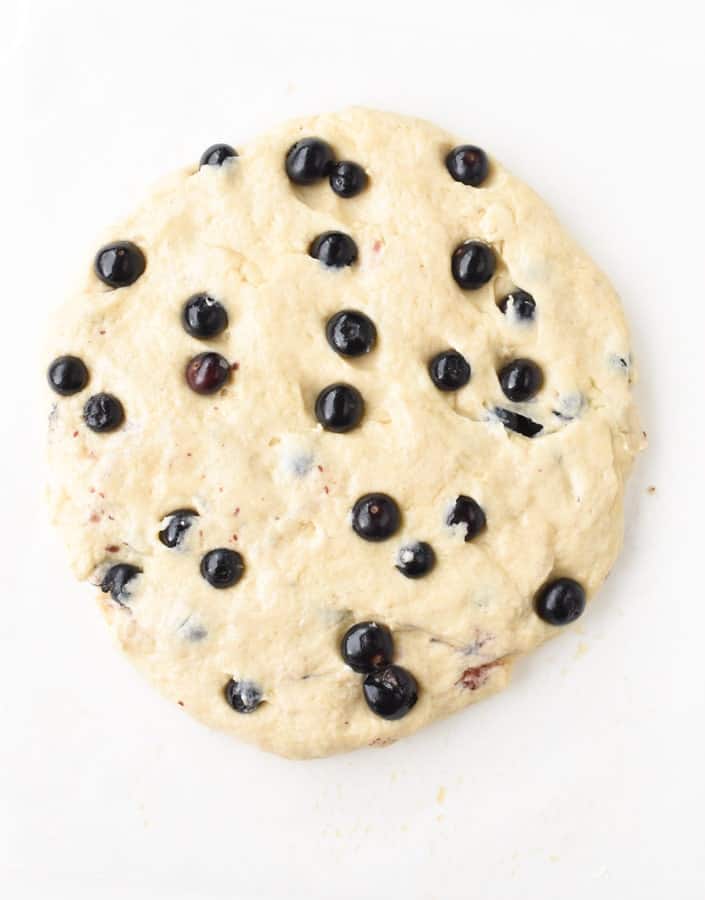 Chilling and baking
Chill the scones for 20 minutes. Meanwhile, preheat the oven to 400°F (200°C).
When the dough has chilled, line a large baking tray with parchment paper.
Lightly oil the surface and place each scone onto the tray, leaving them 1 inch apart.
They will rise and expand in the oven. Bake the scones for about 20 to 30 minutes or until golden brown and a skewer inserted into the center of a scone comes out clean.
Decorating Vegan Scones
You don't have to decorate scones, but who doesn't like pretty scones? Below I listed some plant-based scones toppings ideas for you to try:
Vegan lemon glazing – mainly made of powdered sugar and lemon juice. See the recipe card for the recipe.
Powdered sugar – sieve some on top of the scones for a quick snowy look.
Grated lemon zest – drizzle some on top of the glazing for extra lemon flavor.
Creating Different Flavors
You can use this recipe to create a range of vegan blueberry scones with different flavors.
For example, to make a vegan lemon blueberry scone recipe, add to the batter 1 tablespoon of finely chopped lemon zest and replace 1/2 cup soy milk with 1/3 cup of soy milk and 2 tablespoons of lemon juice.
You can also add herbs or spices to your recipe. For example, a surprising addition of 2 teaspoons of dried rosemary makes amazing vegan blueberry rosemary scones.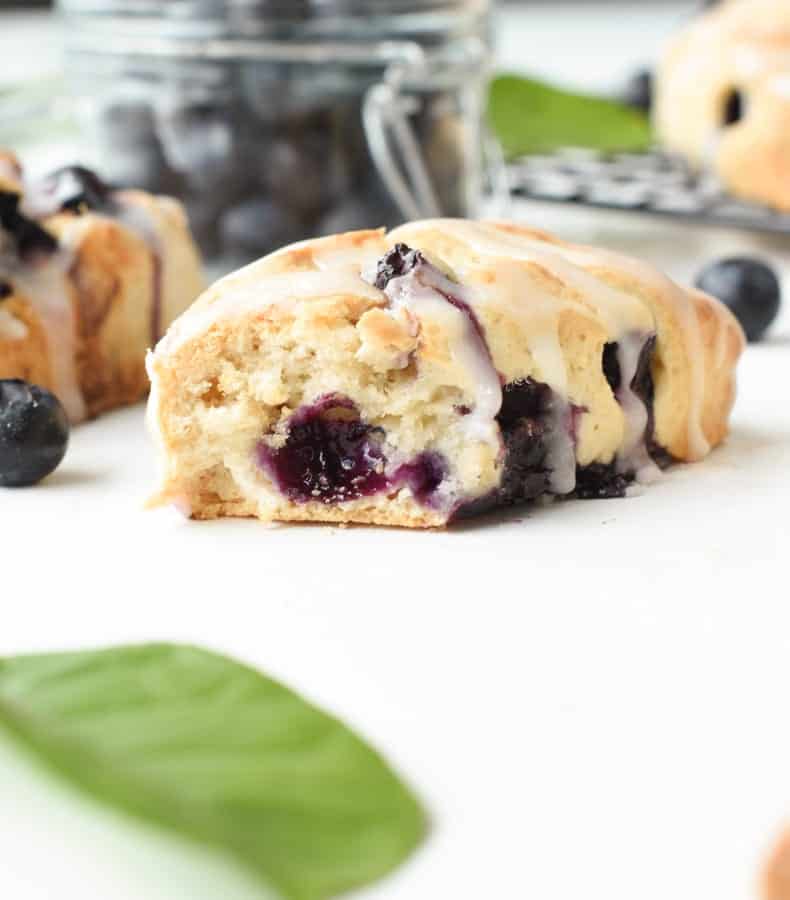 5 Tips For The Best Vegan Blueberry Scones
If you are new to vegan baking, let me share 5 tips for making the absolute best vegan scones every time:
Use cold vegan butter or frozen vegan butter like earth balance or Naturli, often sold as vegan 'block.' This is different from vegan shortening or vegan spread that is soft even in the fridge.
Use all-purpose flour, not gluten-free, or the scones won't rise. For fluffy vegan scones, use pastry flour.
Don't overdo the dough. Just mix to form a rough dough that comes together.
Chill the dough before baking. Shape the scones, then chill the dough to give some time to the gluten to activate. This is the secret of flakey scones.
Give them some space. Don't let the scones touch each other when baking, or the sides won't crisp.

Serving Vegan Scones
A scone recipe, vegan or not, is dry, and it's always served with a hot beverage and a creamy topping. The best vegan scones toppings are:
a dollop of whipped coconut cream
Coconut yogurt
Peanut butter or cashew butter or almond butter
Vegan cream cheese

Frequently Asked Questions
Can I Use Coconut Oil In This Scone Recipe?
Yes, you can use coconut oil, but this vegan scone recipe comes out very dry with coconut oil. The inside won't be as moist or buttery.
To use coconut oil, don't use room-temperature coconut oil! Pop the coconut oil jar in the fridge for 30 minutes before baking your scones.
Measure the solid coconut oil and use it as a vegan butter replacement. Remember that coconut oil is liquid above 74°F (23°C).
So if it's hot in your kitchen, ut will melt fast when working with it, resulting in a different scone texture.
More Vegan Breakfast Recipes
You can bake delicious food for your vegan breakfast. Below I listed some of our favorite vegan baking recipes for breakfast.
Have you made this vegan blueberry scone recipe? Share a review or comment below or join me on Pinterest for more vegan recipe inspiration.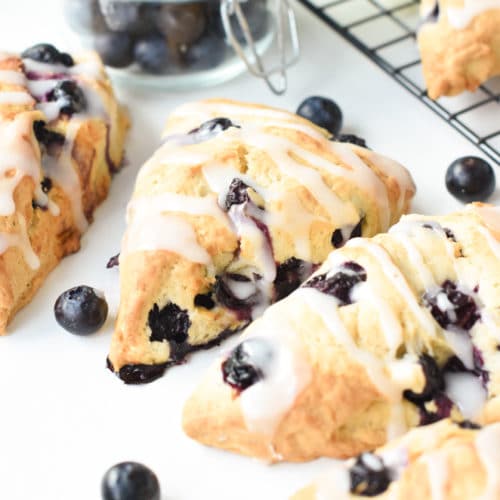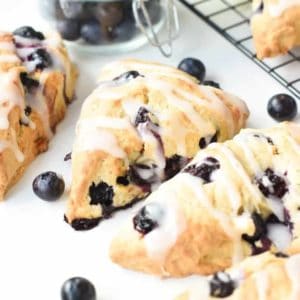 Vegan Blueberry Scones
These easy Vegan Blueberry Scones are crispy, buttery scones with a moist, soft crumb filled with juicy blueberries and flaky edges.
Pin
Print
Review
Instructions
Sift the flour in a large mixing bowl.

Whisk in cornstarch, salt, caster sugar, baking powder, and ground cinnamon.

Add in the cold vegan butter cubes and use a pastry cutter or 2 forks or your fingers to rub the butter into the flour mixture until it forms a pea-size crumble.

Drizzle the soy milk and vanilla extract over the flour mixture and then mix in with a spoon until a rough dough forms.

Add frozen or fresh blueberries and gently knead in the dough.

Pour the dough onto a floured kitchen counter, and work with floured hands.

The dough will be sticky. If it's too sticky, add a little more flour on top. If it seems too dry, add 1-2 more tablespoons of soy milk.

Place the dough onto a large floured piece of parchment paper. Sprinkle flour on top of the dough and press into an 8-inch disc, and with a sharp knife, divide into 8 wedges.

Slide the piece of parchment paper with the disc of scones on a plate and refrigerate for 15 minutes.

Meanwhile, preheat the oven to 400°F (200°C).

Line a baking sheet with parchment paper.

After refrigerating, separate each scone and place them 2-3 inches apart on the prepared baking sheet.

Brush the top of the scones with 1-2 tablespoons of soy milk and sprinkle coarse cane sugar on top (optional).

Bake for 20-30 minutes or until golden brown and the edges are dry and hard.

Remove from the oven and cool for a few minutes on the baking sheet before transfer to the cooling rack.

Store the scones at room temperature for 2 days, wrapped in a towel or in a sealed box.

Refrigerate for up to 5 days or freeze in a sealed box. Thaw at room temperature the day before.
Share on Facebook
Pin Recipe
Nutrition
Serving:
1
scone
|
Calories:
282
kcal
|
Carbohydrates:
41
g
|
Protein:
4
g
|
Fat:
11
g
|
Saturated Fat:
4
g
|
Polyunsaturated Fat:
2
g
|
Sodium:
315
mg
|
Potassium:
74
mg
|
Fiber:
1
g
|
Sugar:
15
g
|
Vitamin A:
83
IU
|
Vitamin C:
3
mg
|
Calcium:
119
mg
|
Iron:
2
mg