Vegan Chocolate Chip Scones Refined-sugar-free!
These vegan chocolate chip scones are delicious flaky British scones made egg-free and dairy-free for a comforting vegan breakfast. Bonus, you can make these vegan scones with coconut oil or vegan butter!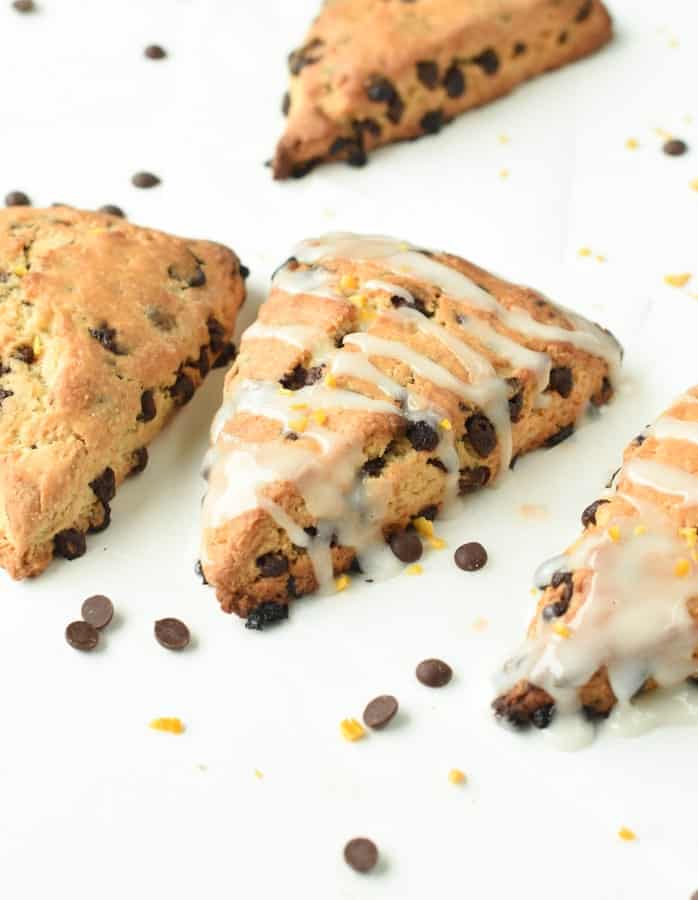 Vegan scones ingredients
It's super easy to make vegan scones, but you must use the right ingredients and measure them precisely. The most common mistake I see in vegan baking is people swapping flours, and it never comes out great.
So, follow the recipe and don't be tempted to swap all-purpose flour with almond flour, coconut flour, or even gluten-free flour. All these options wouldn't work, and you will end up with a very disappointing scone.
Choosing the right ingredients
These plant-based scones are the easiest breakfast bread to make at home. All you need to make these are a few wholesome pantry ingredients:
All-purpose flour – I like to use unbleached wheat flour or spelt flour. Both work really well.
Cornstarch – you can replace this ingredient with the same amount of tapioca flour or arrowroot flour. This helps the flour hold together as this is an egg-free scone recipe.
Non-dairy milk – I like to use almond milk, coconut milk, or soy milk. The difference is barely noticeable at the end. Soy milk tends to make fluffier and moister scones, while almond milk makes drier scones. Also, coconut milk is very flavorsome, so if you don't really like coconut flavor in your baked goods, I won't recommend that option.
Cold vegan butter – you must use cubes of cold vegan butter straight out of the fridge. Don't use melted butter, or the scones will be very dense.
Baking powder
Dark chocolate chips – I am using dairy-free chocolate chips to make these vegan chocolate chip scones. Check the ingredient list of your chips for no milk or butter to make sure they are vegan-friendly.
Salt
Coconut sugar or any sugar you have at home.
Vanilla extract
How to make vegan chocolate chip scones?
Prepare the dough
First, sift the flour and cornstarch into a large bowl. This prevents lumps into your scones. Stir in the remaining dry ingredients: coconut sugar, baking powder, and salt. Then, add the cold pieces of vegan butter, and use a pastry cutter or your fingers to rub the vegan butter into the flour to form pea-sized crumbles of flour.
Finally, drizzle vanilla and soy milk and bring the ingredients together to form a dough.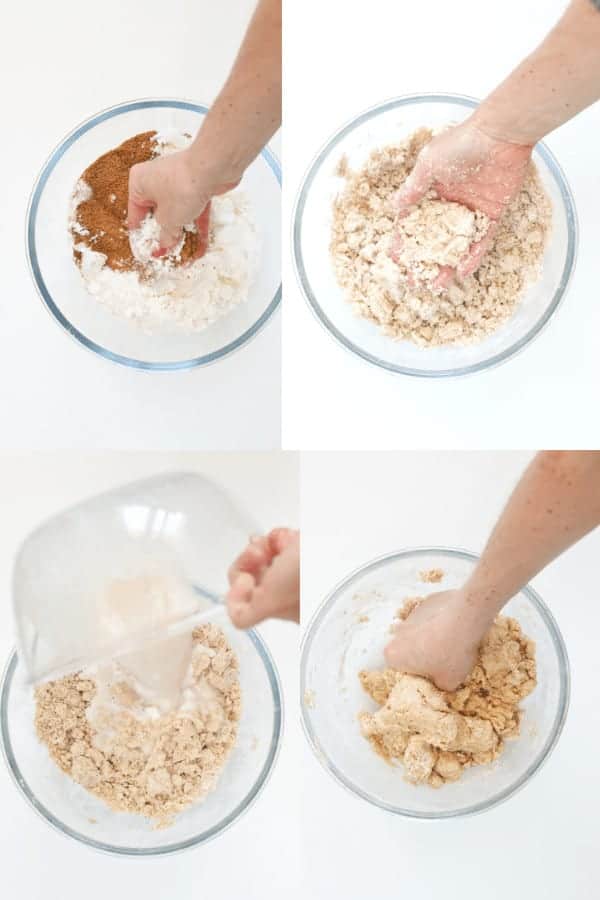 Stir in the chocolate chips at the end and shape a dough ball.
Chill the dough
Now, place the dough into the fridge and chill for 15 minutes. If the dough is very sticky, sprinkle a little flour on top of the dough.
Press into a disc
Remove the dough from the fridge and place it onto a floured piece of baking paper. Press the dough into an 8-inch disc. Cut 8 wedges using a knife. Slide the piece of parchment paper onto a baking tray. Finally, spread the wedges on the tray to prevent them from touching each other, or they wouldn't bake evenly on the sides.
Brush top with non-dairy milk
Brush the top of the scones with almond milk or soy milk. This adds a little moisture onto the scones and prevents them from getting too dry. It also increases the fluffy, buttery texture.
Bake in preheated oven
Bake your scones in the center rack of the oven at 350F (180C) for about 20-30 minutes. Note that baking time varies depending on your oven type and altitude. You know they are ready when the top is golden brown and set. Don't overbake scones, or they get very dry and hard.
This is a great recipe for breakfast on the side of a vegan smoothie or cup of tea or coffee. You can also serve scones as an afternoon tea or snack for kids.
For another perspective on this recipe, check out my web story: making the vegan chocolate scones.
Can I make vegan scones with coconut oil?
Yes, vegan butter or coconut oil works. But watch out: they don't provide the same results, and there are few tricks to make the recipe work well with coconut oil.
Texture
Coconut oil makes scones dense and crispy. The dough is more elastic to work with, and it won't raise as much.
Vegan butter makes scones fluffier and buttery, like classic British scones.
How to use coconut oil?
Solid coconut oil – You must use solid coconut oil for the best results, not melted! Usually, coconut oil is solid at room temperature, except if your pantry is above 23C. If so, the coconut oil melt, and all you have to do to get it back to its solid state is to pop the container in the fridge. First, measure the amount of coconut oil required by the recipe. Next, pop in the fridge to get solid coconut oil – it doesn't have to be cold or too hard, just solid and soft.
Lukewarm milk – don't add cold milk into the batter if you are using coconut oil! Coconut oil firms up in contact with cold milk and the batter would harden like a rock.
How to store scones?
These vegan scones store very well at room temperature in an airtight container. You can keep them fresh for 3 days at room temperature or 1 week if stored in the fridge.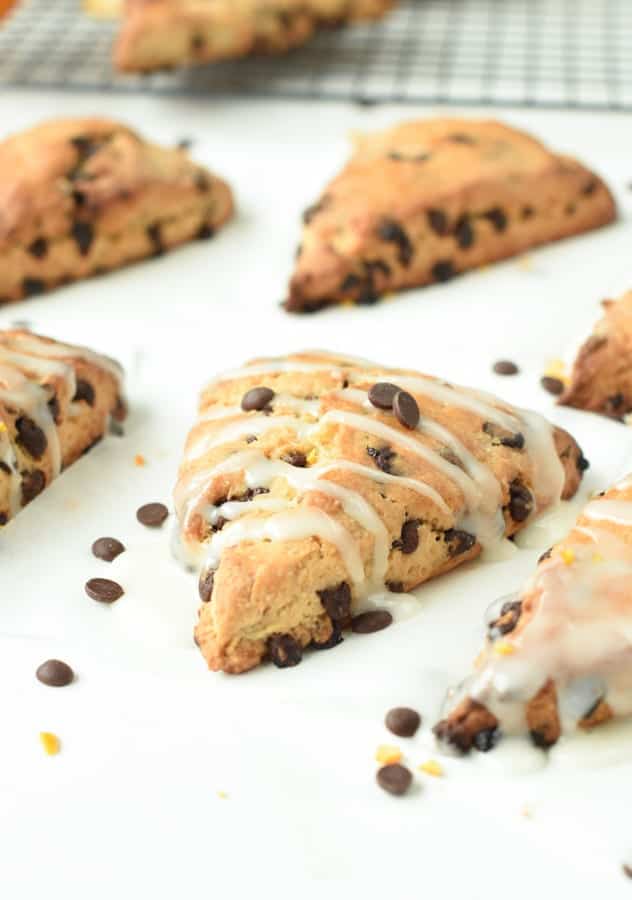 Can I freeze scones?
Sure, you can freeze scones in a sealed, airtight container. Thaw your scones at room temperature the day before serving.
How to serve vegan scones?
These vegan scones can be served plain, like a breakfast bread, or cut in half and topped with some of the spreads below for:
Vegan butter
Vegan whipped cream – whipped coconut cream on top of scones is delicious.
Jam
Peanut butter or almond butter
Fruits – banana slices, strawberries, any fruits add a delicious, fresh and juicy texture to these scones.
Vegan scone flavors?
You can swap the chocolate chips for the same amount of:
Berries – blueberries and a touch of lemon zest or orange zest and raspberries are delicious combinations of flavors.
Dried fruits – like sultanas, cranberries, finely chopped apricots.
Nuts – chopped almonds, walnuts, pecans.

Can I use gluten-free flour?
No, these scones wouldn't raise at all using all-purpose gluten-free flour. You cannot use the following flours either in this recipe: almond flour, coconut flour, or oat flour. You must use spelt flour or all-purpose wheat flour for the best results.
More vegan breakfast recipes
If you love these scones, you may also like my vegan blueberry scones recipe or the vegan baking recipes below:
Have you made these vegan chocolate chip scones recipe yet? Share a review or comment below. I love to hear back from you,
Your friend, Carine