This Vegan Scone Recipe is the most delicious crispy vegan biscuits for breakfast perfect to top with jam and coconut yogurt.
It's a simple, healthy, plant-based recipe where the dairy is replaced with vegan butter and soy milk, and the eggs are swapped for a vegan alternative.
What Are Vegan Scones?
Scones are a classic breakfast recipe and are so easy and tasty for a quick bite or for a kid's lunchbox.
Vegan Scones are the plant-based version of the classic recipe with the butter replaced with vegan butter and the milk replaced with soy milk.
But I add a special ingredient to give them the texture that eggs bring to the classic recipe.
With my other flavored scones recipes like my vegan blueberry scones, vegan chocolate chips scones, or lemonade scones, this classic Vegan Scone recipe is sure to make your breakfast special.
Why You'll Love This Recipe
This Vegan Scone recipe will become your go-to breakfast recipe because it is:
Dairy-Free
Egg-Free
Vegan
Only 7 Ingredients
Tastes like a true classic scone (or even better).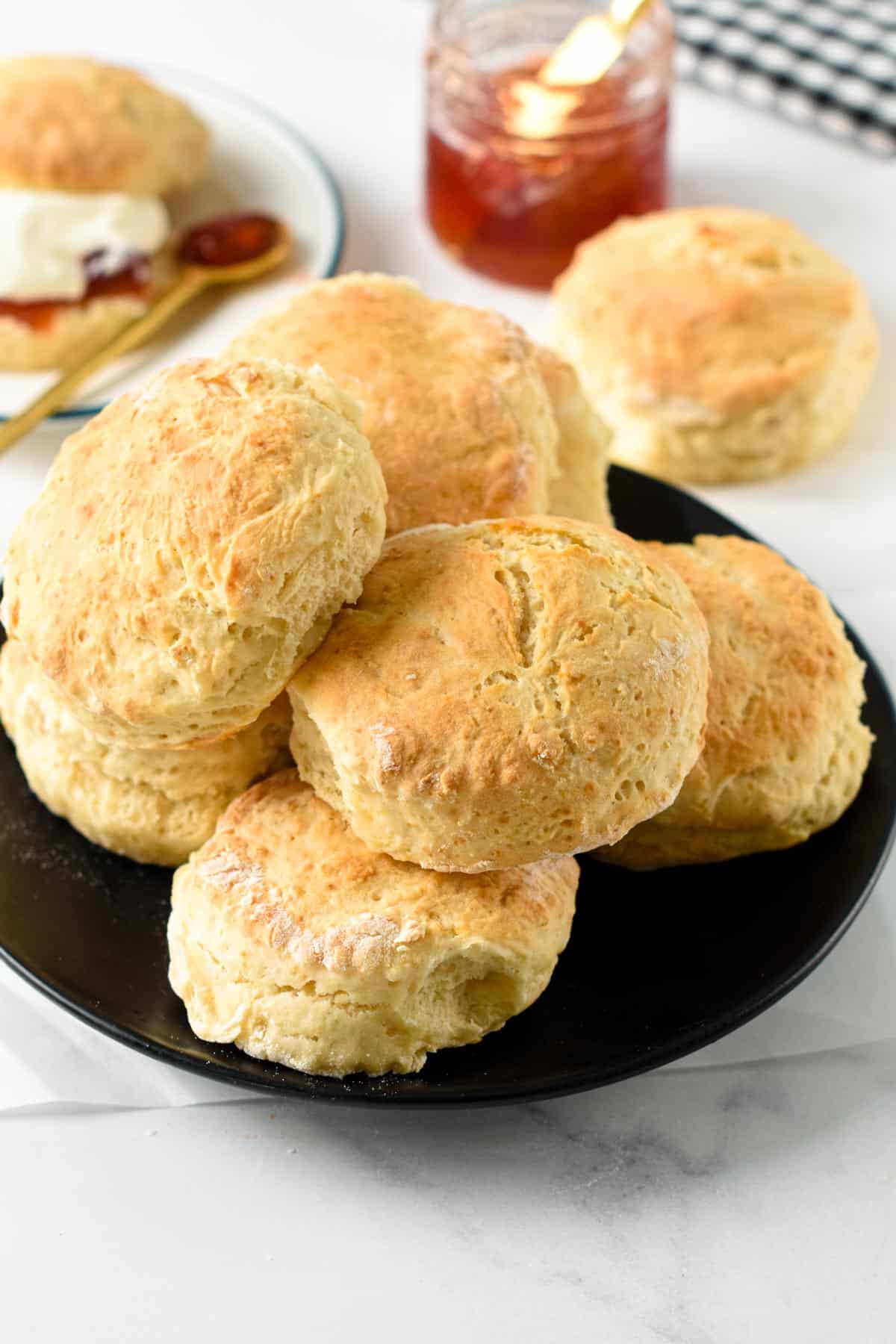 How To Make Vegan Scones
Making the vegan scones is so straightforward that you'll want them every morning.
Ingredients
Soy Milk – Soy milk is my preferred option for this recipe, but you can use any plant-based milk you love such as coconut milk, oat milk, cashew milk, or almond milk.
Apple Cider Vinegar – To make the dough airy, you need an acidic ingredient. Apple cider vinegar is the best option, but you can also use lemon juice. This is used to make the buttermilk that makes eggs redundant in vegan scones.
All-Purpose Flour – You can either use All-Purpose Flour, White Spelt Flour, or any 1:1 Gluten-Free Alternatives.
Salt – Just a touch of salt to balance the dough.
Sugar – You can either use classic white sugar, coconut sugar, or caster sugar.
Baking Powder – To make a perfectly airy dough.
Cold Vegan Butter – Vegan butter is essential for this recipe. Your butter needs to come right out of the fridge, to not let it reach room temperature before using.
Making The Buttermilk
Start the vegan scone recipe with the vegan buttermilk.
Combine the soy milk (or any plant-based milk) and the apple cider vinegar (or lemon juice) in a small mixing bowl.
Whisk the buttermilk and set it aside for a few minutes to let it curdle.
Making The Batter
Pour all the dry vegan scone ingredients into the bowl of your food processor. Use its S-blade attachment to pulse them together.
Add the cubed cold vegan butter and pulse the batter a few times to stir and incorporate it into the flour mixture.
Pour the vegan buttermilk into the food processor and process it until the dough comes together into a crumbly dough.
Forming Scones
Transfer the vegan scone dough onto a floured surface lined with parchment paper.
Sprinkle some flour on the dough ball and press it into a large 8-inch disc.
Use a round cookie cutter or if you don't have a pastry cutter, use a small bowl pressed upside down and run a knife on its rim to form scones.
Baking The Vegan Scones
Transfer the scones to a baking tray lined with lightly oiled parchment paper.
Brush the top of the scones with soy milk by using a pastry brush. This will give the scones a perfect dark glaze when they cook.
Bake the vegan scones for 20 to 30 minutes in an oven preheated to 400°F (200°C).
You know they are cooked when the top is golden brown and the edges of the scones are dry, hard, and crackle.
Remove the vegan scones from the oven and let them cool for a few minutes on the same baking tray before transferring them to a cooling rack for a few more minutes of cooling.
Recipe Add-Ons
You can boost the taste of this recipe by adding some of the following ingredients.
Strawberries – Add diced strawberries to the batter to make vegan strawberry scones.
Vanilla Extract – For a sweet vanilla taste, add vanilla extract with the liquid ingredients.
Powdered Sugar – Sprinkle some powdered sugar while the Vegan Scones cool down.
Lemon – For Lemon Scones, you can add some lemon zest to the batter and use lemon juice instead of apple cider vinegar to make the vegan buttermilk.
Allergy Swaps
If you have any allergy to these vegan scones ingredients, you can make the following substitutions.
Gluten-Free – You can make Vegan Gluten-Free scones by using a 1:1 gluten-free flour substitution.
Apple-Free – You can remove the apple cider vinegar and use lemon juice instead.
Sugar-Free – It's possible to skip the sugar in this recipe, but the scones will be a bit bland. Instead, you can use sugar-free sweeteners such as allulose or erythritol. They behave almost like sugar and bring similar levels of sweetness.
Soy-Free – If you can't have soy, you can replace it with any other plant-based milk such as almond milk, cashew milk, oat milk, or coconut milk.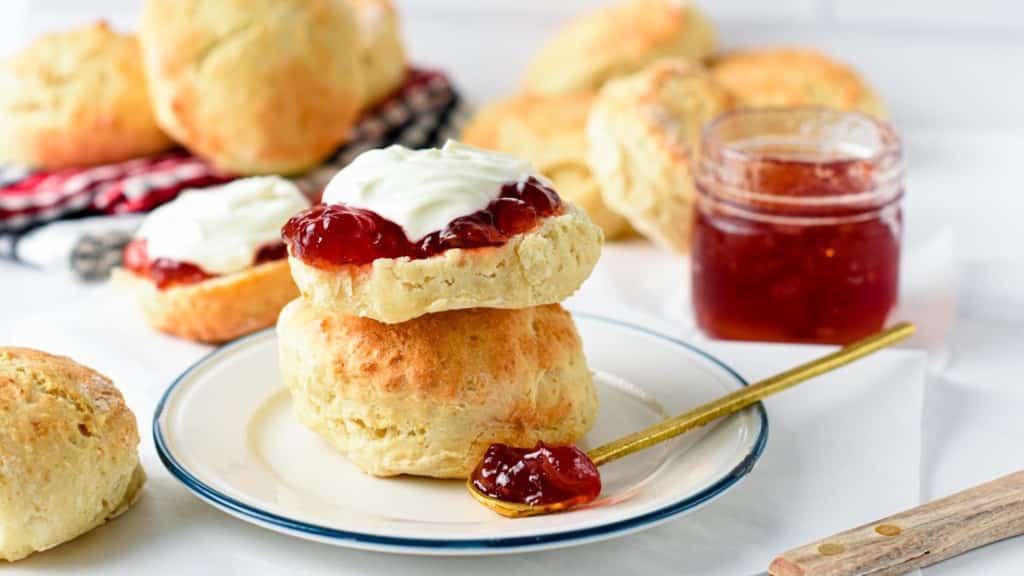 Serving Vegan Scones
These vegan scones are very versatile, in particular, if you haven't added any of the add-ons.
They can be enjoyed as is for a healthy breakfast, or you can:
Spread some vegan butter and raspberry jam or strawberry jam.
Add a dollop of vegan cream and fresh strawberry slices.
Spread some marmite or vegemite for a classic Downunder brekkie.
Storage Instructions
You can store these Vegan Scones at room temperature for two days, wrapped in a towel or in a sealed box.
Refrigerate them for up to 5 days or freeze them in a sealed box. Thaw the scones at room temperature the day before.
Frequently Asked Questions
Can I Use Self-Raising Flour In Vegan Scones?
Yes, you can. If you use self-raising flour, you'll need to reduce the baking powder to 1 tablespoon and half the salt.
Can I Replace The Vegan Butter?
It's possible to replace the vegan butter with margarine. You could also use coconut oil, but it gives a slightly different texture to the scones, so it's not my favorite option.
What Can I Use Instead Of Milk In Scones?
You can replace the milk with almond milk, coconut milk, or oat milk.
What's The Difference Between Vegan Scones And Vegan Biscuits?
The difference between a classic scone and a classic biscuit is that the former contains eggs while the latter doesn't.
By analogy, a vegan scone contains buttermilk while a vegan biscuit doesn't. If you find a vegan scone recipe without buttermilk, expect the texture to be closer to a classic biscuit than a classic scone.
Are Vegan Scones Healthy?
Vegan Scones are just slightly healthier than regular scones because they don't use milk or eggs.
What Is A Vegan Scone Made Of?
A vegan scone is made in a very similar way to regular scones, but the milk is replaced with plant-based milk and the butter with plant-based butter.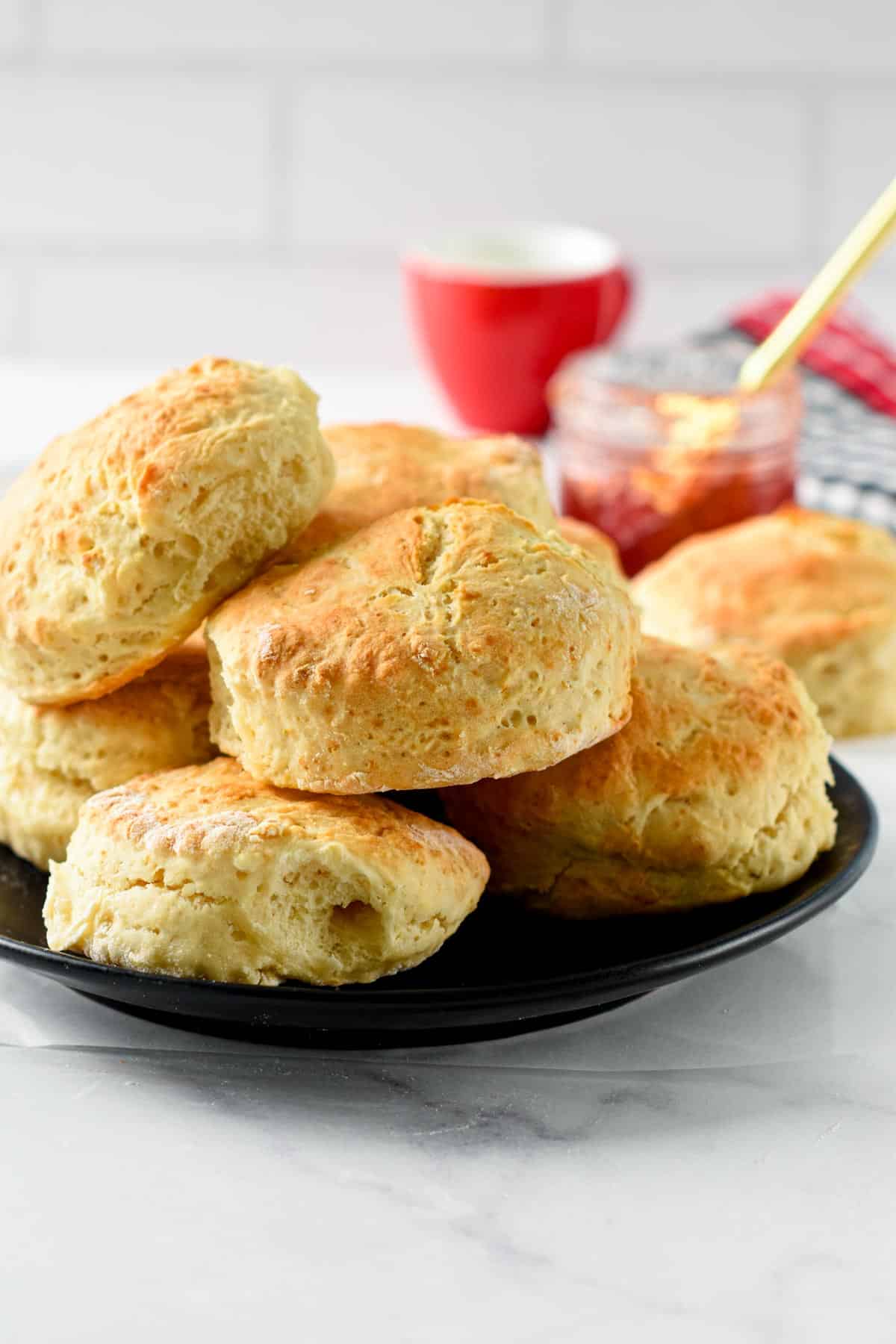 More Vegan Breakfast Recipes
If you like easy, vegan version of your classic breakfast recipes, you'll love these: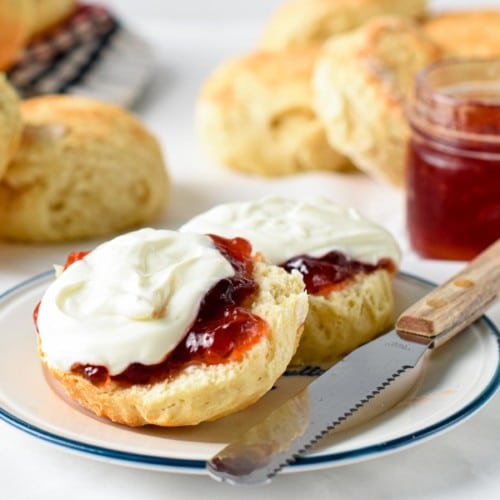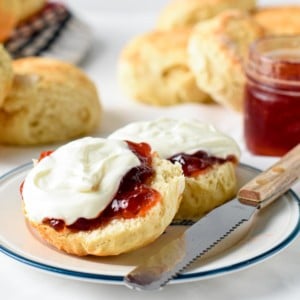 Vegan Scone Recipe
These easy Vegan Scone Recipe are perfect as a breakfast with jam
Pin
Print
Review
Servings: 8 scones
Calories: 209.3 kcal
Instructions
Preheat the oven to 400°F (200°C).

In a small bowl, whisk soy milk and apple cider vinegar and set aside to curdle into a vegan buttermilk mixture.

In a food processor, using the S blade attachment, pulse all the dry ingredients together: flour, sugar, and baking powder.

Add in the cold vegan butter cubes and pulse a few times to incorporate them into the flour

Add the milk apple cider vinegar mixture into the food processor and pulse again a few more times until the dough comes together into a crumbly dough.

Pour the dough onto a floured kitchen counter, and work with floured hands.

The dough will be sticky. If it's too sticky, add a little more flour on top. If it seems too dry, add 1-2 more tablespoons of soy milk.

Place the dough onto a large floured piece of parchment paper. Sprinkle flour on top of the dough and press into an 8-inch disc, and use a round cookie crinkle cutter to cut out vegan scones

Place the cut scones on a baking sheet covered with lightly oiled parchment paper.

Brush the top of the scones with 1-2 tablespoons of soy milk.

Bake for 20-30 minutes or until golden brown and the edges are dry and hard.

Remove from the oven and cool for a few minutes on the baking sheet before transferring them to the cooling rack.

Store the scones at room temperature for 2 days, wrapped in a towel or in a sealed box.

Refrigerate for up to 5 days or freeze in a sealed box. Thaw at room temperature the day before.
Share on Facebook
Pin Recipe
Nutrition
Serving: 1scone | Calories: 209.3kcal | Carbohydrates: 26.3g | Protein: 3.8g | Fat: 9.7g | Saturated Fat: 2.4g | Polyunsaturated Fat: 2.8g | Monounsaturated Fat: 3.8g | Trans Fat: 0.1g | Sodium: 563.7mg | Potassium: 64.5mg | Fiber: 0.9g | Sugar: 1.6g | Vitamin A: 607.4IU | Vitamin B12: 0.2µg | Vitamin C: 1.3mg | Vitamin D: 0.2µg | Calcium: 207mg | Iron: 1.9mg | Magnesium: 7.7mg | Phosphorus: 100.1mg | Zinc: 0.3mg