These vegan cinnamon rolls are soft, chewy cinnamon buns made of simple homemade yeast dough and filled with cinnamon sugar, and topped with a sticky sugar glaze.
They will bring the most delicious sweet smell to your kitchen for a cozy vegan breakfast.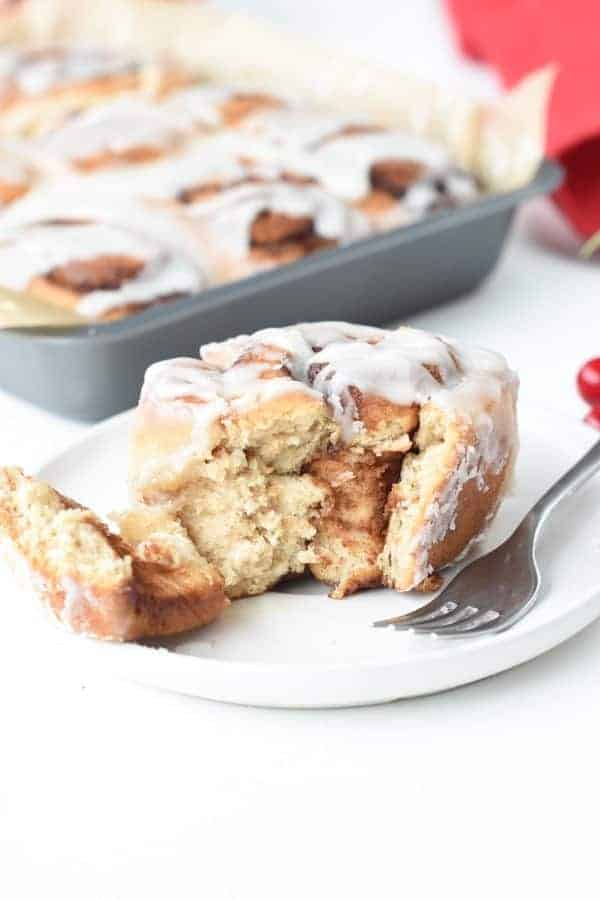 Are cinnamon rolls vegan?
No, a traditional cinnamon roll recipe is not vegan. The dough contains butter and dairy milk. Both are dairy products. Plus, most cinnamon roll recipes also use cream cheese glazing, and cream cheese is also made from cow milk.
How to make vegan cinnamon rolls?
You can make easy vegan cinnamon rolls at home. It requires some patience and some organization to create delicious bakery-style goodness at home. But, I will show you how to organize yourself to make these vegan cinnamon rolls.
Trust me, it's so rewarding to make your own breakfast cinnamon buns, and I guarantee the whole family will love this recipe.
For a different perspective on this recipe, watch my web story: making the vegan cinnamon rolls!
Prepare the ingredients
The first step is to measure all your ingredients into small bowls. Then, sort them out in three different areas, so you don't get confused.
Group your ingredients for:
the dough
the brown sugar
the cinnamon filling
the glazing
Making the dough for the homemade rolls
First, make the cinnamon roll dough. This requires a few ingredients, including:
Soy milk – I insist on soy milk because plant-based milk with less than 2% fat gives a dry texture to cinnamon rolls. So, for this special vegan baking recipe, I won't recommend almond milk, for example. Oat milk or coconut milk can also work.
Vegan butter – I am using Earth Balance or Naturli in this recipe. Please don't use coconut oil, or the dough won't be soft.
Dried active yeast – a great vegan source of minerals.
Cane sugar – other options are unrefined cane sugar or coconut sugar. But watch out! This last option darkens the dough.
Flour – there are a few options. The easiest is to use all-purpose flour, unbleached if preferred. Other options are white spelt flour or a combination of whole wheat flour and white flour. See my recipe card below for the exact amount for each of these. I don't recommend using gluten-free flours for this recipe because the rolls wouldn't rise.
To make the dough, start by warming the soy milk in a saucepan over medium heat or in the microwave until it reaches 37C/98F – think bath temperature.
Then, stir in melted butter, sugar, and yeast. Transfer to the bowl of a stand mixer and sift the 3 cups of flour and salt.
Finally, knead with the dough hook attachment for 6 minutes until soft and elastic. It shouldn't be sticky on the sides of the bowl. If it is, add more flour, 1-2 tablespoons at a time.
Rise dough for 1 hour
When the dough is soft and elastic, lightly oil your hands to transfer the dough into a large bowl oiled with coconut oil.
Note that oiling the bowl is important, or the dough is going to stick to the bowl.
Then, cover the bowl with parchment paper and top it up with a clean, warm towel.
The dough will double in size, so the piece of paper prevents the dough from sticking to the towel.
Believe me, you don't want this to happen. It's a nightmare to clean up!
Rise the dough in a room that is at least 23C or in a preheated oven at 40C/100F.
Cinnamon sugar filling
Meanwhile, whisk together the brown sugar and cinnamon in a small bowl. Set aside for later. Also, keep the vegan butter used in the filling at room temperature, so it's soft when needed.
Roll the dough
Now that the dough has doubled in size place the dough on a floured surface and start rolling into a large 12.5-inch x 10.5-inch rectangle shape to make 10 cinnamon rolls.
Add filling and roll
Now, rub the soft vegan butter all over the rectangle except the edges – leave 1/4 inch uncovered.
Sprinkle the cinnamon sugar onto the vegan butter to cover the surface evenly. Then, use your hands to rub the cinnamon sugar on the butter.
Finally, start rolling the dough tightly from its longest side (12.5-inch side) until it forms a cylinder.
When you reach the top, brush some water on the unbuttered edge. This helps to seal the roll tightly.
Cut into rolls and rise again
Now, cut the cylinder into 10 cinnamon rolls of about 1 inch each and place them into a greased 9-inch square baking dish. I recommend covering the dish with parchment paper for this vegan cinnamon rolls recipe.
This prevents the rolls from sticking to the pan.
Cover the baking dish with the piece of parchment paper used before and a clean, warm towel. Rise the rolls a second time for 30 minutes. This second rise is optional, but it makes the rolls very soft and fluffy.
Bake
Bake the cinnamon rolls in a preheated oven at 180C/350F for 20-30 minutes. Note that the longer you bake them, the drier and less soft they will be. I actually recommend underbaking cinnamon rolls to increase their soft, pillowy texture. 20 minutes of baking time is ideal.
Cool down
Cool down for 30 minutes on a cooling rack before adding the icing.
Vegan cinnamon roll icing
To glaze your cinnamon rolls, combine powdered sugar with melted vegan butter and maple extract. Drizzle generously all over the buns.
How to store cinnamon rolls?
You can store the rolls at room temperature for 3 days if your house is at 19C. Otherwise, place them in the fridge in a sealed cake box. They will be delicious for up to 5 days.
Can I freeze cinnamon rolls?
Yes, you can freeze these rolls in a sealed container. Make sure they don't touch each other, so it is easier to thaw them individually. Thaw the rolls one day before on a plate at room temperature.
Can I add raisins or chocolate chips?
Yes, you can sprinkle up to 1/2 cup of dried sultana raisins or dark vegan chocolate chips all over the dough rectangle, on top of the cinnamon sugar. Make sure you gently press them into the dough, or they will run away from the roll when rolling.
How to make healthy vegan cinnamon rolls?
You can use this recipe to make healthier cinnamon rolls. Follow the swaps below:
Flour – use 2 cups white flour with 1 cup of whole wheat flour or 2 cups of white spelt flour with 1 cup whole spelt flour.
Sugar – use unrefined cane sugar or low GI sugar or coconut sugar.
Powdered sugar – use powdered xylitol or erythritol to cut the sugar.
More vegan recipes for breakfast
I love freshly baked goods as a vegan breakfast. It brings the best smell in the house, and it's so rewarding to bake bread. Below I listed my favorite vegan bread recipes for breakfast:
Made these homemade vegan cinnamon rolls and love it? Share a comment or feedback below. I love to connect with all of you.
Your friend, Carine
Vegan Cinnamon Rolls
A soft, pillowy vegan cinnamon roll recipe with cinnamon sugar filling and sweet glazing perfect for a cozy vegan breakfast.
Pin
Print
Review
Save
Saved Recipes
Instructions
Add soy milk into a microwave-safe bowl and microwave for 20 seconds until lukewarm. Otherwise, place in a small saucepan and warm up to 98°F/37°C - think bath temperature.

Remove from heat, transfer to the bowl of a stand mixer and add sugar, melted butter, and active dried yeast. Mix well to combine all the ingredients.

Add salt and sift in the flour into the bowl.

Using the dough hook of the stand mixer, knead the dough on medium speed for 6 minutes. The dough will form a soft, sticky dough that doesn't stick to the bottom or to the borders of the bowl. If it does, sprinkle extra flour, 2 tablespoons at a time.

Slightly oil your hands and remove the dough from the stand mixer. Transfer to an oiled bowl, cover the bowl with a piece of parchment paper and then top with a clean, warm towel and let the dough rise for 1 hour in a lukewarm room. You can also place the bowl in an oven preheated at 40°C/100°F. This accelerates the process.

Meanwhile, prepare the cinnamon filling. In a small mixing bowl, stir cinnamon and soft brown sugar. Set aside.

When the dough has doubled in size, transfer onto a floured kitchen surface and start rolling into a 12.5 x 10.5 rectangle (32 cm x 27 cm).
Filling and rolling
Spread the soft vegan butter all over the surface, leaving 1/4 inch on the border uncovered.

Sprinkle the cinnamon sugar all over the butter, use your finger to rub it into the butter, and stick well.

Start rolling the dough from its longest side. Roll tightly and when you reach the dough, brush a bit of water on the top part of the dough so it seals well. You can also pinch the border into the roll (see my picture above in post) to seal the roll perfectly.

Using a serrated knife, cut the cylinder into 10 cinnamon rolls of about 1 inch (2.5 cm) thickness. The ones on the borders will contain less cinnamon sugar, and that's normal.

Place the cinnamon rolls in a 9-inch square pan covered with parchment paper.

Cover the pan with the warm, clean towel you used before to let the roll raise a second time for 30 minutes.

Bake in preheated oven 350°F/180°C for 20-30 minutes or until it starts to brown on the top and edges. Don't overbake them, or they won't be as soft and chewy in the center.

Cool in a cooling rack for 30 minutes before adding the glazing.
Glazing
To glaze, combine the powdered sweetener with melted vegan butter and maple extract. Drizzle all over the rolls.
Storage
Store in the fridge in a sealed box for up to 3 days or freeze and thaw the day before at room temperature.
Share on Facebook
Pin Recipe
Nutrition
Serving:
1
cinnamon roll
|
Calories:
216
kcal
|
Carbohydrates:
49
g
|
Protein:
5
g
|
Fat:
6
g
|
Saturated Fat:
1
g
|
Trans Fat:
1
g
|
Sodium:
58
mg
|
Potassium:
94
mg
|
Fiber:
2
g
|
Sugar:
10
g
|
Vitamin A:
142
IU
|
Vitamin C:
1
mg
|
Calcium:
43
mg
|
Iron:
2
mg