Vegan Blueberry Breakfast Bars
These vegan blueberry breakfast bars are healthy oatmeal bars with a juicy, sweet blueberry chia seed jam and crunchy oatmeal crumble on top.
An easy healthy breakfast recipe to make in 20 minutes and meal-prep all your weekly breakfasts!
What Are Vegan Blueberry Breakfast Bars?
These bars are a healthier version of the classic blueberry breakfast bar recipe but are made without butter, cornstarch, or dairy.
They are naturally sweetened with unrefined sugar from maple syrup and loaded with plant-based proteins from oats and chia seeds.
How To Make Healthy Blueberry Oatmeal Bars
This is easier than you think to make your own breakfast bars with berry jam. It takes only 3 steps and minimal pantry ingredients to create a healthy oat bar to start the day.
The best part of this oatmeal crumble breakfast bar recipe is that the base and crumble pieces on top use the same recipe!
So you don't have to create an extra dough for the crumble, which greatly reduces the preparation time.
Let me explain step-by-step how to make the healthiest blueberry breakfast bars, 100% dairy-free, gluten-free, and refined sugar-free!
Ingredients
As I mentioned above, you need only one dough to create the base and crumble.
The trick is to make the whole oatmeal dough first and then set aside 1/2 cup of dough to use later as a crumble. The ingredients you need to prepare these two layers are:
Homemade Oat flour – make your own. It is easy and cheap. Bring rolled oat into a blender, and blend at high speed until a fine powder forms. It shouldn't take more than 30 seconds in a high-speed blender. Measure the amount you need to make the recipe and store the leftover in an airtight container in the pantry for later. Also, if you don't have oat flour, you can use all-purpose flour for this recipe.
Rolled oats or instant oats if preferred
Maple syrup or brown rice syrup, or agave syrup.
Coconut oil – you can also use avocado oil to decrease saturated fat, but the base will be more fragile. Don't skip oil nor use applesauce as an oil-free replacement. It doesn't work.
Vanilla
Salt
Blueberry chia jam layer
This is where this recipe stands out. A regular blueberry breakfast bar uses cornstarch to set the jam layer.
As its name suggests, Cornstarch is mostly starch, which is very high in calories, and carbohydrates, and it's poor in nutrients.
That's why this healthy breakfast blueberry bar uses chia seeds to set the jam.
Chia seeds are super-seeds loaded with healthy fat, plant-based protein, calcium, iron, and magnesium!
So this really adds a healthy boost to your breakfast bars! All you need to make the blueberry layer is:
Blueberries – fresh or frozen, no need to thaw.
Maple syrup or brown rice syrup, or agave syrup.
Lemon juice
Chia seeds – white or black both work the same. If you can't eat chia seeds for any reason, a healthy swap is flaxseed meal. Replace the chia seeds in this recipe with 2 tablespoons of flaxseed meal.
Lemon zest – optional and only if you are using untreated lemon!
Storage Instructions
These vegan, gluten-free breakfast bars store really well in the fridge in an airtight container for up to one week.
Also, you can freeze the bars and defrost them the day before.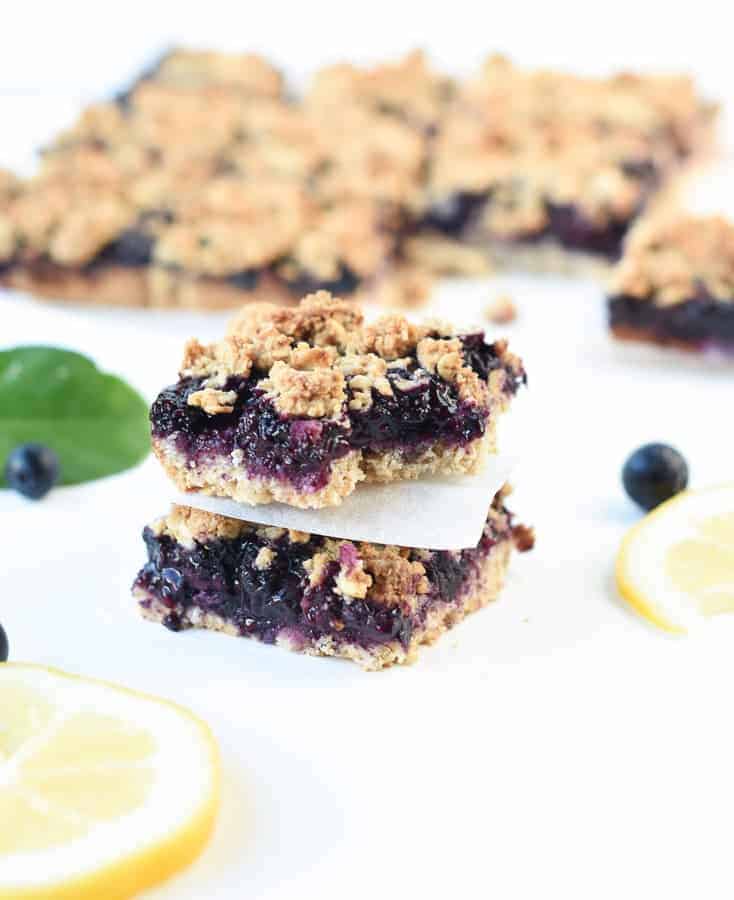 Allergy Swaps
I know that many of you love paleo vegan options for my recipes which means finding a grain-free alternative.
So below, I listed my easy swap tips to turn this recipe into a vegan paleo blueberry recipe.
Almond flour – use this flour instead of oat flour.
Nuts– replace rolled oats with chopped walnuts, almonds, pecan or shredded coconut, or a combo of all!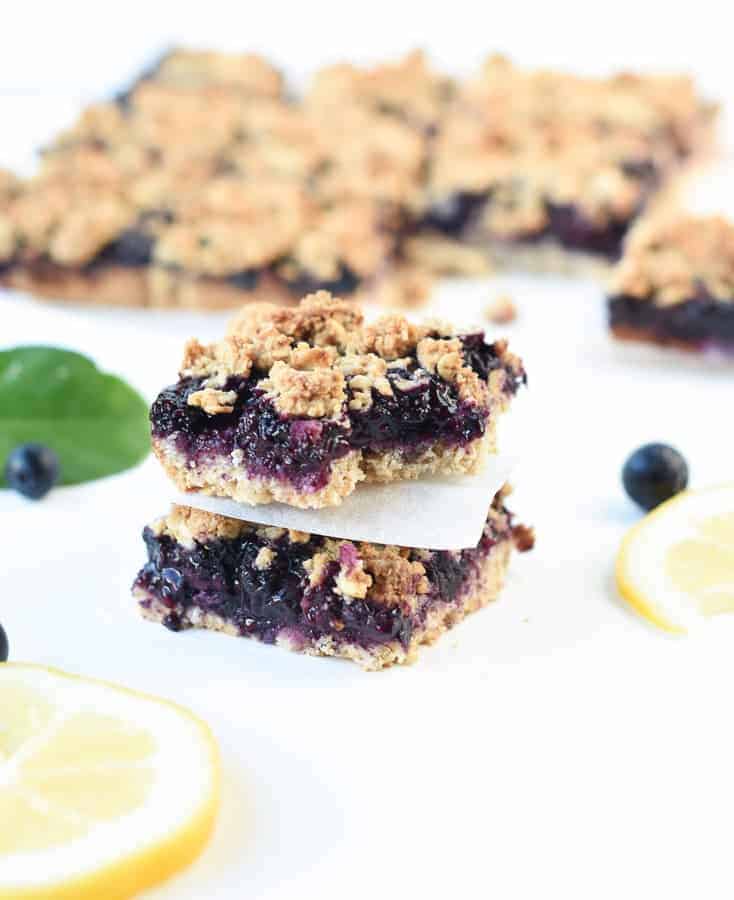 More Healthy Vegan Breakfast Recipes
I love to share simple healthy vegan recipes, so you may also like the following vegan gluten-free breakfast recipes.
Have you made this blueberry oatmeal breakfast bar recipe? Share a picture with me! Join me on Instagram. I reply to all your messages.
Vegan Blueberry Breakfast Bars
Healthy blueberry breakfast bars with blueberry chia seed jam and oats crumble.
Pin
Print
Review
Servings: 16 bars
Calories: 155 kcal
Instructions
Preheat oven to 350°F (180°C). Line an 8-inch x 8-inch baking pan with parchment paper. Set aside.

In a large mixing bowl, combine all the crust ingredients: oat flour, rolled oats, maple syrup, melted coconut oil, salt, and vanilla.

Squeeze the batter with your hands to bring all the ingredients in contact and create a dough that sticks together. If too dry (may happen if you are using a coarse oat flour), add 1-2 tablespoons of water, add 1 at a time, until the dough is soft and stick together.

Press 1 3/4 cup of the dough all over the baking dish, using a spatula to smoothen the dough and making sure there is no hole left. Set aside leftover dough in a small mixing bowl in the fridge. You will use it for the crumble on top of the bar.

Place the pan in the fridge while you make the blueberry chia seed jam.
Blueberry chia seed jam
In a small saucepan, add the blueberries, maple syrup, lemon juice, lemon zest, and chia seeds.

Cook for 1-2 minutes on medium heat until bubbles form on the sides of the pan.

Mash the blueberries using a fork or potato masher and keep cooking for 2 minutes, stirring all the time to prevent the jam from burning. It should slightly thicken but still be very runny. It will thicken in the oven, don't worry.

Pour the jam on top of the prepared crust then use the remaining dough to crumble all other the bar.

Bake the bar for 35 minutes or until crispy on top and golden.

Remove from the oven and cool in the pan 10 minutes before transferring onto a cooling rack.

Cool for 3 hours or until it reaches room temperature before slicing into 16 bars. Waiting will prevent the bar from crumbling, and the jam will set perfectly.

Store the bars in the pantry in an airtight container for up to 3 days or in the fridge for up to 1 week. Otherwise, freeze and defrost the day before breakfast.
Notes
Maple syrup can be replaced with brown rice syrup or agave or coconut nectar. Chia seeds can be replaced with 2 tablespoons of flaxseed meal. Blueberries or any other berries like raspberries, blackberries, or strawberries.
Share on Facebook
Pin Recipe
Nutrition
Serving: 1bar | Calories: 155kcal | Carbohydrates: 22g | Protein: 3g | Fat: 7g | Saturated Fat: 4g | Sodium: 40mg | Potassium: 109mg | Fiber: 2g | Sugar: 8g | Vitamin A: 10IU | Vitamin C: 3mg | Calcium: 31mg | Iron: 1mg