Healthy No-Bake Oatmeal Bars
These healthy no-bake oatmeal bars are soft, sweet peanut butter chocolate breakfast bars made only with healthy plant-based ingredients!
A healthy vegan oatmeal breakfast bar ready in 20 minutes and made with less than 10 ingredients.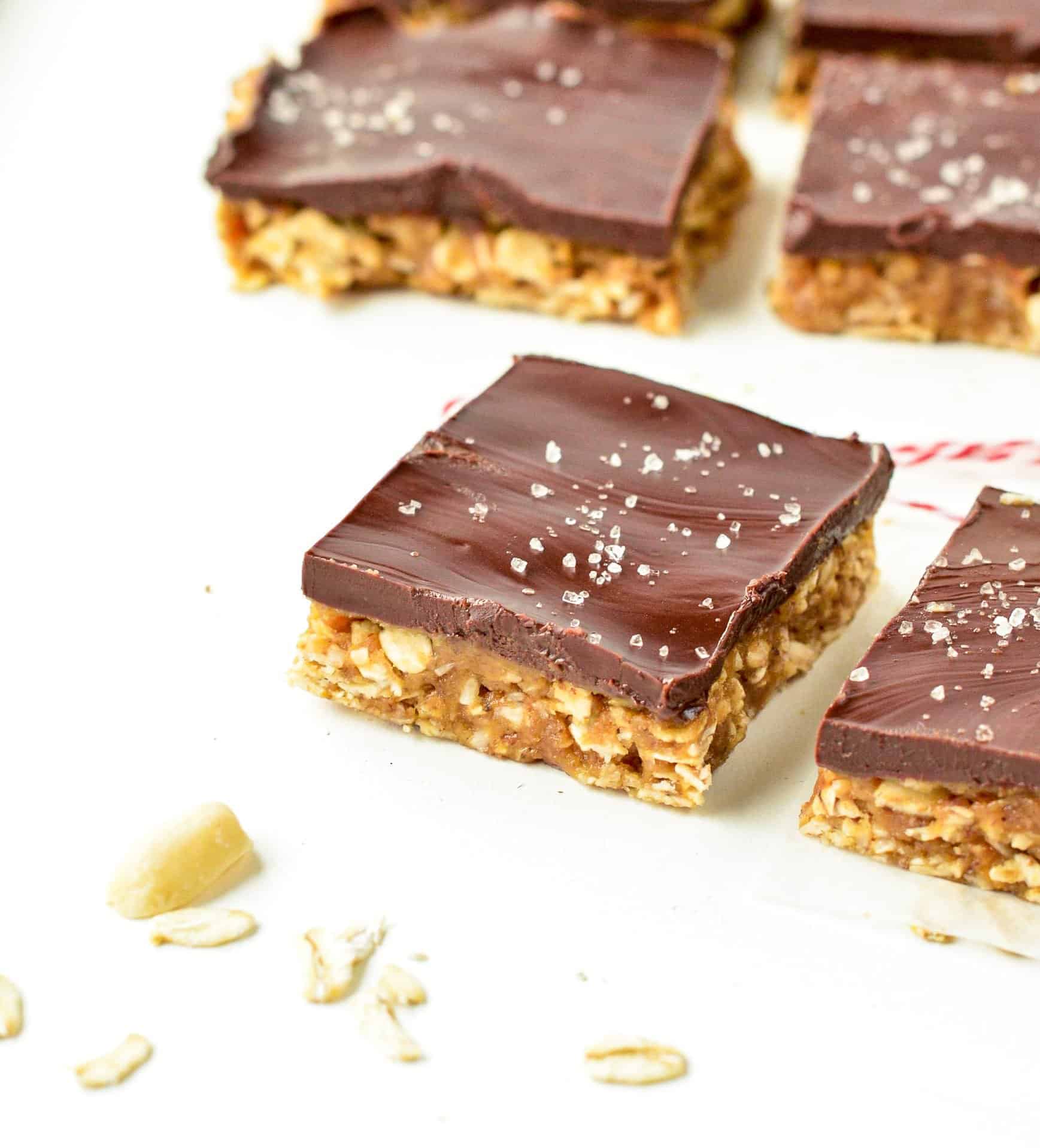 Calling all the peanut butter lovers to try these healthy breakfast oatmeal bars! Really, you won't believe these are that healthy.
Let me describe these vegan chocolate oatmeal bars better. Imagine a sweet, smooth peanut butter maple caramel covering crunchy pieces of rolled oat, slaughtered by a thick chocolate peanut butter ganache.
Did I get your attention now? Oh, and should I add that you only need 20 minutes to make this whole recipe? And believe me, kids and grown-ups will love it. There will be no leftovers.
What Are No-Bake Oatmeal Bars?
Making your homemade breakfast bars is a great way to avoid all the additives from store-bought bars.
Plus, there is nothing easier to bake than no-bake oatmeal bars since there is no oven needed!
If you just started a vegan lifestyle and want a healthy breakfast every morning, start making these healthy no-bake peanut butter oatmeal bars.
Want more reasons why you should try making your own healthy breakfast bars? Let's see:
Ready in 20 minutes but basically 10 minutes of mixing and kitchen work.
Healthy, they contain all the protein, fiber, and slow carbs needed to get a steady level of energy up to lunchtime.
Store well – they cover 1 week of breakfast, so you don't have to cook every morning.
Freeze well – you can double the batch, meal prep on Sunday, and freeze them for a later breakfast or snack.
How To Make No-Bake Oatmeal Bars
There is nothing easier than making no-bake breakfast bars, so don't worry, even if you never made your own before, I will guide you through it.
Ingredients
Rolled oats – this refers to the larger oats, not instant oats or steel-cut oats. While the other options will work, the bars will be softer and will lose texture.
Unsweetened desiccated coconut – coconut adds a lovely chewy texture to the bars.
Flaxseed meal – flax seeds are full of plant-based proteins and omega-3, both highly important on a vegan lifestyle, so a perfect addition to healthy vegan chocolate oatmeal bars. Another healthy option is ground chia seeds or oat flour.
Fresh peanut butter – no added oil, no added sugar. This is very important that you use a fresh jar of peanut butter without additives to keep the bars healthy. Plus, peanut butter with added oil will make the bar very soft. In the same way that sweetened peanut butter will make the bars overly sweet.
Maple syrup – it is a delicious refined-sugar-free liquid sweetener that can also be replaced by different vegan-friendly sweeteners like brown rice syrup, coconut nectar, or agave syrup.
Vanilla
The best way to succeed in baking is to first measure all your ingredients in small bowls.
This way, you are sure that you have all the ingredients on hand, with no last-minute substitution that could make your recipe fail.
Then, separate the dry ingredients from the liquid ingredients.
Combining Dry Ingredients
Simply add all the dry oatmeal bar ingredients into a large mixing bowl and give it a good stir to combine.
Set aside.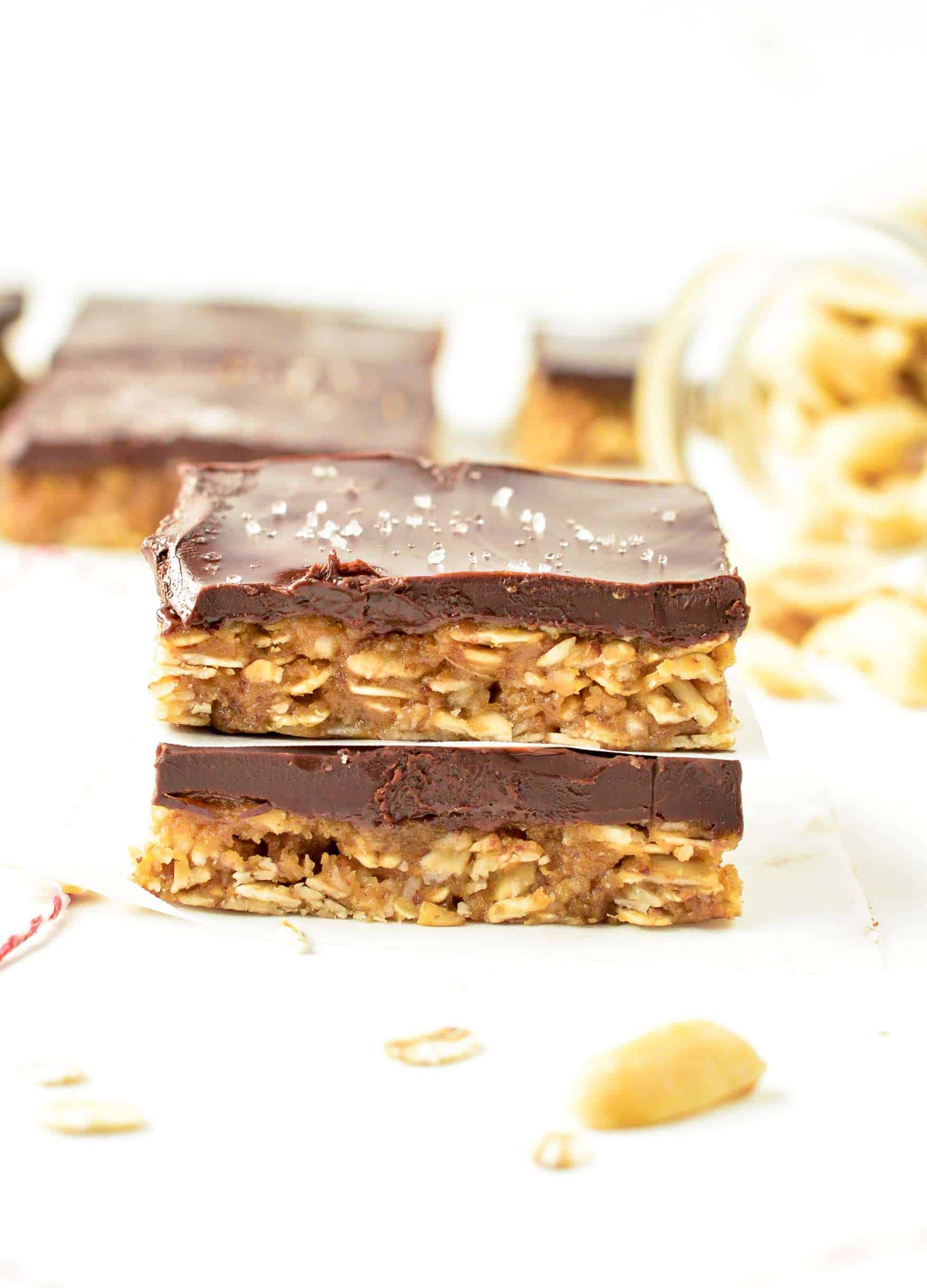 Melting the liquid ingredients
You only need 3 liquid ingredients to make these no-bake chocolate peanut butter oatmeal bars.
I recommend bringing all the liquid ingredients into a saucepan and melting under medium heat, stirring often.
This will ensure a soft, smooth sweet peanut butter batter that combines perfectly with the dry ingredients.
Combine and press in the pan
Now that your two bowls are ready, it's time to combine the liquid lukewarm ingredients into the dry ingredient bowl.
Use a spatula to evenly combine both and form a sticky batter.
Transfer the batter into an 8-inch x 8-inch square pan or a rectangle 9-inch x 6-inch pan that you previously covered with parchment paper.
This is very important to prevent the batter from sticking to the pan and to make it easier to lift the bar from the pan by pulling out the paper.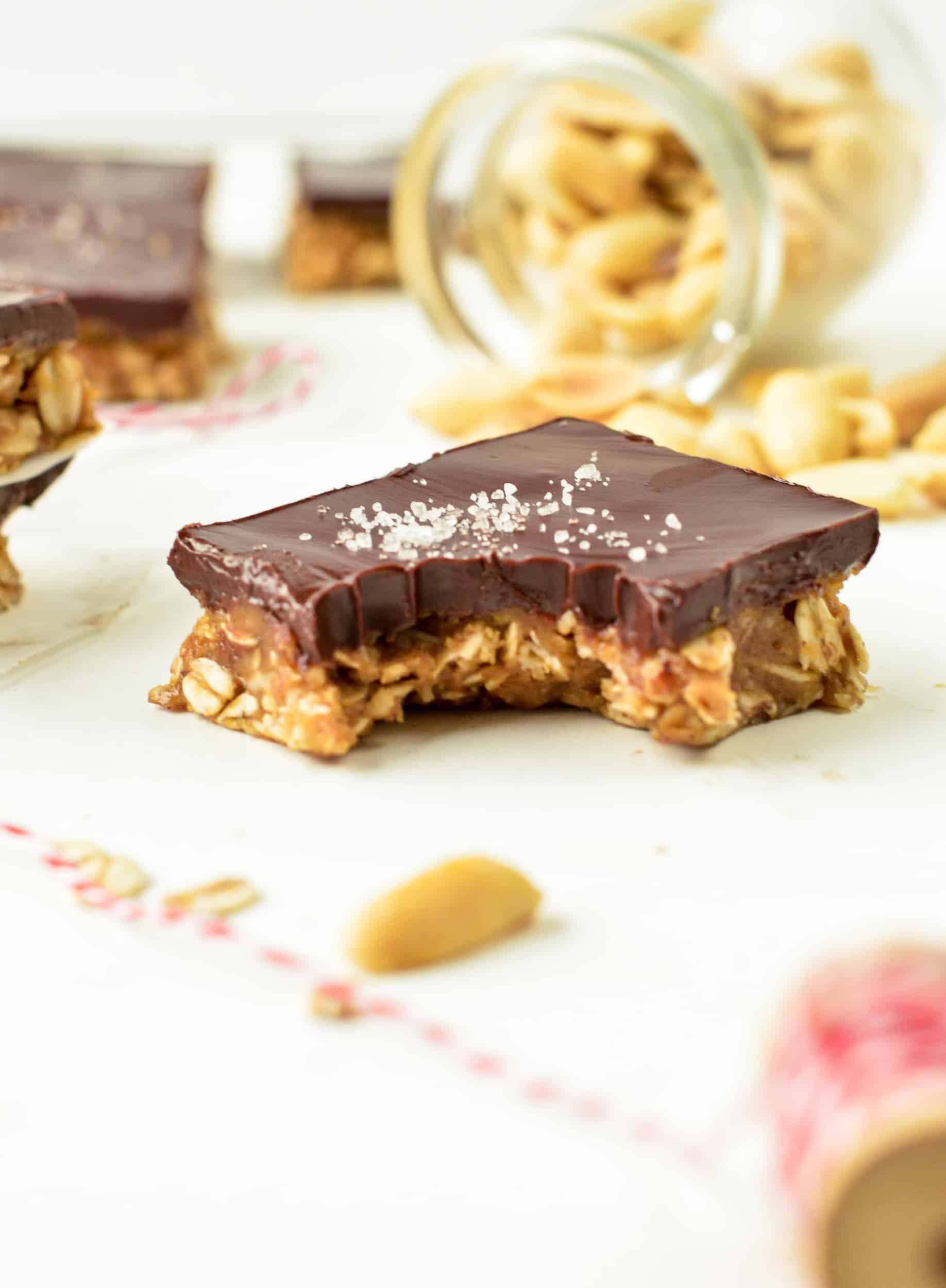 Making Chocolate Peanut Butter Ganache
Freezing the bar is a technique in no-bake recipes that sets the ingredients together quickly.
While the bar freezes and sets, you have the time to melt the chocolate peanut butter ganache ingredients into a saucepan under medium heat.
You can reuse the previous saucepan without cleaning it to save time!
Pour the melted ganache onto the bar and return the bar to the freezer for about 10 minutes to set the top layer.
Vegan Oatmeal Bar Swaps
Some ingredients can be replaced in this recipe. For example, if peanut butter is too high in saturated fat for you, replace it with almond butter or cashew butter.
Also, maple syrup can be replaced by agave syrup or rice syrup.
Finally, the only ingredient you can't swap is coconut oil! Coconut is solid at room temperature.
It is the key ingredient of most no-bake vegan recipes. If you swap coconut oil for liquid oil, your bar will never set and will result in a messy oatmeal batter.
Storing No-Bake Oatmeal Bars
These no-bake oatmeal peanut butter bars are a bit soft at room temperature.
In fact, no-bake breakfast bars are mostly made of soft ingredients like peanut butter, maple syrup, and coconut oil. Therefore, they tend to soften at room temperature.
That is why it's better to store them in the fridge in an airtight container.
Also, it's better to lay a piece of parchment paper between each bar to prevent them from sticking to each other.
So if it's summer or hot where you live, and you want to take away one of these bars, make sure you carry them in a small container to avoid having a chocolate mess.
More Vegan Breakfast Bars
Vegan breakfast bars, no-baked or baked, are very convenient grab-and-go breakfast.
Most of us don't have time to cook in the morning, and meal preparation is the key to enjoying a clean-eating breakfast, even on a vegan lifestyle.
Below are our favorite vegan breakfast bars:
Made these vegan no-bake breakfast oatmeal bars and want to share a picture of your creation? Join me on Instagram!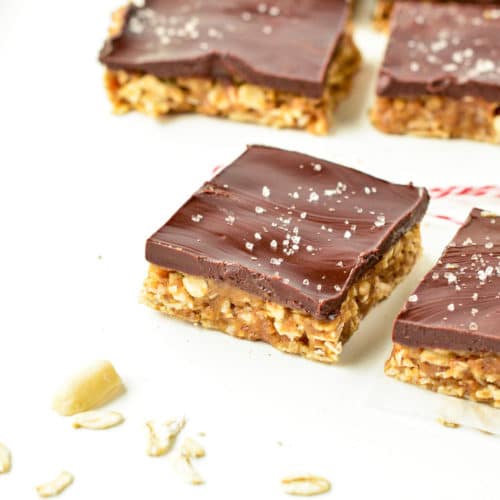 Healthy No-bake Oatmeal Peanut Butter Bars
Ingredients
Chocolate peanut butter ganache
Instructions
Line an 8-inch x 8-inch square pan or a rectangle 9-inch x 6-inch pan with parchment paper. Set aside.

In a large mixing bowl, combine all the dry ingredients. Set aside.

In a microwave-safe bowl or medium saucepan, combine fresh runny peanut butter, maple syrup, and vanilla. Microwave the bowl for 20 seconds, stir and repeat until the ingredients are smooth and easy to combine to form a sweet peanut butter batter. You can also melt and stir the ingredients in a saucepan under medium heat. Remove from heat when smooth and evenly combined.

Pour the peanut butter/maple mixture onto the dry ingredients.

Combine with a spatula to incorporate all ingredients together and form a sticky batter.

Press the batter all over the prepared square pan. Use a spatula to smoothen the layer and spread evenly.

Freeze while you prepare the chocolate peanut butter ganache.

In a small mixing bowl, combine dark chocolate, peanut butter, and coconut oil. Microwave by 30-second bursts, stirring between, repeat until fully melted.

Remove the pan from the freezer.

Pour the chocolate ganache on top of the bar and evenly spread with a spatula.

Return to the freezer for 5-10 minutes or until the ganache is set.
Storage
Slice into 16 bars and store in the fridge in an airtight container for up to 1 week.

You can freeze the bars in ziplock bags and defrost them 2 hours before your breakfast.
Notes
Fresh, runny almond butter or cashew butter can be used as a peanut butter replacement. Use the same amount.
You can replace flaxseed meal with the same amount of ground chia seed or oat flour. Don't use all-purpose flour. It is not safe to be eaten raw.
Share on Facebook
Pin Recipe
Nutrition
Serving:
1
bar
|
Calories:
219
kcal
|
Carbohydrates:
17
g
|
Protein:
6
g
|
Fat:
15
g
|
Saturated Fat:
6
g
|
Cholesterol:
1
mg
|
Sodium:
78
mg
|
Potassium:
215
mg
|
Fiber:
3
g
|
Sugar:
9
g
|
Calcium:
29
mg
|
Iron:
1
mg