Sugar-Free Vegan Banana Muffins
These sugar-free vegan banana muffins are soft, moist mini muffins perfect as a first vegan baby recipe from 6 months.
They are easy to eat with small hands and are allergy-friendly: egg-free, dairy-free, and refined sugar-free.
What Are Sugar-Free Banana Muffins?
Sugar-free Banana Muffins are healthy banana muffins, also known as baby-led weaning banana muffins, perfect to offer as a baby's first food from 6 months of age.
They are perfect for mums who want to start baby-led weaning, a baby feeding technique that consists of offering real food to babies instead of baby puree.
Baby muffins are sugar-free, which means they don't contain added sugar, and they are made with wholesome, nutritious ingredients, safe for babies from 6 months of age.
How To Make Sugar-Free Banana Muffins
These baby-led weaning banana muffins are super easy to whip in 15 minutes.
Ingredients
All you need are 6 simple ingredients:
Flour – whole wheat flour or all-purpose flour. Both options work great. Whole wheat flour contains more fiber and makes the muffin a little denser, but it is a nutritious flour for babies.
Melted coconut oil or vegetable oil you have at home, like light olive oil or canola oil.
Milk of choice – you can use breastmilk for babies from 6 months old or non-dairy milk like almond milk, coconut milk, or oat milk.
Ripe bananas – these are sugar-free banana muffins only sweetened with mashed bananas. It means that the ripest the banana is, the sweetest the muffins will be!
Baking powder
Combining Wet Ingredients
First, peel and mash the bananas in a large bowl.
Then, add all the remaining wet ingredients: coconut oil and almond milk.
Adding Dry Ingredients
Now, stir in baking powder and flour until it forms a smooth muffin batter. It's ok if there are bits of bananas in your banana baby muffins.
The bits will be very soft after baking and soft for the baby to swallow.
Baking
Bake the batter in a preheated oven at 350°F (180°C).
First, grease two 12-hole mini muffin pans with coconut oil. Then, fill each hole up to 3/4 of its volume.
Bake the baby-led banana muffins in the center rack of the oven until a pick inserted in the middle comes out clean – between 15-18 minutes.
Cooling Down
Remove the muffin tins from the oven and cool the baby-led weaning banana muffins on a cooling rack for 30 minutes or until they reach room temperature before offering them to your kids.
Storing Sugar-Free Banana Muffins
These baby-friendly banana muffins must be stored in an airtight container to keep them moist.
They last for up to 2 days at room temperature, up to 4 days in the fridge, or up to 3 months in the freezer.
They are convenient muffins to meal prep baby breakfast or baby snacks. Thaw the muffins at room temperature at least 3 hours before or overnight, at room temperature.
Gluten-Free Swaps
If your little one has some food allergies, you can adapt this recipe to make it gluten-free.
Replace whole wheat flour with all-purpose gluten-free flour and add 1 teaspoon of lemon juice to the recipe to help the muffin raise more.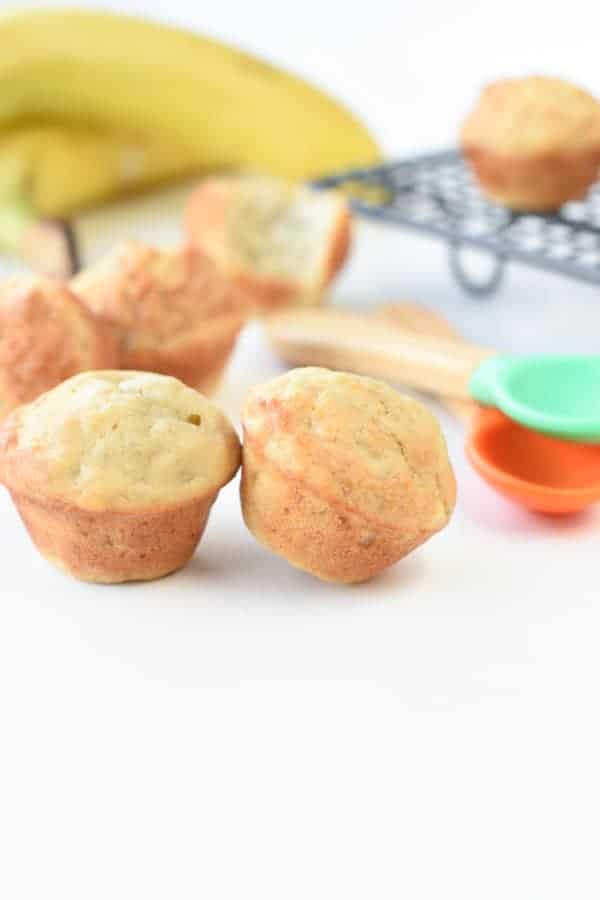 Frequently Asked Questions
Can I Sweeten The Baby Banana Muffins?
For babies under 12 months, it's not recommended to introduce added sweeteners. So a better option to add flavor will be to add:
1/3 cup to 1/2 cup blueberries. Baby banana blueberry muffins taste amazing, and it's a great option to introduce new fruits to baby
For toddlers from 12 months of age, you can add the following:
1/3 cup chocolate chips
1/4 cup coconut sugar
1/2 cup dried raisins
1 teaspoon vanilla extract
1/2 teaspoon cinnamon
1/3 cup finely chopped walnuts
replace the plant-based milk with the same amount of a liquid sweetener, such as maple syrup.
Can I Add Vegetables To The Muffins?
Yes, you can use this baby banana muffin recipe to create a range of baby-led weaning muffins.
Stir in the batter some of the ingredients below to introduce new food to your baby.
1/3 cup finely grated carrots.
1/3 cup finely grated and squeezed zucchini.
1/4 cup nutritional yeast to add a cheese flavor.
When Should I Offer Baby-Led Banana Muffins?
This is a healthy muffin recipe as they contain only natural ingredients and brings all basics nutrient needed for babies or toddlers, including:
Fiber and vitamins from banana and flour.
Calcium from milk – I used fortified almond milk or soy milk.
No refined sugar – naturally sweetened with bananas.
How Do Baby Muffins Taste?
These baby banana muffins taste like banana bread. They are soft, moist, and lightly sweet, with a delicious banana flavor. Of course, they are sugar-free.
As a result, they might taste bland to adults, but they are the perfect simple finger food for babies to introduce bite-sized food and nutritious ingredients.
Don't forget to check all my Ripe Banana Recipes ideas for more ways to use those ripe bananas!
Have you made these baby banana muffin recipes? Share a comment or review below. I love to connect with you!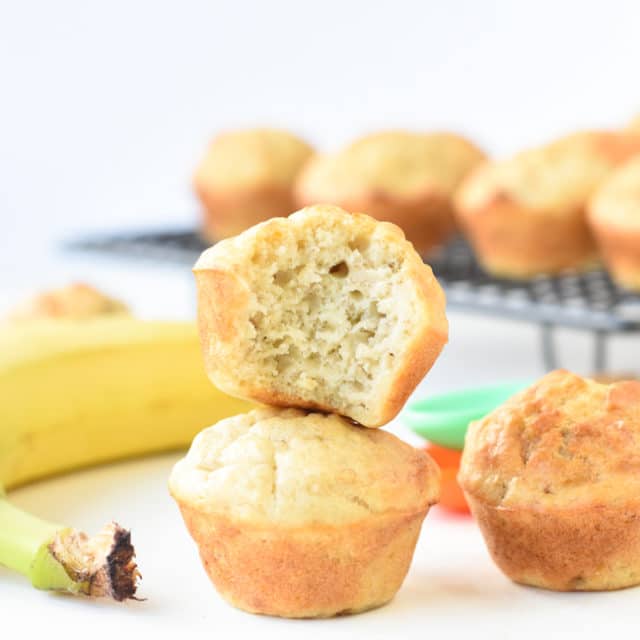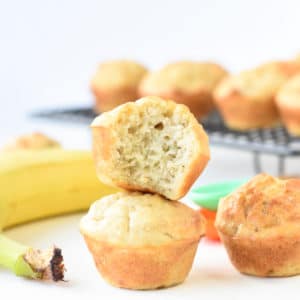 Sugar-Free Vegan Banana Muffins
This recipe makes easy sugar-free banana muffins for babies, kids, or anyone looking for a sugar-free banana muffin recipe.
Pin
Print
Review
Servings:
20
mini muffins
Instructions
Preheat oven to 350°F (180°C). Grease two 12-hole mini muffin trays with coconut oil. Set aside.

Peel, mash the bananas, and measure 1 cup of mashed bananas.

In a large bowl, combine mashed banana, melted coconut oil, and almond milk.

Stir in baking powder and flour until it forms a muffin batter.

Fill each muffin hole up to 3/4 of their level.

Bake for 20 minutes or until golden outside and a skewer inserted in the center of the muffins comes out clean.

Cool down on a cooling rack before eating.

Store in an airtight container in the fridge for up to 5 days or freeze and thaw few hours before eating.
Share on Facebook
Pin Recipe
Nutrition
Serving:
1
mini muffin
|
Calories:
57
kcal
|
Carbohydrates:
7
g
|
Protein:
1
g
|
Fat:
3
g
|
Saturated Fat:
2
g
|
Sodium:
26
mg
|
Potassium:
47
mg
|
Fiber:
1
g
|
Sugar:
1
g
|
Vitamin A:
7
IU
|
Vitamin C:
1
mg
|
Calcium:
17
mg
|
Iron:
1
mg
|
Magnesium:
4
mg
|
Phosphorus:
14
mg
|
Zinc:
1
mg