Baby-led Weaning Muffins – egg-free, dairy-free
An easy baby-led weaning muffin recipe, perfect first finger food to introduce apples, bananas, and sweet potatoes to kids from 6 months of age. They are also sugar-free, dairy-free, and egg-free, so a great vegan baby recipe to start solids.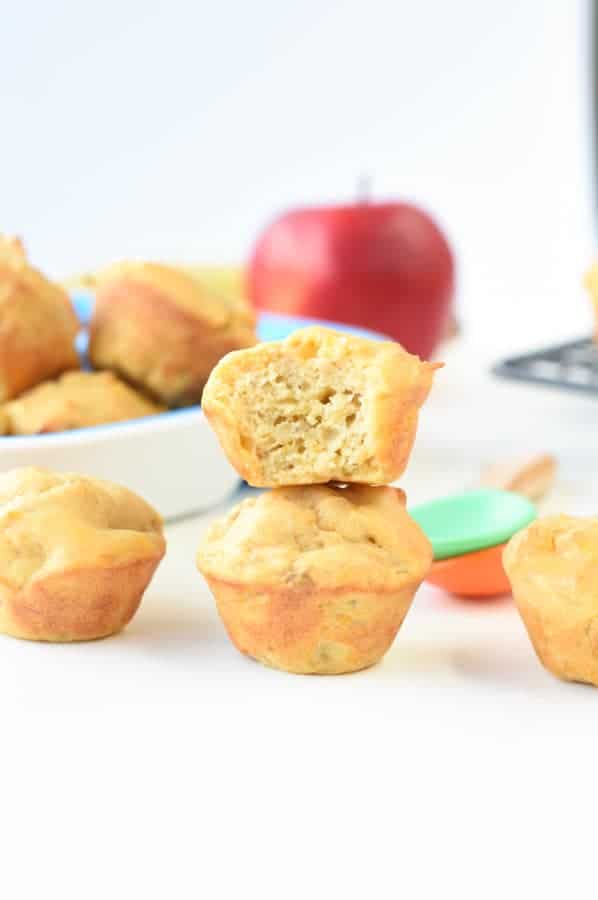 What are baby-led weaning muffins?
Baby-led weaning muffins are baby hand-sized muffins, perfect for babies from 6 months of age. They have a soft, moist texture easy to suck and munch by babies from 6 months old.
They are the perfect first finger food to offer to infants and introduce the stage 1 food for babies like apple, banana, carrots, or sweet potatoes.
Baby-led weaning muffins are also made of simple, wholesome ingredients. They have no-added-sugar and no-added salt to encourage the discovery of real food flavors by babies.
How to make baby-led weaning mini muffins?
It's super easy to make baby muffins for babies and toddlers. All you need to make these baby-led weaning muffins are 8 ingredients:
Ingredients
Whole wheat flour or white flour or gluten-free all-purpose flour.
Melted coconut oil or any vegetable oil you have at home like light olive oil, canola oil
Ripe banana – one medium ripe banana, peeled, mashed with a fork into a puree.
Mashed orange sweet potato puree
Baking powder
Unsweetened applesauce
Make the orange sweet potato puree
First, prepare the orange sweet potato puree. There are two options. You can bake the sweet potato in the oven or microwave or steam the cubes of peeled sweet potatoes.
Don't boil sweet potatoes to make sweet potato puree. This makes the puree too wet to make baby muffins.
Oven method
Preheat oven to 400F (200C). Line a baking tray with parchment paper. Set aside.
Cut a medium-sized sweet potato in half lengthwise. Prick the skin with a fork. Place the halves of sweet potatoes, flesh down on the baking tray.
Bake for 15-20 minutes or until a knife inserted in the center of the sweet potato goes through. Cool them down at room temperature, then scoop out the flesh and mash into a smooth puree.
Use the cooled mashed sweet potato puree in the recipe.
Steaming method
Peel the sweet potato and cut it into small 1-inch cubes.
Bring a saucepan with water to a high boil. Add a steaming basket on top of the saucepan with the sweet potato cubes in it. Steam until the sweet potato is soft.
Remove from heat, cool down for 20 minutes, then mash with a fork into a sweet potato puree.
Combine wet ingredients
In a large mixing bowl, combine mashed banana, mashed orange sweet potato puree, and applesauce. Then, stir in melted coconut oil.
Stir in dry ingredients
Now, stir in flour and baking powder until you form a smooth muffin batter.
Fill muffin tray
Preheat oven to 350F (180C). Line two 12-hole mini muffin tin with coconut oil.
Then, fill each hole up to 3/4 and bake the muffins in the center rack of the oven for 15-18 minutes, or until golden brown and a pick inserted in the center of the muffin comes out clean.
Cooldown
Cool completely on a cooling rack before serving to little ones.
How to store baby-led muffins?
Store in an airtight container in the fridge for up to 4 days or freeze for up to 3 months.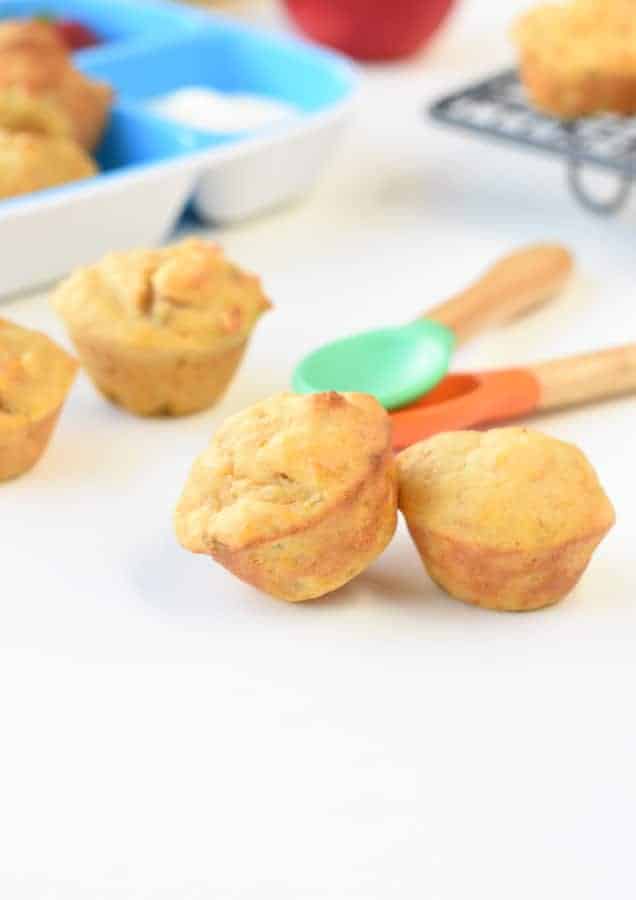 Thaw the day before or at least 3 hours before eating, at room temperature.
Older kids add-ons
You can adapt this recipe for kids above 12 months by adding sweeteners, fruits, or chocolate chips. For example, you can add 1/3 cup of:
fresh or frozen blueberries
dark chocolate chips
dried fruits like raisins, cranberries, chopped dates
Nuts and seeds like finely chopped almonds, walnuts or pecans, or sunflower seeds
You can also replace the applesauce with real sweeteners like maple syrup or agave syrup to boost the sweetness.
When to serve baby-led muffins?
These are perfect baby breakfast muffins for a healthy kid breakfast, serve this muffin with plain yogurt and fruits or steamed vegetables.
How does it taste?
They are soft, slightly firm but moist, and easy for your baby to munch. They are slightly sweet from the mashed bananas and sweet potatoes.
Can I replace sweet potato puree with something else?
Yes, you can replace sweet potato puree with 1/3 cup of:
extra mashed ripe banana
carrot puree – perfect for making baby ABC muffins
Can I make savory baby-led weaning muffins?
Yes, you can use this baby-led weaning recipe to make savory muffins. To do so, remove the applesauce and bananas from the recipe. Then, add 2/3 cup of extra vegetable puree like:
You can also add 1/2 cup of grated hard cheese in the recipe like Edam, Emmental, or Mozzarella.
Can I add salt to the recipe?
No, it's not recommended to add salt to babies' food. You should wait until they are 12 months old before adding sodium to babies' food.
More vegan baby food recipes
I love to bake mini muffins for babies and toddlers. They are very handy to introduce food to babies or fill a lunchbox with healthy, fulfilling food. Below I listed more baby muffin recipe ideas for you to try:
Have you made these breakfast baby-led weaning muffins? Leave a review or comment below! I love to hear your feedback about my vegan baby food recipes.
Enjoy, XOXO Carine