The easiest delicious pumpkin puree for babies is made with one simple ingredient, fresh pumpkin.
Bonus, we also give you many baby recipe ideas to use your pumpkin puree and bake delicious baby-led weaning pumpkin food!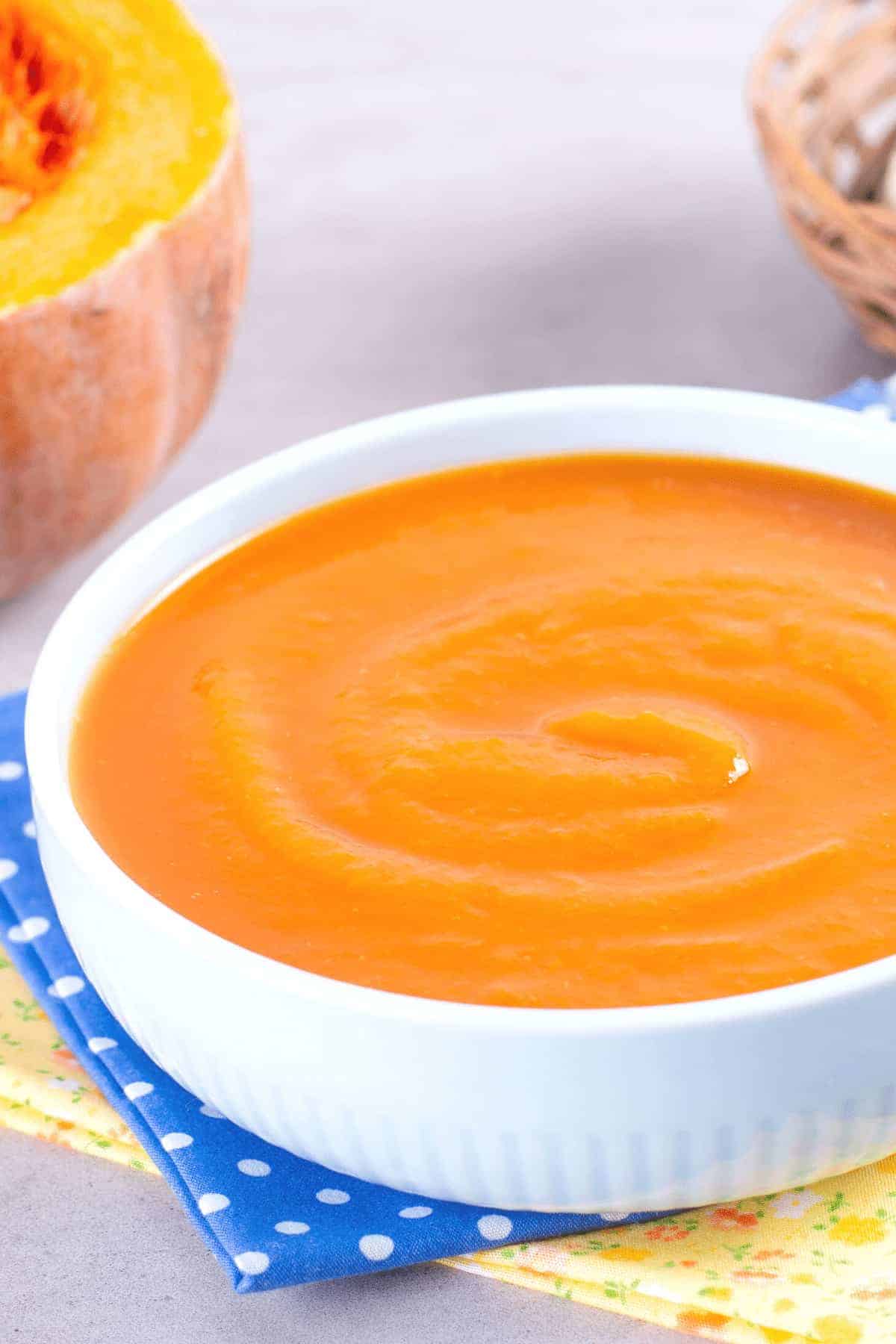 What's Pumpkin For Babies?
Pumpkin, also called squash, is one of the first vegetables along with sweet potatoes and carrots that you can safely introduce to babies around 6 months.
They are full of vitamins, fiber, and beta carotene.
Pumpkins come in a range of flavors. Butternut squash, for example, is a baby favorite because of its sweet flesh.
When choosing a pumpkin for baby pumpkin puree, look for a small squash variety often called sugar pumpkins. They are sweeter and make creamy purees that kids and babies love.
Plus, you can also use pumpkin puree made from sugar pumpkins to flavor baked baby treats like baby pumpkin pancakes or baby-led weaning muffins.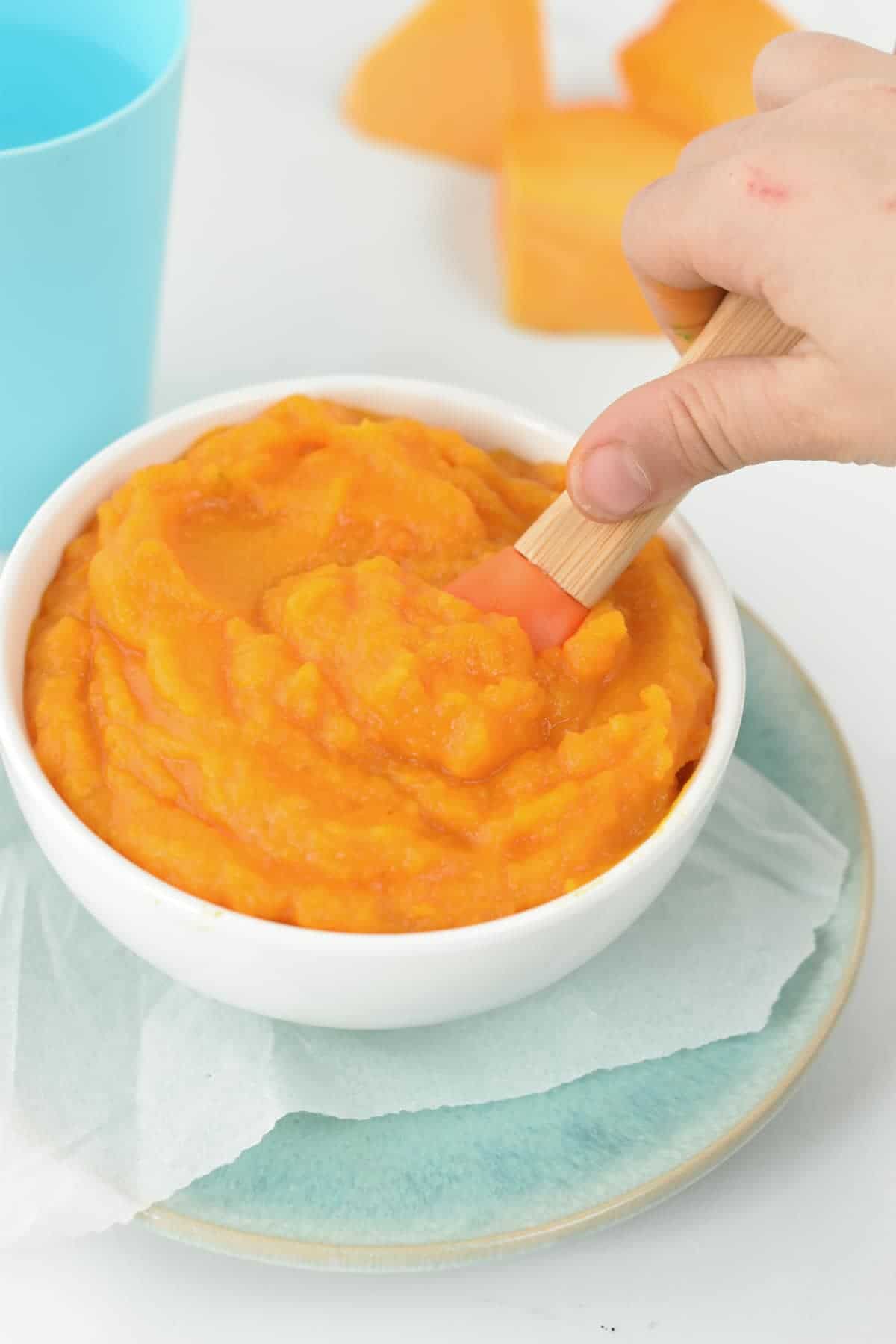 How To Make Pumpkin Puree For Babies
First, you need to choose a small, sweet pumpkin variety.
Then, chop the pumpkin into pieces, remove the seeds and discard. Next, peel the skin and discard.
Cut the pumpkin pieces into small cubes of about 1 inch.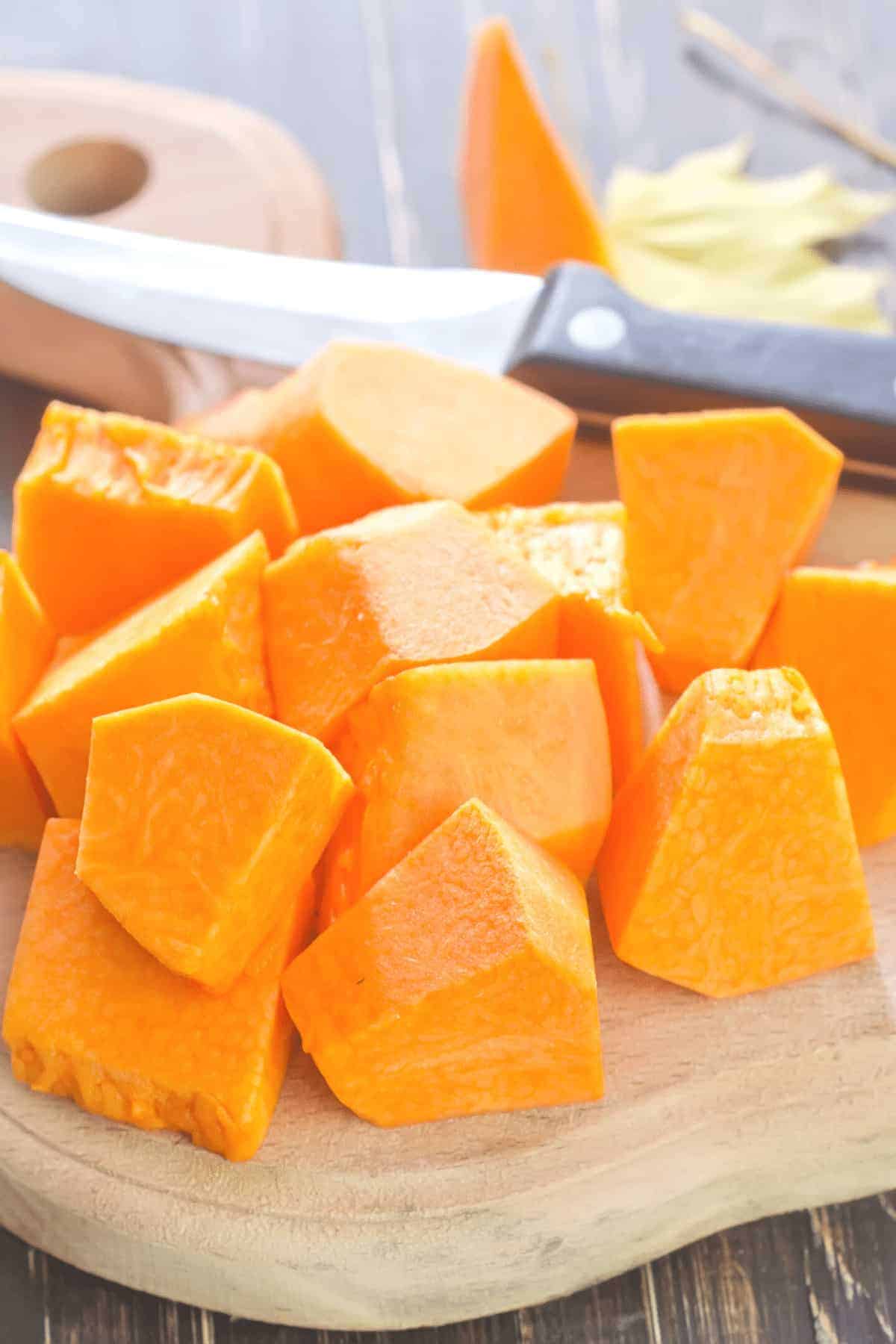 Boil the pumpkin
Add 1 cup of pumpkin cubes into a saucepan over medium heat and cover the pumpkin with about 3 to 4 cups of water.
Cover the saucepan with a lid, bring to a boil, then reduce to medium heat and keep cooking for 15 to 20 minutes or until the pumpkin pieces are fork-tender.
Drain and cool down
Drain the pumpkin in a sieve then, wait 10 minutes for the pumpkin to steam out and cool down for 15 minutes.
You can also set aside some cooked pumpkin pieces to offer as first finger food to babies.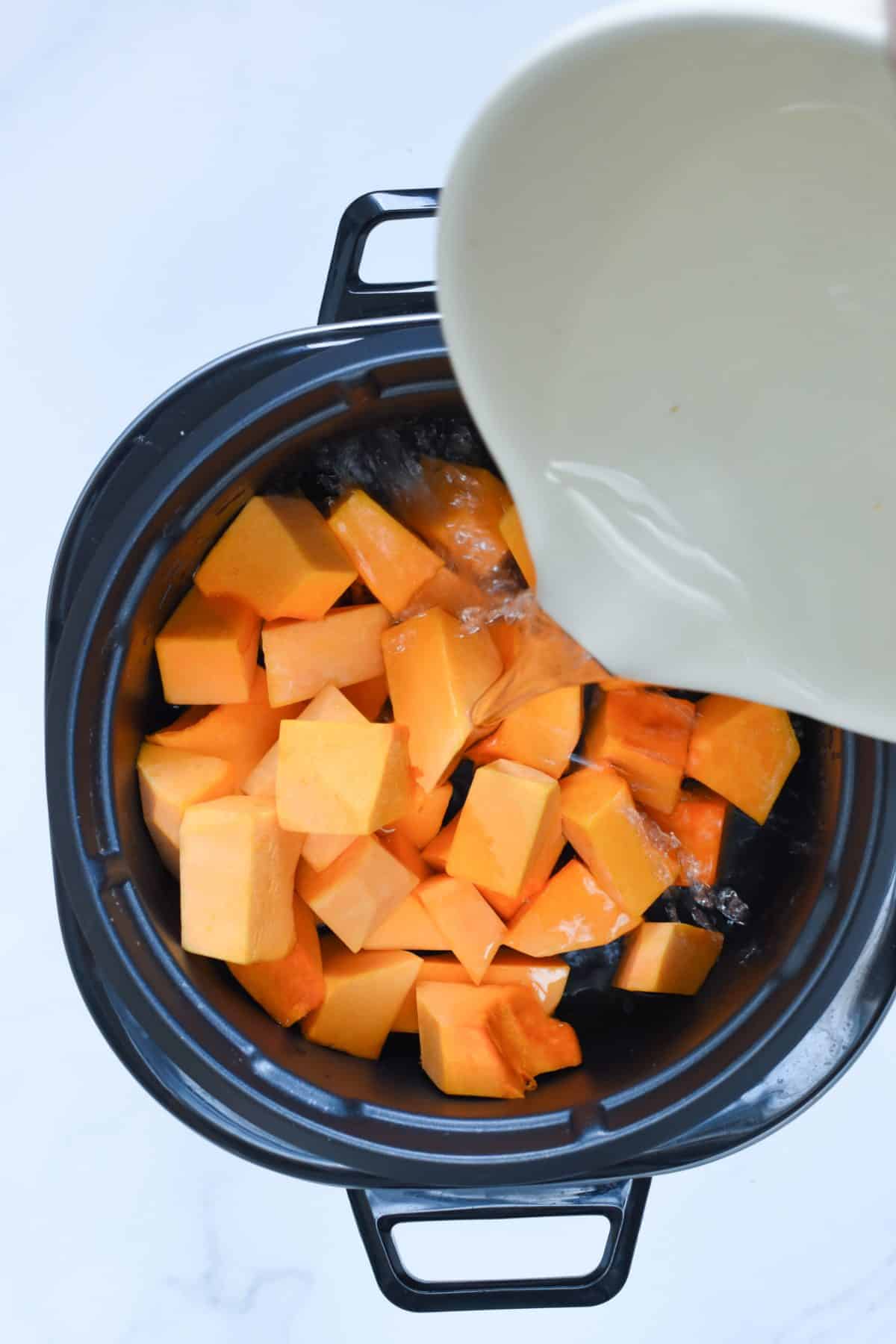 Roasting pumpkin
Another option to cook pumpkins for babies is to roast the pieces in the oven.
To do so, line a baking sheet with parchment paper and place the pumpkin on it.
Bake for 30-40 minutes until fork tender. Then, blend the pumpkin in your blender as mentioned below.
Note that roasted pumpkin makes a flavorsome puree, but it's also a bit drier and longer to make, so I recommend the boiling method for babies.
Making Pureed Pumpkin For Babies
Now that you have cooked the pumpkin, it's time to turn it into a smooth puree for your little one.
You can make baby pumpkin puree using different methods. Each method provides different textures. You can use:
Blender – easiest way as you can blend the cooked pumpkin without adding any ingredients.
Food processor – you will need to add some liquid to help the blade turn the pumpkin into a puree. You can add water, breastmilk, or almond milk.
Immersion blender – as for the food processor method, you need some liquid to help the immersion blender turn the vegetable into a smooth puree.
First, add the cooked pumpkin pieces into the food processor. Next, blend until smooth, stopping the food processor often to scrape down the side of the bowl.
This is the easiest method to make basic pumpkin puree for babies, with no additives.
How To Offer Pumpkin To Babies
Now, you have many options to offer this homemade baby pumpkin puree to your little one.
Bowl of puree – thick or thin!
First, you can offer pumpkin puree plain straight pout from the food processor.
As you can see in the pictures above, fresh homemade pumpkin puree is thick and dense, but some babies love it.
However, you can thin out the puree by adding a few tablespoons of liquid until it reaches the desired consistency.
It can be:
Almond milk or your own breastmilk
Olive oil
Water
Don't add salt to baby food but instead flavor it with pinches of spices like cumin, paprika, or turmeric.
Always avoid cinnamon for babies under 1 year old. It's not safe for them.
Pancakes and Muffins
You can use this plain homemade baby food to make pumpkin solid food, perfect as a pumpkin baby-led weaning first food.
Some of my baby recipes below make good use of this baby pumpkin puree:
Flavoring Food
You can also use this pumpkin baby food puree to flavor baby yogurt or baby yogurt melt or flavor baby overnight oats.
Storage
You can store this puree in the fridge, in a small glass mason jar, for up to 4 days.
Another great way to store food for babies is to place small portions in ice cube trays and freeze them for later.
When you need some food for your baby, release one frozen ice cube of puree.
Thaw at room temperature, or slowly thaw in bain-marie or overnight in the fridge.
Serving Pumpkin Puree
Mixing pumpkin with other fruits, vegetables or grains is delicious.
You can create delicious food combinations for your little one using pumpkin puree and some of the first-stage baby vegetables, fruits, or grains below:
Avocado
Sweet potato
Carrot
Apple
Baby rice
Have you made this baby pumpkin recipe? Share a comment or review below to share your feedback with me,
Your friend, Carine