Baby Cookies (No Eggs, No Dairy)
These Easy Baby Cookies are soft, chewy baby-led weaning cookies to offer to babies from 6 months as finger food. They are also allergy-friendly: sugar-free, dairy-free, and egg-free.
Plus, these baby banana cookies contain grated vegetables to add greens to your toddler plate with fun.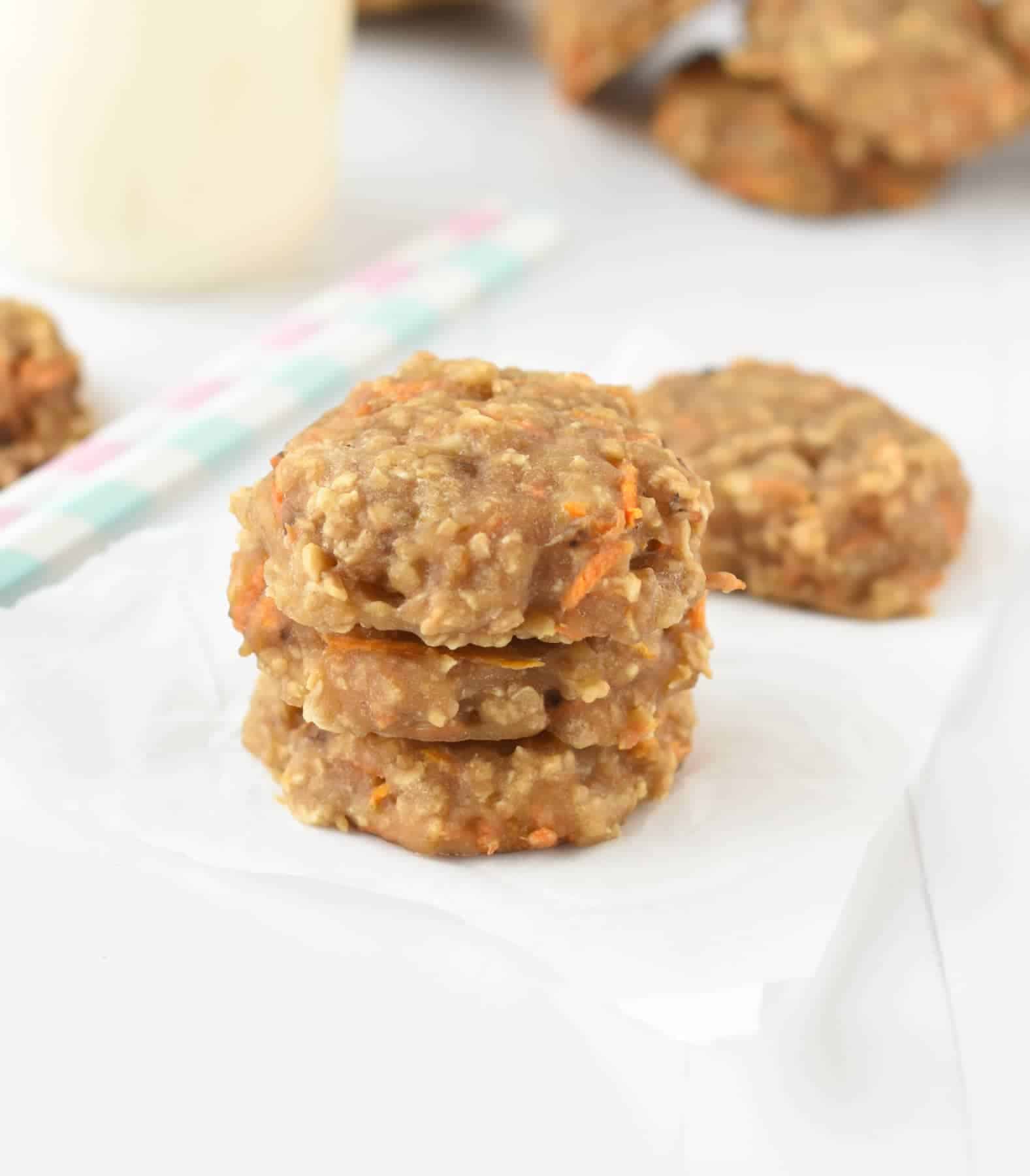 I have been baking all my kids' snacks from the age of 6 months and still now. After all, the best way to offer nutrient-dense food to babies and kids is to spend a few minutes in the kitchen.
Plus, baking your homemade baby cookies or baby pancakes is also:
Easy and educational – this recipe is great to involve small kids in the kitchen as it involves simple actions.
Cheap
Allergy-friendly – no eggs, no dairy, no nuts and perfect for adding to kid or even grown-up lunch boxes. As a mum, I love to reuse baby recipes for my older kids, and these always are a win.
Nutritious
You won't need store-bought toddler cookies after trying these ones!
What Are Baby Cookies?
Baby cookies are healthy, soft, and chewy cookies offered to babies from 6 months of age as a first baby-led weaning food.
They are naturally sweetened with fruit puree and often made of healthy flour like oats and added vegetables.
How To Make Baby Cookies
These baby cookies are very easy to make with only 5 ingredients.
Ingredients
All you need are:
Ripe bananas – the ripest, the sweetest the cookies will be. Since these are sugar-free baby cookies, using ripe bananas adds more flavor and sweetness to the cookies. You can also use half mashed banana and half homemade baby pumpkin puree
Almond milk or milk of choice like coconut milk, soy milk, or breast milk. You can also swap milk for water if preferred.
Homemade oat flour – all-purpose flour works very well here, but it makes the cookies chewier and heavier. I recommend oat flour for the best soft and chewy baby cookie easy to eat without teeth. But you can also use homemade oat flour or all-purpose gluten-free flour.
Old fashioned rolled oats or quick oats – I personally prefer quick oats for smaller kids because it has a thinner texture.
Grated carrots or shredded zucchinis, or a combination of both.
These are the main ingredients you need to make these baby banana cookies.
Then, you can be creative and add some flavor or some baking powder to add some fluffier texture.
Add-ons
Baking powder – this adds a little fluff to the cookies, but it's barely noticeable. So for babies who need no additives, you can skip it.
Cinnamon – not safe before 9-12 months.
Sweetener – from 12 months, it's safe to add some sweeteners to your kids' food. If your bananas are not ripe enough to provide the sweetness you expect, then add 1-2 tablespoons of unrefined sugar like coconut sugar or a few stevia drops to the batter.
Vanilla extract
Mash bananas
First, peel, and mash the ripe bananas – I used 2 medium bananas to make 3/4 cup of mashed banana.
You don't have to mash the bananas much. In fact, some bites of bananas are safe for babies and a great way to introduce lumpy food to them.

Combine wet to dry ingredients
Add mashed bananas into a mixing bowl with melted coconut or milk if preferred. Both options are delicious. You can also use half-half.
Stir in vanilla extract or cinnamon now if used.
Finally, stir in flour and oats until a wet and slightly thick batter forms. If too runny, add a little more flour one tablespoon at a time.
Bake
Line a baking tray with parchment paper and lightly oil the paper with coconut oil. Set aside.
Shape 12 baby cookies with a size of about one tablespoon.
Bake the cookies for 10-12 minutes or until dry on the edges and set in the center. Don't overbake to keep a soft texture that is easy to chew by babies.
Cool completely at room temperature before eating.
Flavors
You can use this baby cookie recipe to create a range of flavorsome cookies for your toddler to snack on.
For example, you can add to the batter 1/4 cup of:
Dark chocolate chips
Shredded coconut
Dried fruits – like finely chopped apricots or raisins
Or you can also:
Swap bananas with mashed sweet potato puree.
Boost the plant-based proteins of your cookies by stirring 2 tablespoons of peanut butter or almond butter along with the mashed bananas.
Serving Baby Cookies
These are oatmeal banana carrot cookies. It means they contain all the nutrients that babies and toddlers need in the morning, including:
Fiber and protein from oat and wheat flour.
Vitamins from fruits and vegetables.
Calcium, especially if you used calcium-fortified plant-based milk or breast milk.
You can offer these cookies any time of the day as an on-the-go snack. Small kids love snacking, and I like to see snacks are tiny healthy meals.
These baby banana carrot cookies are definitely one of them.
Storing Baby Cookies
These baby cookies store very well in the fridge in an airtight box for up to 4 days.
Of course, since the recipe serves 12 cookies. You may prefer to store these for longer. In this case, I recommend freezing your baby banana cookies in ziplock bags.
Then, thaw the cookies at room temperature 3 hours before serving.
More Baby-Led Weaning Recipes
I love to share my baby-led weaning recipes with you here to help you bake nourishing and allergy-friendly baby food.
Below are great recipes for baby-led weaning that you may want to try. All are egg-free, dairy-free, and vegan-friendly baby food:
Don't forget to check all my Ripe Banana Recipes ideas for more ways to use those ripe bananas!
Have you made these baby banana carrot cookies? Share a review or comment below. I love to connect with you.
Your friend, Carine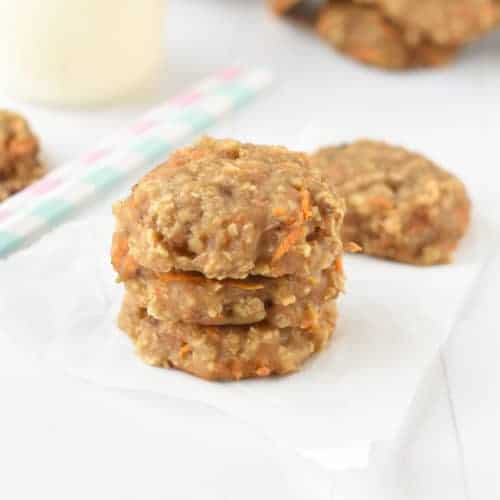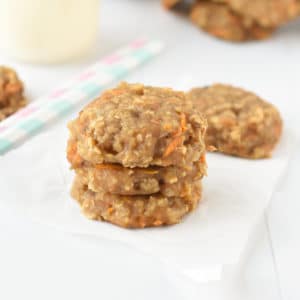 Baby Cookies
Easy baby cookies to offer as a baby-led weaning food for kids from 6 months of age. No eggs, no dairy, and allergy-friendly.
Pin
Print
Review
Instructions
Preheat oven to 350°F (180°C). Line a cookie sheet with parchment paper and lightly oil the paper with coconut oil. Set aside.

Peel, mash banana on a plate and measure the amount called by the recipe for precision. Set aside in a mixing bowl.

In a mixing bowl combine mashed bananas with almond milk, grated carrots, and vanilla extract if used.

Stir in oat flour, old-fashioned rolled oats, grated carrots, and baking powder. The batter will be wet, slightly runny, but not too liquid. Set aside for 2 minutes to give the oats time to absorb the moisture and batter to slightly thicken. If too liquid after that time, stir in more oat flour. 1-2 tablespoons should be enough.

Scoop a tablespoon of the cookie batter onto the cookie sheet and slightly flatten if desired. Leave half an inch between each cookie and form 12 cookies. The cookies won't expand much in the oven.

Bake the baby cookies for 9-12 minutes or until the cookies are dry on the side and set on top. Don't over-bake to keep the cookies soft and chewy – the best texture for babies.

Store up to 4 days in the fridge in an airtight container or freeze in zip-lock bags and thaw for 3 hours at room temperature.
Share on Facebook
Pin Recipe
Nutrition
Serving:
1
cookie
|
Calories:
79.8
kcal
|
Carbohydrates:
10.8
g
|
Protein:
1.2
g
|
Fat:
3.8
g
|
Saturated Fat:
3.1
g
|
Polyunsaturated Fat:
0.2
g
|
Monounsaturated Fat:
0.3
g
|
Sodium:
11.1
mg
|
Potassium:
93.4
mg
|
Fiber:
1
g
|
Sugar:
2.5
g
|
Vitamin A:
457.5
IU
|
Vitamin C:
1.8
mg
|
Calcium:
9.1
mg
|
Iron:
0.5
mg
|
Magnesium:
15.6
mg
|
Phosphorus:
27.8
mg
|
Zinc:
0.2
mg