Sweet Potato Pancakes Baby Recipe (No Sugar, No Eggs)
This Sweet Potato Pancake Baby recipe is the best baby-led weaning sweet potato recipe for babies from 6 months of age.
They are soft, nourishing, healthy sweet potato pancakes made with no sugar and no eggs to prevent allergies.
Plus, these are sweet potato oatmeal pancakes made with rolled oats to have plant-based proteins and fiber.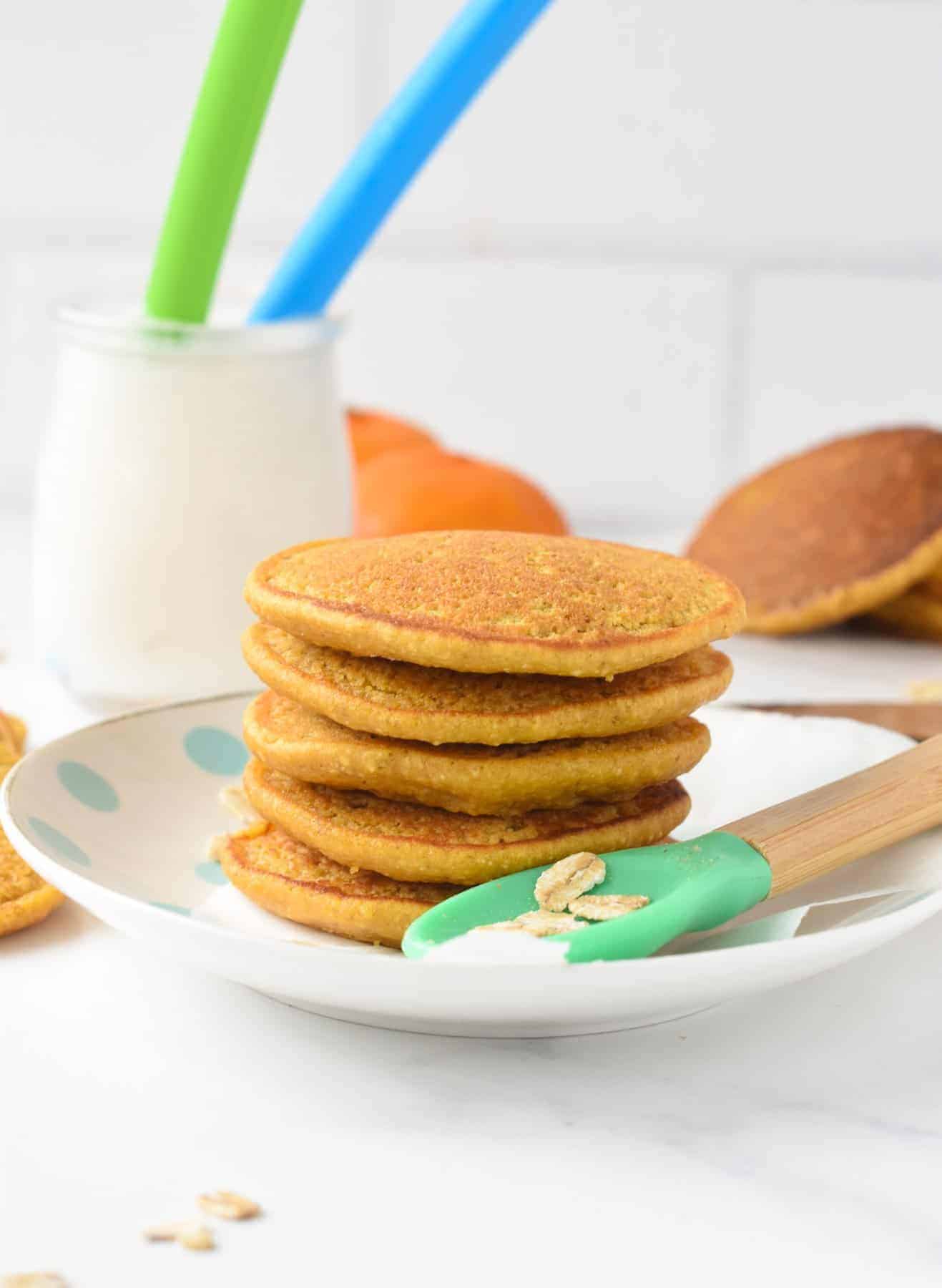 The small pancakes are absolutely amazing for babies from 6 months of age as first healthy finger food.
All you need to make these are only a few ingredients, including mashed sweet potato, so let me tell you more about how to make yours!
How To Prepare Sweet Potato For Babies
Sweet potato is one of the first vegetables you can introduce to babies showing signs of readiness to eat solids.
You can cook sweet potatoes in three ways. First, peel the orange sweet potato and cut it into cubes or sweet potato fries shapes if you want to offer steamed sweet potato to your little one.
Cooking sweet potatoes for baby food:
With Boiling Water – Immerse the sweet potato cubes in cold water, bring to boil, and cook for 8 -10 minutes or until fork-tender.
Steaming – Bring the peeled, cubed sweet potato in your vegetable steamer basket and steam for 10-12 minutes or until soft.
Roasting – Place the sweet potato cubes onto a baking tray covered with parchment paper and roast for 15 minutes at 350°F (180°C) until golden brown and soft.
Offering Sweet Potatoes To Babies
Now you have two options. You can mash the cooked sweet potatoes and make a puree to use in this baby pancake recipe or offer it with a spoon.
Another sweet potato baby-led weaning idea is to offer steamed or roasted sweet potato fries to your baby to chew on.
But here we are making baby sweet potato pancakes, so I blended the boiled cubes of sweet potatoes to make a smooth puree.

How To Make Sweet Potato Pancakes For Babies
Now that you made the sweet potato puree time to make the pancakes.
Ingredients
All the ingredients you need for these pancakes are:
Homemade Mashed Sweet Potato – read my paragraph above on how to make sweet potato puree for babies, or you can use store-bought baby puree.
Milk of Choice – you can use non-dairy milk, baby formula, or your own breastmilk.
Rolled Oats or all-purpose flour
Vanilla Extract
Baking Powder
Melted Coconut Oil or light olive oil.
Making The Batter
Rolled Oats Option – Blender Required
If you use the rolled oats option, my favorite because it adds fiber and protein to the baby pancakes, you need a blender.
Simply add all the ingredients into the blender and blend for 1 minute on high speed – speed 10 of Vitamix until the oats turn into flour.
The pancake batter should be smooth and creamy. Set aside 10 minutes in mixing for the fiber to soak the liquid and form a thick batter

Flour Option – No Blender
If you want to use all-purpose wheat flour or gluten-free flour blend, don't use a blender – it will make a gummy pancake!
Instead, stir the liquid ingredients into a mixing bowl and stir in the dry ingredients until a pancake batter forms.
Cooking The Pancakes
Warm a pancake griddle or pan over medium heat. Slightly grease the surface of the pan or griddle with coconut oil or olive oil.
Scoop out a small amount of batter – no more than 1 tablespoon to keep the pancakes handy for baby hands.
Cook for 2-3 minutes or until the sides dry out enough, and you can slide a flat tool under the pancakes without breaking them.
Slide a spatula under the pancake and flip it to the other side. Cook one more minute or until cooked through.
Cool down on a wire rack and repeat with the remaining batter
Storage
These baby sweet potato pancakes store for up to 3-4 days in an airtight container in the fridge.
I personally like to freeze baby pancakes in a ziplock bag for later quick snacks.
They thaw quickly at room temperature – about 1 hour or so and rewarm well in a bread toaster or sandwich press.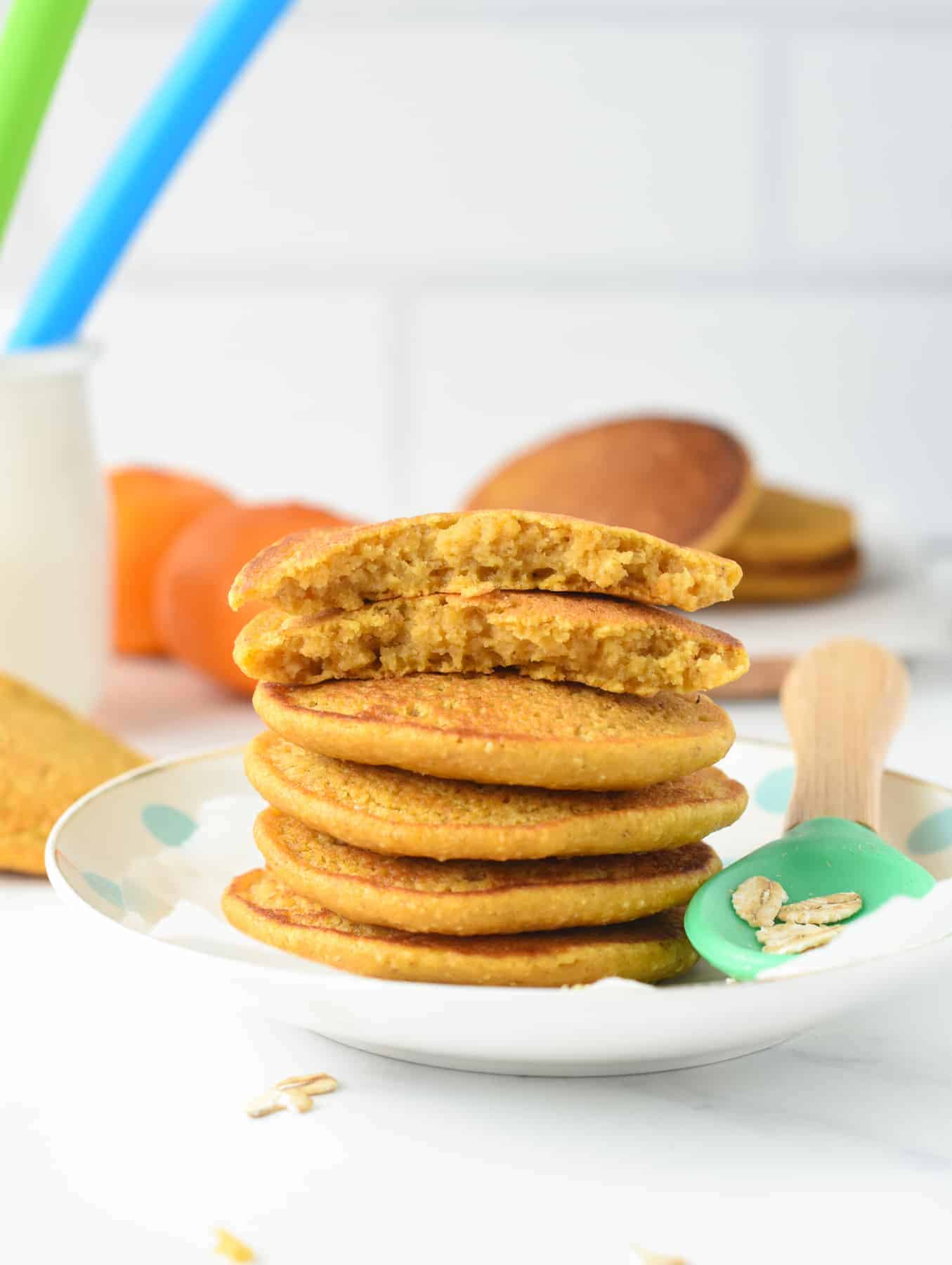 How to Offer Pancakes to a Baby
Baby pancakes are a great baby-led weaning food because babies can hold them and chew on them.
You can offer them plain, lukewarm, or cold as a nutritious snack or meal!
These pancakes contain all the healthy nutrients a baby meal should have:
Vitamins from the Vegetables
Protein and fiber from oats
Calcium from milk

Frequently Asked Questions
Why Do My Pancakes Break When I Flip Them?
If you used the rolled oat option, the pancakes are more fragile. Cook them a bit longer, or whisk in 1/4 cup of all-purpose flour in your batter to make the pancakes easier to flip.
Note that this happens when the oats haven't been blended at high speed. So next time, blend for 1 minute on high speed, and the batter should be easier to cook and flip.
Can I Skip The Baking Powder?
Yes, if you don't mind flat, chewer pancakes for your baby, you can skip it.
Babies don't need raising agents, but they appreciate the softer, fluffier texture it adds to pancakes.
Another option is to use half a teaspoon of baking soda instead of the baking powder.
Can I Sweeten The Recipe?
If you feel like adding a sweet taste to the pancakes, you can add 2-3 teaspoons of maple syrup or coconut sugar to the batter. Both are healthy unrefined sweeteners for babies.
Can I Make Savory Sweet Potato Pancakes?
Yes, add a pinch of herbs such as dried oregano, paprika, some grated cheese you like, or nutritional yeast.
More Baby Recipes
I have so many baby-led weaning recipes for you to try, below are some of my favorites:
Have you made these sweet potato pancakes? Share a comment or review below to let me know how much your baby loves them!
Carine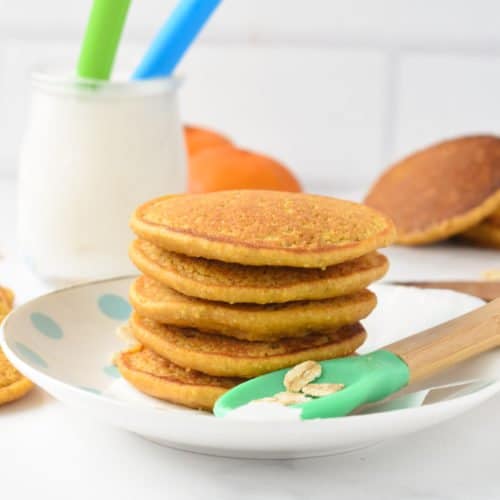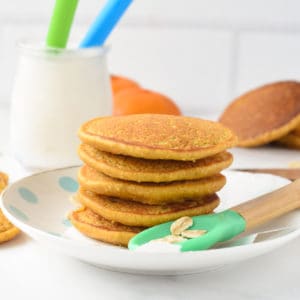 Baby Sweet Potato Pancakes
An easy Baby Sweet Potato Pancakes recipe 100% allergy-friendly made egg-free, dairy-free, and delicious soft food as a baby-led weaning sweet potato first recipe.
Pin
Print
Review
Servings: 24 pancakes
Calories: 32.4 kcal
Instructions
Add all the ingredients to the food processor: homemade mashed sweet potato, milk of choice, oil, vanilla, rolled oats, and baking powder.

Blend on high speed 1 minute – I used speed 10 on my Vitamix until the rolled oats couldn't be seen and a smooth, consistent pancake batter forms.

Set aside 10 minutes in a mixing bowl.

Slightly grease a pancake griddle with melted coconut oil.

Warm pancake griddle to medium heat and spoon one tablespoon of batter per pancake.

Cook 2-3 minutes on one side or until sides are dry, and it's easy to slide a spatula under the pancake without breaking it.

Flip and cook on the other side for 1 minute until the pancakes are fluffy and golden.
Storage
Store the pancakes in an airtight container in the fridge for up to 3 days or freeze and thaw in the fridge the day before eating.
Notes
Note 1: For all-purpose white flour, use only 1 cup. Don't use a blender to bring ingredients together, or the pancake will be gummy. Simply stir all the wet ingredients first in a mixing bowl, then stir in the dry ingredients until a smooth pancake batter forms. Cook as per the instructions above.
Share on Facebook
Pin Recipe
Nutrition
Serving: 1pancake | Calories: 32.4kcal | Carbohydrates: 4.9g | Protein: 0.8g | Fat: 1g | Saturated Fat: 0.6g | Polyunsaturated Fat: 0.2g | Monounsaturated Fat: 0.2g | Sodium: 51.4mg | Potassium: 48.2mg | Fiber: 0.7g | Sugar: 0.5g | Vitamin A: 1184.1IU | Vitamin C: 1.2mg | Calcium: 37.1mg | Iron: 0.3mg | Magnesium: 8.8mg | Phosphorus: 31.4mg | Zinc: 0.2mg