This easy recipe of Overnight Oats for Baby from 6 months of age has a delicious creamy texture and is full of fiber, healthy fat, plant-based proteins, and iron.
Bonus, this recipe is also gluten-free, dairy-free, and a healthy vegan kid breakfast recipe.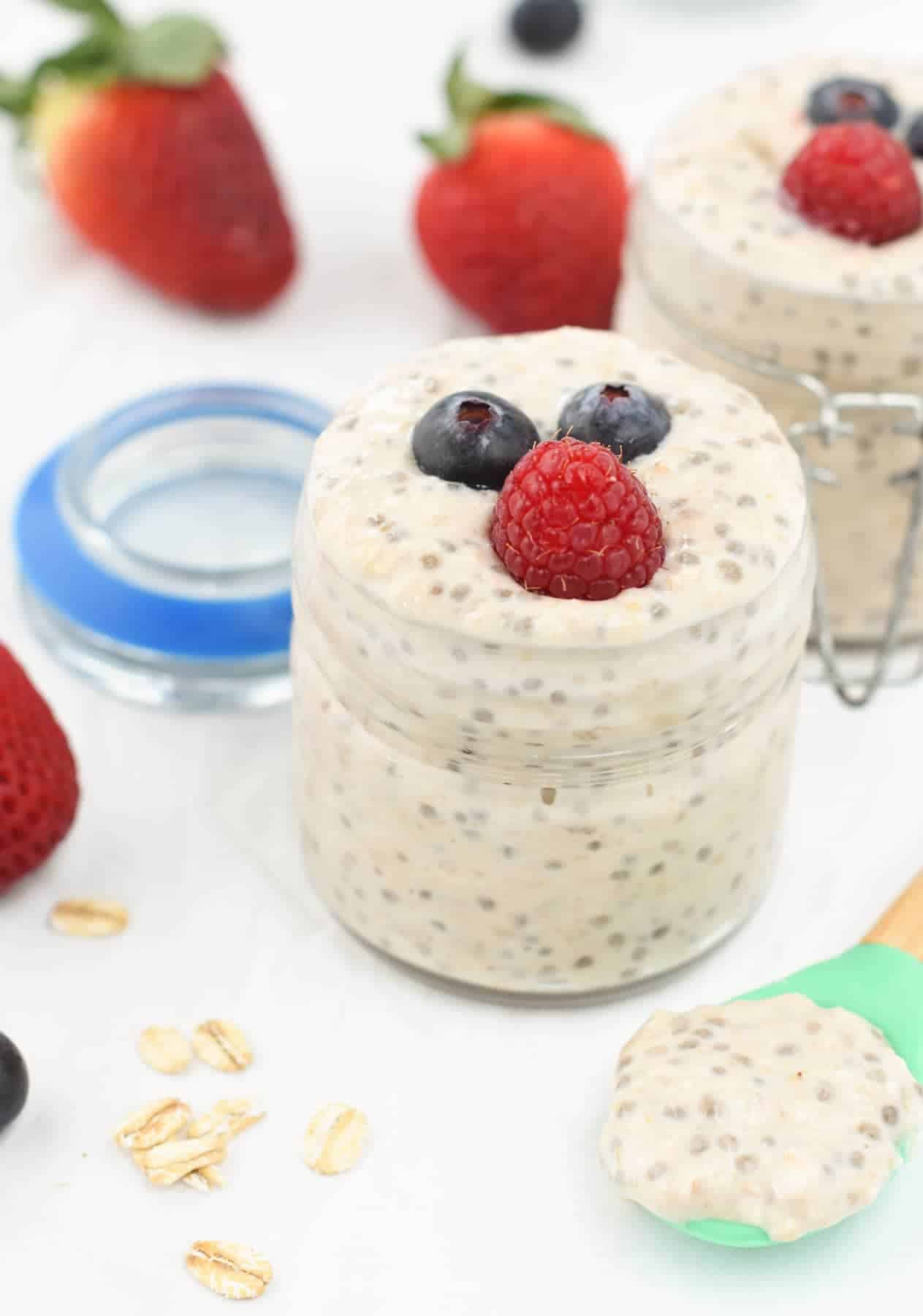 Are Oats Healthy For Babies?
Yes, oats are absolutely safe and a healthy cereal to offer to babies showing readiness to eat solids from 6 months.
In fact, oats contain a good amount of minerals and vitamins that are essential for small kids, and they also it's a good source of plant-based iron.
Old-fashioned rolled oats shouldn't be offered before one year of age because of their coarse texture.
For earlier stages, focus on homemade oat flour to make soft baby cookies, and baby teething crackers, or use quick oats, a version of pulsed rolled oats.
At What Age Can I Offer Oats To A Baby?
You can offer oats from 6 months of age, as long as the texture is fine and easy to swallow.
Never use steel-cut oats or old-fashioned oats before your baby is 1 year old.
While both are the most nourishing oat varieties, they are also thick, too high in fiber, and can be a choking hazard.
Ingredients For Baby Overnight Oats
It's very easy to prepare overnight oats for babies and such a convenient breakfast for busy mums.
All you need are a few simple, wholesome ingredients that you stir together the day before: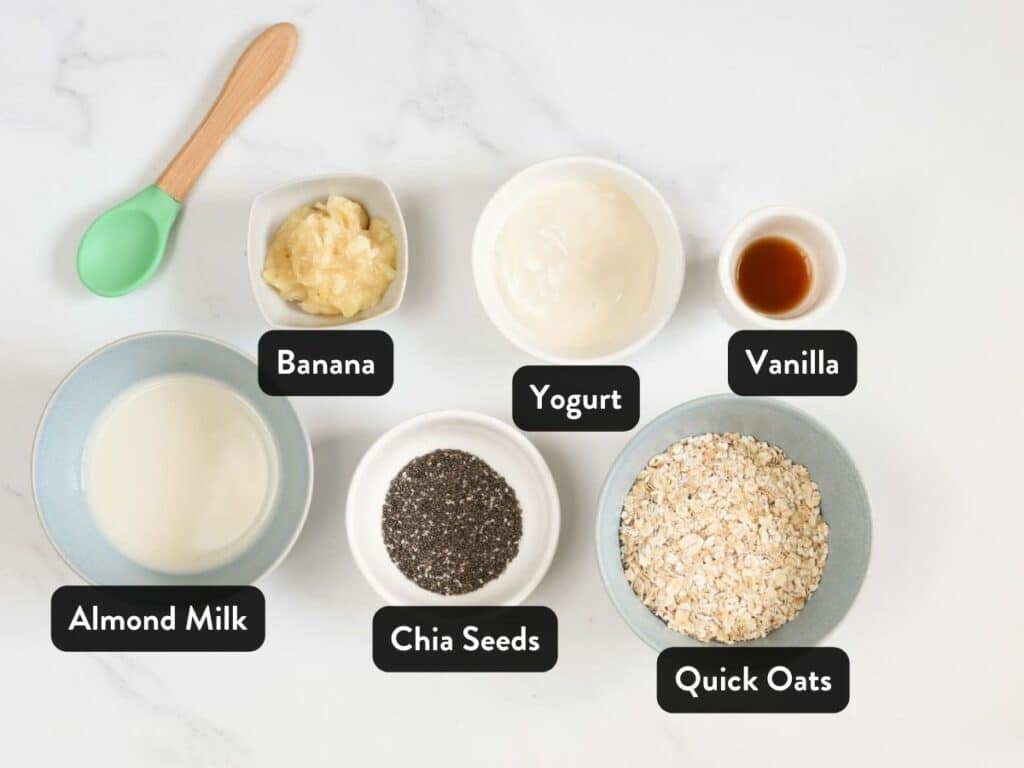 Quick Oats – this is the smaller cut of oats, thinner than old-fashioned oats. They soften very well in liquid to make creamy foods that are soft to eat.
Chia Seeds – are full of fiber, protein, and iron, so a healthy add-on to your baby food. It's a must-use for baby overnight oat recipes, or the texture would be too liquid. You can't make this recipe without chia seeds. Though you could try a flaxseed meal, its color and flavor aren't as good.
Unsweetened Almond Milk or your own breastmilk or milk of choice.
Yogurt – we used coconut yogurt, but any yogurt your baby loves is great.
Mashed Banana – or homemade baby pumpkin puree to sweeten and add some vitamins.
Vanilla Extract for flavor.
How To Make Overnight Oats For Baby
Like most overnight oats recipes, this version for babies is really simple to make.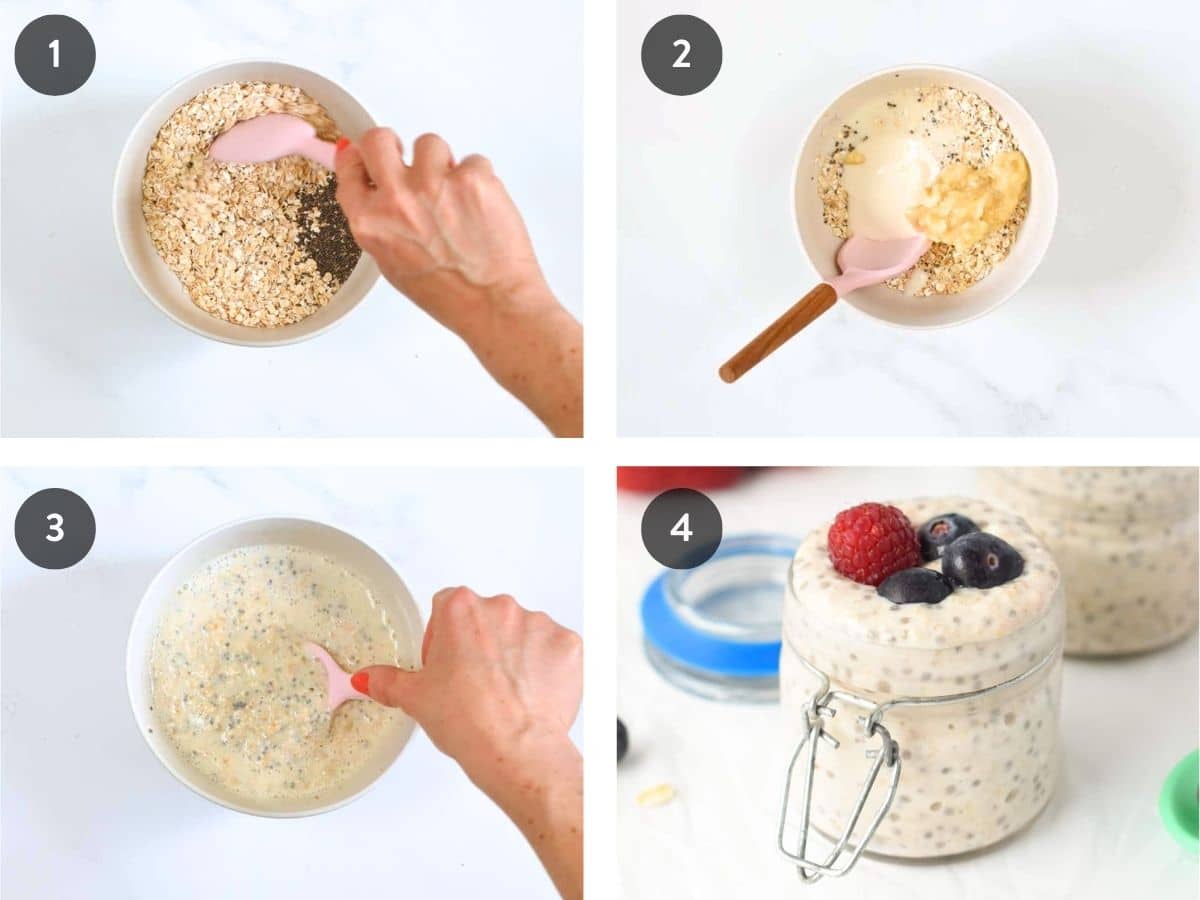 In a wide mixing bowl, combine quick oats, and chia seeds.
Then, stir in all the remaining ingredients until evenly combined.
Wrap the bowl with plastic wrap and refrigerate overnight. I recommend stirring the mixture after 2-3 hours to ensure that the sides are well distributed in the mix and don't gravitate to the bottom of the bowl.
To serve this delicious recipe to babies, you have two options:
Plain – babies don't need added sugar, and they enjoy the creamy, slurry texture of this chia oat pudding plain.
Fresh fruits – add some soft, easy-to-eat fruits for babies like raspberries or blueberries.
Storage Instructions
The next day, transfer the prepared recipe to mason jars and store for up to 4 days in the fridge.
You can also freeze overnight oats in ice cube trays and thaw them in the fridge the day before serving.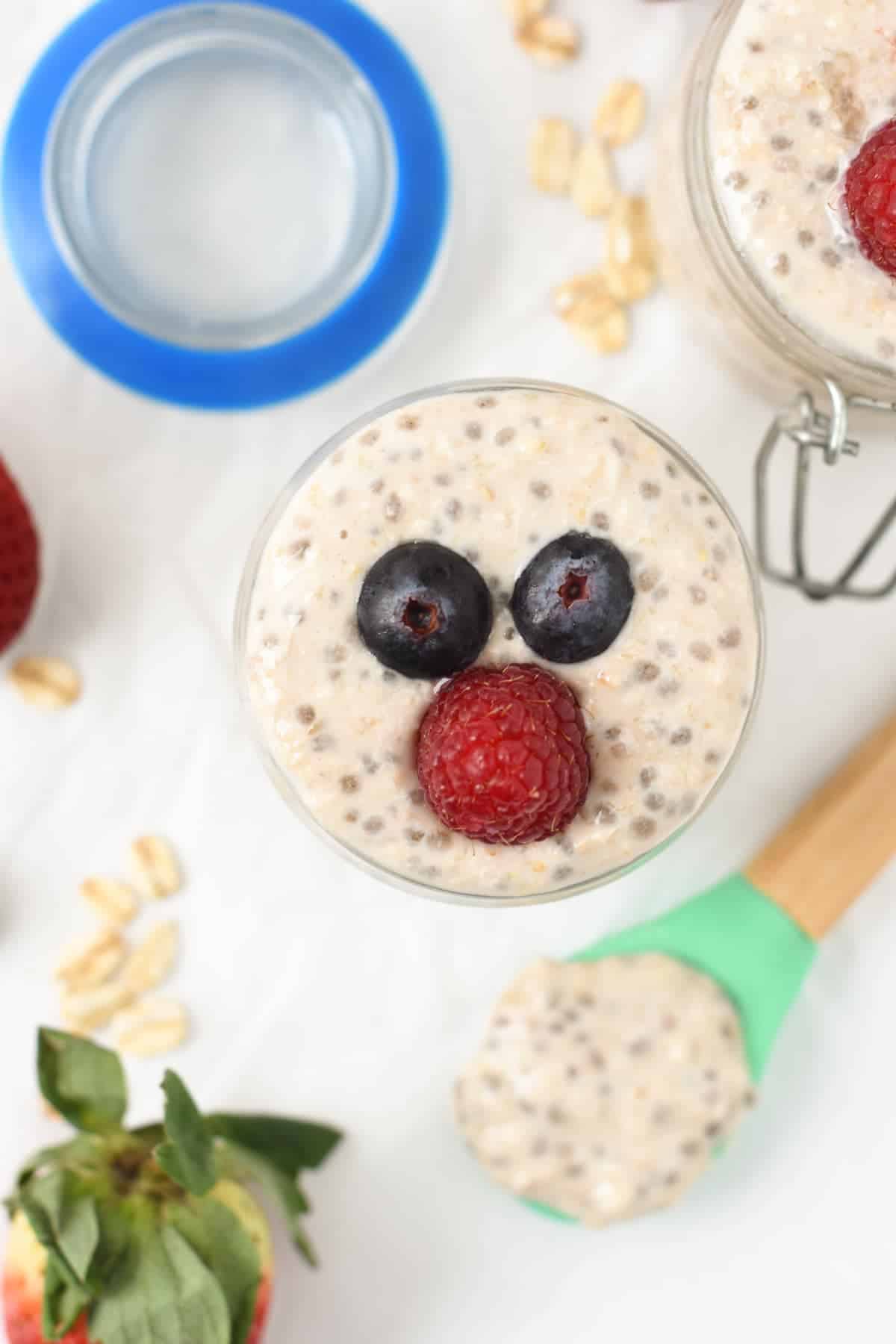 Serving Suggestions
I love to serve this baby overnight oats with fresh fruits on top of the jar for kids over 9 months of age.
Kids love cute presentations and enjoy even more digging in their food if it's fun and attractive.
Other lovely kid-friendly toppings are:
Peanut butter or any nut butter you love.
Seed butter
Mashed banana
Yogurt