An easy recipe of Overnight Oats for Baby from 6 months of age with a delicious creamy texture and full of fiber, healthy fat, plant-based proteins, and iron.
Bonus, this recipe is also gluten-free, dairy-free, and a healthy vegan kid breakfast recipe.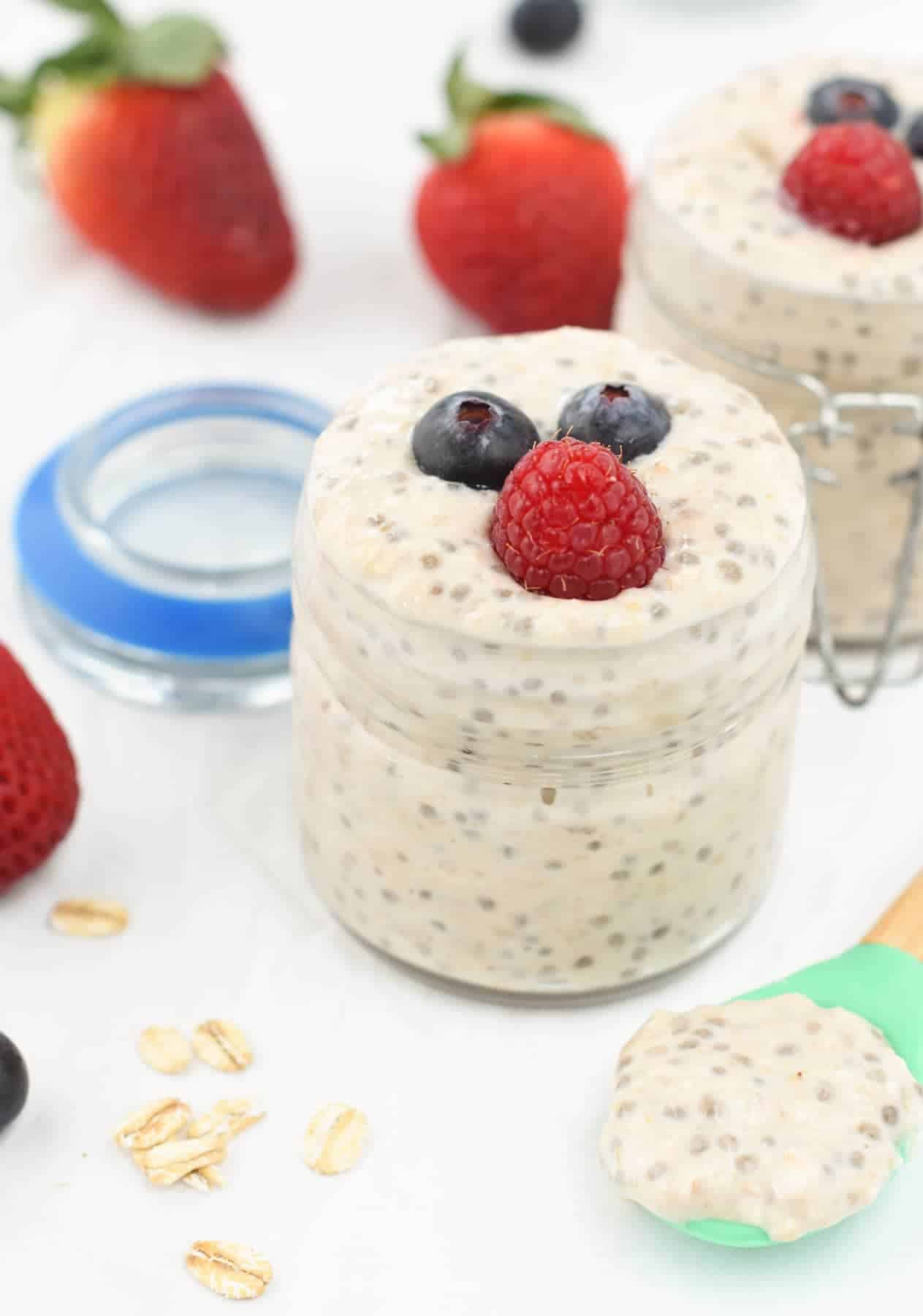 Are Oats Healthy For Babies?
Yes, oats are absolutely safe and a healthy cereal to offer to babies showing readiness to eat solids from 6 months.
In fact, oats contain a good amount of minerals and vitamins that are essential for small kids, and they also it's a good source of plant-based iron.
Of course, old-fashioned rolled oats shouldn't be offered before 1 year of age because of their coarse texture.
For earlier stages, focus on homemade oat flour to make soft baby cookies, and baby teething crackers, or use quick oats, a version of pulsed rolled oats.
At What Age Can I Offer Oats To A Baby?
You can offer oats from 6 months of age, as long as the texture is fine and easy to swallow.
Never use steel-cut oats or old-fashioned oats before your baby is 1 year old.
While both are the most nourishing oat varieties, they are also thick, too high in fiber, and can be a choking hazard.
How To Make Overnight Oats For Baby
It's very easy to prepare overnight oats for babies and such a convenient breakfast for busy mums.
Ingredients
All you need are a few simple, wholesome ingredients that you stir together the day before:
Quick oats – this is the smaller cut of oats, thinner than old-fashioned oats. They soften very well in liquid to make creamy foods that are soft to eat.
Chia seeds – are full of fiber, protein, and iron, so a healthy add-on to your baby food. It's a must-use for baby overnight oat recipes, or the texture would be too liquid. You can't make this recipe without chia seeds. Though you could try a flaxseed meal, its color and flavor aren't as good.
Unsweetened almond milk or your own breastmilk or milk of choice.
Yogurt – we used coconut yogurt, but any yogurt your baby loves is great.
Mashed banana – or homemade baby pumpkin puree to sweeten and add some vitamins.
Vanilla extract for flavor.
Combining And Soaking Overnight
In a wide mixing bowl, combine quick oats, and chia seeds. Then, stir in all the remaining ingredients until evenly combined.
Wrap the bowl with plastic wrap and refrigerate overnight.
I recommend stirring the mixture after 2-3 hours to ensure that the sides are well distributed in the mix and don't gravitate to the bottom of the bowl.
Serving
To serve this delicious recipe to babies, you have two options:
Plain – babies don't need added sugar, and they enjoy the creamy, slurry texture of this chia oat pudding plain.
Fresh fruits – add some soft, easy-to-eat fruits for babies like raspberries or blueberries.
Storage iNSTRUCTIONS
The next day, transfer the prepared recipe to mason jars and store for up to 4 days in the fridge.
You can also freeze overnight oats in ice cube trays and thaw them in the fridge the day before serving.
Tips And Tricks For Best Results
Use quick oats only – old-fashioned oats are too coarse for babies, and oat flour won't soak up the liquid as well, and you will need to add way more oat flour to reach the same consistency.
Adjust – depending on your baby's age. You can thin out the recipe by adding some more milk or yogurt before serving.
Don't skip the chia seeds – the oats wouldn't firm up without the seeds.
Sweetened – for kids over 12 months of age, you can add a touch of natural sweetener in the blend like maple syrup.
Warm it up! I know it's supposed to be a cold breakfast for babies, but some kids don't like it very much. So if it happens to you, don't throw away your batch of baby overnight oats. Instead, warm it up in a baby cooker or microwave until just lukewarm.
Texture To Expect
Overnight oats for babies are way more liquid than my regular overnight oats recipe.
In fact, babies need food easy to swallow and not as high in fiber as adults. If you add too much fiber to babies' food, it becomes:
Difficult to swallow.
Too fulfilling, and they won't have any hunger for other important nutrients.
Creates gut issue – bloating or diarrhea.
So this healthy breakfast for babies has been designed with fewer chia seeds and quick oats to decrease fiber and avoid the above.
Quick oats are lower in fiber than old-fashioned oats usually used in regular recipes, and therefore, they won't absorb the liquid as much.
So, if the texture is too liquid for your little one, you can:
Stir in an extra teaspoon of chia seeds and wait 2-3 hours or warm it up to quickly activate the seeds and create a baby porridge-like texture.
Stir extra quick oats – 1-2 tablespoons.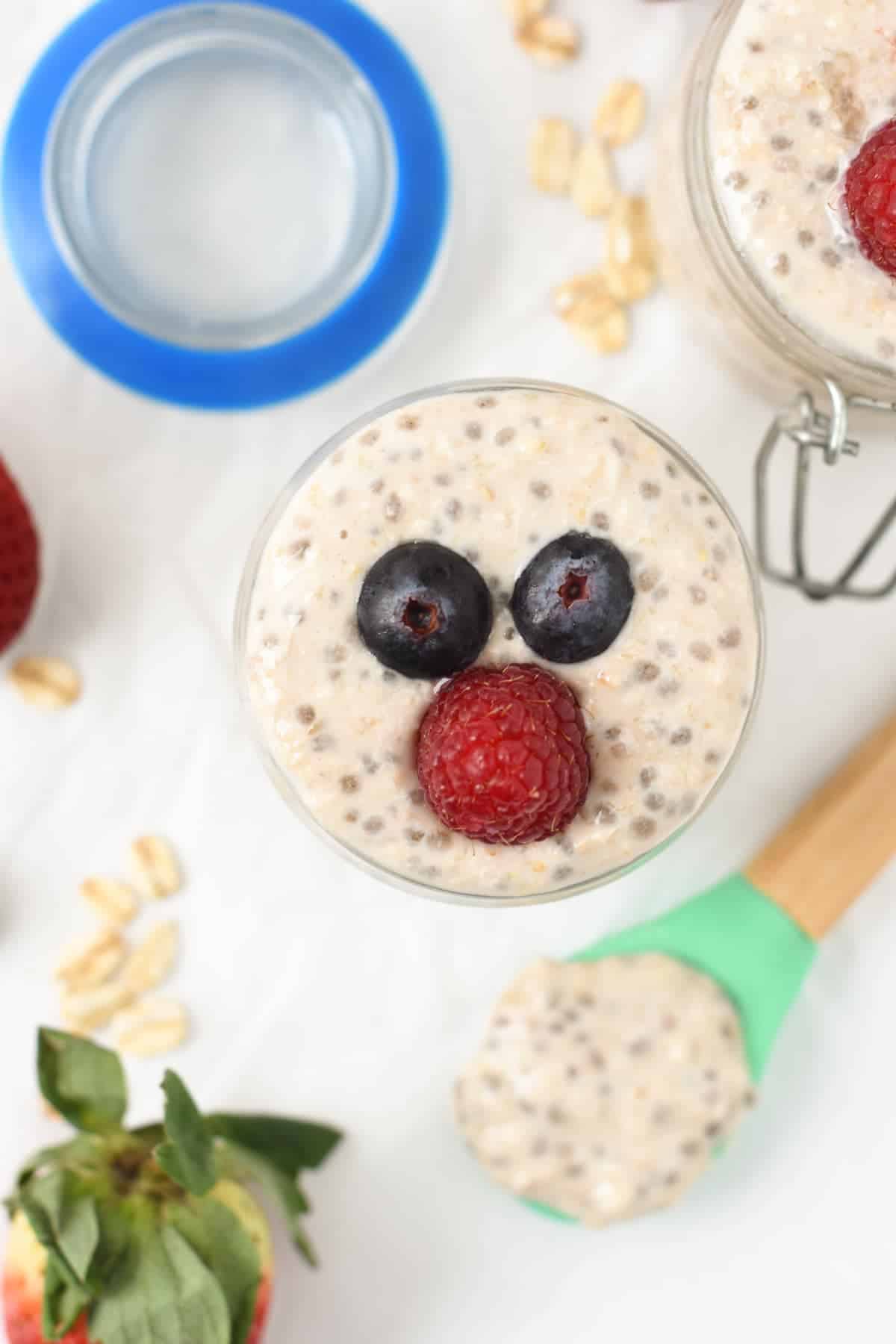 Serving Suggestions
I love to serve this baby overnight oats with fresh fruits on top of the jar for kids over 9 months of age.
Kids love cute presentations and enjoy even more digging in their food if it's fun and attractive.
Other lovely kid-friendly toppings are:
Peanut butter or any nut butter you love.
Seed butter
Mashed banana
Yogurt

Allergy Swaps
This recipe is naturally:
Dairy-free
Sugar-free
Soy-free
Egg-free
You can use gluten-free certified oats if you are concerned about gluten allergies for your little one.
Other options are to replace quick oats with millet flakes, amaranth, or quinoa flakes.
All three are nourishing grains that work well in baby porridges or baby breakfast preparation.

More Baby Recipes
I love sharing my baby food recipes that are egg-free, dairy-free, and simply allergy-friendly and nourishing.
Have you tried this overnight oats baby recipe with your baby or toddler? Share a comment or review below to let me know how much they enjoyed it.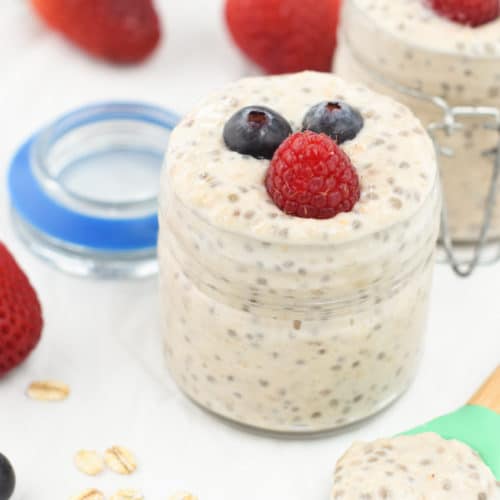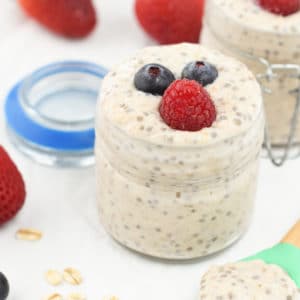 Overnights Oats For Baby
Shop My Tools
Instructions
In a medium mixing bowl, combine the dry ingredients: quick oats and chia seeds. Make sure you are using quick oats, which is a pulsed version of old-fashioned oats. It has a smaller texture but is still thicker than oat flour and perfect for babies.

Stir in almond milk, yogurt, mashed banana, and vanilla extract. Stir until all ingredients are well combined.

Cover bowl with film wrap and refrigerate overnight or at least 6 hours. I recommend stirring after 2-3 hours to prevent the seeds from sinking to the bottom of the bowl.

The next day, offer plain or with berries or a drizzle of maple syrup if your baby is over 1 year old. If too thick for your little one, thin out by adding some almond milk. If too thin, stir in an extra teaspoon of chia seed and soak for 3 extra hours.

Store up to 4 days in the fridge in an airtight container or freeze and thaw in the fridge the day before
Share on Facebook
Pin Recipe
Nutrition
Serving:
1
serving
|
Calories:
43.8
kcal
|
Carbohydrates:
7.1
g
|
Protein:
1.3
g
|
Fat:
1.3
g
|
Saturated Fat:
0.2
g
|
Polyunsaturated Fat:
0.6
g
|
Monounsaturated Fat:
0.4
g
|
Trans Fat:
0.1
g
|
Cholesterol:
0.7
mg
|
Sodium:
43.5
mg
|
Potassium:
62.2
mg
|
Fiber:
1.4
g
|
Sugar:
2.1
g
|
Vitamin A:
14.7
IU
|
Vitamin B12:
0.1
µg
|
Vitamin C:
0.9
mg
|
Vitamin D:
0.1
µg
|
Calcium:
53.4
mg
|
Iron:
0.4
mg
|
Magnesium:
20
mg
|
Phosphorus:
39
mg
|
Zinc:
0.3
mg