3-Ingredient Chia Pudding
An easy 3-Ingredient Chia Pudding to start the day with a high-fiber protein breakfast and perfect for meal prepping days of healthy breakfast ahead.
Plus, this chia pudding recipe is also dairy-free, low-carb, and vegan-friendly, so everyone can enjoy it!
I love making ahead healthy vegan breakfasts like this 3-ingredient chia pudding recipe.
It's a convenient way to feed the entire family in the morning, and this plain recipe can be tweaked to anyone's taste.
What's A Chia Pudding?
A chia pudding is a healthy breakfast pudding made of overnight soaked chia seed into milk.
Chia puddings are naturally:
Grain-free
Paleo-friendly
Vegan-friendly
Keto low-carb approved
Gluten-free
Since chia seeds are superfoods with a very high amount of fiber, protein, and healthy fat, a chia seed pudding is a healthy breakfast to start the day.
How To Make 3-Ingredient Chia Pudding
It's very easy to make a chia pudding recipe using only 3 basic ingredients. Let me share how you can make this easy chia pudding recipe.
Ingredients
All you need to make this plain chia pudding are:
Chia Seeds – you can buy chia seeds in two different colors: white chia seeds or black chia seeds. There's no nutritional difference between both seeds, and you can interchangeably use one or the other in chia seed recipes. Some people prefer white chia seeds because of their bland color.
Non-dairy milk – feel free to use any plant-based milk you love like almond milk, vanilla almond milk, oat milk, or coconut milk to create different chia pudding flavors and textures.
Sweetener – you can add an unrefined liquid sweetener like maple syrup, my favorite option for best flavor, or a sugar-free sweetener to make a keto chia pudding.
Combining
First, select a large wide bowl. Avoid using a tall narrow jar, or the seed forms lumps.
In the mixing bowl, add the chia seed, milk, and sweetener. Stir or whisk vigorously to evenly combine seeds to liquid.
Film the top of the bowl with plastic wrap or a silicone lid. Refrigerate for 1 hour.
Stirring Again
After 1 hour, remove from the fridge, remove the lid and stir again to evenly distribute the seeds in the milk.
The seeds should have swollen by now, but some may migrate to the bottom of the bowl.
That's why I recommend stirring ingredients two times. This prevents the formation of a layer of chia seeds at the bottom of the bowl.
Setting Overnight
Film the bowl again with a piece of wrap and set it aside in the fridge overnight or at least 4 hours.
During this time, the chia seeds absorb the liquid and form a sticky, creamy pudding.
The Perfect Chia Pudding Ratio
The ratio to make a creamy, simple chia pudding with 3 ingredients is always 3 tablespoons of chia per cup of liquid.
Then, if you add any other ingredient high in protein or fiber, the liquid ratio must be increased to avoid a too dense pudding.
Chia seed pudding toppings
This is the most simple chia pudding recipe, plain with no extra flavor.
To make this breakfast tastier, serve half of the batch with some toppings below:
Berries – raspberries, strawberries, blueberries.
Peanut butter
Almond butter
A Drizzle of extra sweetener – like maple syrup or coconut nectar.
Chopped nuts – peanuts, almond, pistachios.
Seeds – hemp seeds, sunflower seeds, pumpkin seeds.
Flavors
You can create different pudding flavors using this 3-ingredients chia seeds pudding recipe by adding some of the ingredients below.
Stir in 1-2 tablespoons of:
Chocolate chips
Protein powder – this changes the chia pudding texture. It means the recipe will require more milk as well because protein powder absorbs liquids and make the pudding ultra thick.
Mashed bananas or applesauce.
Desiccated coconut
Dried fruits – cranberries, dried raisins, finely chopped apricot.
Storage Instructions
Store the leftover chia pudding in sealed glass mason jars, as seen in the pictures.
Frequently Asked Questions
Can I Freeze The Chia Pudding?
Yes, you can freeze the pudding in a sealed container and thaw it in the fridge the day before. Frozen chia pudding lasts up to 3 months in the freezer.
Is Chia Pudding Keto?
Yes, chia seeds and unsweetened almond milk, the main two chia pudding ingredients, are keto-approved. Use a keto-friendly sweetener to sweeten, like stevia drops, allulose, or erythritol.
Is Chia Seed Pudding Healthy?
Chia puddings are low in calories, low in carbohydrates and high in fiber and healthy fatty acids.
A serving of 1/2 cup contains about 130 kcal and 7 grams of fiber to keep you full all morning.
It means that chia pudding keeps your blood sugar level stable for a long time, avoiding energy crashes or sugar cravings for hours.
Can I Use Other Milk?
Yes, you can use any milk you love to make chia seed pudding. The best flavors are coconut milk, cashew milk, and almond milk.
More Chia Seed Recipes
It's amazing all the recipes you can create with chia seeds from dessert pudding, pies, or jam. Below are my favorite chia seeds recipes for you to try.
Have you made this vanilla 3-ingredient chia seed pudding? Share a comment or review below to connect with me,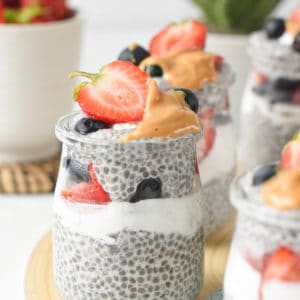 3-Ingredient Chia Pudding
An easy 3-Ingredient Chia Pudding recipe for a healthy high-protein and high-fiber breakfast, perfect for meal prepping a week of healthy breakfast.
Pin
Print
Review
Save
Saved Recipes
Shop My Tools
Instructions
The day before, add chia seed, almond milk, and maple syrup into a large mixing bowl and whisk to evenly combine the seed into the liquid.

Film the bowl with plastic wrap or a silicone lid and place it in the fridge for 1 hour. After that time, whisk the mixture again to unstick the seeds and prevent them from gravitating to the bottom of the jar and forming lumps. Film again and refrigerate overnight.

Serve the next days with toppings you love – fresh berries, a drizzle of peanut butter, or chopped nuts.
Storage
Store up to 3 days in a sealed mason jar in the fridge.
Share on Facebook
Pin Recipe
Nutrition
Serving:
1
serving
|
Calories:
132
kcal
|
Carbohydrates:
14.8
g
|
Protein:
3.6
g
|
Fat:
7
g
|
Saturated Fat:
0.6
g
|
Polyunsaturated Fat:
5
g
|
Monounsaturated Fat:
1.2
g
|
Trans Fat:
0.1
g
|
Sodium:
166.3
mg
|
Potassium:
95.8
mg
|
Fiber:
6.6
g
|
Sugar:
6.1
g
|
Vitamin A:
9.7
IU
|
Vitamin C:
0.3
mg
|
Calcium:
274.5
mg
|
Iron:
1.4
mg
|
Magnesium:
62.4
mg
|
Phosphorus:
154.8
mg
|
Zinc:
0.9
mg