This Protein Chia Pudding recipe is packed with 18 grams of plant-based proteins, making it easy to meal prep a raft of healthy protein breakfasts.
Plus, because it's a low-carb, gluten-free breakfast, everyone can have some.
Chia Pudding Recipes are amazing! If you too can't stop eating them for breakfast, you'll love this version.
What's A Protein Chia Pudding?
This Protein Chia Pudding only contains healthy superfoods from chia seeds, protein powder, and natural sweeteners.
If you also love creamy chocolate breakfasts packed with protein, this recipe is for you.
This recipe can be served as a breakfast, snack, or dessert. It's a healthy sweet treat that even kids love.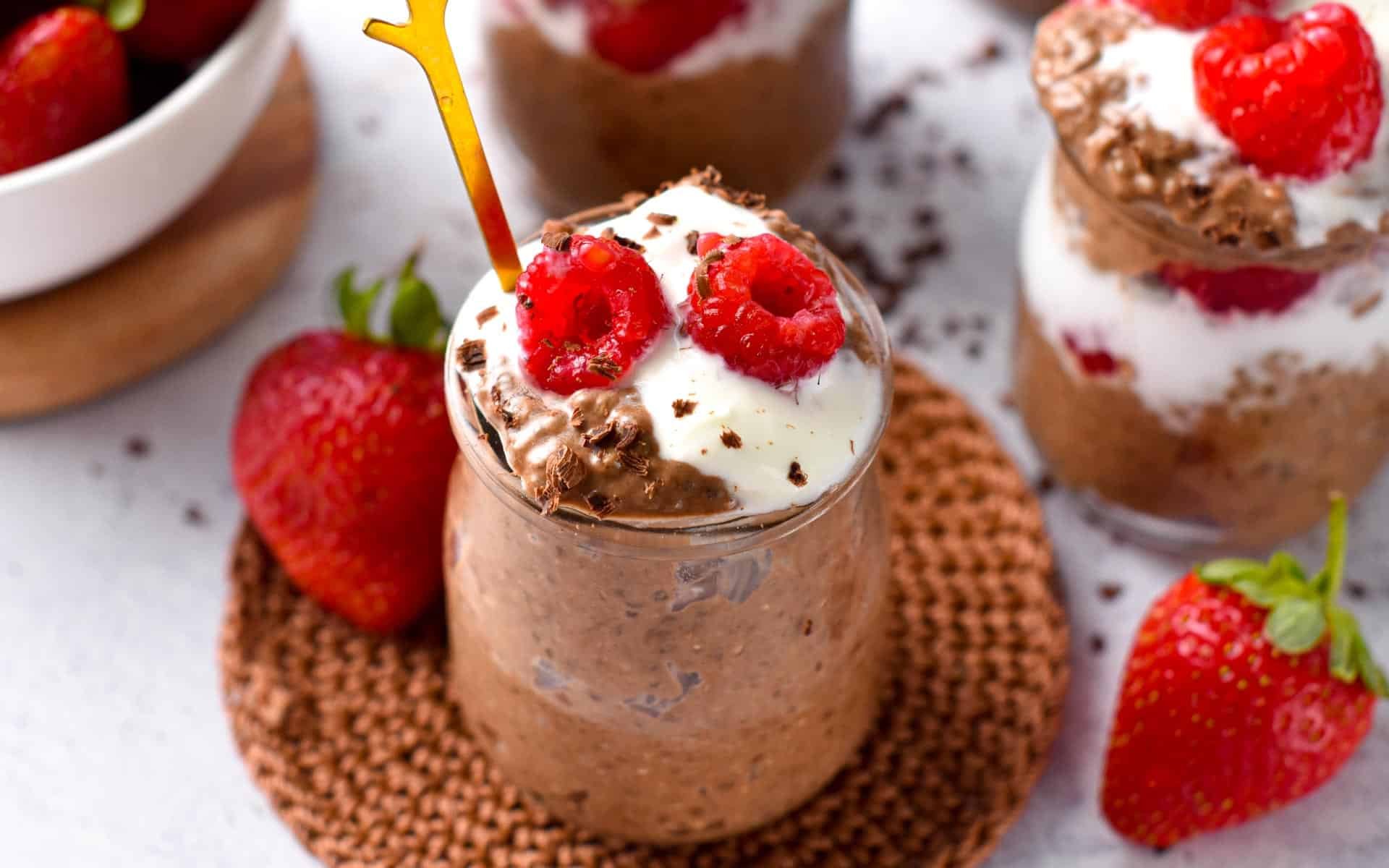 How To Make Protein Chia Pudding
It's super easy to make protein pudding with chia seeds. It's also a very convenient breakfast to meal prep for weeks of healthy mornings.
Ingredients
All you need to make protein chia pudding are:
Chia Seeds – Feel free to use black chia seeds or white chia seeds. Both work the same and have identical properties.
Soy Milk – Soy milk is my favorite plant-based milk for boosting the protein content of the pudding. The recipe also works with any non-dairy milk you love. Feel free to use oat milk, almond milk, or coconut milk.
Sweetener – You can use maple syrup or sugar-free crystal sweeteners like erythritol to cut down sugar and carbs.
Chocolate Protein Powder – Use plant-based almond protein powder. Keep in mind that all protein powder varieties have different levels of liquid absorption. It means that some powders require more or less milk to get to the same texture. You may need to add more milk to the recipe, but you can't fail it. Keep reading below for tips on how to adjust the chia pudding consistency.
Preparation
I recommend preparing the chia pudding in a large glass bowl. It makes it easier to stir all the seeds and avoid packets and lumps of seeds.
First, in a large bowl, add all the dry ingredients: chia seeds, cocoa powder, protein powder, and crystal sweetener if using.
Use a whisk to combine all the dry ingredients evenly and break lumps of powder.
Then, add milk and whisk again for a few minutes until everything is well combined with no dry lumps of cocoa powder or protein powder.
Cover the bowl with the mixture and refrigerate it for 1 hour.
After 1 hour, stir or whisk again to break any seed lump that would have formed and unstick the seeds that gravitated to the bottom of the bowl.
Cover again and return to the fridge for at least 3 hours or overnight.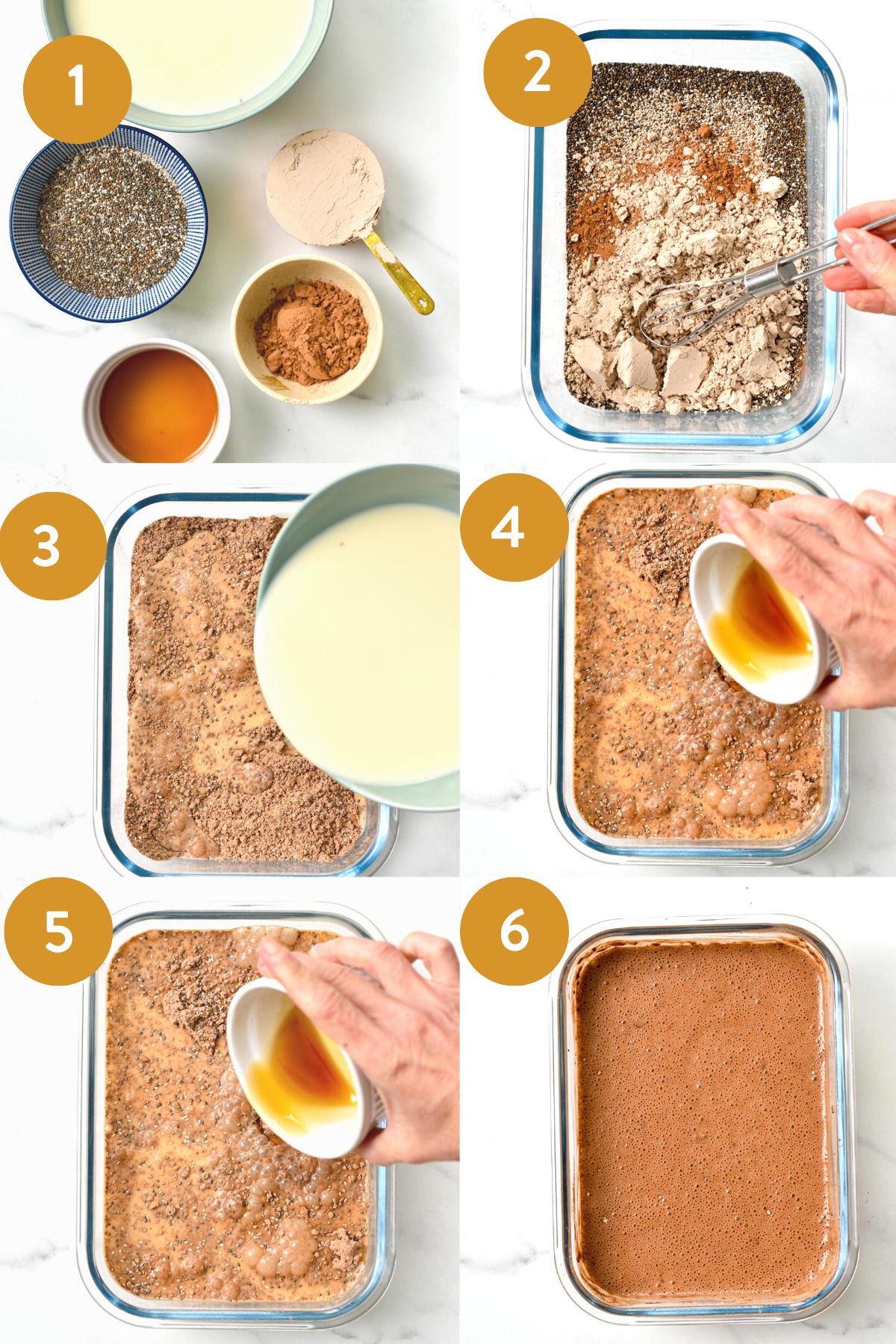 Flavor Variations
Below are some optional ingredients that you can add to the recipe to boost its flavor:
Vanilla Extract – Use only if your vegan protein powder is unflavored. If it's already vanilla flavored, adding vanilla extract may turn the vanilla overpowering.
Chocolate Chips – Add vegan dark chocolate chips for a crunchy texture.
Peanut Butter – It tastes amazing to stir two tablespoons of nut butter in this protein chia seed pudding. Plus, peanut butter also adds protein and a thick creamy texture to the pudding.
Dairy-Free Yogurt – Stirring some plant-based yogurt into the pudding thins out the texture and makes the pudding creamier.
Adjusting The Texture
The next day, stir the batch and adjust its texture by adding a splash of milk if it's too thick, or more protein powder for a thicker texture.
Always add any extra ingredient one tablespoon at a time and stir very well to incorporate.
Serving
The next day, divide the pudding into four small jars and add layers or simply top the jar with some of the delicious ingredients below:
Plant-Based Yogurt
Peanut Butter or almond butter
Sliced Almonds
Shredded Coconut
Fresh or frozen berries like raspberries, strawberries, or blueberries.
Banana Slices
Drizzle of Maple Syrup or honey alternatives such as coconut nectar.
Storage Instructions
This Protein Chia Pudding can be stored well in the fridge in sealed glass jars like glass mason jars.
Keep them for up to 4 days or freeze the chia pudding and thaw them in the fridge the day before.
Allergy Swaps
If you are allergic to some of the ingredients, you cam try the following substitutions:
Nut-Free – Swap the almond protein powder for any nut-free plant-based protein powder like hemp, soy, or pea protein powder.
Soy-Free – Replace the soy milk with any plant-based milk you like.
Low-Carb Sugar-Free – Chia seeds are great to make low-carb vegan breakfasts. Use a natural sugar-free sweetener like erythritol or allulose and low-carb protein powder to keep the carbs low.
Cocoa-Free – Replace the cacao powder with more protein powder. Use vanilla protein powder or unflavored protein powder instead.
Frequently Asked Questions
Find below my answers to your most popular questions about this high-protein chia pudding recipe.
Can I Use Flavored Protein Powder?
Yes, you can use vanilla, cocoa, or any other protein powder flavors that you like blending with cocoa powder.
Is Chia Pudding Healthy?
Yes, chia seeds are packed with high amounts of protein, fiber, and healthy fats.
In addition, they are excellent sources of omega fats on a vegan lifestyle and a very fulfilling breakfast or dessert.
Can I Use Whey Protein Powder?
I don't use animal-sourced products and didn't try this option.
However, I am pretty sure any kind of protein powder will work, so feel free to use your favorite based on your lifestyle.
How Can I Add More Proteins?
You can always boost the protein content of this recipe by adding high-protein ingredients on top, or in the recipe.
Some high protein foods that go well with chia puddings are hemp seeds, soy yogurt, nut or seed butter, and protein-boosted plant-based milk.
More Chia Pudding Recipes
If you like this protein chia pudding, you'll love these other chia pudding recipes:
Have you tried this protein chia pudding recipe? Share a comment or review below to connect with me.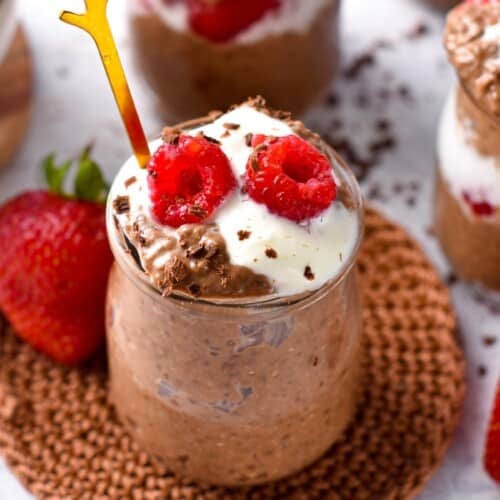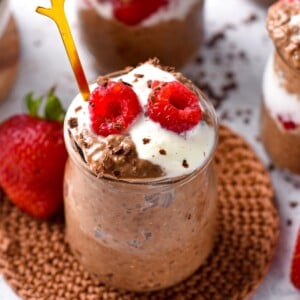 Protein Chia Pudding
This Protein Chia Pudding recipe is packed with 18 grams of protein and makes it easy to meal prep many healthy protein breakfasts. This is a low-carb, gluten-free breakfast recipe, so everyone can have some.
Pin
Print
Review
Shop My Tools
Instructions
In a large mixing shallow container, add all the dry ingredients: chia seed, cocoa powder, protein powder, and granulated sweetener, if you don't use maple syrup. Whisk to combine and break all the powder lumps.

Add soy milk and maple syrup if used. Whisk until no more lumps of powder can be seen.

Cover the container with a lid or plastic wrap and refrigerate for one hour.

After that time, give a quick stir as some seeds will sink to the bottom of the bowl. If too thick, add a splash of plant-based milk, up to 3-4 tablespoons.

Cover the bowl and return to the fridge overnight or for at least 3 hours before serving.
Serving
Stir before serving and adjust the texture by adding more milk if too thick or more protein powder if too liquid. Adjust sweetener if desired.

Serve with plant-based yogurt to boost proteins, berries, and dark chocolate.
Storage
Store in the fridge for up to 3 days in a sealed jar.
Notes
Note 1: I like soy milk because it's higher in protein, but plant-based milk works like oat milk, almond milk, or coconut milk.
Share on Facebook
Pin Recipe
Nutrition
Serving:
1
serving
|
Calories:
238
kcal
|
Carbohydrates:
20.9
g
|
Protein:
18.4
g
|
Fat:
10.3
g
|
Saturated Fat:
1.3
g
|
Polyunsaturated Fat:
6.6
g
|
Monounsaturated Fat:
1.3
g
|
Trans Fat:
0.03
g
|
Sodium:
196.3
mg
|
Potassium:
348.2
mg
|
Fiber:
9.5
g
|
Sugar:
6.7
g
|
Vitamin A:
325.9
IU
|
Vitamin B12:
1.7
µg
|
Vitamin C:
0.3
mg
|
Vitamin D:
1.8
µg
|
Calcium:
346.2
mg
|
Iron:
5.4
mg
|
Magnesium:
116.3
mg
|
Phosphorus:
258.9
mg
|
Zinc:
1.3
mg