This Tiramisu Chia Pudding is the most healthy breakfast recipe ever, packed with fiber, healthy fats, and 18 grams of protein per serving.
If you are a tiramisu lover, this healthy chia pudding is a must-try.
if you liked my 3-Ingredient Chia Pudding, this recipe is for you.
This tiramisu chia seed pudding is an adaptation of that classic recipe, adding lovely chocolate and coffee flavors to your pudding.
How To Make Tiramisu Chia Pudding
It's so simple to make this healthy, low-carb breakfast that you will definitely add it to your weekly breakfast meal prep rotation.
For this recipe, you need to prepare a chia pudding layers and a yogurt layer.
Vanilla Layer Ingredients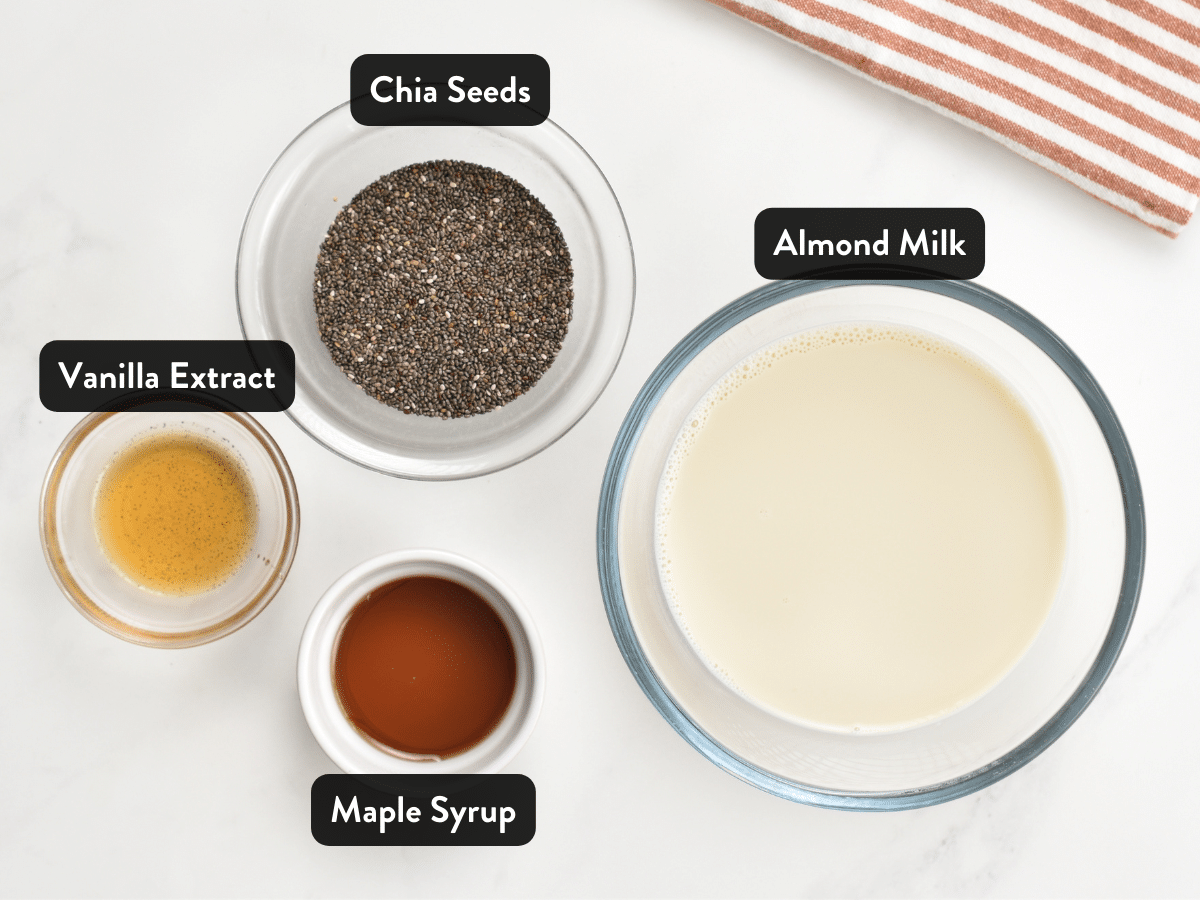 Chia Seeds
Vanilla Extract
Almond Milk or any plant-based milk you love.
Maple Syrup or any refined sugar-free sweetener.
Coffee Chocolate Layer
For this layer, the ratio of chia seed to liquid is slightly different because the cocoa powder contains fiber and also absorbs liquid.
Chia Seeds
Strong Brewed Coffee
Almond Milk or any non-dairy milk you love.
Maple Syrup, agave syrup, or any sugar-free option.
Unsweetened Cocoa Powder
Yogurt Layers and Topping
Plant-Based Vanilla Yogurt of choice – We use vanilla coconut yogurt, but whipped coconut cream is a great option. This mimics the classic mascarpone layer of a classic tiramisu while adding protein and keeping the recipe dairy-free.
Unsweetened Cocoa Powder
Preparing The Chia Pudding
This delicious tiramisu recipe consists of two batches of chia pudding, soaked overnight separately.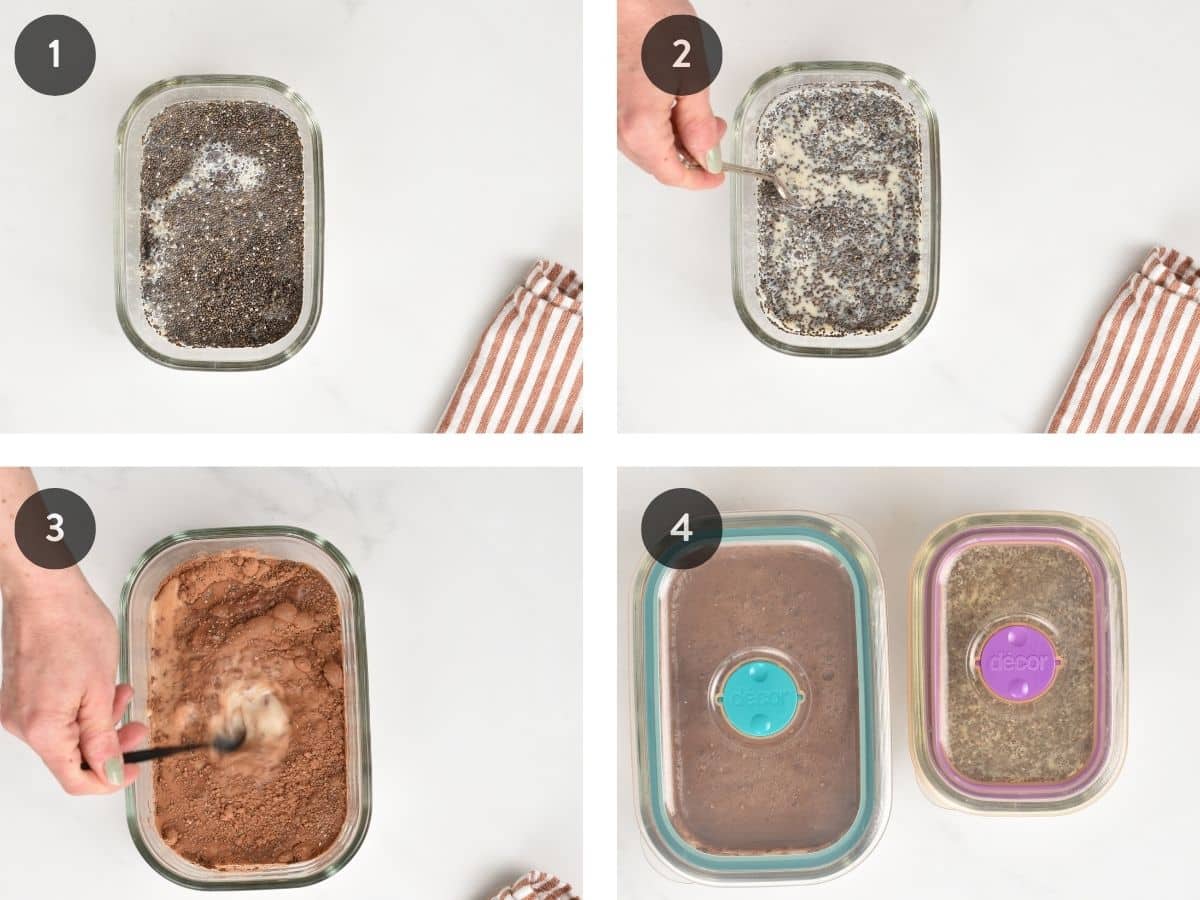 Combine all the vanilla layer ingredients in a small glass bowl or glass container.
Stir the ingredients together with a fork until well combined.
Repeat these steps for the coffee chocolate layer. It's preferable to use warm coffee as it helps stir the cocoa powder faster.
Close the containers with a lid and refrigerate them overnight.
Assembling The Pudding
The next, day, assemble the tiramisu chia pudding jar by alternating layers of chocolate chia pudding, coconut vanilla yogurt, and vanilla chia pudding.
On top of the jar, add extra yogurt and dust with cocoa powder to serve.
Serving
Chia pudding is usually served as a healthy breakfast, but this flavor is also perfect as a healthy dessert recipe.
If you like the taste of tiramisu but you are after a guilt-free dessert, this recipe is perfect.
Topping that you can add on top of each jar are:
Chocolate Shavings
Cocoa Nibs
Dark Chocolate Chips
A Pinch of Salt
Storage Instructions
Store the chia pudding in a sealed container in the refrigerator for up to 4 days.
You can freeze chia pudding for up to one month in an airtight container and thaw it in the fridge the day before.
Allergy Swaps
Chia pudding is naturally gluten-free, but if you have some food allergies, try the ingredient substitutions below.
Nut-Free – Swap the almond milk for oat milk, coconut milk, or soy milk for a protein boost.
Low-Carb Sugar-Free – Chia seeds are low in carbohydrates. Use a liquid sugar-free sweetener like monk fruit maple flavored syrup to remove the added sugar.
Frequently Asked Questions
Here are the answers to your most common questions about this recipe.
Can I use instant coffee?
Yes, you can stir four teaspoons of your favorite instant coffee with 1/4 cup lukewarm water and use it in the recipe to replace the 1/4 cup strongly brewed espresso.
Is it healthy to eat chia pudding?
Chia pudding is made from a superfood called chia seeds. It's one of the healthiest foods to add to your plate as it's high in fiber, improving gut health, and low in net carbohydrates.
Chia puddings are excellent sources of healthy fat, protein, and fiber to keep you full for hours and a great healthy snack, breakfast, or dessert.
Why is my chia pudding too slimy?
If you add too many chia seeds per cup of liquid, it become slimy and forms lumps of seeds.
More Chia Pudding Recipes
If you like this recipe, you'll love these other chia pudding recipes:
Tiramisu Chia Pudding
This Tiramisu Chia Pudding is the most healthy breakfast recipe ever, packed with fiber, healthy fats, and 18 grams of protein per serving.
Pin
Print
Review
Shop My Tools
Instructions
In one bowl, stir all the vanilla layer ingredients. Cover with a lid and refrigerate overnight.

In another bowl, stir all ingredients together – make sure the coffee is lukewarm. This helps dissolve the cocoa powder in the mixture. Close with a lid and refrigerate overnight.

You may want to stir both puddings with a fork after an hour to prevent the seeds from forming lumps.
The next day
In glass mason jars, alternate chocolate chia pudding, plant-based yogurt, and vanilla chia seed pudding until you reach the top of the jars.

For the last layer, add plant-based yogurt, a dust of cocoa powder, and shaved dark chocolate if desired.
Storage
Store in sealed glass container in the fridge for up to 4 days.
Share on Facebook
Pin Recipe
Nutrition
Serving:
1
serving
|
Calories:
440.3
kcal
|
Carbohydrates:
62.7
g
|
Protein:
12.9
g
|
Fat:
18.3
g
|
Saturated Fat:
2.5
g
|
Polyunsaturated Fat:
10.7
g
|
Monounsaturated Fat:
2.8
g
|
Trans Fat:
0.1
g
|
Sodium:
311.8
mg
|
Potassium:
436.6
mg
|
Fiber:
19.1
g
|
Sugar:
30.8
g
|
Vitamin A:
21.2
IU
|
Vitamin C:
15.6
mg
|
Vitamin D:
1.5
µg
|
Calcium:
719.3
mg
|
Iron:
4.7
mg
|
Magnesium:
200.1
mg
|
Phosphorus:
425.8
mg
|
Zinc:
2.9
mg