Baby Teething Crackers (Egg-free, Dairy-free)
Easy, healthy homemade baby cracker recipe for a nutritious baby-led weaning snack or baby teething cracker to help soothe teething baby pain.
Plus, these baby crackers are gluten-free, sugar-free, and egg-free, suitable for kids with food allergies.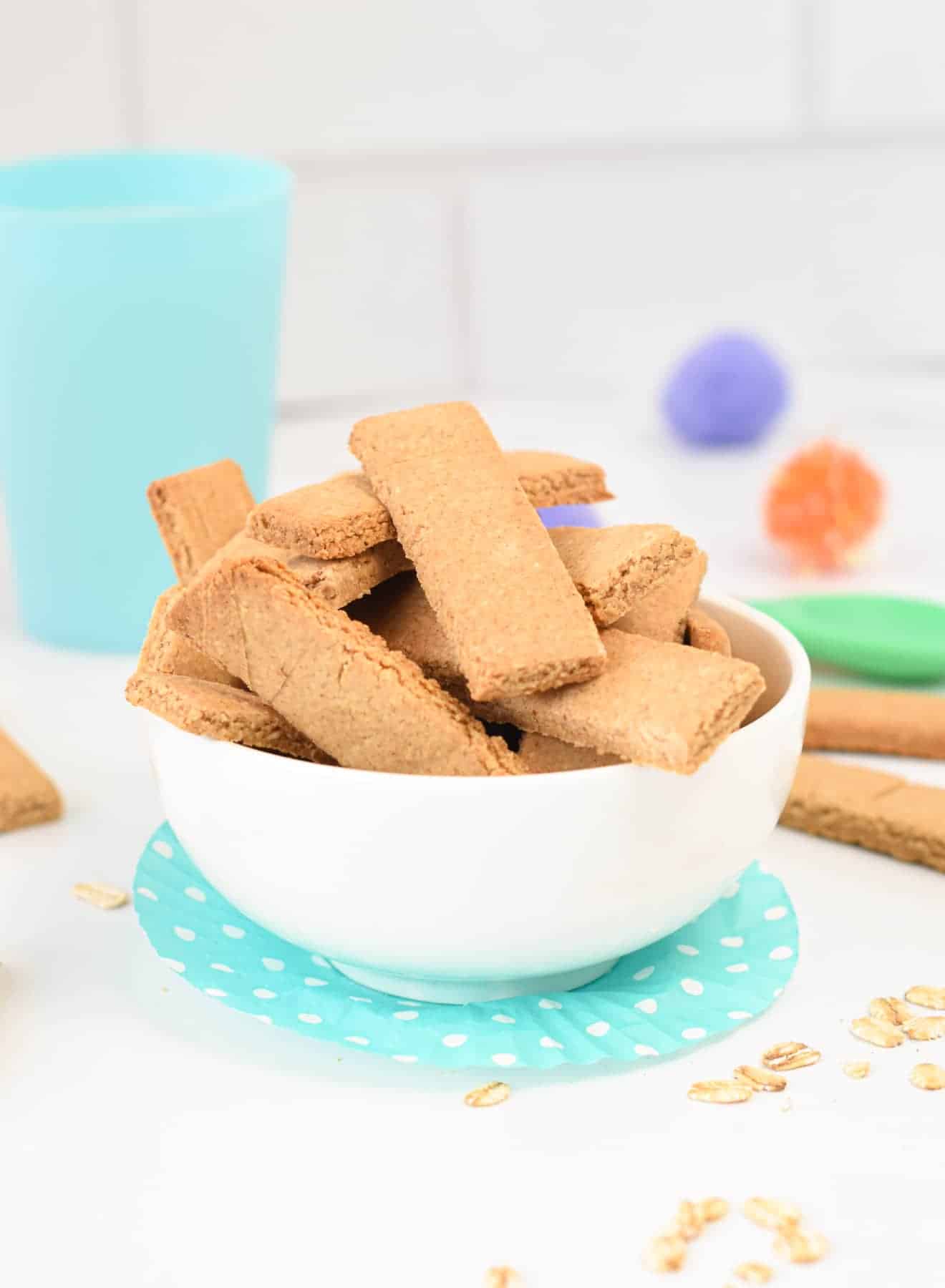 Learn how to make an egg-free baby cracker recipe to offer a nutritious snack or baby teething biscuits.
These are the easiest to make, have no added sugar, and are so much more nutritious than store-bought baby biscuits.
What Are Baby Crackers?
Baby crackers are small nutritious homemade teething biscuits for babies from 6 months. They are naturally:
Sugar-free sweetened with a natural sweetener like fruit puree, maple syrup, or veggie puree.
Gluten-free
Egg-free
Dairy-free
A baby cracker is also a great finger food for teething babies because they are hard to chew and perfect for relieving teething pain.
When sucked on, they melt in your baby's mouth and provide nourishing protein, fiber, and vitamins.
There are also plenty of store-bought baby cracker options made from baby cereals or rice flour if you don't feel like making your own.
But this baby cracker recipe is so easy and healthy that you should definitely give it a go.
How To Make Homemade Teething Biscuits
It's very easy to make your own baby-led weaning crackers at home.
Ingredients
You need only a few ingredients that you probably have in the pantry.
Oat flour – this is basically rolled oats pulsed into flour. Follow my tutorial on how to make oat flour to make yours in less than 1 minute.
Rice flour – a great bland gluten-free flour for babies. You can swap for tapioca or arrowroot flour with a different ratio. See the recipe card below.
Baking powder – feel free to skip for kids under 1 year old.
Melted coconut oil or vegetable oil, or melted butter.
Cinnamon – optional and only for flavor. Note that cinnamon is not safe before 6 months of age. Therefore, as a precaution, I recommend not offering cinnamon before 12 months old.
Unsweetened apple sauce or mashed bananas – I recommend apple sauce for a crunchier texture. Bananas make the baby teething biscuits softer.
Vanilla extract
Combining Dry Ingredients
In a large mixing bowl, combine all the dry ingredients: oat flour, rice flour, baking powder, and cinnamon.
As mentioned before, cinnamon is not recommended before 6 months of age, so don't give it to small babies.
Stirring Wet Ingredients
In another bowl, combine apple sauce, melted coconut oil, and vanilla extract. Stir the wet ingredients into the dry ingredients until a dough forms.
Another option is to bring all the ingredients into a food processor and blend until the dough comes together.
If the dough is too crumbly or dry, add a little more water, one tablespoon at a time, until you form a ball of dough that is easy to roll.
Rolling And Cut Out
Roll out the dough between pieces of parchment paper to prevent the dough from sticking to the roller pin.
Then, cut out baby rusk shapes – small rectangles are handy for little hands, but you can also use fun cookie-cutter shapes.
Finally, I recommend making baby crackers that are big enough to be held by small kids. If too small, kids can choke on them.
Baking Teething Biscuits
Bake in preheated oven at 350°F (180°C) for 15 to 20 minutes on a baking sheet covered with parchment paper.
Bake until the baby biscuits are golden brown.
Cool on a cooling rack for an hour before offering it to babies.
Teething Biscuit Taste And Texture
These homemade teething biscuits are bland in flavor. They have a cereal cinnamon flavor with a nice crunch.
They are difficult to bite, so ensure they are hard enough to soothe babies' teeth but melt easily in their mouths to be enjoyed and nutritious.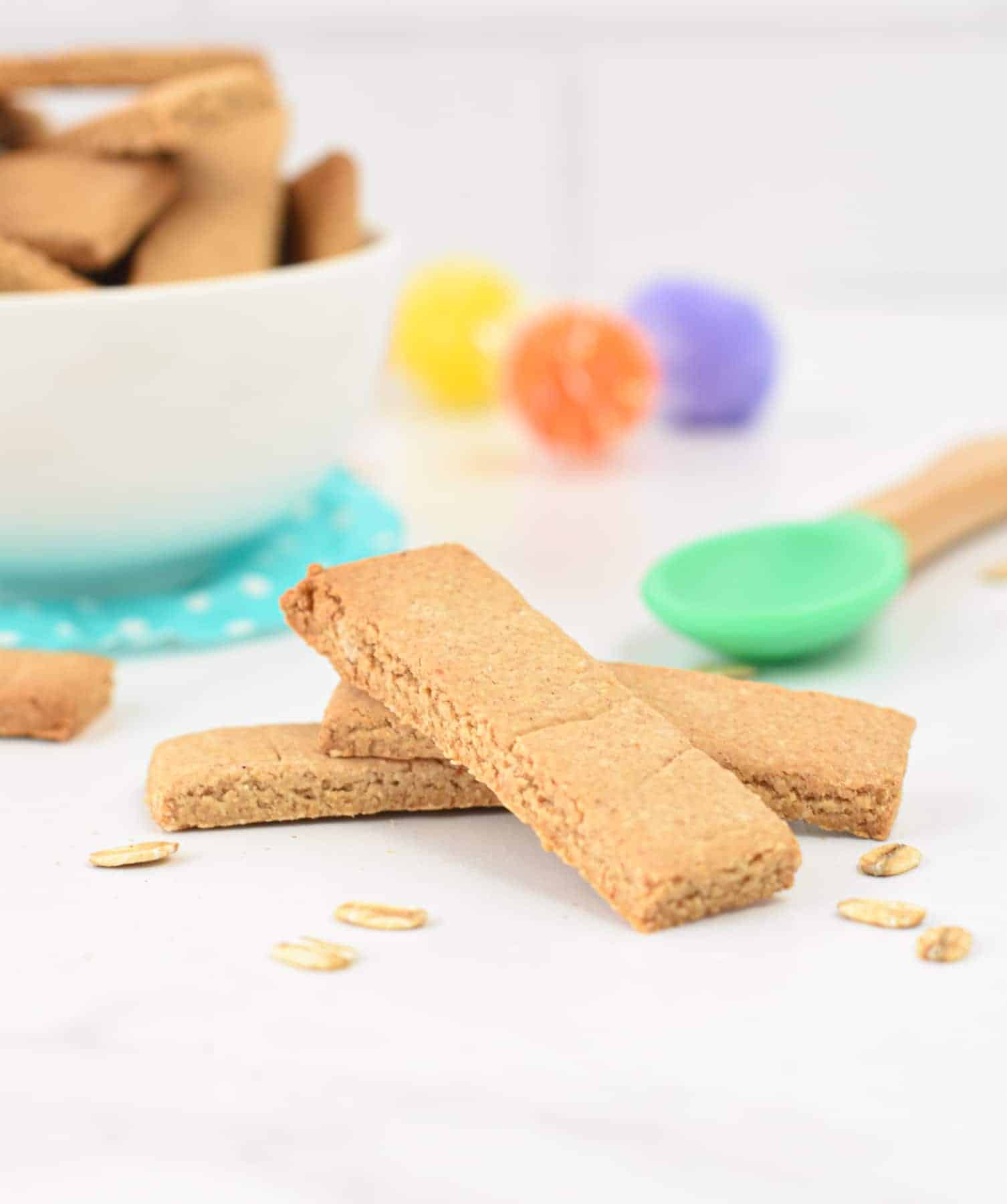 Storage
You can store these baby biscuits for up to one week in a sealed cookie jar at room temperature.
Baby crackers freeze very well in ziplock bags. Thaw them for 30 minutes before offering them to babies.
Frequently Asked Questions
When Can Babies Eat Homemade Teething Biscuits?
Baby crackers are hard and can be a choking hazard if offered before your baby shows signs that they're ready for solid food.
Usually, babies eat crackers from 6 months onwards.
If you offer these baby crackers as a baby teething biscuit, your baby must be at least 6 months old and ready for solid food.
You can offer baby teething biscuits to help your baby bite something hard to relieve teething pain.
These biscuits are also nourishing and won't bring added sugar to your baby.
Can Babies Have Graham Crackers?
Graham crackers contain honey and cinnamon. Both are not safe for babies under 12 months.
Consequently, it's better to make your own crackers for your baby and avoid graham crackers before 1 year old.
Allergy Swaps
You can make plenty of easy swaps to this recipe to make it suitable for your baby's allergies or to match the ingredients in your pantry.
For example, you can replace:
Oat flour for all-purpose wheat flour or all-purpose gluten-free flour.
Rice flour for arrowroot flour or tapioca flour – jump to the recipe card for conversion.
Apple sauce by any fruit puree or veggie puree like sweet potato puree, mashed bananas.
Of course, any swap would impact the taste and texture of your kids crackers.
More Baby Recipes
I have plenty of baby recipes for you to try and make at home for your little ones. Below are my favorite baby recipes for you to try:
Have you made these baby crackers? Share a comment or review below to tell me if your baby loves them.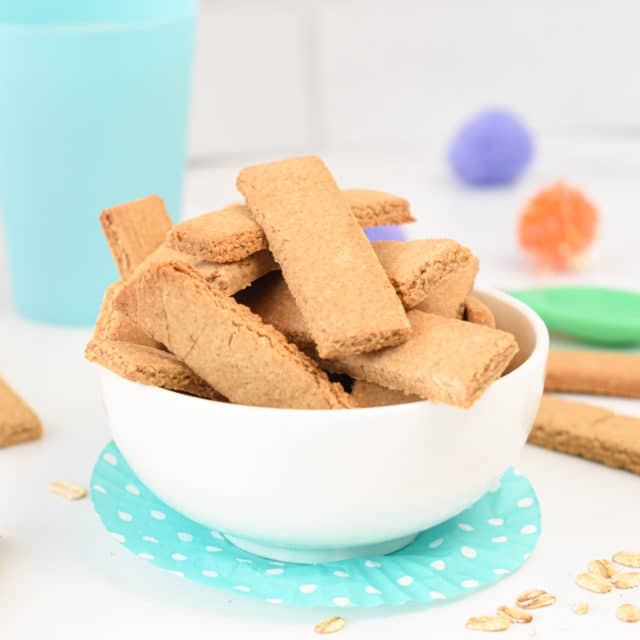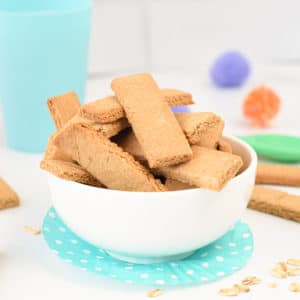 Baby Teething Crackers
Baby Teething Crackers are healthy homemade teething biscuits for a nutritious baby-led weaning snack or baby teething cracker to help soothe teething pain. Plus, these baby crackers are gluten-free, sugar-free, and egg-free, suitable for kids with food allergies.
Pin
Print
Review
Servings: 20 crackers
Calories: 59 kcal
Ingredients
Optional – from 12 months
Instructions
Preheat the oven to 350°F (180°C). Line a baking sheet with parchment paper. Set it aside.

In a large mixing bowl, whisk all the dry ingredients: oat flour, rice flour, baking powder, and cinnamon (if your baby is over 12 months old).

Make a well in the center of the flours and add melted coconut oil, unsweetened applesauce, and vanilla essence.

Stir with a spatula at first, then knead by hand until the dough comes together. This baby cracker dough is tough, and that's normal. You want to make hard crackers to soothe the teething pain. If the dough is too dry, add 1-2 tablespoons of water to bring the dough into a ball.

Roll the dough between two pieces of parchment paper. Cut it into small long rectangles – see my pictures above for tips.

Bake for 10-15 minutes. The longer you bake the crackers, the harder they are.

Cool on a cooling rack and store in a cookie box for up to 2 weeks in the pantry.
Share on Facebook
Pin Recipe
Nutrition
Serving: 1cracker | Calories: 59kcal | Carbohydrates: 9g | Protein: 1g | Fat: 2g | Saturated Fat: 1g | Polyunsaturated Fat: 1g | Monounsaturated Fat: 1g | Sodium: 12mg | Potassium: 31mg | Fiber: 1g | Sugar: 1g | Vitamin A: 2IU | Vitamin C: 1mg | Calcium: 10mg | Iron: 1mg | Magnesium: 11mg | Phosphorus: 35mg | Zinc: 1mg