3-Ingredient Baby Banana Pancakes (Egg-Free, Dairy-Free)
These 3-ingredient Baby Banana Pancakes are perfect for baby-led weaning or introducing solid food to babies.
Bonus, these are vegan pancakes for babies too, which means they are also egg-free and dairy-free.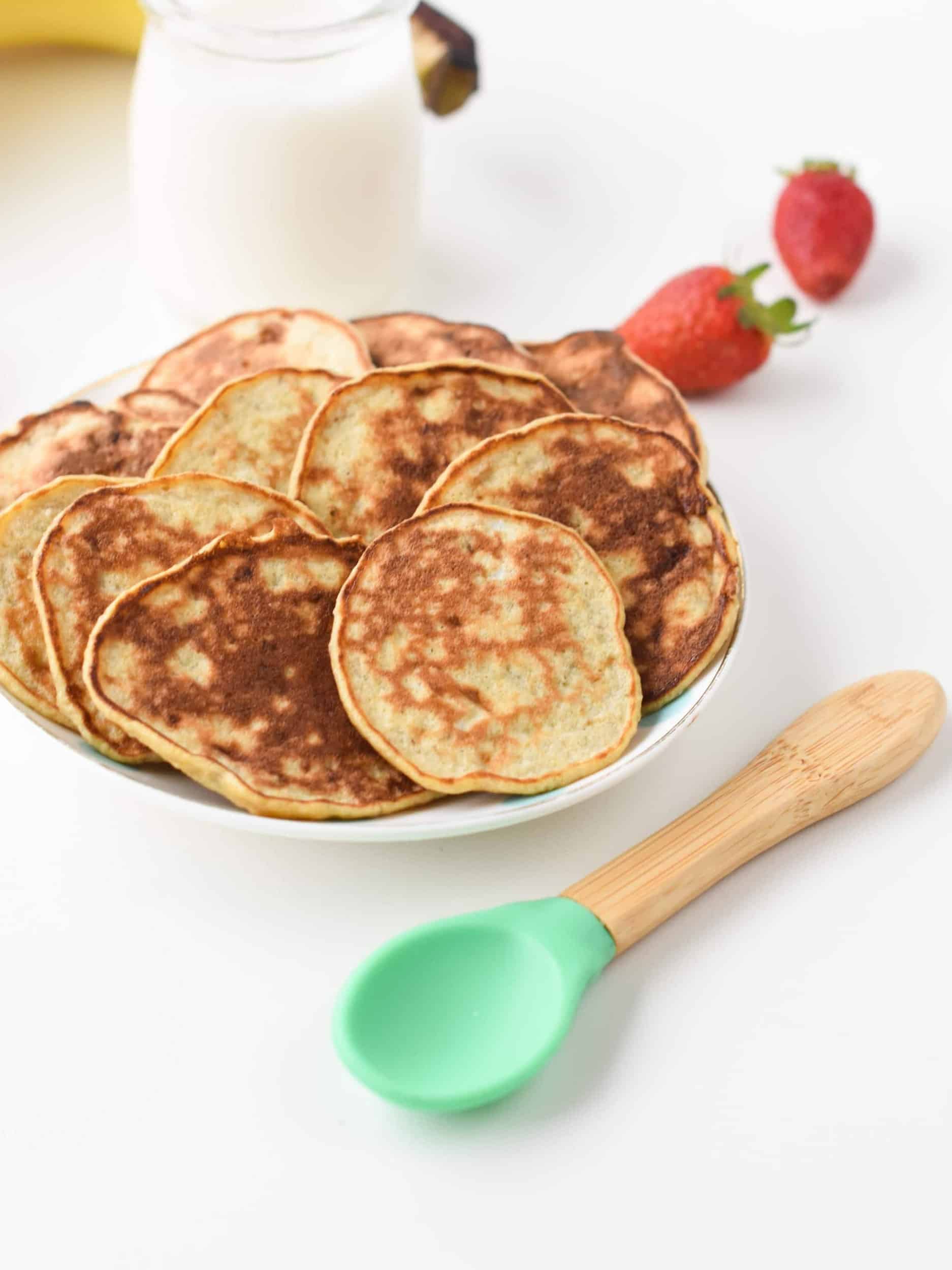 Are you ready to introduce solids to your infants but don't know where to start?
These vegan baby banana pancakes are perfect for it, easy to make in 10 minutes, no food processor or fancy tool is needed.
It is a quick and easy recipe for busy mums who want to feed their babies healthy food with no fuss.
What Are Baby Pancakes?
Baby pancakes are the first baby food to use in the baby-led weaning feeding approach.
They are soft, hand-sized eggless banana pancakes easy to hold with small hands and made of 3 simple ingredients, safe for infants 6 months old and older or ready to eat solid foods.
A baby-led weaning banana pancake recipe is made of whole food to bring nutrients to your infant.
It's naturally:
Sugar-free – doesn't contain added sugar.
Baking powder-free – baking powder can upset infants under 1-year-old, and it's unnecessary for babies.
Allergy-friendly – nut-free, dairy-free, egg-free options.
The purpose of baby pancakes is to develop baby sensory skills: taste, touch, and smell. It means that banana pancakes for babies don't get fluffy. Their purpose is to add nutrient, infant-safe baby-led weaning experience.
How To Make Baby Banana Pancakes
All you need to make baby banana pancakes are 3 wholesome ingredients that we all have at home.
Ingredients
Banana – I am using small, slightly ripe bananas. The recipe works with my baby pumpkin puree for a veggie pancake recipe.
Milk of choice – can use breastmilk or calcium-fortified soy milk or almond milk.
Flour– or white whole wheat flour.
Making The Baby Pancake Batter
Mash the banana on a chopping board or plate. Next, combine banana and almond milk. Stir in all-purpose flour until a thick pancake batter forms.
It's ok to have lumps of bananas in the pancakes. It adds an extra soft texture that babies love.
Cooking Baby Banana Pancakes
Warm a pancake griddle under medium heat and lightly oil its surface with coconut oil.
Then, scoop one tablespoon of baby banana pancake batter and drop it onto the hot pan. Cook the pancakes until the sides start to dry out which takes about 1 to 2 minutes.
When bubbles start forming, flip the pancakes to the other side and keep cooking until golden brown.
Cool down on a plate or cooling rack for 10 minutes before offering these weaning pancakes to infants.
Serving Baby Pancakes To Infants
These are quick and easy baby pancakes to set up a healthy baby finger food breakfast plate. You can add some other food around your baby plate-like fresh soft fruits or non-dairy yogurt.
They are baby and toddler-friendly.
It's not recommended to offer sweeteners to babies and infants, even safe sweeteners like maple syrup.
The best-tasting experience is to offer no sugar for up to 1 year old to let the kids learn the real flavor of whole foods.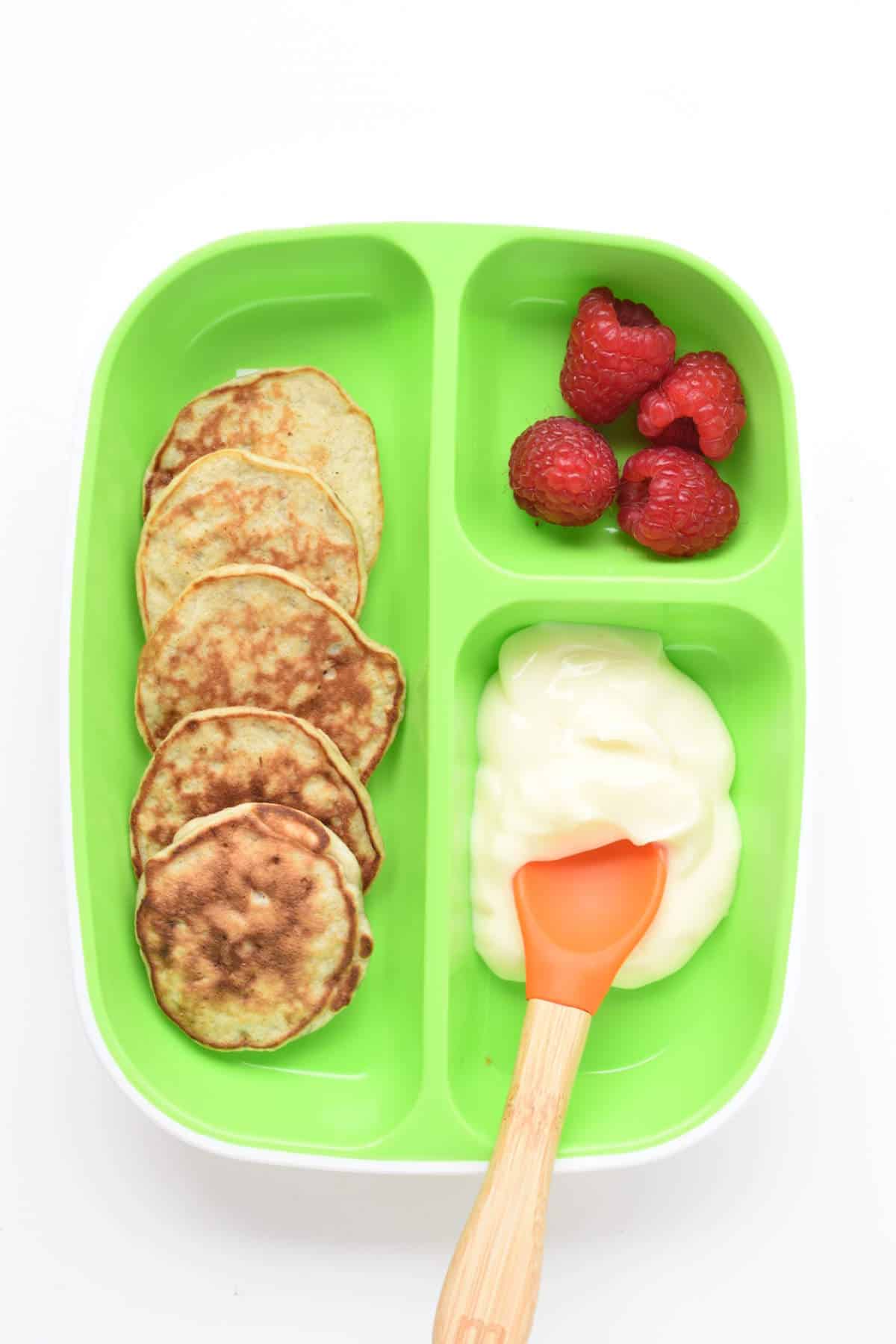 Storage Instructions
These baby banana pancakes can be stored for up to 3 days in a sealed box in the refrigerator.
You can also freeze these baby pancakes in zip-lock bags or any airtight container. Then, thaw the baby pancakes a few hours before eating at room temperature.
Frequently Asked Questions
Can I Make Sweet Potato Pancakes With This Recipe?
Sure, you can replace the mashed banana with mashed sweet potato to create different baby-led weaning pancake flavors. Other options are mashed pumpkin or homemade applesauce.
Can I Make These Baby Pancakes Fluffy?
These are baby pancakes made without raising agents. That's why their texture is soft, flat and they don't fluff like regular breakfast pancakes.
In fact, baking powder or baking soda is not safe for babies under 1 year old, so this recipe doesn't use them.
However, if you want to use this recipe for older kids from 1 year old, you can add 1 teaspoon of baking powder into the batter to make fluffy pancakes.
Toddlers also love these pancakes with a hint of vanilla, add 1/2 teaspoon into the batter, and serve with peanut butter and chia seed jam. It makes a healthy vegan kid breakfast for busy mornings.
Can I make them gluten-free?
Yes, you can use all-purpose gluten-free flour or buckwheat flour in this recipe to make gluten-free baby banana pancakes.
However, this recipe is egg-free and consequently doesn't work with coconut flour or almond flour.
More Healthy Recipes For Kids
Below I listed some other healthy and quick recipes to make for your little ones: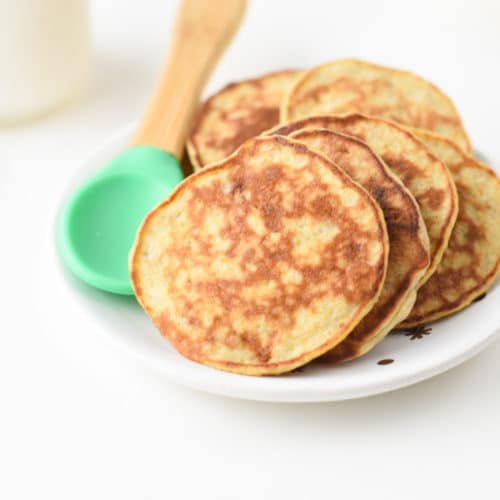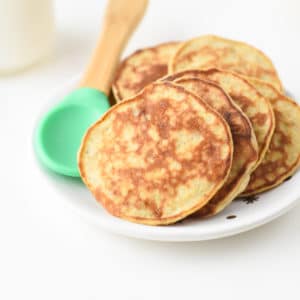 Baby Banana Pancakes
An easy 3-ingredient baby-led weaning pancake recipe with banana
Pin
Print
Review
Servings:
8
mini pancakes
Instructions
Peel, mash the ripe banana on a plate until smooth. It's ok if bits of bananas show.

Stir the milk and mashed banana, then stir in flour.

Whisk everything together and set aside 5 minutes while the pancake griddle warms up.

Lightly grease the pancake griddle with coconut oil.

Pour 1 tablespoon of batter per pancake and cook for 1-2 minutes or until the sides start to dry out.

Flip over and cook for an extra 30 sec-1 minute.
Storage
Store the baby banana pancakes in a sealed container in the fridge for up to 3 days or freeze in ziplock bags and thaw at room temperature 1 hour before serving.
Share on Facebook
Pin Recipe
Nutrition
Serving:
1
pancake
|
Calories:
24
kcal
|
Carbohydrates:
3
g
|
Protein:
1
g
|
Fat:
1
g
|
Saturated Fat:
1
g
|
Trans Fat:
1
g
|
Cholesterol:
23
mg
|
Sodium:
11
mg
|
Potassium:
54
mg
|
Fiber:
1
g
|
Sugar:
2
g
|
Vitamin A:
42
IU
|
Vitamin C:
1
mg
|
Calcium:
4
mg
|
Iron:
1
mg