Banana Pancake Bites (30kcal, No Eggs, No Dairy)
These banana pancake bites are the most delicious, fun, and easy banana pancakes for a weekend breakfast.
Plus, they are vegan, with no eggs, no dairy needed, and super fluffy!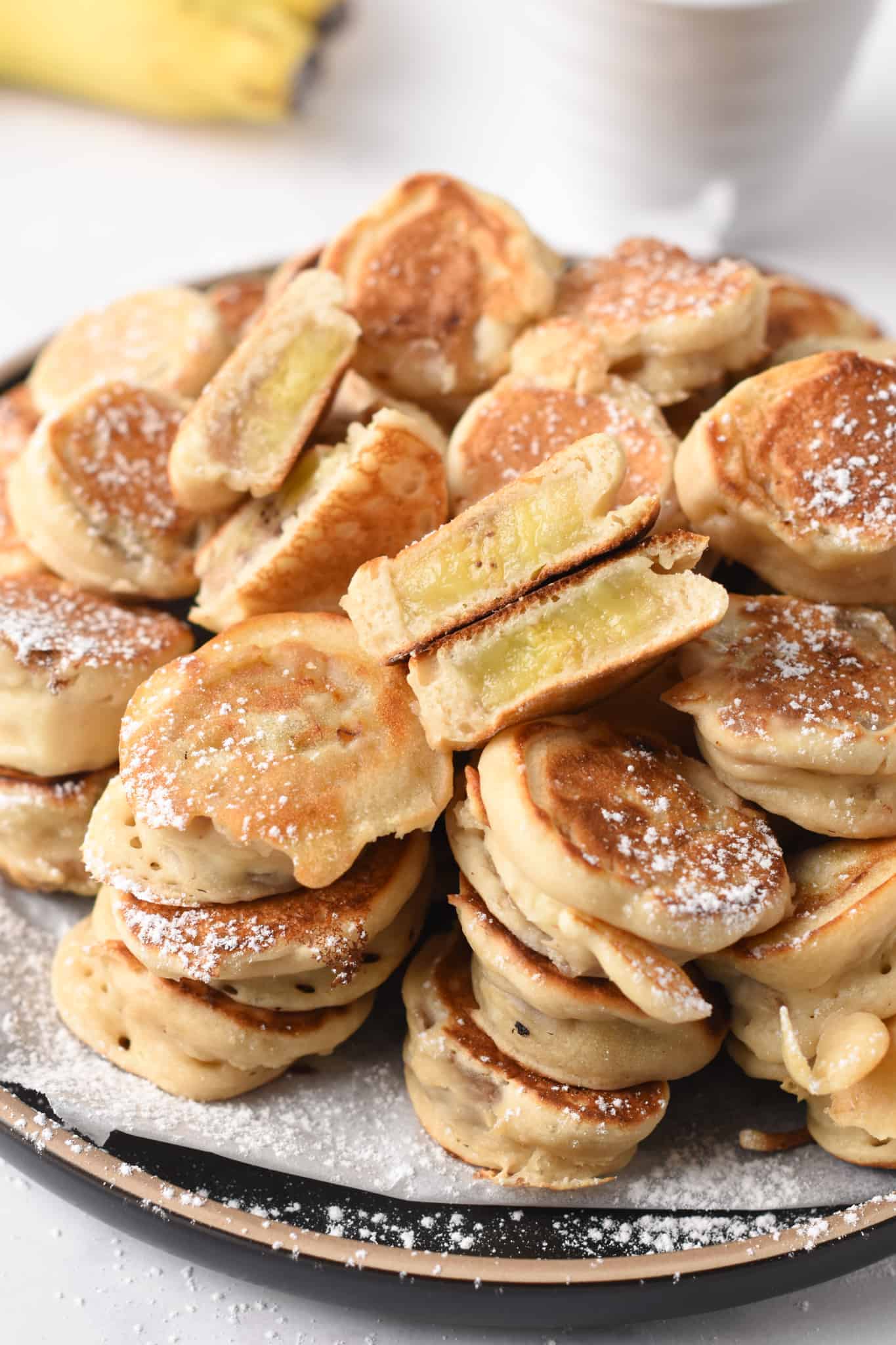 What Are Banana Pancake Bites?
Banana pancake bites are simply banana-stuffed bite-sized pancakes made with slices of banana dipped in pancake batter.
They are perfect for portion control or a fun bite-size snack or breakfast.
How To Make Banana Pancake Bites
All you need to make banana pancake bites are:
Pancake Batter
You can use any pancake batter you want for this recipe.
Below I am listing my two favorite pancake batters to make these pancake bites.
Ingredients
I like to use my classic vegan pancake recipe here made with the simple below ingredients:
Bananas
You can use slightly ripe bananas or yellow bananas in this recipe.
I tend to prefer yellow bananas because the banana slices are less soft and mushy and hold their shape way better.
Making The Batter
So first, prepare the pancake batter using one of my recipes listed above.
In a large bowl, whisk the dry ingredients then stir in the liquid ingredients until your pancake batter form.
Then, cut the bananas into thin slices of about 1 cm, o.4 inches for best results.
If you cut the banana slices too thick, the pancake batter doesn't cook well on the border of the banana.
Dipping In
Add about 10 slices of banana to the pancake batter bowl. Then, using two forks dip and flip each slice into the batter to fully covered them with pancake batter.
Wait a few seconds above the bowl to let the excess batter run down to the bowl.
This avoids too much pancake batter that then creates a sort of feet at the bottom of the banana bites.
Cooking
Grease a pancake griddle or non-stick pan with cooking spray or rub a piece of kitchen paper dipped in coconut oil.
Bring the pan over medium-low heat, and place the dipped banana slices on the hot pan.
Cook for about 2-3 minutes on one side or until golden brown.
Then, use a spatula to flip the bites to the other side and keep cooking for an extra minute or until the banana bites are cooked through.
Always make sure that you leave a thumb space between each bite or it would be difficult to flip them.
When cooked, place on a cooling rack and keep cooking the remaining batter.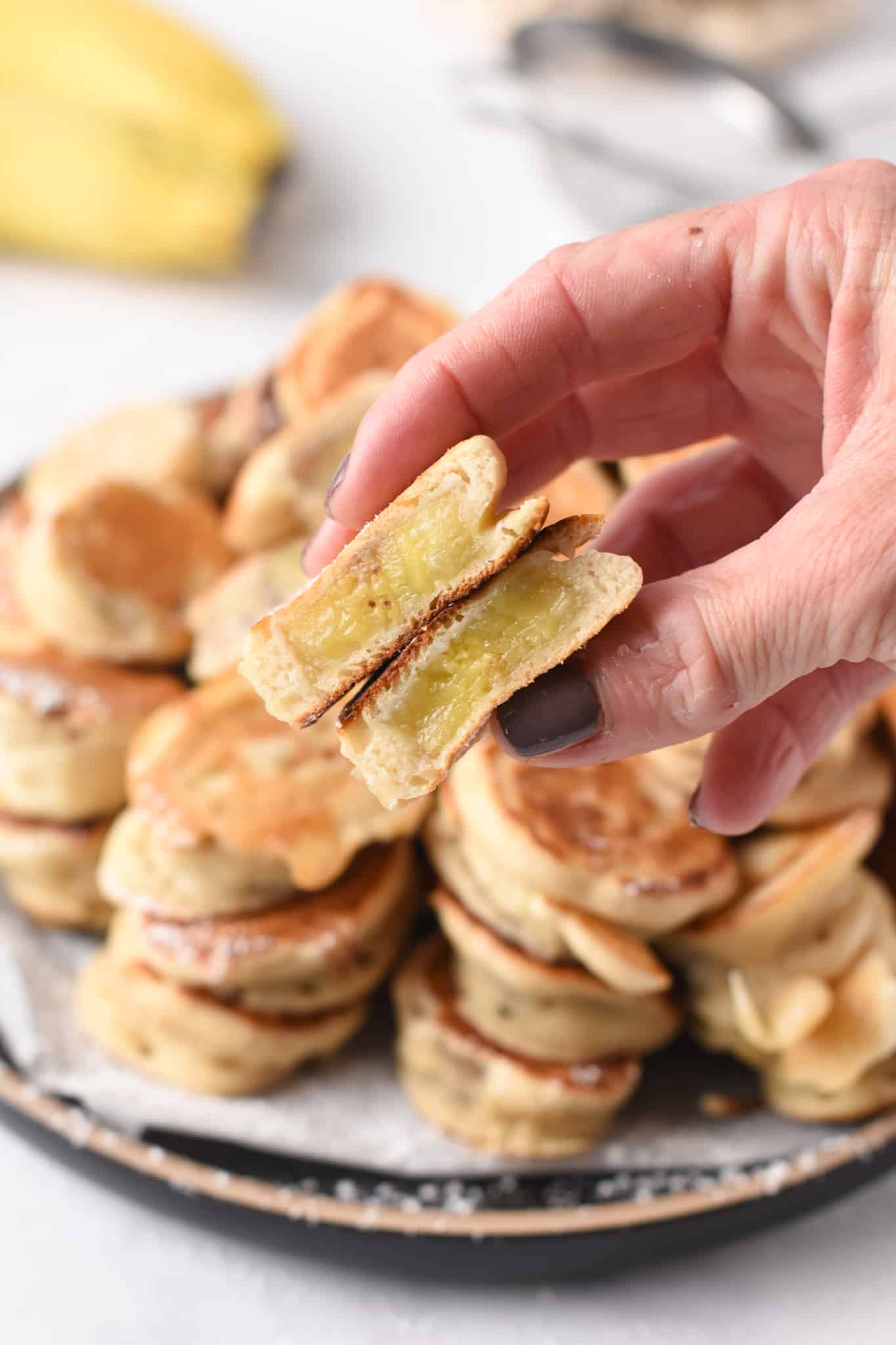 Serving
Serve the banana pancake bites with some of the below toppings:
Dust of powdered sugar
Drizzle of maple syrup
Fresh berries
Whipped coconut cream
Dairy-free yogurt-like almond yogurt or coconut yogurt
Drizzle of melted chocolate
Dust of cinnamon
Add-Ons
You can add flavor to the pancake batter, adding some spices like cinnamon, pumpkin spices, or ginger.
Taste and texture
These pancake bites are fluffy vanilla pancake bites with a moist lukewarm piece of banana in the center.
Storage
You can store these pancake bites in an airtight container in the fridge for up to 24 hours.
The bananas inside the batter tend to darken with time, so I don't recommend keeping these too long in the fridge.
You can rewarm the pancake bites in the air fryer at 320°F (160°C) for 4 minutes. Or simply place them back on a hot pancake griddle.
You can also freeze the cooked banana bites in zip lock bags or airtight boxes and thaw them at room temperature the day before.
Frequently Asked Questions
Can I Make Gluten-Free Pancake Bites?
Absolutely! The best gluten-free pancake batter recipe to dip your banana is my buckwheat pancake recipe or chickpea flour pancake recipe.
Can I Add Protein Powder To The Pancake Batter?
I wouldn't recommend adding protein powder to this recipe.
Instead, use my vegan protein pancake recipe or chocolate protein pancake recipe to make chocolate banana pancake bites.
Can I Use A Pancake Mix To Make Banana Bites?
Sure, you can use a vegan pancake mix and follow the same steps as above to create simple banana pancake bites in a minute.
More Banana Pancake Recipes
Below I listed more banana pancake recipes for you to try.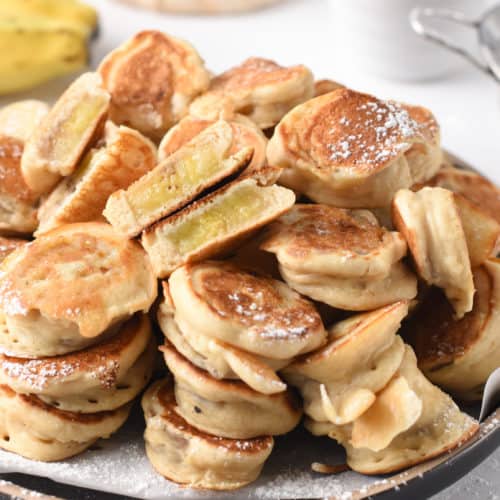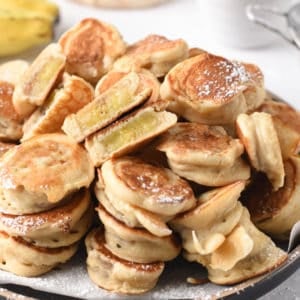 Banana Pancake Bites
These Banana Pancake Bites are the most delicious, fun, and easy banana pancakes for a weekend breakfast. Plus, they are vegan, with no eggs, no dairy, and super fluffy!
Pin
Print
Review
Servings:
40
pancake bites
Instructions
Peel and slice bananas into 0.4-inch slices (1 cm). Set aside the slices on a plate while you make the pancake batter.
Prepare the vegan 'buttermilk'
In a small mixing bowl, whisk soy milk with apple cider vinegar. Set aside

10 minutes

.
Prepare the pancake batter
In a large mixing bowl, add all the dry ingredients: flour, sugar, baking powder, and salt.

Whisk in the vegan buttermilk, oil, and vanilla.

Let the batter rest for

5 minutes

while you heat the griddle.
Cooking the banana pancake bites
Heat a large pancake griddle or frying pan over medium heat. Add 1 teaspoon of oil and swirl the pan to coat.

Use two forks to dip one banana slice at a time in the pancake batter. Dip to fully cover the slice. Hold the dipped slice with one of the forks for a few seconds above the bowl to remove the excess batter, then place the bite onto the hot pancake griddle.

Repeat the previous step and fill the pan with pancake bites leaving a thumb space between each bite – it makes it easier to flip them.

Cook for 2 or 3 minutes each bite on one side or until golden brown, then flip on the other side and keep cooking until the batter is dry and set.

Transfer to a cooling rack or plate and repeat these steps until you run out of batter.
Serving
Serve with a dust of powdered sweetener or cinnamon or maple syrup.
Storage
Store leftover in an airtight box for up to 24 hours in the fridge or freeze for up to 3 months and thaw in the fridge the day before.
Share on Facebook
Pin Recipe
Nutrition
Serving:
1
pancake bite
|
Calories:
32.1
kcal
|
Carbohydrates:
6.4
g
|
Protein:
0.6
g
|
Fat:
0.5
g
|
Saturated Fat:
0.1
g
|
Polyunsaturated Fat:
0.1
g
|
Monounsaturated Fat:
0.3
g
|
Sodium:
64.1
mg
|
Potassium:
60.9
mg
|
Fiber:
0.5
g
|
Sugar:
2.4
g
|
Vitamin A:
31.9
IU
|
Vitamin B12:
0.1
µg
|
Vitamin C:
1.6
mg
|
Vitamin D:
0.1
µg
|
Calcium:
27.1
mg
|
Iron:
0.2
mg
|
Magnesium:
4.5
mg
|
Phosphorus:
13
mg
|
Zinc:
0.1
mg