Baby Pumpkin Pancakes (No Eggs, No Dairy)
These Baby Pumpkin Pancakes are the easiest baby-led weaning pumpkin recipe to introduce solid food and pumpkin to little ones.
This baby-led weaning pancake recipe is also egg-free, dairy-free, and therefore, perfect for vegan babies!
What Are BLW Pancakes?
Baby-Led Weaning Pancakes are simple pancakes made with very basic and unrefined ingredients used to introduce foods like pumpkin to babies and toddlers.
These baby pumpkin pancakes are made with wholesome ingredients for an allergy-friendly recipe.
How To Make Baby Pumpkin Pancakes
It's so easy to make your own baby pumpkin pancakes at home with only a few ingredients. All you need are:
Ingredients
Pumpkin puree – you can use my baby pumpkin puree recipe if you like. This recipe also works to make sweet potato baby pancakes as well. To do so, swap the amount of pumpkin puree for the same amount of homemade orange sweet potato puree. Learn how to make your own pumpkin puree.
Milk of choice – you can use any milk. I love coconut milk or almond milk, but if you are breastfeeding, your breastmilk is a great option.
Melted coconut oil
Vanilla extract
All-purpose flour – or spelt flour or white whole wheat flour. If you are after a gluten-free alternative, try a gluten-free flour blend that contains added gums like Bob Red Mill's 1:1 baking flour.
Baking powder – optional only if you like the pumpkin pancakes fluffy.
Instructions
First, make sure you are having some pumpkin puree on hand. You can use:
First, in a medium-size bowl, whisk the wet ingredients together: pumpkin puree, milk of choice – I love almond milk, vanilla extract, and melted coconut oil.
Finally, whisk in flour and baking powder until a slightly thick batter forms with a lovely orange color shade.
Cooking The Pancakes
Slightly oil a pancake griddle with oil spray. I am using a homemade oil spray bottle filled with avocado oil because it resists well to high temperatures, but coconut oil is also great.
You can rub solid coconut oil on the griddle or non-stick pancake pan using a piece of absorbent paper.
Heat griddle on medium heat and spoon one tablespoon of batter per pancake to make hand-sized pancakes that babies can hold easily.
Cook for 2-3 minutes or until dry on the edges. Then, slide a spatula under the pancake and flip to the other side.
Keep cooking for about 30 seconds to 1 minute until just set.
Cool down on a wire rack before offering it as finger food for kids.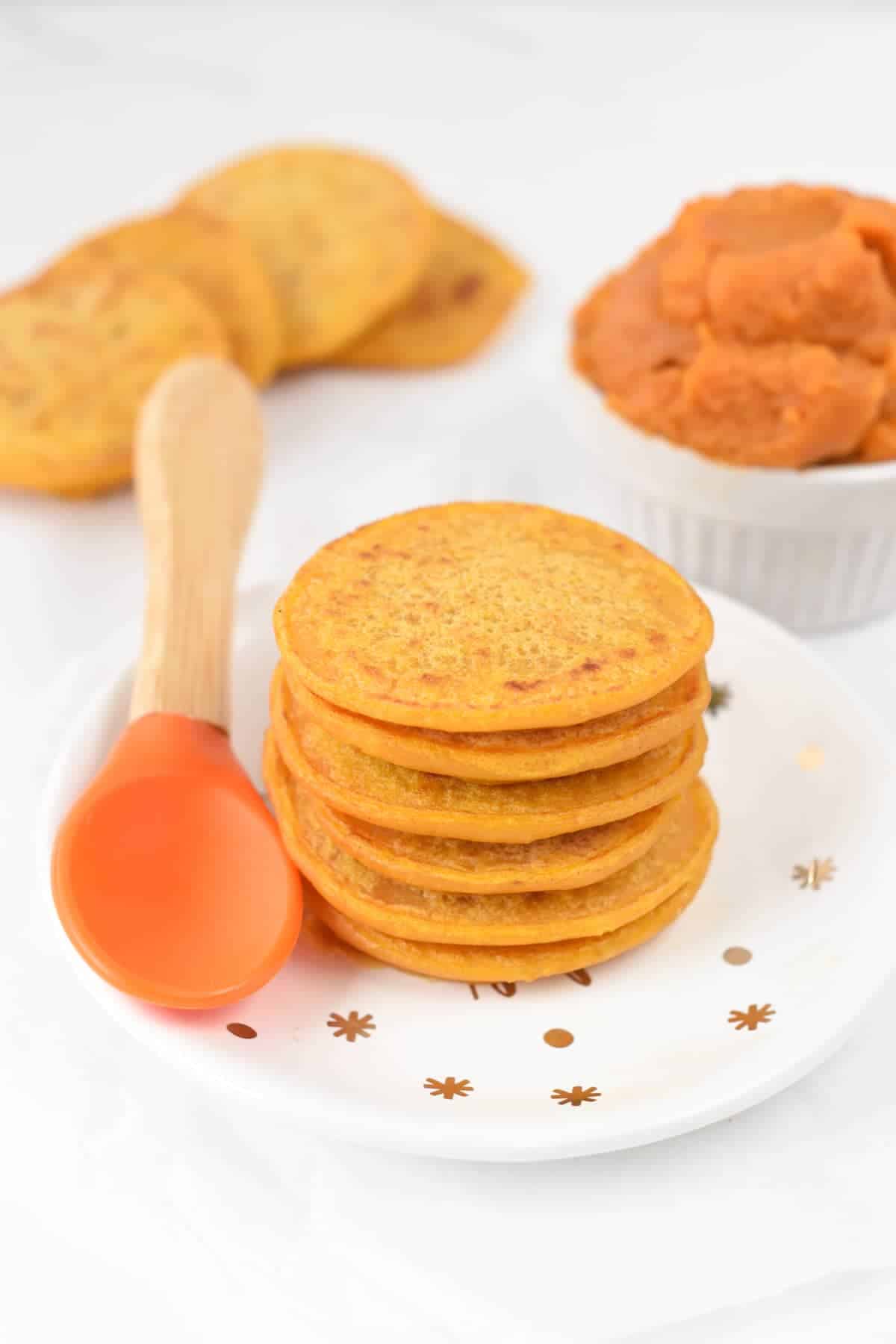 Storage
You can store these baby pumpkin pancakes in the fridge for up to 3 days. Another option is to freeze the cooked pumpkin baby pancakes in zip-lock bags.
Thaw the baby pancakes at room temperature for at least 3 hours before offering them to the kids.
Toppings
As your baby grows, add some toppings to these pumpkin pancakes to introduce new flavors and textures. Great ideas are:
Baby chia seed jam – my recipe is fully sugar-free for babies under 1 year old.
Peanut butter
Almond butter
Frequently asked Questions
Can Babies Have Pumpkin Pancakes?
Pumpkin pancakes are safe to introduce as baby-led weaning from 6 months of age. They are made with only 5 wholesome ingredients.
Can I add cinnamon to the batter?
Yes and no! It depends on the age of your baby because some kids can have an allergy to cinnamon, always ask your GP for recommendations if unsure.
It will however add the most delicious flavor to the pancakes.
Other ideas to flavor the pancakes for older kids are to add 1-2 teaspoons of sweetener in the batter like these unrefined sugar options:
Coconut sugar
Unrefined cane sugar
Maple syrup

More Baby-Led Weaning Recipes
I have so many other baby-led weaning recipes that you can try with your little one. Below are my favorites for you to try.
Made these baby pumpkin pancakes? Share a review or comment below,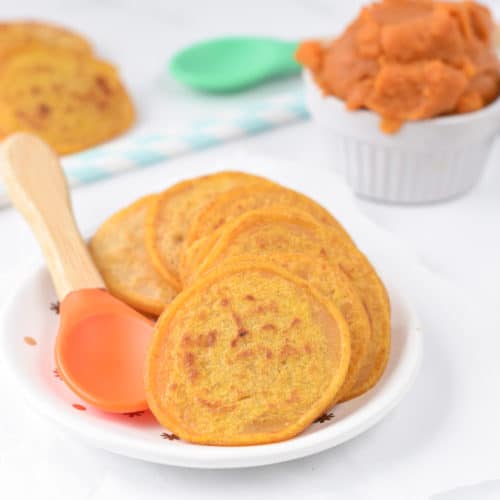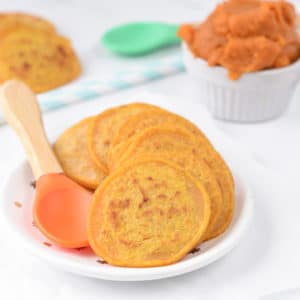 Baby Pumpkin Pancakes
An easy baby pumpkin pancake recipe 100% allergy-friendly made egg-free, dairy-free, and delicious soft food as a baby-led weaning pumpkin first recipe.
Pin
Print
Review
Ingredients
Optional – for fluffier pancakes
Instructions
In a mixing bowl, whisk pumpkin puree, milk of choice, oil, and vanilla.

Stir in flour and baking powder if used – highly recommended for fluffy pancakes!

Slightly grease a pancake griddle with melted coconut oil.

Warm pancake griddle to medium heat and spoon one or two tablespoons of batter per pancake.

Cook 1-2 minutes on one side or until sides are dry, then flip and cook on the other side for 1 minute until pancakes are fluffy and golden.
Storage
Store the pancakes in an airtight container in the fridge for up to 3 days or freeze and thaw in the fridge the day before eating.
Share on Facebook
Pin Recipe
Nutrition
Serving:
1
pancake
|
Calories:
29
kcal
|
Carbohydrates:
4.6
g
|
Protein:
0.6
g
|
Fat:
0.9
g
|
Saturated Fat:
0.6
g
|
Polyunsaturated Fat:
0.1
g
|
Monounsaturated Fat:
0.1
g
|
Sodium:
49.3
mg
|
Potassium:
16.6
mg
|
Fiber:
0.3
g
|
Sugar:
0.2
g
|
Vitamin A:
794.4
IU
|
Vitamin C:
0.2
mg
|
Calcium:
34.2
mg
|
Iron:
0.3
mg
|
Magnesium:
2.4
mg
|
Phosphorus:
14.7
mg
|
Zinc:
0.1
mg