Strawberry Banana Oatmeal Muffins
These Strawberry Banana Oatmeal Muffins are healthy banana muffins filled with juicy pieces of strawberries.
They are healthy breakfast muffins packed with fiber and proteins from oats.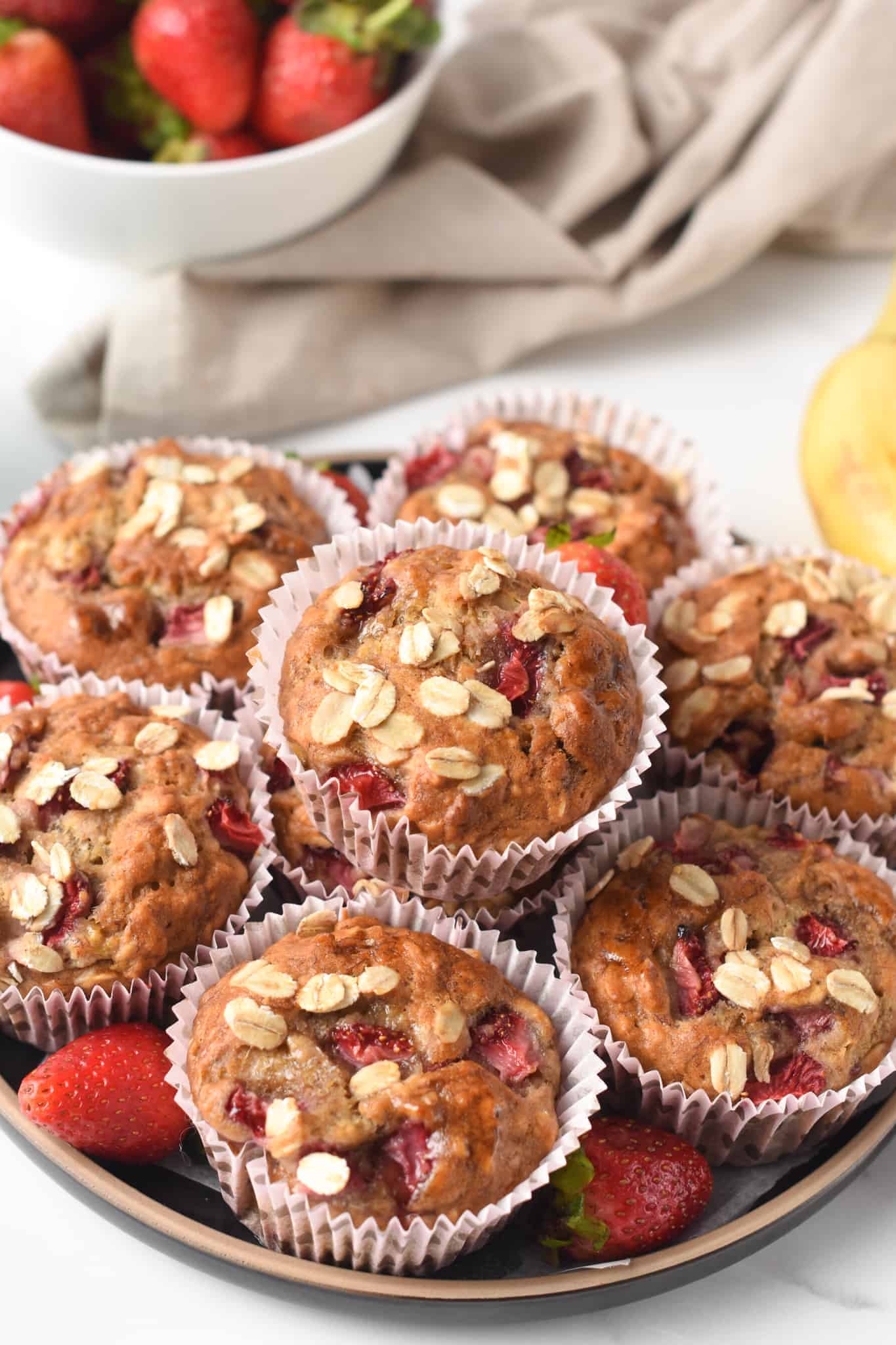 We love healthy muffins recipe for breakfast. Our vegan strawberry banana muffins have been a huge success.
Here's the oatmeal version, much more nourishing for a healthy breakfast on the go or a school snack for kids.
How To Make Strawberry Banana Oatmeal Muffins
It's very simple to whip a batch of these banana bread muffins with strawberries.
Ingredients
Ripe banana or yellow bananas for a less sweet muffin recipe.
Melted coconut oil or any vegetable oil on hand, including olive oil and canola oil.
Unsweetened almond milk or any plant-based milk you love like oat milk, coconut milk, or soy milk.
Lemon juice or apple cider vinegar.
Granulated sugar of choice – you can use coconut sugar, brown sugar, sugar-free erythritol, xylitol, or regular sugar.
Strawberries – fresh or frozen. Read below on how to use frozen strawberries in this recipe.
All-purpose flour, spelt flour, or white wholewheat flour.
Old fashioned rolled oats or quick oats.
Baking powder
Baking soda
Vanilla extract
Salt
Mashing Bananas
First, select ripe bananas to ensure the muffins are sweet enough. Peel the bananas and place them in a large mixing bowl.
Mash with a fork or potato masher until almost no lumps shows.
Preparing Strawberries
If you use fresh strawberries, cut off their stem and wash them under cold water.
Pat dry in a clean towel and chop into small pieces.
You can also use frozen strawberries, thaw a few hours before making the recipe, cut them thinly, and discard the strawberry juice released.
Oven
Preheat the oven to 350°F (180°C). Line a 12-hole muffin tin with paper cases.
Lightly spray sine cooking oil in each paper liner to prevent the muffin batter from sticking to the paper. Set the muffin pan aside.
Muffin Batter
Stir in the wet ingredients into the bowl with the mashed bananas: melted coconut oil, almond milk, lemon juice, vanilla extract, and sugar of your choice.
Whisk to bring all ingredients together.
Fold in the dry ingredients on top: flour, old-fashioned rolled oats, baking powder, baking soda, salt, and stir to combine and form a consistent thick muffin batter.
In the end, fold in the finely diced strawberries and stir to just combine. Don't over mix the batter to keep the muffin light and fluffy.
Sprinkle oats on top of each muffin before baking and some extra pieces of strawberries if you like.
Press them slightly on top to make sure they hold onto the muffin batter.
Baking
Place the batter into the prepared muffin tray. Usually, you need about 1/4 cup of batter to fill each muffin case.
Bake in the center rack of the oven for about 30 minutes or so.
You know the muffins are cooked through when a toothpick inserted in the center comes out clean.
If too wet or sticky, keep baking the muffins.
You can add a piece of foil on top of the muffin pan to prevent the muffins from darkening too fast.
Cooling Down
Cool the muffins for 5 minutes in the pan, then transfer onto a cooling rack to fully cool down at room temperature.
Banana Strawberry Muffin Add-ons
These strawberry muffins are even more delicious with 1/3 cup of some of the following ingredients.
Fold in the muffin batter, in the end, just before filling the muffins cases.
White chocolate chips – many varieties are dairy-free, otherwise use dark chocolate chips.
Chopped walnuts
Chopped pecans
Unsweetened shredded coconut
Other Berry Options
The great thing about this muffins recipe is that you can absolutely use any other berries in it!
If you don't have strawberries, try to replace them with:
Mixed berries
Raspberries – goes well with white chocolate chips.
Blueberries and add some lemon zest to enhance.
Serving
These strawberry banana oatmeal muffins are perfect for a healthy breakfast.
They are absolutely delicious on their own, but of course, you can also serve them with some spread like:
Peanut butter
Almond butter
Storage
These banana strawberry muffins store better and longer if refrigerated. You can keep them fresh in an airtight container placed in the fridge for up to 4 days.
Another option is to freeze the muffins in zip lock bags or airtight boxes. The day before, thaw the muffins at room temperature.
Frequently Asked Questions
How Do Banana Oatmeal Strawberry Muffins Taste?
These are moist banana muffins. They taste almost like banana bread but are filled with juicy strawberries and oats.
Can I Make The Muffins Gluten-free?
Sure, you can swap all-purpose flour with a gluten-free flour blend containing added gum.
Use gluten-free certified oats as well. The texture will be a bit chewy and denser with gluten-free flour.
Can I Use Frozen Strawberries?
Yes, thaw the strawberries before use, chop finely and discard the juice released during the thawing process.
Avoid adding frozen strawberries in the recipe, or they release juice, and the muffins won't cook properly.
Can I Make Them Oil-free?
I didn't try this option, but you can probably swap oil for applesauce or peanut butter. The texture will obviously change and be slightly denser.
More Vegan Oat Recipes
If you enjoy baking with oats, we have you covered!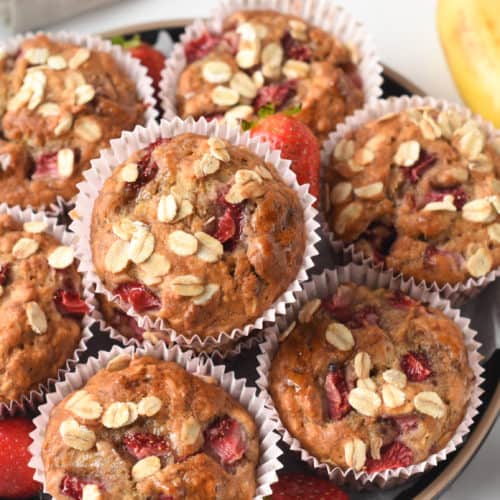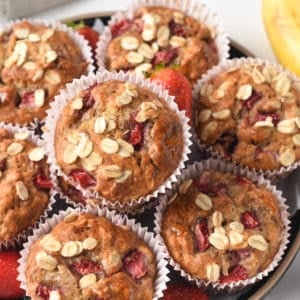 Strawberry Banana Oatmeal Muffins
These Strawberry Banana Oatmeal Muffins are made with no eggs, no dairy, and only wholesome ingredients for a healthy breakfast.
Pin
Print
Review
Servings: 12 muffins
Calories: 162.4 kcal
Instructions
Preheat the oven to 350°F (180°C). Line a 12-hole muffin tin with muffin paper cases and lightly spray some oil in the case to prevent the muffin batter from sticking to it.

Peel and mash bananas and measure the exact amount of mashed bananas needed in the recipe. Then, place them in a large mixing bowl.

Combine mashed banana, lemon juice, almond milk, melted coconut oil (lukewarm, not burning hot!), coconut sugar, and vanilla extract. Stir until everything is well combined. Set it aside.

In another mixing bowl, whisk together flour, rolled oats, baking soda, baking powder, and salt.

Stir the dry ingredients into the wet and pour in the finely diced strawberries. If yours are thawed, discard juice released or the muffins will be too moist.

Fill the muffin cases up to 3/4 their level and sprinkle extra rolled oats on top if desired.

Bake in the center rack of the preheated oven for 20-25 minutes or until a toothpick inserted in the center of the muffins comes out clean.

Cool in the pan for 5 minutes, then release and cool down on a wire rack. Brush some maple syrup on top for extra sweetness if desired.
Storage
Store in a cake box in the fridge for up to 5 days or freeze and thaw the day before eating.
Notes
Note 1: You can replace all-purpose flour with white wholewheat flour, spelt flour, or all-purpose gluten-free flour. However, this recipe won't work with almond flour or coconut flour.
Share on Facebook
Pin Recipe
Nutrition
Serving: 1muffin | Calories: 162.4kcal | Carbohydrates: 24.1g | Protein: 2.4g | Fat: 6.7g | Saturated Fat: 5.3g | Polyunsaturated Fat: 0.3g | Monounsaturated Fat: 0.5g | Sodium: 239.9mg | Potassium: 142.1mg | Fiber: 1.8g | Sugar: 6.7g | Vitamin A: 17.5IU | Vitamin C: 9.6mg | Calcium: 33.8mg | Iron: 1mg | Magnesium: 18.4mg | Phosphorus: 50.6mg | Zinc: 0.3mg