These easy vegan strawberry muffins are moist, and ultra fluffy with delicious vanilla crumbs filled with juicy pieces of fresh strawberries. If you love vegan muffins for breakfast, or as a treat in the afternoon, that's the best vegan muffins you will ever make.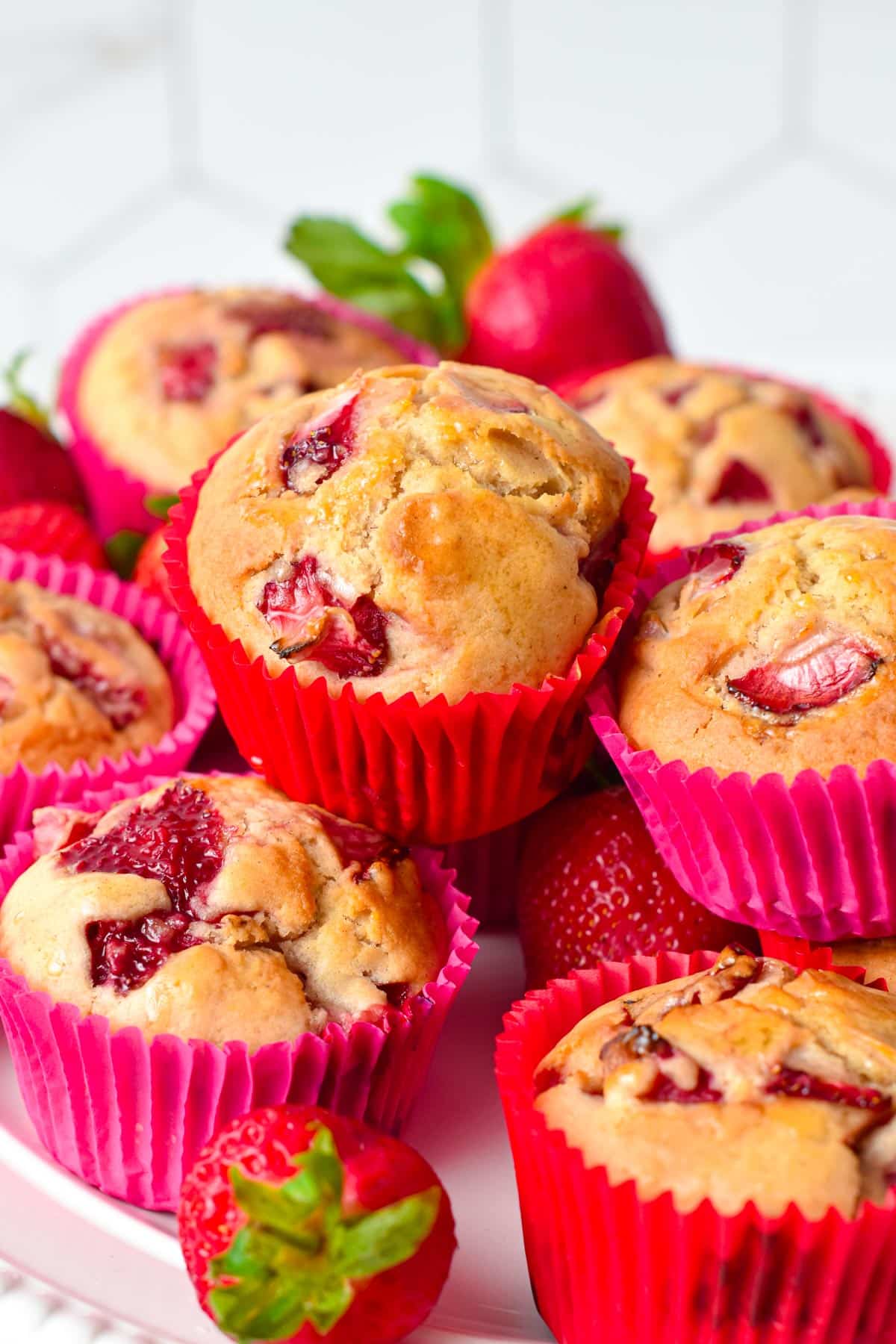 I have been baking so many vegan muffin flavors for my family, and with the strawberry season coming up, it's time to share with you this vegan strawberry muffin recipe.
Tips For Baking The Best Vegan Muffins
It's very easy to bake a batch of vegan muffins that taste like a classic muffin recipe. I know that you may wonder how you can make fluffy muffins without eggs or butter. But it is actually super simple as long as you understand the science of vegan baking.
Vegan Buttermilk
The first trick to making ultra-moist, fluffy muffin crumbs without eggs or dairy is to combine plant-based milk and acid ingredients. You can use lemon juice, vinegar, or orange juice. The acidity makes the milk texture creamy, very close to sour cream, adding the best moist texture to vegan muffin recipes.
Choice of Fat
You must use oil or melted vegan butter to make egg-free muffins fluffy. The latter is mainly made of oil. The best oils are low-flavored oils like canola oil, refined, melted coconut oil, or light olive oil.
If you swap the oil for unsweetened apple sauce or mashed banana, the texture will be more dense and packed. It will work, but you can't expect the same bakery-style crumb in your strawberry muffin.
Don't Over-Stir The Batter
One of the common mistakes when baking without eggs is to stir the muffin batter for so long that you over-activate the gluten. As a result, the muffins won't rise and stay packed, gummy, and dense.
Why You'll Love Vegan Strawberry Muffins
If you have been vegan for a while or a vegan beginner baker, you will fall in love with this vegan strawberry muffin recipe. It's so easy to prepare that even kids enjoy making it.
All it requires is a good oven calibration, a quality muffin pan, and a few wholesome ingredients.
You don't need to be an expert baker to make these vegan strawberry muffins. I took care of testing the recipe over and over again, to make sure it's easy to follow and a success every single time.
How To Make Vegan Strawberry Muffins
Making these strawberry muffins is very easy and here are the simple ingredients you need to start:
Choice of Ingredients for Egg-Free Muffins
All-Purpose Flour – Make sure you fill the measuring cups with a spoon-level method to avoid overpacking the cups with flour.
Granulated Sugar – You can use any granulated sweetener you have on hand, white or caster sugar is the best option to keep the color of the muffin golden. But, coconut sugar is a great refined sugar-free option to make healthier vegan muffins.
Baking Powder – Make sure you have fresh baking powder or the muffins won't raise much.
Salt – This is a must to make the sweet flavors pop in muffins.
Melted Vegan Butter – Make sure you let it cool down before bringing it in contact with the remaining ingredients. You can also use light oils like canola oil or light olive oil for a better-for-you choice.
Fresh Strawberries – Hull the top and discard their green part. Cut the strawberries into small pieces using a shape knife. If you are using frozen strawberries, thaw, cut them into pieces, and discard the juice released by frozen strawberries.
Unsweetened Almond Milk – Or feel free to use soy milk, oat milk, or coconut milk.
Apple Cider Vinegar – This ingredient is used to cuddle the plant-based milk and make the muffins soft and moist.
Cinnamon – optional, I add some for extra flavors.
Vanilla Extract – for flavor.
Cornstarch – This is used to roll the diced strawberries and prevent them from sinking to the bottom of the muffin cups.
Making Vegan Strawberry Muffins
In a small bowl, stir vinegar and plant-based milk, and set aside a minute until it looks creamy and curdle. Preheat the oven to 350°F (180°C). Line a 12-hole muffin pan with grease muffin paper cups. Set aside.
In another bowl, whisk all the dry ingredients evenly, except the sugar. Set aside.
In another large bowl, add the vegan buttermilk made in step 1, sugar, vanilla extract, and melted, and cooled vegan butter.
Finally, stir the dry ingredients into the wet ingredients until a thick vegan muffin batter forms.
Use a sharp knife to finely chop the fresh strawberries. Discard the stem.
Stir the fresh strawberry pieces into cornstarch then, fold in the vegan muffin batter.
Use a silicone spatula to incorporate the fruits evenly into the batter.
Fill each muffin cup up to 3/4 their level and bake them at 350°F (180°C) for 25 to 35 minutes, or until a toothpick inserted in the center of the muffin comes out clean. Cool for 5 minutes in the tray, then transfer to a cooling rack to completely cool down at room temperature.
More Vegan Muffin Recipes
If you are a baking lover like me, you may want to try my: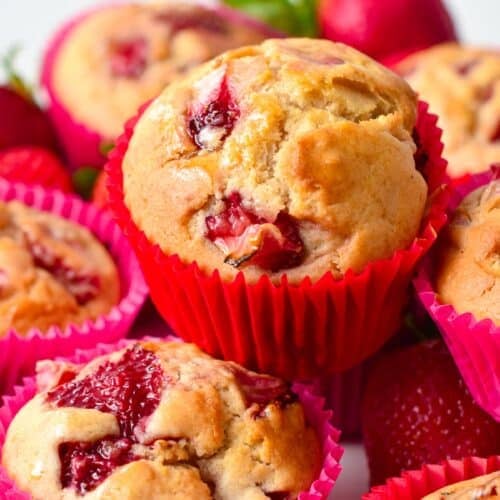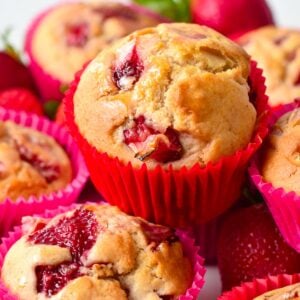 Vegan Strawberry Muffins
These easy vegan strawberry muffins are moist, and ultra fluffy with delicious vanilla crumbs filled with juicy pieces of fresh strawberries.
Pin
Print
Review
Servings: 12 muffins
Calories: 175.6 kcal
Instructions
Preheat the oven to 180°C (350°F). Line a 12-muffin-hole with muffin paper cups and lightly grease the holes with cooking oil spray. Set aside.

In a medium-size bowl, prepare the vegan buttermilk. Whisk plant-based milk with apple cider vinegar. Set aside.

In a large mixing bowl, whisk together the flour, baking powder, cinnamon and salt.

In another large mixing bowl, whisk sugar, melted, cooled vegan butter, vanilla extract, and vegan buttermilk.

Whisk in the dry ingredients to the liquid ingredients, until just incorporated, don't overmix,

Finely chopp fresh strawberries, place in a separate bowl and stir with cornstarch to evenly coat.

Use a silicone spatula to stir the coated diced fresh strawberries into the muffin batter.

Fill muffin cups up to 3/4 their level with the vegan muffin batter. If you like, press in a few extra pieces of diced strawberries on the top.

Bake 25-35 minutes or until top is golden brown and, a toothpick inserted in the center of one muffin comes out clean.

Remove from the oven and cool 5 minutes in the pan, then transfer on a cooling rack.

Cool completely before eating. It takes about 3 hours to get the perfect texture, be patient.
Notes
Gluten-free: I didn't try this option, but I guess you can use the same amount of all-purpose gluten-free flour blend containing xanthan gum. Nut-free: use nut-free milk like oat milk or coconut milk Oil-free – I didn't try replacing the oil, but I am positive that the same amount of unsweetened applesauce or mashed banana works. The texture will probably end up less fluffy. Frozen strawberries If you use frozen strawberries, defrost them first and don't add the strawberry juice to the batter, or it will thin the batter too much. Keep strawberry juice for a smoothie or flavor water. How to store vegan strawberry muffins Store the muffins in a muffins box or airtight box for up to 4 days in the pantry. Freeze the muffins in an airtight box or zip-lock bag. Make sure you remove the muffin paper cup before freezing. Defrost the day before.
Share on Facebook
Pin Recipe
Nutrition
Serving: 1muffin | Calories: 175.6kcal | Carbohydrates: 29.9g | Protein: 2.4g | Fat: 5.3g | Saturated Fat: 0.9g | Polyunsaturated Fat: 1.7g | Monounsaturated Fat: 2.4g | Trans Fat: 0.9g | Sodium: 233.9mg | Potassium: 48.3mg | Fiber: 0.9g | Sugar: 13.3g | Vitamin A: 1.9IU | Vitamin C: 8.8mg | Calcium: 70.6mg | Iron: 1.1mg | Magnesium: 6.9mg | Phosphorus: 41.1mg | Zinc: 0.2mg