The best vegan vanilla cupcake recipe, easy, light, fluffy vanilla cupcake recipe perfect for celebrating any occasion.
Don't forget to add the vegan vanilla frosting and a few sprinkles to make them a little fancy!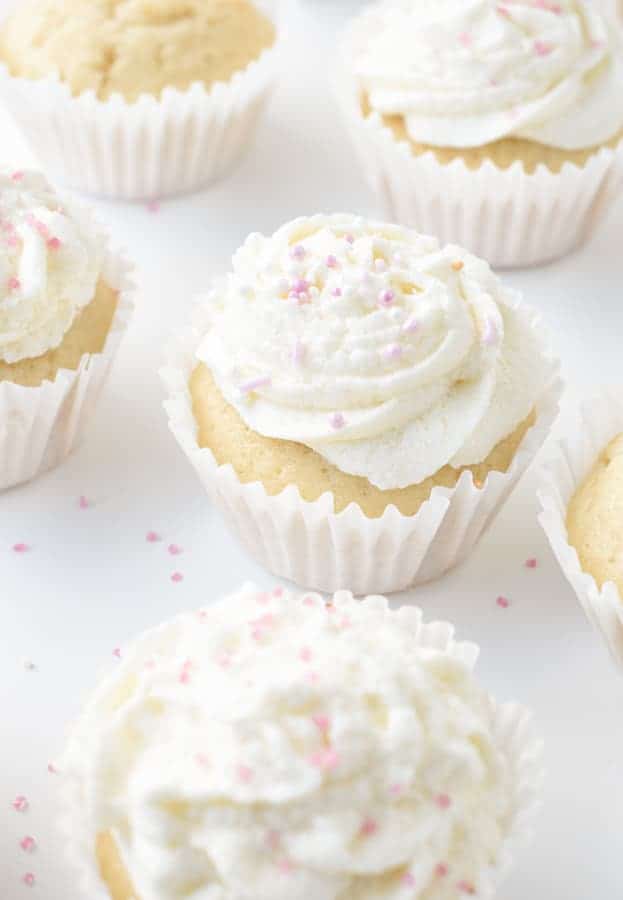 What Are Vegan Vanilla Cupcakes?
Vegan Vanilla Cupcakes are simple cupcakes made with only 7 wholesome ingredients and with just about 20 minutes of preparation.
They are healthy, tasty, and look the part.
How To Make Vegan Vanilla Cupcakes
It is easy to make homemade vegan vanilla cupcakes without eggs or dairy.
All you need is to combine the dry ingredients with the wet ingredients, using an electric beater, spoon, or a stand mixer with the paddle attachment.
Let's see the ingredients you need to start and create the best moist vegan vanilla cupcake recipe!
Wet Ingredients
All the wet ingredients you need to make easy vegan cupcakes are:
Non-dairy milk – I love to use unsweetened almond milk, the texture of the cupcake is lighter and fluffy, but soy milk, oat milk, or any plant-based milk will work here.
Apple cider vinegar – or any acid ingredients like lemon juice or white vinegar. This curdles the non-dairy milk and creates moist cupcakes.
Vegetable oil – I used avocado oil but melted coconut oil will work too! But watch out, never add melted coconut oil into cold non-dairy milk, or your coconut oil will solidify and form lumps! Make sure the milk and coconut oil are at the same temperature if you use this option.
Vanilla extract
Dry Ingredients
You only need 3 dry ingredients in this vegan cupcake recipe, including:
All-purpose flour – you can probably use an all-purpose gluten-free flour blend, but I didn't try this option, so I am unsure how it will affect the cupcake texture. Spelt flour is another great option, but it's a heavier flour, and the cupcakes would be less fluffy with this option. Oat flour won't work in this recipe.
Baking powder – or if you prefer, replace with only 3/4 teaspoon baking soda.
White sugar – there are plenty of healthier white sugar options like low GI cane sugar or unrefined cane sugar. Use your preferred option. I don't recommend coconut sugar in this vegan vanilla cupcake recipe. It makes the batter heavy, brown in color, and not as appealing.
Making The Vegan Vanilla Cupcakes
First, stir the non-dairy milk with apple cider vinegar. The reaction between the acid and plant-based milk will curdle the milk creating vegan buttermilk.
The remaining wet ingredients will be added to the dry ingredients later in the recipe, along with the vegan buttermilk.
First, combine all these dry ingredients in a large mixing bowl.
Then, make a well in the center of the flour mixture and add the vegan buttermilk made before, along with oil and vanilla extract.
Combine the ingredients with a whisk, spoon, or electric beater. I recommend an electric beater to create fluffy, moist cupcakes and avoid lumps.
Filling Cupcake Liners
The tricky part of making beautiful cupcakes is to fill the cupcake liners evenly up to a maximum of 2/3 of their capacity.
You should never fill the cupcake liner up to the top, or the cupcakes overflow in the oven and look like muffins.
I recommend using a measuring cup to fill each cupcake liner and adding 1/3 cup of cupcake batter to each cupcake liner.
Then, if you still have some batter left, add evenly to each cupcake.
Baking Vegan Cupcakes
This easy vegan vanilla cupcake recipe bakes in 20 to 23 minutes in the center rack of your oven at 350°F (180°C).
Your vegan cupcakes are ready when a toothpick inserted in the center of one cupcake comes out clean and the top is golden.
How To Make Vegan Vanilla Cupcake Frosting
A cupcake wouldn't be a cupcake without buttermilk frosting. To make a creamy, sweet dairy-free frosting, read my full frosting recipe. You need:
Soft vegan butter – there are many brands available. I recommend Earth Balance.
Powdered sugar – also known as icing sugar.
Vanilla extract
Unsweetened almond milk
To make vegan vanilla icing for cupcakes, beat the butter with vanilla extract until pale and fluffy.
Then, sift in the powdered sugar gradually until it forms a thick frosting.
Sometimes the frosting is too thick for your liking. If it is the case, add extra unsweetened almond milk about 1-2 tablespoons for a softer consistency.
Frosting The Cupcakes
First, cool the cupcakes for at least 3 hours on a cooling rack.
Then, prepare the vegan cupcake frosting recipe as explained above.
Finally, spread or pipe vegan cupcake icing over each cooled cupcake. You can top your cupcakes with sprinkles. Most of them are vegan-friendly.
You can also make my Vegan Whipped Cream.
Storage Instructions
You can store your vegan cupcakes at room temperature for 24 hours maximum. Then, store in a cupcake box in the fridge for up to 3-4 days.
The cupcake box prevents the cupcake frosting from drying out, and it keeps the cupcake crumb moist and fluffy too.
Of course, you can also freeze the cupcake in a sealed container. Then, thaw the cupcakes the day before at room temperature.
More Vegan Cake Recipes
I love to bake vegan desserts, including vegan mug cakes, vegan muffins, or vegan cakes.
If you love vegan baking recipes, you may also love to try the recipes below!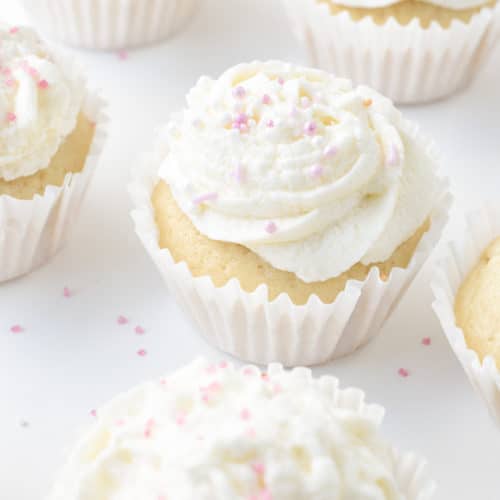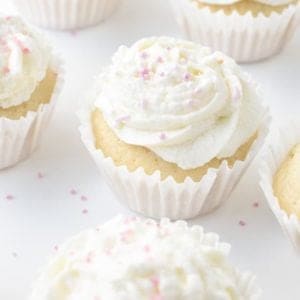 Vegan Vanilla Cupcakes
This is the best vegan vanilla cupcakes recipe you need, easy, soft, and moist with a delicious sweet vegan vanilla cupcake frosting.
Pin
Print
Review
Servings: 12 vegan cupcakes
Calories: 331 kcal
Instructions
Preheat the oven to 350°F (180°C) and line a 12-hole muffin pan with paper liners. Set aside.

In a bowl, stir soy milk and vinegar. Set aside for 5 minutes to curdle the milk.

In another large mixing bowl, whisk flour, sugar, and baking powder for 40 seconds until evenly combined.

Pour the milk mixture, oil, and vanilla extract onto the flour.

Stir with a whisk, spoon or beat with an electric mixer on low speed – this is the best option to avoid lumps!

Divide the batter evenly into the 12 cupcake liners, filling up to 2/3 full, not more!

Bake at 350°F (180°C) on the center rack of your oven for 20-23 minutes or until a toothpick inserted in the center of the cupcakes comes out clean.

Let it cool down for 5 minutes in the pan, then cool completely on a rack before frosting with one batch of my vegan vanilla frosting recipe.
Notes
The nutrition panel includes the frosting.
Share on Facebook
Pin Recipe
Nutrition
Serving: 1cupcake | Calories: 331kcal | Carbohydrates: 54g | Protein: 2g | Fat: 13g | Saturated Fat: 7g | Sodium: 144mg | Potassium: 17mg | Fiber: 1g | Sugar: 41g | Vitamin A: 360IU | Calcium: 58mg | Iron: 1mg