Pumpkin Truffles (Healthy, Dairy-free)
These healthy Pumpkin Truffles are melt-in-your-mouth no-bake truffles made with wholesome ingredients.
Bonus, these are healthy truffles made with plant-based ingredients and refined sugar-free.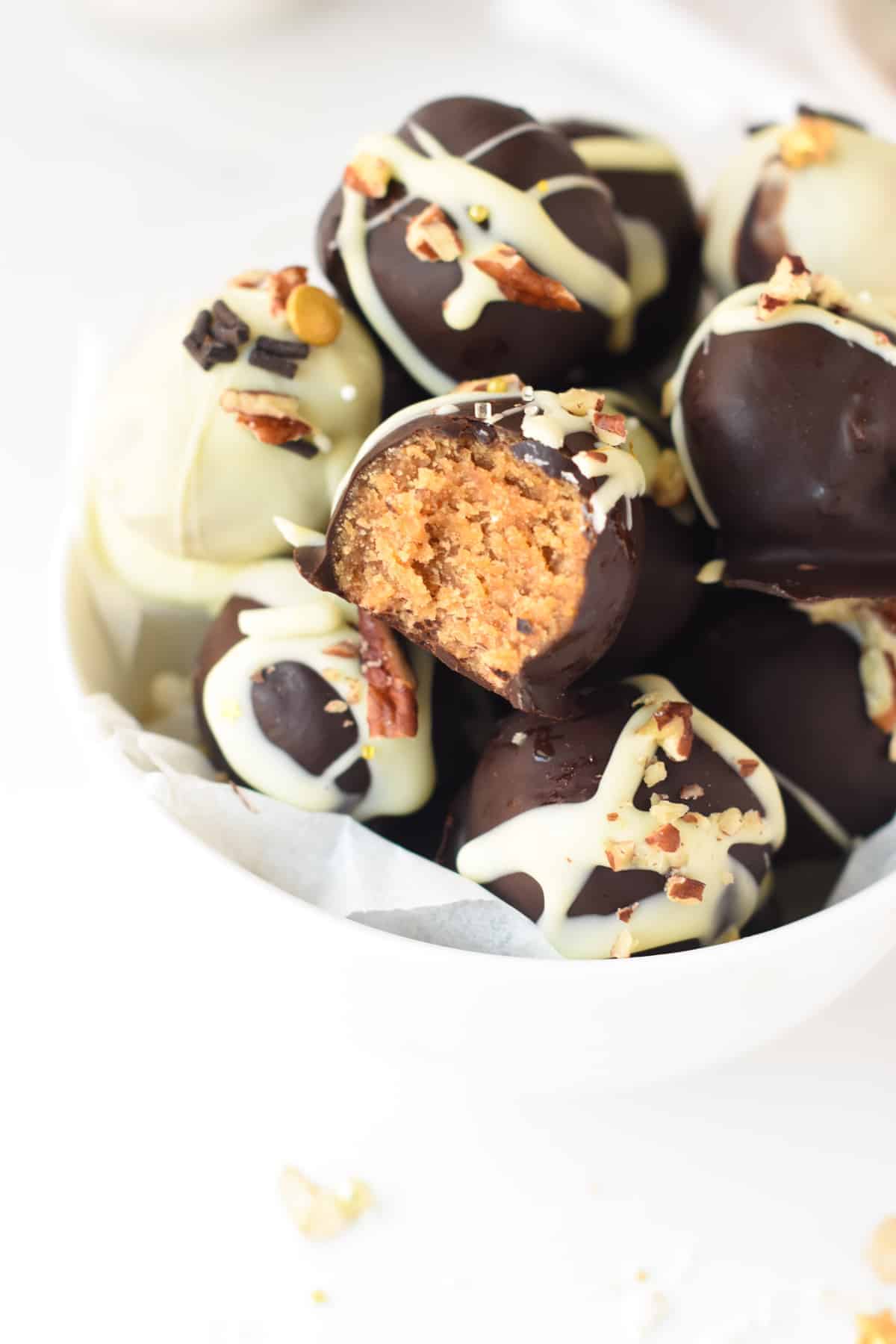 What's A Pumpkin Truffle?
Pumpkin Truffles are easy, healthy, no-bake snacks or Christmas treats made with few wholesome ingredients.
They are loaded with Pumpkin Spices for a classic Fall taste.
Why You'll Love This Recipe
If you are looking for a healthy no-bake dessert for your holiday platter, these pumpkin spice truffles should be part of it.
They are much healthier than any truffles because they are:
Refined sugar-free and low-sugar
Dairy-free truffles
Gluten-free
High in protein and healthy fat from nut butter.
Lower in carbs using less sweetener than regular truffles and low-carb coconut flour, high in fiber, and low GI.
How To Make Pumpkin Truffles
It's super easy to make these Pumpkin Spice truffles for any occasion. You don't need any fancy kitchen tool, no food processor, no stand mixer.
All you need are 8 ingredients and 20 minutes to bring a batch of these delicious chocolate pumpkin pie truffles to your Thanksgiving or Christmas table.
Ingredients
First, gather all the ingredients at room temperature:
Cashew butter or any nut butter you love like peanut butter, almond butter, or sunflower seed butter for a nut-free option.
Coconut flour – you can replace coconut flour with 4 times more almond flour or oat flour.
Maple syrup or any liquid sweetener you love.
Pumpkin Puree – you can make your own pumpkin puree or buy canned pumpkin puree.
Ground cinnamon
Vanilla extract
Pumpkin pie spices
In a large mixing bowl, add nut butter, maple syrup, and vanilla.
If your nut butter is not fresh and drippy, you can microwave the mixture for 20 seconds to soften and make it easier to stir.
Stir the ingredients until smooth, then stir in the pumpkin puree, cinnamon, pumpkin pie spices, and coconut flour until it forms a sticky dough.
Making The Batter
Lightly oil your hands with coconut oil and line a baking sheet with parchment paper.
Scoop out 1 tablespoon of pumpkin truffle batter and roll into balls between your hand to form a smooth round truffle shape.
Place on the parchment-lined baking sheet and repeat with the remaining batter until all truffles are shaped.
Place the tray in the freezer for 8 minutes to firm up the truffles.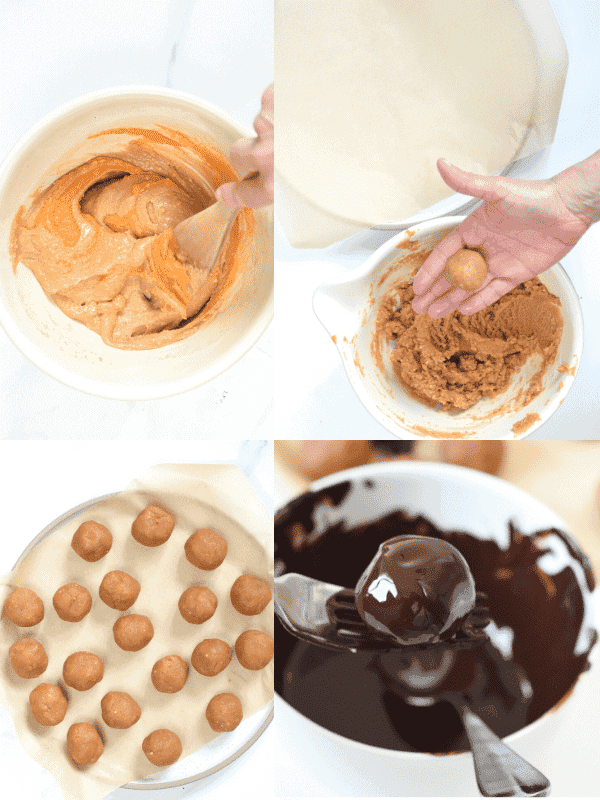 Melting The Chocolate
To dip the truffles, you need two ingredients:
Dark chocolate chips or dairy-free white chocolate chips.
Coconut oil or any oil you have on hand.
Meanwhile, place the dark chocolate or dairy-free white chocolate chips in a mixing bowl along with coconut oil.
Microwave on high in 30-second bursts, stirring between each until the mixture is fully melted and smooth.
Remove the baking sheet from the freezer, and using a fork, dip the pumpkin truffle into the melted chocolate. Wait for a few seconds above the bowl to drain the excess chocolate.
Then, return the dipped truffles to the baking sheet and repeat until all truffles are covered with chocolate.
Place the baking sheet in the fridge for 30 minutes to 1 hour to set the chocolate layer.
You can also accelerate this process by placing the baking sheet in the freezer for 5 minutes.
Decoration
You can decorate the truffles just after dipping them into the melted chocolate. Some of the most delicious pumpkin truffle toppings are:
Chopped pecans
Pinch of sea salt
Sprinkles
Shredded coconut
Pinch of cinnamon
Storage
These no-bake pumpkin truffles store very well in the fridge for up to 4 days if placed in an airtight container.
You can also freeze the vegan truffles in a box or ziplock bag and thaw them a few hours before.
Frequently Asked Questions
Can I make these without nuts?
You can replace the cashew butter with sunflower seed butter or tahini.
Can I make them coconut-free?
You can use 1 cup of almond flour or oat flour instead of 1/4 cup of coconut flour. Coconut oil can be replaced with any oil you have at home.
Can I make them sugar-free?
You can use sugar-free maple syrup instead of maple syrup to make keto pumpkin truffles.
Use sugar-free chocolate chips to dip the truffles to avoid sugar.
More No-Bake Healthy Dessert Recipes
Below I listed more sweet treats for your holiday's dessert platter:
Have you made these healthy pumpkin truffles? Share a comment or review below to let me know how it went!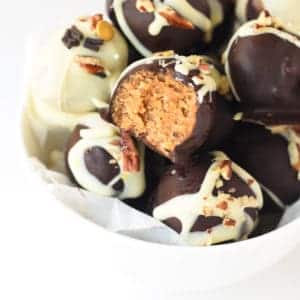 Pumpkin Truffles
A Healthy Pumpkin Truffles with no dairy, no refined sugar, and the most delicious pumpkin spice flavor.
Pin
Print
Review
Instructions
In a large mixing bowl, add the cashew butter, maple syrup, and vanilla extract. Stir to combine and create a consistent, smooth batter. You can microwave the mixture for 20 seconds if your nut butter is not drippy.

Stir in remaining ingredients: canned pumpkin puree or homemade pumpkin puree, cinnamon, pumpkin pie spices, and coconut flour.

Combine with a spatula. It is wet at first and dries out as you go. Next, you can use your hands to knead the dough and gather the pieces into a ball. If the batter is slightly too wet (this can happen if you are using homemade puree), adjust with 1 teaspoon of extra coconut flour. You should be able to roll balls easily.

Slightly oil your hands and scoop one tablespoon of batter per truffle. Roll between your hand and form 16 balls. Place them on a plate covered with parchment paper.

Freeze for

8 minutes

to set and meanwhile prepare the chocolate.
Melted Chocolate
In a microwave-safe bowl, add the dark chocolate chips and coconut oil.

Microwave by 30-second bursts until the chocolate is smooth and melted.

Use a fork to dip each truffle into the melted chocolate, staying a few seconds above the bowl to let any excess chocolate drop down to the bowl.

Place each dipped truffle onto the plate covered with oiled parchment paper, leaving half a thumb of space between each.

Sprinkle some chopped pecans, sprinkles, or pumpkin spice to decorate.

Refrigerate 30 minutes or freeze 5-7 minutes to quickly set the chocolate shell.
Storage
Store the pumpkin truffles in an airtight container in the fridge for up to 4 days or freeze and defrost the day before or a few hours before.
Notes
Keto nutrition panel per cookie using sugar-free Monk fruit maple-flavored syrup and macadamia nuts for the frosting:
Calories: 154 kcal, Fat: 13.6 g, Carbs: 8 g, Fiber: 3 g, Net carbs: 5 g, Protein: 3.5 g
Note 1:
Sunflower seed butter can be replaced with peanut butter, but the flavor of the cookies will have a light peanut flavor.
Note 2:
You can use homemade pumpkin puree, but it tends to contain more water than canned pumpkin puree. It means that you may have to add a bit more coconut flour, 1 or 2 teaspoons, to absorb the extra moisture and create the cookie dough.
Note 3:
You can use any vegan liquid sweetener you like, brown rice syrup, agave syrup, date syrup, coconut nectar.
Share on Facebook
Pin Recipe
Nutrition
Serving:
1
truffle
|
Calories:
116.9
kcal
|
Carbohydrates:
9.2
g
|
Protein:
3.1
g
|
Fat:
8.2
g
|
Saturated Fat:
1.8
g
|
Polyunsaturated Fat:
1.3
g
|
Monounsaturated Fat:
4.7
g
|
Sodium:
7
mg
|
Potassium:
106.8
mg
|
Fiber:
1.1
g
|
Sugar:
3.3
g
|
Vitamin A:
596
IU
|
Vitamin C:
0.2
mg
|
Calcium:
14
mg
|
Iron:
0.9
mg
|
Magnesium:
43.3
mg
|
Phosphorus:
74.5
mg
|
Zinc:
0.9
mg