Healthy Peanut Butter Fudge (3 Ingredients)
This healthy peanut butter fudge with coconut oil is an easy 3-ingredient fudge recipe for Christmas, ready in 20 minutes.
Bonus, this healthy fudge recipe is also dairy-free, refined sugar-free, and naturally sweetened with maple syrup.
What's Peanut Butter Fudge?
Peanut Butter Fudge is an easy vegan dessert recipe made with just 3 wholesome ingredients.
It has a delicate fudgy texture and a delicious taste.
How To Make Vegan Peanut Butter Fudge
This is a coconut oil peanut butter fudge recipe, meaning it's naturally vegan, dairy-free, and gluten-free.
To make this creamy peanut butter fudge, you only need 3 ingredients that must be chosen carefully.
Ingredients
Natural peanut butter – since it's the main ingredient in this recipe, the quality of your peanut butter is paramount. Make sure you use natural peanut butter with no added sugar and no added oil. The only ingredient in the jar should be peanuts and eventually a pinch of salt. Find out how to pick vegan peanut butter.
Refined coconut oil – It's essential to use refined coconut oil, or your fudge will have a strong coconut flavor. In fact, refined coconut oil has no flavor compared to unrefined coconut oil. Another option if you are allergic to coconut oil is cocoa butter. It's pricey, but a healthy dairy-free swap to coconut oil to make this recipe. I don't recommend using dairy-free margarine or vegan butter in this recipe. The fudgy would be way too soft and wouldn't firm up properly.
Maple syrup – you can replace it with agave syrup or rice syrup, or any liquid sweetener you like with different sweetness results.
Combining The Ingredients
This is a no-cook peanut butter fudge recipe, so you don't need to bring the ingredients in a saucepan over medium heat like most classic fudge recipes.
All you have to do is bring the ingredients into a large bowl and stir to combine well.
Then, transfer into a loaf pan covered with parchment paper. Mine is a 9-inch x 5-inch pan. Freeze the pan for 30 minutes to firm up the fudge.
Cutting The Fudge
Remove the pan from the freezer and touch the fudge's top to check if it is hard enough. If so, cut into 12 small cubes using a large knife.
This fudge melts fast, so I recommend returning the fudge pieces to the freezer and taking it out only a few minutes before serving.
Storage
Coconut oil is solid under 73F/23C, and the fudge will naturally firm up in the freezer. As a result, it must be stored in the freezer, not the fridge either, because it becomes so soft that it's difficult to handle.
Remove from the freezer a maximum of 5 minutes before serving, or it melts fast at room temperature.
That's the downside of a no-bake peanut butter fudge made with coconut oil, but at least it is nourishing!
Allergy Swaps
Can I Use Almond Butter?
Yes, you can decrease the saturated fat in this recipe by using almond butter. If you are on a keto diet, you can make keto peanut butter fudge using this recipe.
Replace the maple syrup with sugar-free maple syrup.
Can I Swap The Coconut Oil?
The only option is cocoa butter. Yes, cocoa butter is a vegan ingredient, it contains no dairy.
You can't use dairy-free margarine or vegan butter in this vegan peanut butter fudge recipe.
These latter options won't firm up the fudge, and it won't set.
Frequently Asked Questions
How Can I Decorate The Fudge?
This easy peanut butter fudge recipe is even better if you add a few more simple ingredients. I recommend adding in the batter:
Sea salt – if your peanut butter is unsalted.
Vanilla extract
Sprinkles or chocolate chips on top of the bar – this adds a touch of sweetness. If you are a sweet tooth, this 3-ingredient vegan peanut butter fudge is not really sweet, so adding some sweet toppings can boost its sweetness.
Why Is This Peanut Butter Fudge Healthy?
I prefer to say that this easy vegan peanut butter fudge recipe is healthier than the authentic recipe.
It is still a treat and should be eaten in moderation, but it's a clean treat, a healthy no-bake dessert for the sweet tooth.
Peanut butter is high in plant-based protein. Maple syrup has less sugar than refined sugar and contains nutrients like potassium.
Finally, coconut oil has a high level of antifungals from lauric acid, and it's also the only oil able to firm up healthy desserts without baking. That's why it is so often used in my no-bake vegan dessert recipe.
Storage Instructions
You must store this homemade peanut butter fudge recipe in your freezer.
First, set this 3-ingredient peanut butter fudge for 30 minutes in the fridge.
Next, cut and place each square into a sealed box in the freezer. It stores for up to 3 months in the freezer.
I recommend eating straight out from the freezer for the best texture or waiting up to 2 minutes for a creamy, fudgy texture.
After 5 minutes, it can melt dramatically, depending on the temperature of your house, of course.
More No-Bake Recipes
If you like no-bake dessert recipes, you'll enjoy the recipes below!
Made this three-ingredient peanut butter fudge recipe? Why not share a picture of your creation with me on Instagram or review and comment below!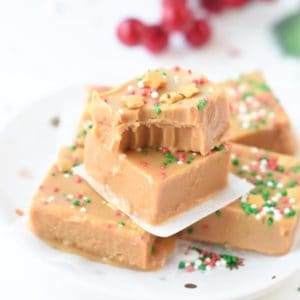 Healthy Peanut Butter Fudge Recipe
A healthy peanut butter fudge recipe with only 3 wholesome ingredients, vegan, gluten-free, dairy-free.
Pin
Print
Review
Servings: 12 squares
Calories: 180 kcal
Ingredients
Optional – to boost the flavors
¼ teaspoon Sea Salt
½ teaspoon Vanilla Extract
2 tablespoons Christmas Sprinkles - to boost the sweetness
2-3 drops Vanilla Liquid Stevia
Instructions
Before making this recipe, keep in mind that this recipe must be stored in the freezer.

Line a 9-inch x 5-inch loaf pan with parchment paper. Set aside.

In a large mixing bowl, combine peanut butter, maple syrup, and melted refined coconut oil. Add vanilla, sea salt, and stevia drops now. Stir until smooth and combined.

Pour onto the prepared pan. Sprinkle Christmas sprinkles or chocolate chips to boost sweetness if you are a sweet tooth

Freeze for 30 minutes or until firm enough to be cut into squares.

Cut into 12 squares with a large knife. This fudge melts fast, so place the square immediately into a freezer-friendly sealed box and freeze again.

Serve straight out from the freezer or wait a max of 2 minutes before eating to get the creamiest texture.

Store in the freezer for up to 3 months in a sealed container. Don't store at room temperature or in the fridge. It softens too fast.
Notes
Coconut oil – Refined coconut oil has NO coconut flavor. That's why I recommend this option, but unrefined coconut oil works as well. You can replace coconut oil with melted cocoa butter in this recipe. You can't use dairy-free margarine or vegan butter in this recipe; it wouldn't work. Peanut butter: It can be replaced with almond butter or sunflower seed butter (watch out, the flavor can be bitter and the color greenish). Maple syrup – It can be replaced with any liquid sweetener like agave syrup or date syrup. Keto option – The recipe works with sugar-free maple-flavored syrup from Choc Zero.
Share on Facebook
Pin Recipe
Nutrition
Serving: 1square | Calories: 180kcal | Carbohydrates: 8g | Protein: 5g | Fat: 15g | Saturated Fat: 6g | Sodium: 148mg | Potassium: 151mg | Fiber: 1g | Sugar: 5g | Calcium: 15mg | Iron: 1mg