Healthy No-Bake Cornflakes Cookies
Healthy no-bake cornflakes cookies are easy, crunchy sweet treats 100% refined sugar-free, dairy-free, and vegan with no baking required!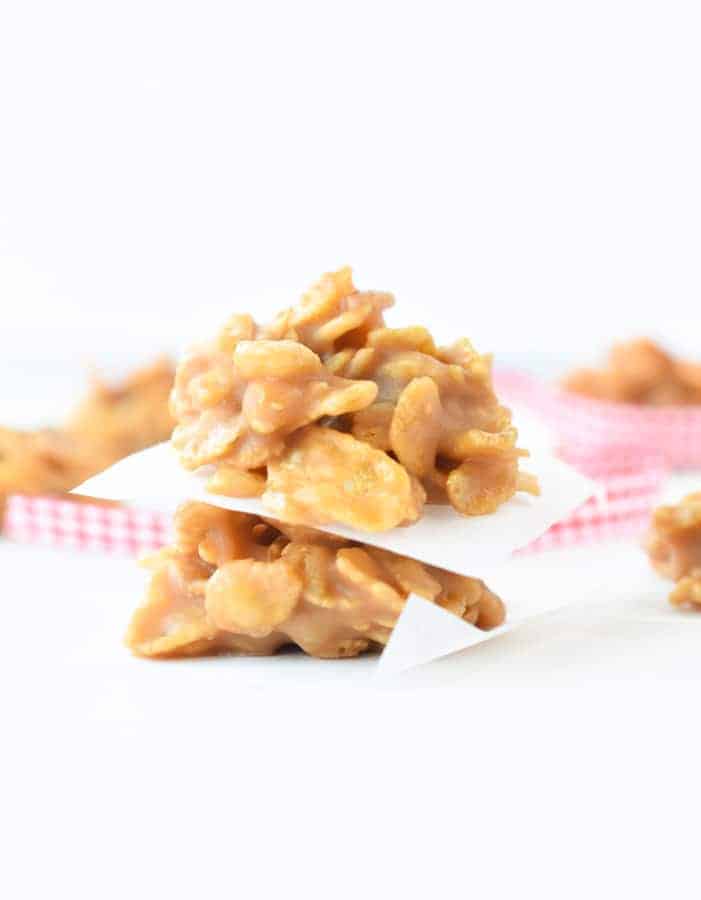 Everyone loves chewy, sweet, and crunchy cornflakes cookies.
They bring back childhood memories for me, and my kids love this healthier version made with only five simple ingredients.
What Are No-Bake Cornflake Cookies?
The authentic no-bake cornflake cookie recipe is an easy recipe made with sugar, peanut butter, cornflakes, and corn syrup.
It's not a healthy cookie recipe since it contains lots of added refined sugar and, for most recipes, sweetened cornflakes cereals.
My recipe below is an adaptation of the classic cornflake cookie recipe, made healthier using two times less sugar by choosing the best wholesome ingredients, including unsweetened cereals, natural peanut butter, and a refined sugar-free sweetener.
How To Make No-Bake Cornflakes Cookies
All you need to make a healthy cornflake cookie recipe are five wholesome ingredients.
Ingredients
Let me share with you how to choose them:
Cornflakes – look for no-sugar-added cornflakes. Some also have a boost of iron or vitamin B12. It's the best choice if you are vegan, as these treats will also bring you great nutrients.
Maple Syrup – Maple Syrup or agave syrup. They and the best-refined sugar-free sweeteners for vegans.
Peanut Butter – choose natural peanut butter with no added sugar and no added vegetable oil. The ingredients listed should only be peanuts and eventually salt. Find out how to pick vegan peanut butter.
Coconut Oil – Coconut oil is the secret ingredient in any healthy no-bake cookie recipe! Don't replace it with any other oil. Coconut oil firms up under 73°F (23°C), and it's the ingredient that holds the cookies in shape and adds a chewy texture. If you don't like coconut flavor, you can use refined coconut oil for this recipe. It has no coconut flavor but the same properties.
Vanilla Extract
This is the easiest no-bake peanut butter cornflakes cookies ever!
All you have to do is combine the wet ingredients with the dry ingredients, and your cookie dough is ready to be used!
Combining Liquid Ingredients
First, add all the liquid ingredients into a large saucepan: peanut butter, maple syrup, coconut oil, and vanilla.
Cook and constantly stir under medium heat until it forms a smooth peanut butter mixture.
You can also use a large microwave-safe bowl, microwave the ingredients for 30 seconds, stir and repeat until smooth.
Stirring In Dry Ingredients
Remove from the heat and stir your gluten-free cornflakes.
If you love chocolate cookies, you can add 1 or 2 tablespoons of cocoa powder at this stage, preferably unsweetened cocoa powder or the cookies will be too sweet.
Shaping The Cornflakes Cookies
Before shaping the cookies, prepare a plate covered with a sheet of parchment paper.
]Then, use a tablespoon to scoop out the cookie batter and drop it onto the plate.
Don't make bigger cookies, or they won't hold as well. One tablespoon of batter per cookie is what I found the best ratio.
Freezing the vegan cornflakes cookies
To set these cookies, you must freeze the plate on which you drop the cookie dough. The cold from the freezer solidifies coconut oil and creates crunchy cookies.
Then, transfer the cookies to a sealed container and store them in the freezer.
Just pop them out before serving to prevent them from melting too fast at room temperature.
Taste and Storage
These healthy no-bake peanut butter cookies with cornflakes are refined sugar-free cookies. It means they don't use white sugar as the authentic cornflake cookie recipe.
As a result, their texture is very soft, and they melt easily at room temperature.
That is why you must store these cookies in:
Fridge – for soft, chewy cookies.
Freezer – eat them straight out of the freezer for a crunchy cookie.
Are Frosted Flakes Vegan?
Yes, most frosted flakes are vegan. Always double-check the ingredient list. The packaging shouldn't show more than two or three ingredients, including:
Cornflakes
Sugar
Added vitamins like B12
Note that for these no-bake cornflakes cookies, it's recommended to use unfrosted cornflakes to avoid the added sugar.
More Healthy No-Bake Cookies
If you love healthy no-bake cookies, I have plenty of other recipes for you to try! They are all refined sugar-free and made with less than six ingredients:
Have you made these cornflakes cookies? Share your feedback below. I love to read your comments on my recipes!
Your friend, Carine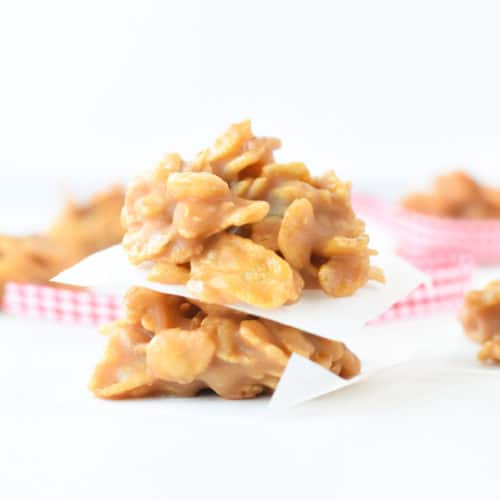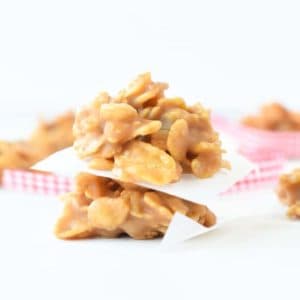 Healthy no-bake cornflake cookies
Healthy no-bake cornflake cookies with no refined sugar and peanut butter.
Pin
Print
Review
Servings: 20 small cookies
Calories: 86 kcal
Instructions
Before starting the recipe, note that these cookies must be stored in the freezer, or they lose their crunch and soften in the fridge.

Cover a large plate with parchment paper. Set aside.

In a large saucepan, combine the peanut butter, maple syrup, melted coconut oil, and vanilla extract. Cook over medium heat for 1 minute until all the ingredients are smooth and combined. Make sure to stir constantly, so it doesn't burn.

Remove from heat and stir in the cornflakes until the cereals are fully covered by the peanut butter mixture.

Use a tablespoon to drop the cookie batter onto the prepared plate, leaving half a thumb between each cookie as they can spread slightly.

Freeze the plate for about 10-12 minutes to set the cookies.

Store in a sealed container in the freezer for up to 3 months and eat straight out the freezer for a crunchy cookie. For chewy cookies, store them in the fridge. Don't store at room temperature or they will melt quickly under 73°F (23°C).
Share on Facebook
Pin Recipe
Nutrition
Serving: 1cookie | Calories: 86kcal | Carbohydrates: 9g | Protein: 2g | Fat: 5g | Saturated Fat: 2g | Sodium: 47mg | Potassium: 64mg | Fiber: 1g | Sugar: 6g | Vitamin A: 42IU | Vitamin C: 1mg | Calcium: 12mg | Iron: 1mg